Choosing the right saw for the job depends on many factors including the type of wood you're cutting and the type of cut you need to make. Each type of saw has its own unique specialty. Cutting a straight line can be done with any saw, but we all know it's much easier to use a table saw, track saw, or other circular saw for that particular job. Ever tried ripping an 8 foot board using a jig saw? It's doable, but not preferable.
We see a lot of great reviews from people who like trying out new things and not so great reviews from people who prefer the sturdiness of the table saw. Which goes back to the previous statement about choosing the type of saw you will use based on the type of cut you need and the type of wood you're cutting. Some saws simply do better with softwoods where others excel with hardwoods.
Potential Pros and Cons with Track Saw vs. Table Saw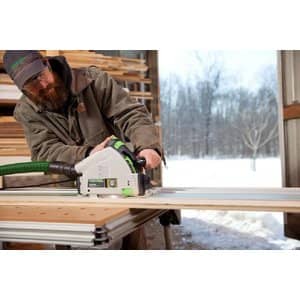 Both saws are perfect for what they're designed to do. The table saw is larger, obviously, and more difficult to move from jobsite to jobsite. The track saw is much easier because you can tuck the track under your arm, carry the saw with one hand, and you're good to go. Don't let the lighter weight fool you, though; it packs a serious punch for most jobs.
The table saw seems stronger and is able to cut thicker slabs of exotics and hardwoods. It's designed to work for hours on end with very few breaks, and that's where it excels. It is generally the saw of choice for production workshops and other large static locations.
The track saw is great for ripping boards, cutting trim, and providing splinter-free cuts across panels. The track saw is also excellent when used as a plunge saw because you can set it to a precise depth and it won't fail you. You have the ultimate in control when working on wood flooring or sub flooring, for example.
Everyone we've spoken to and most trusted websites give the track saw rave reviews. People say it feels safe and report that the track does not slide or move while in use. Mobility seems to be the deciding factor when choosing the right saw for the job, and the track saw simply offers more mobility than a table saw.
Brands of Track Saw



DeWalt and Festool seem to have the biggest market on track saws while Makita is moving on strong. All 3 brands offer sets that include the saw and tracks.
Your Thoughts?
So, are you prepared to face life without a table saw? Do you think a track saw can completely replace a table saw or will you continue using both for their intended purposes?
We believe that the table saw will always have its place, even if it's in a workshop or classroom setting. We do see the benefits of using a track saw and recommend that everyone gives it a try. Sometimes change is good, right? You may just discover your new favorite saw.