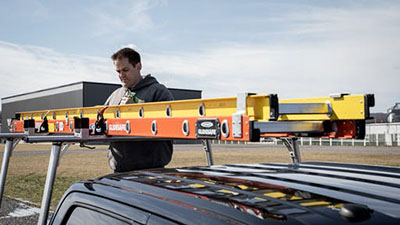 Werner introduced a new innovation to the ladder market that addresses a growing problem, jobsite fatigue. Most extension ladders are heavy and bulky, so using them can lead to back pain, arm pain, and more. The new Werner GLIDESAFE Extension Ladder features a patent-pending technology that provides up to 50% assistance while raising the ladder as well as speed-controlled lowering. The GLIDESAFE ladder is the only extension ladder of its kind on the market, so Werner's innovation is revolutionary.
How it Works
The new extension ladders work similarly to how a large garage door works. Garage doors are typically very heavy and can't be lifted by hand. That's where springs make our lives easier.
The Lift-Assist Technology features a spring mechanism inside of it that is full of tension. As the internal lift cable is pulled, the tension on the spring is released and helps lift the fly section of the ladder with far less effort than other extension ladders. Vice versa, as the fly section is lowered, the tension is put back on the spring, creating resistance, so the section slowly lowers preventing rope burn or slamming.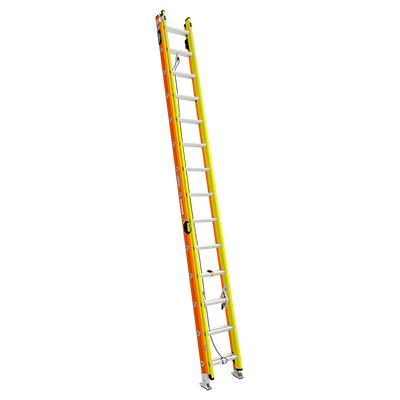 Focus on Safety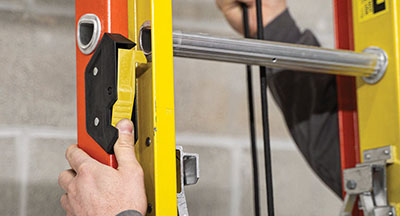 Werner's new ladders boast more than a new lift technology. They have set the industry standard for safety for years, and their new ladders bring that same quality that's available across all their products. Heavy-duty locks keep the GLIDESAFE stable during use, so the ladder doesn't end up closing while you're on it.
Two other security features will ensure you don't run into untimely extensions when the ladder is fully collapsed. A built-in auto-lock engages when the ladder is fully closed, and a yellow tab must be pressed to allow it to extend. The ladder also has built-in transportation latches that wrap around the ladder's rungs, keeping it from extending it while being carried.
Werner Quality
The GLIDESAFE ladder is available in sizes ranging from 20- to 40-feet. Each ladder is rated for a 300-pound load capacity for extended strength and durability. Loads of features bring high-level Werner quality to these ladders. Dual-colored rails make it easier for the user to stay oriented to grabbing the ladder. The Alflo run joints feature Twist-Proof performance. The rungs have traction-tread for a safer slip-resistant step. Dual-action feet create flexibility as they can be used on hard or penetrable surfaces.
Shop more products from Werner, such as attic ladders, fire escape ladders, and fall protection equipment at Acme Tools.