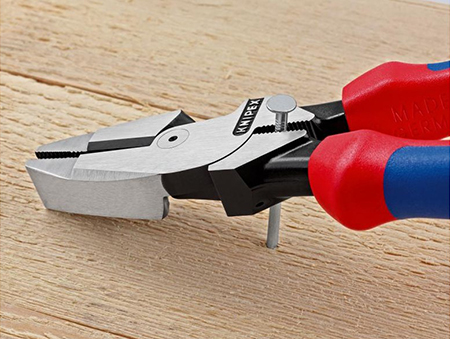 Lineman pliers should be an essential item in everyone's toolbox. Typically used by electricians, the pliers can cut, straighten, and bend wire, and they're great for twisting wires together. Although lineman pliers are viewed primarily as a professional tool, they're a perfect solution for do-it-yourselfers, as well. 
The beauty of lineman pliers is their versatility. On top of all the electrical work they're capable of, they can also be used to pull out nails or unscrew bolts, grip piping, and much more. Professionals usually have separate tools for stripping and cutting wire, but you can easily tackle both tasks if you have the best lineman pliers in your arsenal.
Best Lineman Pliers
When choosing the best lineman pliers, focus on one that is the right fit for your needs. Because these pliers are so versatile, they come in many different varieties. So, there are a few things to consider when choosing the right tool for your project—size, leverage, versatility, and comfort.
Knipex Multi Component Grip Lineman Pliers (09 12 240 SBA)
The Knipex Multi-Component pliers are heavy duty for some of the toughest jobs out there. For additional leverage the rivet is reduced in size and moved closer to the jaws. The design also created 25 percent easier cutting power, which reduces cutting fatigue in the hand. A universal terminal crimper and fish tape puller are built into the backside of the pliers, making them more versatile. The recess on the back of the tool has an oval shaped design, which makes it easier to work on thicker, round, or oval shaped cable.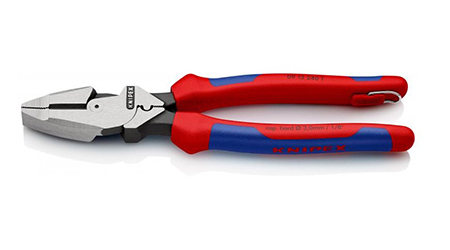 Milwaukee 9-Inch High Leverage Lineman Pliers (48-22-6100)
Milwaukee's lineman pliers are basically six tools in one. It's capable of cutting wire, pulling nails, bolt cutting, reaming applications, and of course, as a plier. So, you can carry fewer tools around the jobsite. Iron Carbide Edge cutting edges create a longer life for the tool by allowing for two times as many cuts as other pliers. The pliers have built-in reaming edges, an integrated crimper, and a fish tape puller for added versatility. Non-peel molded grips create added comfort during long workdays.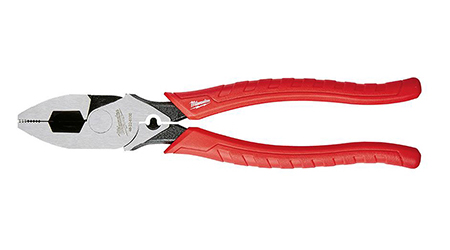 Irwin 8-Inch High Leverage Lineman Pliers (1902414)
These 8-inch lineman pliers from IRWIN create increased leverage to firmly grip wires and fasteners without slipping. Comfort grip handles create even more leverage and feature holes for lanyard connections that prevent accidental drops. A fully coated body and jaws resist rust, making a longer tool lifespan. A built-in spanner grip turns extruded fasteners, and the interior portion of the jaws allows for wire cutting, so you need fewer tools for a job.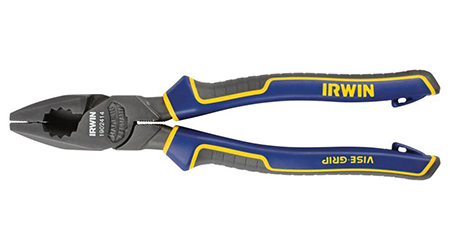 Klein Tools Fish Tape Pulling Lineman Pliers (D2000-9NETP)
At 9-inches, this set of Klein side-cutting lineman pliers is one of the longest on the market for some of the strongest leverage available. These pliers are designed to cut ACSR, screws, nails, and hardened wire. A built-in channel is able to quickly and easily pull 1/8-inch or 1/4-inch flat steel fish tape without damaging the wire. Unique handle tempering helps absorb the "snap" when cutting wire, which along with a hot-riveted joint allows for a smooth cutting action.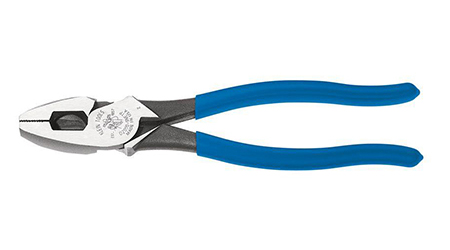 Klein Tools 9-Inch Lineman Pliers (D213-9NETH)
The bolt-thread holding pliers are designed to clean 5/8-inch pole lines and hardware bolts or threaded rods. A rounded nose and cross-hatched knurled jaws combined with a precision-hardened plier head create a firm grip for the most demanding jobs. With a high-leverage design, these pliers have 46-percent more cutting and gripping power than comparable lineman pliers. For additional strength, the pliers feature "handform" handles.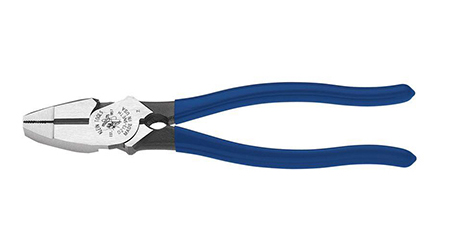 GEARWRENCH 9-1/2-Inch Lineman Pliers (82181C)
These pliers are part of GEARWRENCH's Pitbull line that offers some of the best gripping and cutting power on the market. This tool is built to last for years with maximum durability forged from alloy steel and precision machined. Laser hardened cutting edges allow for cleaner cuts and stay sharp 50 percent longer than other pliers. Exclusive K9 Jaws provide a stronger grip, even when on a 35-degree angle. The pliers feature 35 percent greater cutting power with their high-leverage joint design.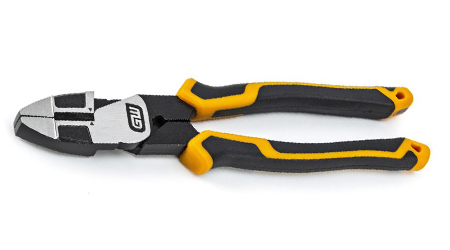 Knipex Lineman Pliers (09 01 240 SBA)
The Knipex Tools pliers are some of the most versatile on the market. The cutting edges are induction hardened with a hardness of about 64 HRC, which creates a longer life and easier cutting of soft, hard, and ACSR wire. A serrated cross-hatched knurled gripping zone is excellent for gripping and pulling jobs, such as fencing. Another gripping zone below the joint is perfect for wires and pulling nails. These Knipex pliers require 50 percent less effort compared with others due to an optimized transmission ratio.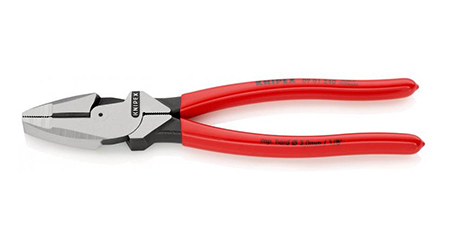 Channellock 9-1/2-Inch CODE BLUE Lineman Pliers (369CB)
Channellock's pliers feature a high-carbon C1080 steel design for increased durability and an electronic coating for maximum rust protection. The tool features laser heat-treated cutting edges that provide a stronger and consistent cut while providing longer life for the pliers. The CODE BLUE grips have a Santoprene core with TPR-rubber overmold, creating a better grip and increased comfort. The long length of the pliers and Xtreme Leverage Technology increases cutting performance and prevents hand fatigue.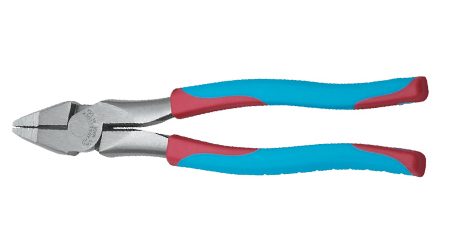 Crescent 8-Inch Lineman Pliers (508CVNN)
The Crescent 508CVNN is capable of gripping, cutting, twisting, stripping, or bending wire and cable. Its flexibility makes it the perfect tool for both professionals and do-it-yourselfers. The alloy steel design with a polished head provides unmatched strength and durability. Spring tempered handles with double dipped non-slip handles create maximum safety while not sacrificing any hand comfort. The pliers feature electronically induction hardened side-cutting edges allowing for higher cutting power and durability.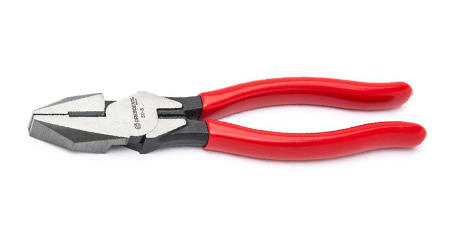 Shop for even more lineman pliers to fit your every need at Acme Tools.