In 1977, Avalanche invented the gravity-dependent Avalanche Snow Roof Rake. Knowing it's necessary to prevent structural weight problems and ice dams, the Minnesota based company created a snow removal tool that gets the job done. The innovative design saves users from both snow removal strain and damages to roof materials like asphalt shingles, solar roofs, and metal roofs. Avalanche's continued innovation created the Avalanche Snow Rake that users know and trust today.
Features
With innovative features, the snow roof rake allows roof snow to slide off the roof instead of being pulled off the roof. Avalanche invented a snow slide, which is what creates the sliding and strain-free action. A cutting head with wheels elevates the head enough to protect shingle roofs while removing snow down to the shingle, preventing ice dams. The innovative features and lightweight fiberglass handle allow the snow rake to remove up to a ton of snow per minute. Also, no tools needed for assembly. Simply snap the pieces together and quickly get to removing snow.
Products
Original Avalanche 500 Snow Rake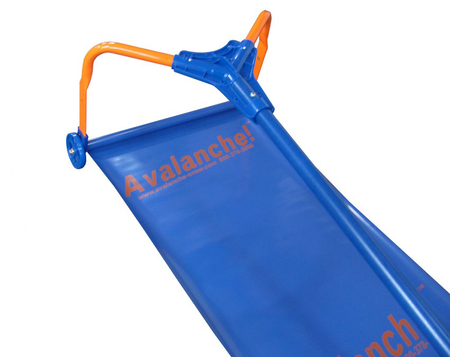 24" Wide Head
20' Handle in 5 sections
Durable Plastic Design
Easy Assembly- Snap Together Couplers
Storage Bracket for Wall Mount Storage
Handle Extension Kit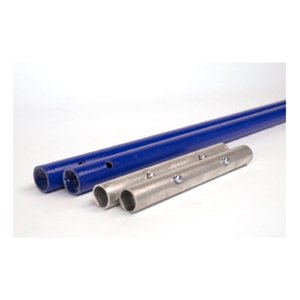 Includes two 4-foot fiberglass poles and two aluminum couplers
Easy snap-together assembly
Fits Avalanche Wheeled Roof Rake, Avalanche Drift Buster 550 Roof Rake, and Big Rig Snow Rake
Lightweight
Deluxe 20 ft. Roof Rake with 24 in. Wide Rake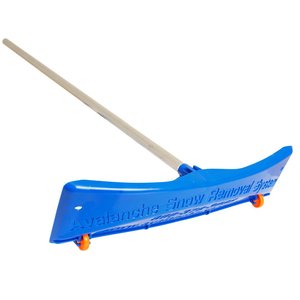 Easy snap together assembly
Lightweight 16 ft. fiberglass handle in 4 sections
17 In. x 12 ft plastic slide
Snap-on coupler system for easy storage
Patented cutter frame for amazing roof snow removal
FAQs
How long of a Roof Rake do I need?
Avalanche recommends removing the first 5′ of snow off your roof, so the 16′ of poles that come with the Avalanche or the 20′ of poles with the Deluxe 20 model should be sufficient. We also have handle extensions for all of our products.
Can you use the Avalanche Roof Rake on Solar Panels?
The Avalanche products are safe to use on Solar Panels – The model SRD20 (Avalanche Snow Rake Deluxe) is best for Solar Panel snow removal. The wheels will help protect the panels while removing the snow.
What if I already have ice dams on my roof?
If you already have ice dams, clear off as much snow from behind the ice dam as possible. Professionals recommend at least 4-6 feet. Do not pull at the ice dam with the Avalanche Snow Roof Rake! It is crucial to remove snow as soon as possible to help prevent the dams.
Does the Roof Rake work on a shallow pitch roof?
Yes, the products work for any roof 3/12 pitch or steeper.
Do Avalanche Roof Rakes come with a warranty?
Yes, the limited six month warranty comes with the product. The warranty does not cover damage or wear caused by misuse, abrasion, corrosion, negligence, accident, faulty assembly, or tampering to damage.
Final Thoughts
Avalanche's roof snow removal system allows users to remove a lot of snow in a short amount of time, making the snow roof rake the snow removal tool of the season. Because many customers from the Midwest are accustomed to many inches of snowfall, the Avalanche Snow Rakes go fast. Visit your nearest Acme Tools or visit our online store to grab your snow removal tool before they're gone!