Crescent Lufkin Control Series launched tape measures that combine both a professional feel and finish with innovation that tradespeople need to get the job done efficiently. The Lufkin Shockforce Tape Measures tackle measuring tasks that others can't.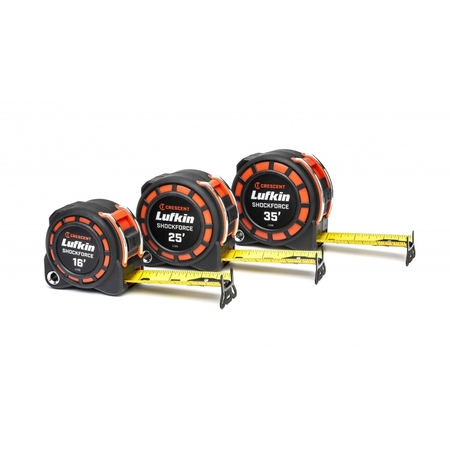 "Innovation without quality is called a gimmick. Quality without innovation is called lazy. But when you have both, you raise expectations for what something should have always been. The Control Series builds on our long legacy of quality tapes by adding meaningful features that professionals appreciate. There's nothing 'gimmicky' about these tapes."

-Kevin Fitzpatrick, product manager for Crescent Lufkin.
Features
Design
The tapes are ideal for everyday use with both a lightweight and compact design. The Lufkin measuring tapes can endure drops, falls, and abuse. Easily tether the tape when working from taller heights with the integrated tether point. Lastly, the 360-degree hook grips materials from all sides.
Tape
The tapes feature an extra-large print with a matte finish to reduce glare and increase readability. Additionally, the reliable 14 foot stand out withstands heavy use.
Finger Brake
The Finger Brake below the measuring tape allows the blade to be locked in place with a wide lock button that is protected by overmold rails. Also, the design of the finger brake reduces the risk of pinching by allowing users to control the blade.
Blade
With both a nylon blade coating and an extended blade protection design, the Shockforce tape measures have an extended blade life compared to other models.
Hook
Save time while measuring with the 360-Degree end hooks. The diamond abrasive-coated end hook grips surface better.
Nite Eye
Additionally, Crescent Lufkin offers an even more readable version. Because green is the most contrasting color, it is the easiest color to read. Similarly, black is the most absorbent color. When these two colors combine in the Nite Eye color scheme, the Lufkin Tape becomes the most readable tape on the market. The Control Series offers three models with the innovative color scheme.
1-3/16″ x 16′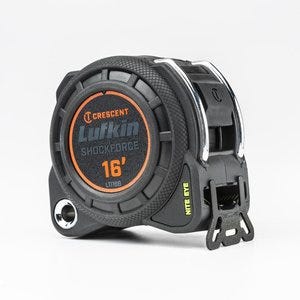 1-3/16″ x 25′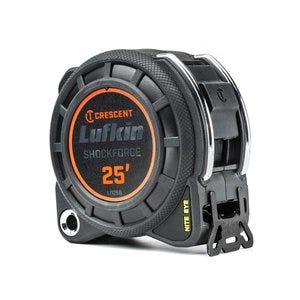 1-3/16″ x 35′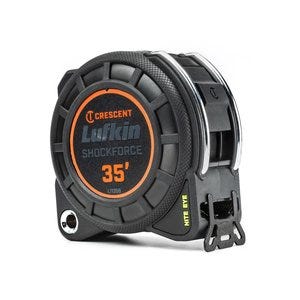 Lufkin Shockforce Tape Measure Sizes
1-3/16″ x 16′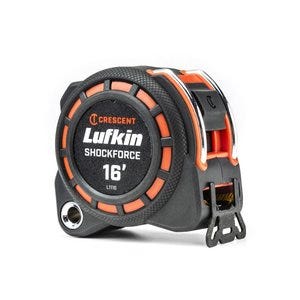 1-3/16″ x 5m/16′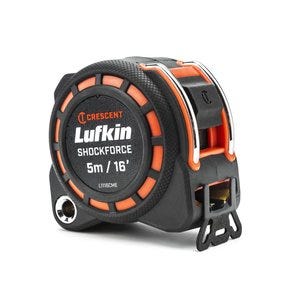 1-3/16″ x 25′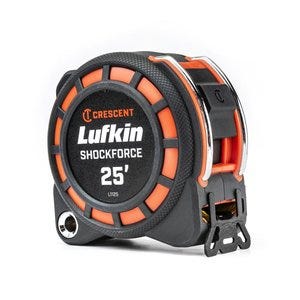 1-3/16″ x 8m/26′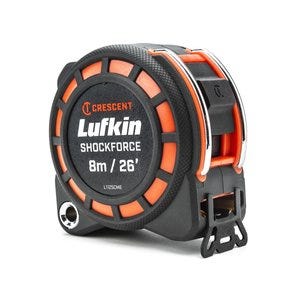 1-3/16″ x 10m/33′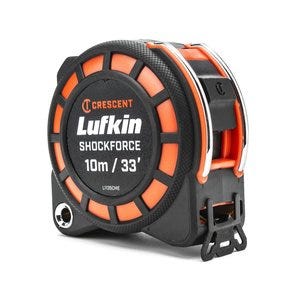 1-3/16″ x 35′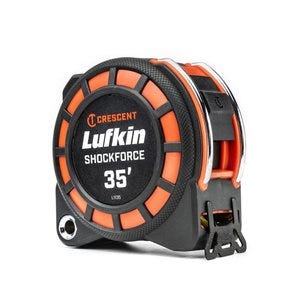 Final Thoughts
So make everyday measuring easier on your jobsite with the Lufkin Shockforce Tape Measures. Shop Crescent Lufkin Tape Measures at an Acme Tools near you or visit our online store.