When doing layout work, accuracy is a top priority. Bosch Tools wants to make sure that you can achieve the precision you need and has created a brand new laser level to help you meet your goals, the GLL3-330CG 360⁰ 3-plane green beam laser.
Astounding Accuracy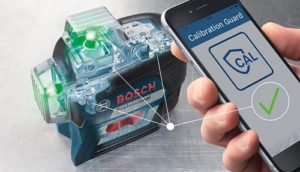 With 3/32" accuracy at 30 feet and a 200-foot diameter range, you will be more on-target than ever before. The three planes use a pendulum to self-level while within 4 degrees so you know you're even. If you need to work on a slant, you also have the option of locking the beams so they stay shining at any angle. 
Laser beams can be knocked off their mark from drops, bumps, or extreme heat. Should anything happen that might compromise the aim of your Bosch level, the CAL Guard will notice and let you know that you need a technician to have a look at it.
Keeping An Eye On Target
The GLL3-330CG is a three-plane laser leveling tool for layout and alignment. To make your work run smoother, it casts green-colored lines. What makes a green laser better than red you ask? They are much brighter and easier to see, even under bright lights.  If it's still hard to see the line, the kit includes a target that detects even the faintest laser for you.
The three planes are all perfectly perpendicular to each other.  Their intersections serve as a straight laser beam to the front, and plumb dots up and down for vertical alignment. And since the beams shine in full 360-degree circles, they can hit all four walls at once. Now you can square door frames, install outlets, and hang pictures, all with unwavering precision.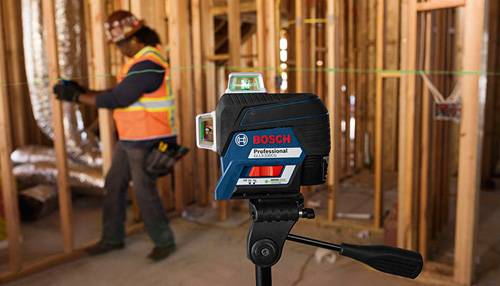 Since green beams draw more current, they tend to drain batteries faster than more common colors. To remedy this, each light can be turned on or off individually to preserve charge when not all three are needed. The emitters can also be set to one of three intensity levels or even to pulse to save power and increase the functional range.
Remote Operation Means One-Person Operation
A great new feature is the Bosch Leveling Remote App on your smartphone, which really helps for one-person jobs. Once linked up via Bluetooth, you can turn each light on and off or adjust their brightness. Even put the laser in standby mode, which saves your settings if you step away momentarily. Always feel close to your tool, no matter the distance between you.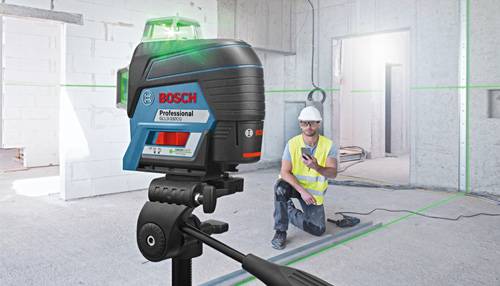 As a Bosch 12V Max tool, it is compatible with the full line of Bosch 12-volt tools. You can use the battery in your other subcompact tools, and save time and money by staying committed to one platform. If your battery does happen to run out of juice, an included adapter powers the device with four AA batteries. That sort of versatility will keep all your work aligned and straight all day long.