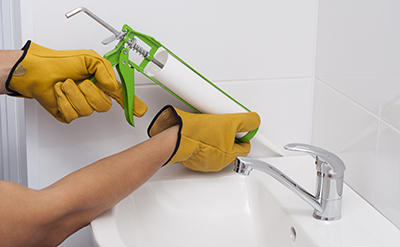 If you're a homeowner, a caulk gun is one of those tools you'll eventually need. It's surprising how often you'll use it throughout the lifetime of your home. Whether you need it to seal a new bathtub or fix a drafty window, the list of tasks around the house that require a caulk gun is nearly endless.
Caulking isn't a laborious task, but it's one that can become a large problem without the proper equipment. The majority of caulking guns are relatively inexpensive, but there are some with high-tech features that can make the job a lot easier. Regardless of your budget, there are a few basic things to focus on when purchasing a caulk gun. Our guide will assist you with making the right purchase for your specific needs.
How to Use a Caulking Gun
A caulk gun assists with laying a continuous bead of caulk by holding the tube and applying pressure from the bottom via a plunger. They work similarly to a drill with a trigger that must be pressed in order to push the plunger through the tube. There are two main features to look for in any caulking gun, whether you're looking for something inexpensive or purchasing a gun with all the bells and whistles.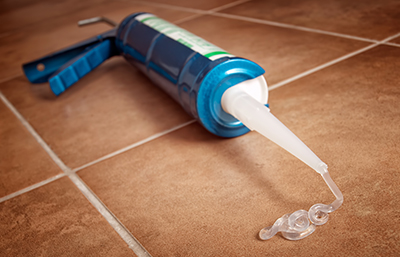 Pressure Release System
One of the biggest keys of any great caulking gun is its pressure release system. There is nothing worse than setting your gun down for a moment only to look back and see a pool of caulk leaking out of the gun. Many manual caulking guns feature notched plunger arms that can be rotated to release pressure once the trigger is released, while some manual options have a pressure release trigger that will automatically activate once you let go of the trigger. Most automatic caulk guns release pressure without any additional effort. Finding a gun that releases pressure how you like may take some trial and error.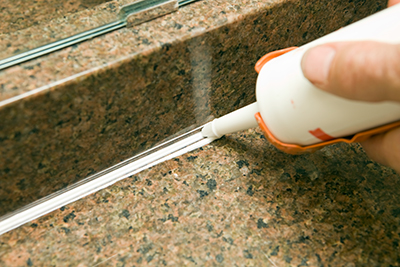 Leak-Proof Plunger
Another large concern is a leak-proof plunger. Based on how caulk guns work, there is a lot of pressure being applied to the caulking tube so material can leak out of the bottom of the tube. Look for a plunger that has been specifically designed to prevent any leakage from occurring while still being able to move smoothly through the tube.
Additional features to look for in a caulking gun are a rotating shaft that offers multidirectional applications, ladder hooks, finger guards, adjustable thrust ratios, and cushioned triggers.
Types of Caulking Guns
The main two types of caulk guns are manual and automatic. They each come with pros and cons that fit a variety of needs. Depending on how often you plan to use the tool can help determine what style of caulk gun you need. If you're only using the gun for a quick one-time repair, a less-expensive option may be better, while a more expensive caulk gun could be a better choice for homeowners or professionals.
The basic features of both manual and automatic caulk guns are a spout cutter and seal puncture tool, which can be found on almost every gun available. The spout cutter makes it easy and safe to snip the end of the caulk tube, and the puncture tool breaks the inner seal of the tube.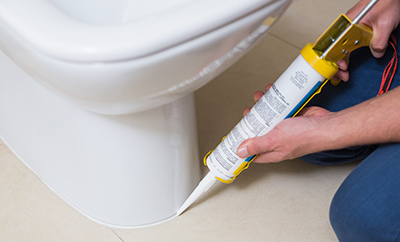 Manual Caulk Guns
Manual caulking guns are relatively inexpensive, so they won't break the bank. Try not to go too much on the low end, as you might end up dealing with a mess and having to redo the project a second time. Manual guns will take relatively more hand strength while using them, so they may not be the best option if you have a large amount of caulking to do. Some manual options have notched plunger arms that can alleviate the amount of effort to operate them and increase the thrust on the plunger. Plus, guns with notched plunger arms usually have a hooked end, so they can easily be hung on a ladder rung.
Automatic Caulk Guns
The two types of automatic caulking guns are pneumatic and battery-powered. Pneumatic guns attach to an air compressor which provides a high amount of power and limited effort during use. They're in the middle of manual and battery-powered guns when it comes to cost. Pneumatic options aren't the best options for homeowners because the hose is a hindrance, and they require a compressor, which creates an additional cost if you don't already have one. Pneumatic guns are commonly good options for tradespeople, such as auto mechanics or machinists.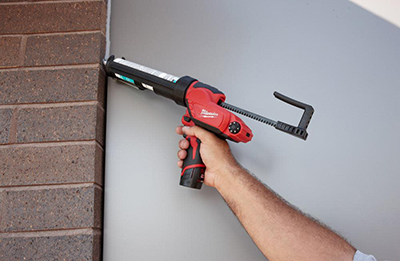 A good option for homeowners that aren't as worried about the cost is battery-powered caulk guns. They carry a higher price tag, but they offer the most convenient, effortless experience. The main disadvantage of a battery-powered gun is they're usually heavier than other options due to the additional battery weight.
Shop manual and automatic caulk guns from some of the top brands, including Milwaukee, Cox, Hilti, Makita, DEWALT, and more at Acme Tools.