Phone battery life is a constant struggle and even more of a hassle on the jobsite where there aren't a lot of options to recharge. You no longer have to worry about running out of juice on your smartphone while taking calls during work. Festool is looking to keep you connected while out on the jobsite with their newest release, the PHC 18 Mobile Phone Charger (577155).
Festool Mobile Phone Charger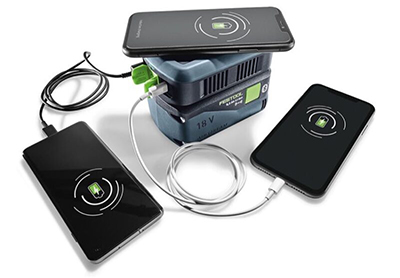 The new Festool Mobile Phone Charger is capable of charging up to three smartphones at once, so you can keep an entire crew connected throughout the day. The charger features a USB-C port with 15 watts and a USB-A port with 12 watts. The third charging option, an inductive charging surface, is what sets Festool's charger apart from some of the other top brands on the market. All three charging options feature rapid charging, so you can get back to communicating quickly. The wireless charging surface works with phones that support inductive charging and is rubberized, so the phone will be held securely in place while charging.
The charger attaches to any 18V Festool battery, with the exception of the 3.1Ah Ergo batteries. When combined with a fully charged 5.2Ah standard battery, a smartphone with a 3000 mAh battery capacity can be charged up to eight times, so you will spend less time recharging your 18V batteries. For context, the majority of iPhone batteries are 3000 mAh or below, except for some of the Pro Max models. To save space, the charger is about the size of a 3.1Ah compact battery pack and can easily be stored in a Systainer for convenient transport.
Shop all of Festool's products, including their industry-leading track saw and a large line of Systainer storage options at Acme Tools.