Festool has launched the latest update to their Systainer product line. The newest generation, Systainer3, offers maximum mobility and is an upgrade with many practical and smart functions. The Systainer system involves lightweight toolbox organizers built specifically for Festool tools. Each has flush tops, inside sleeves, and tie-downs to keep contents protected while on the go or in the workshop. Systainer3 bridges the gap between the workshop and the construction site, allowing you to move quickly and be more efficient.
Festool Systainer Upgrades
Alongside the Systainer3 comes the release of the Systainer3 Organizer. The Organizer allows for neat and tidy storage of small parts, such as bits, bolts, screws, and much more. It is available in two different sizes and a transparent cover, therefore its contents can be quickly identified. Each Organizer can be customized via seven different size small parts boxes, so you have more organization.

The Systainer3 and Organizer can be connected, providing organization between tools and consumables in the same system. With the help of a T-LOC operating element, both new items can dock on the new Systainer3 roll board so it's easy to move your system around the workshop. The roll board comes with four handle options and feed-throughs for straps to secure the system. The board has a load-carrying capacity of up to 220 pounds.
Festool SYS3 M
187 Systainer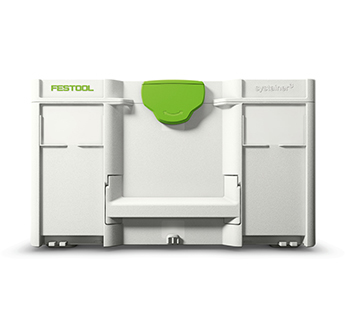 Compatibility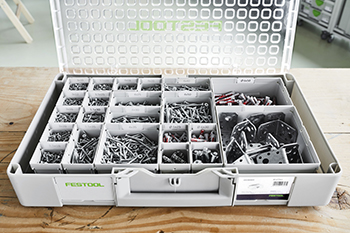 The Systainer3 is compatible with any of the older Systainer models, so the new line adds flexibility. Available in a variety of widths and heights, the new system creates an added versatility. The three low Systainer3 models have a front carrying handle therefore they're easier to carry.

The new line is a partnership between Festool and TANOS in tandem with bott, a specialist in vehicle equipment. All products in the Systainer3 line integrates seamlessly into the bott vario3 vehicle equipment range. This integration makes everything on your truck organized and easily within reach. In short, the Systainer3 system creates an organized workspace to make every workday easier for professionals.