The new line of GEARWRENCH Pitbull Pliers is designed specifically with mechanics in mind. Focusing on grip and cutting ability, the new pliers make cutting all day a simple task. The new line features tongue and groove, K9 tongue and groove, slip-joint, linesman, long-nose, universal and diagonal pliers. There are many new individual products and sets, so there is a solution for any situation a professional faces.
Pitbull Tongue and Groove Pliers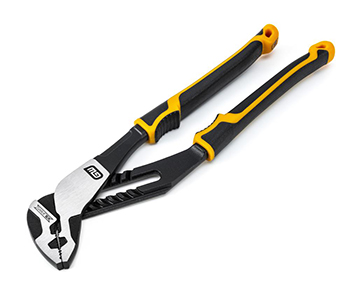 The Pitbull Auto-Bite Tongue and Groove Pliers feature dual-material comfort grip handles, so they're perfect for easy one-handed use. The jaws of the pliers automatically adjust thus there is a precise fit every time. The tongue and groove pliers feature a thumb-operated Auto-Bite lever that doesn't protrude from the tool like push-button pliers. Therefore, GEARWRENCH's PitBull Pliers with Auto-Bite have an extremely slim profile for greater access.
The Pitbull K9 Tongue and Groove Pliers are similar to the Auto-Bite Tongue and Groove but feature an innovative teeth system. The system allows you to grip and turn the tool up to a 35-degree offset angle. The K9 doesn't feature the Auto-Bite lever, but it does have a narrow profile that provides 40 percent greater access than competitors.
Pitbull Solid-Joint Cutting Pliers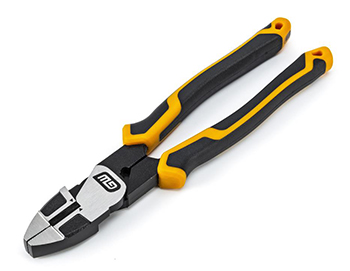 A pivot-forward design of the four new GEARWRENCH Pitbull Solid-Joint Pliers along with laser-hardened cutting edges allow you to use 35 percent less force. The new plier design produces 50 percent longer cutting life, so professionals are replacing tools less often. The linesman, long-nose, universal, and diagonal pliers come available in both dual-material comfort grip or dipped handles.
Linesman
Long-Nose
Universal
Diagonal
Shop Pitbull Individual Pliers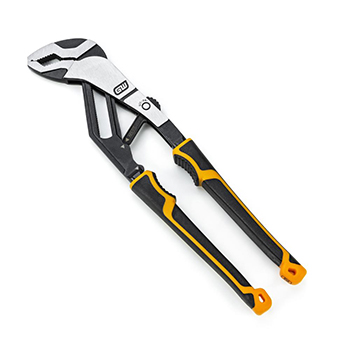 Shop Pitbull
Plier Sets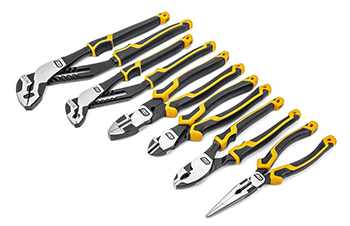 Shop more GEARWRENCH products at Acme Tools.