GEARWRENCH has launched its newest tool storage products. The GEARWRENCH GSX Tool Storage line features numerous upgrades across the board, creating more capacity in your tool chest. Catered to industrial, automotive, and construction workers, GSX tool storage is the perfect solution for any professional.
GEARWRENCH GSX Tool Storage Features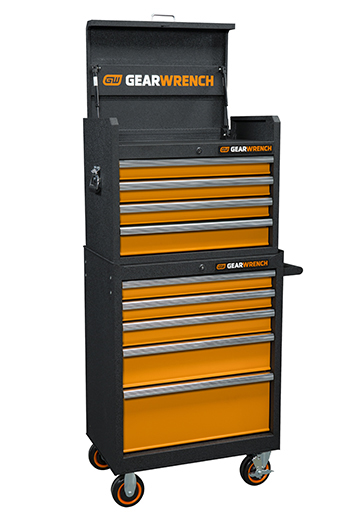 All products in the GSX tool storage line feature a power strip mounted inside the lid, with four outlets and two USB ports. The GSX tool chest feature gas-charged lift support struts, so the lid is easy to open and close. A textured coated paint finish provides increased resistance to corrosion weather and staining. The cabinet and chest bodies are made of 20 gauge steel, adding to the longevity of the storage units. Drawers made from 22 gauge steel add strength and durability to handle the wear and tear of taking and replacing tools. Each chest and cabinet come fitted with a tubular barrel lock and key to keep your tools secure.
The drawers on the new cabinets and chests feature aluminum pulls for easier opening and are exclusive to the GSX line. A trigger lock system allows drawers to naturally open and close. Ball-bearing and auto return slides allow for increased load capacity, easy slide action, and added protection of drawer contents. The drawers feature 100-pound capacity allowing your system to hold more tools without stressing the slides. Each cabinet includes heavy-duty industrial PP casters, two fixed and two swivel, rated at 450 pounds making it easy to transport the unit. The chests and cabinets come equipped with black foam liners for each drawer and top storage space creating protection for both your tools and the storage unit.
GSX Lineup
Each cabinet has a compatible chest creating a larger storage solution and saving space in your garage or shop. Included in the GSX lineup are:
| Image | Product | Part Number | More Info |
| --- | --- | --- | --- |
| | 26-Inch 4-Drawer Chest | 83240 | Buy Now |
| | 26-Inch 5-Drawer Cabinet | 83241 | Buy Now |
| | 36-Inch 5-Drawer Chest | 83242 | Buy Now |
| | 36-Inch 6-Drawer Cabinet | 83243 | Buy Now |
| | 41-Inch 5-Drawer Chest | 83244 | Buy Now |
| | 41-Inch 11-Drawer Cabinet | 83245 | Buy Now |
| | 35-Inch 7-Drawer Cart With Lift Top | 83246 | Buy Now |
Shop more GEARWRENCH products at Acme Tools.