When working on a job site, there are already so many things to watch out for on the ground, and the last thing you should worry about is something falling from above you. DeWalt, in honor of their safety week, is announcing their newest lanyard ready solutions to protect your tools, your batteries, and more importantly the workers.
Safely Secured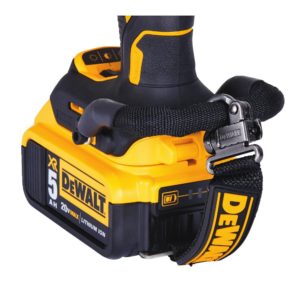 At-height jobs can make the smallest tool dangerous if it falls. The higher you get, the more you need to secure your tools. So, whether it be anchoring it to your belt or the scaffolding, it needs to be secure. With DeWalt's LANYARD READY™ tool, it makes the job site a lot safer by attaching the cord to the lanyard system, and your tool is ready to go.
When moving from tool to tool or continuously setting it down the carabiner may slip off accidentally. Not with the multi-stage carabiner that offers a secure hold, which means that the carabiner will not accidentally unclip itself. Keep peace of mind knowing that when it is attached, it will stay attached.
With the system firmly connected to the battery and the tool, even if the battery and tool were to detach from each other, you would not have to worry.
A nifty feature that this tool has is that on the spring system there is a red indicator. The red indicator will appear only when the connector overextends from a severe drop. Showing that this is the time to get the tool serviced as the lanyard system is now not functional.
Where to Get DeWalt LANYARD READY
The LANYARD READY™ solutions are available two ways; pre-installed or by a DeWalt Service Center, where you can install attachments points on select drill and impact drivers. You can also get it with the with DeWalt 20V MAX* Brushless Hammer Drill/Impact Driver Combo Kit with LANYARD READY™ Attachment Points (DCK299P2LR).
What's Different About LANYARD READY?
With the pre-installed LANYARD READY™ tools, it has integrated lanyard attachment points, and each battery contains a securing strap along with the earlier mentioned multi-stage carabiner. These new attachments do not get in the way of your tools or battery. The carabiner unhooks from its attachment points for easy charging.
Final Thoughts
Keeping your workers and important and expensive tools safe from falling off a high perch is a necessity for any safety manager and foreman. With the LANYARD READY™ solution you won't have to worry about tools falling from the sky. Do Your Best Work and stay safe with DeWalt's LANYARD READY™ solution and check it out on our website at acmetools.com. Let us know in the comment section below what tool would you put on this lanyard.