DeWalt is growing its 20V MAX tools with their newest Mid-Range Impact Wrench (DCF896). This tool will help keep you from under or over tightening screws and bolts thanks to the TOOL CONNECT system and its features. With its lightweight, power, and technology, this wrench will make your work more efficient.
What's New?
In this new compact size, weighing only 3.48 lbs. (tool only), this impact wrench retains all the power from the previous models. It is achieving 0-2000 RPM and 3100 impacts per minute with ease, making securing any bolt through concrete or tough material no a problem. The torque in the machine is impressive as well, offering 330 ft.-lbs. going forward and 600 ft.-lbs. in reverse. Giving you the ability to drive or back out a stuck bolt that snagged in the concrete. A better alternative than getting a grinder and cutting off the bolt or having to drill it out of the hole. You can get this tool in either a Hog Ring kit (DCF896HP2) or Detent Pin kit (DCF896P2) configurations. You can also get the Detent or Hog Ring as bare tools as well.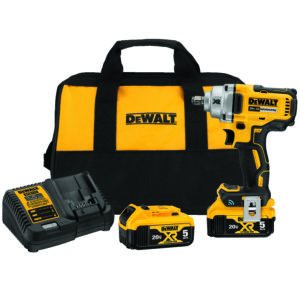 The Mid-Range Impact Wrench is also part of DeWalt's ever-expanding TOOL CONNECT system which is filled with technology to help maximize your tool. For instance, PRECISION WRENCH is a control that automatically turns off the power after impacting for a pre-selected amount of time. Having this feature will prevent over or under tightening by keeping consistency in the amount of time the tool runs. Another new feature in TOOL CONNECT that you can access in their Mobile App is PRECISION TAP. PRECISION TAP is a control which will make tapping threads easy and save you time.
What's TOOL CONNECT?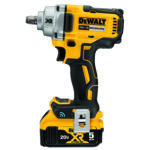 TOOL CONNECT is a system that DeWalt is integrating into their 20V MAX tools. This system will help maximize every aspect of the machine while keeping track of their location and status. TOOL CONNECT is a three-part inventory system that connects the tool, your phone, and your office or tool crib to get the up-to-date notices on your devices. Giving you live data of tool use, its location, and last use. Using a private Bluetooth connection customize your tools to fit jobs so that you can get the most out of each battery charge.
Know you're going to be drilling into solid concrete, increase the RPM on the DCF896 Impact Wrench before your worker ever takes it out. Do you know that for a particular project that the material you need to secure to the floor or wall has a certain depth to go in before damaging the surrounding concrete? You can use the PRECISION WRENCH in the Mobile Connect App and set how long the impact wrench will turn before shutting off. That way you get the accuracy you need without having to worry about user error.
Final Thoughts
The TOOL CONNECT 20V MAX XR ½" Mid-Range Impact Wrench will not only give you control but the adaptability to get your job done. Then with the TOOL CONNECT system, you can optimize your machines more from your phone. DeWalt is making the upgrade to make sure that the user not only has a reliable tool but one that is dependable.
---
Did you find this article useful? What do you think of the DeWalt TOOL CONNECT system? Let us know in the comment section down below. If you need more DeWalt or other tool news, check out our blog for the latest information. There you can also find DIY builds, buying guides, and other helpful tooltips. Then head to our website for the best deals online for your tools. That way you can Always Do Your Best Work.