Learn about a tool that will make cutting thread overhead a simple process with a burr-free end. No more carrying saws or having to pre-fab rods that are too short to get the job done.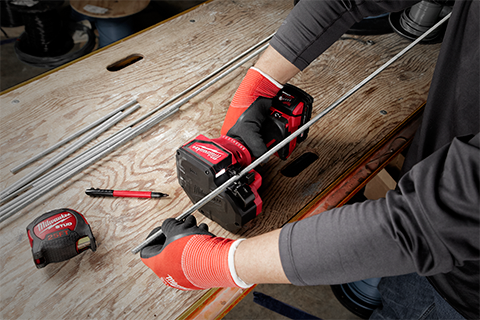 When securing cables overhead, you can't have the excess dangling underneath. That's just a safety hazard waiting to happen. You would usually have to use a chop saw, a grinder, or a band saw, to get rid of the excess. In a perfect world, you could plan out how long you need the rod before you have to install. But jobs are rarely ever so predictable. Sometimes to get a job done you might have to do things a little differently.
That would mean having a grinder over your head to cut the rod and have sparks flying down on you from above. You could cut it to the length but then have to start over when you realize the rod is short.
In situations like these, this is where Milwaukee's M18 Brushless Threaded Rod Cutter comes in handy and can make your job easier.
What's New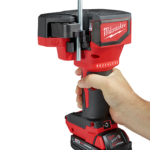 The first thing to note about this tool is the design. Weighing at only 8.7 lbs. while using the battery, it is light and won't cause strain when used overhead. Which is where you will find yourself using this tool a lot. But the Milwaukee 2872 Rod Cutter can also be used in a stationary position for pre-fab cutting, by laying it on its side. With a length of 11 inches, it takes less space than any saw and most grinders you would have to use instead to get the same job done.
Unlike most other cutting machines this device delivers clean, burr-free cuts. The rod cutter makes rods ready to use for threading nuts by hand in no time and also to be able to handle mild and stainless steels in various sizes. So no matter what the size or the material you can be sure that you can get a clean cut pre-fab or overhead.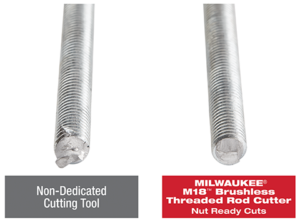 The Specs
The tool comes with a sided upper and lower dies that rotate to fit the size of the rod. It can cut mild steel that is ¼", ⅜", or ½" thick. Also being able to cut stainless steel that is ¼" and ⅜" thick with ease.
As you are cutting, the tool also offers an LED light in your area of work for a better line of cut. Weighing only 8.7 lbs. this tool has use overhead and not cause the user any strain. Then with its flat top design, you can get the tool as close as you can to where the thread needs to be cut. It also has an onboard Allen key with storage for easy adjustments on your machine and an integrated lanyard hole to add a wrist strap for security.
Final Thoughts
Cutting threaded rod is a chore and when you have to make cuts overhead, and in an awkward position, it makes it dangerous. The Milwaukee M18 Brushless Threaded Rod Cutter will take the hassle away and ensure safety while increasing productivity.
Get this item as a kit or a bare tool. Be prepared to see this tool in March 2019.
---
Did you find this article useful? Are you looking for more Milwaukee Tool news? Then make sure to follow Acme Tools Blog and find the latest news tool news from your favorite brands. On the blog you will also find DIY builds, buying guides, and other tooltips to help you in a variety of projects.
If you need your Milwaukee fix now though, you can go to our online store. At Acme Tool website, you can find deals and sales on Milwaukee and other brands as well. Get your self some great tools at a great price, so you can Always Do Your Best Work.