The next generation of tool storage is here with the all-new TOUGHSYSTEM 2.0 from DEWALT. The original ToughSystem 1.0 launched in 2011 and became the first storage eco-system made for the job site. The new system takes the work storage industry to a new level with portability, durability, and interlocking modular stacking capabilities.
DEWALT TOUGHSYSTEM 2.0 Improvements
The new TOUGHSYSTEM 2.0 has been completely re-engineered to give the end-user the most of what can be expected from a modular and mobile storage system. Designed for small to large-sized contractors, TOUGHSYSTEM 2.0 brings rugged-terrain portability* to the job site for contractors working in the harshest environments. *Compared to the DWST08250 design proven through passed conveyor testing.
Best TOUGHSYSTEM 2.0 Upgrades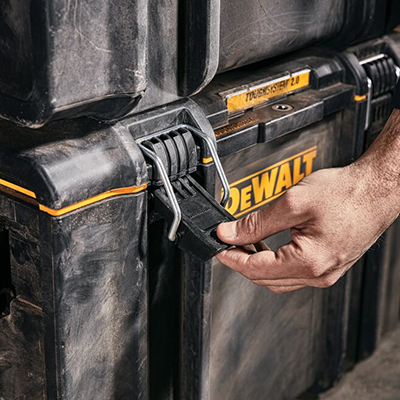 Latches/Handles
Large two-piece front metal wire latches and stronger and wider handles that can be easily opened or carried while wearing gloves.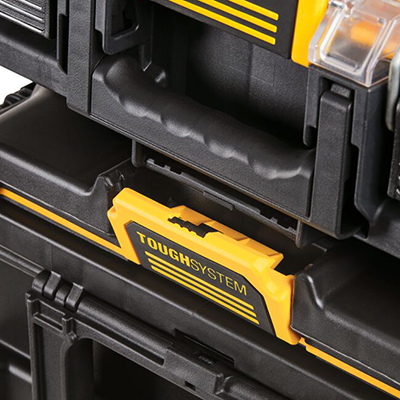 AutoLock Latches
The patented AutoLock side latches are one of the biggest improvements which easily click the case onto place without having to open or lock it in by hand, unlike the previous 1.0 storage system.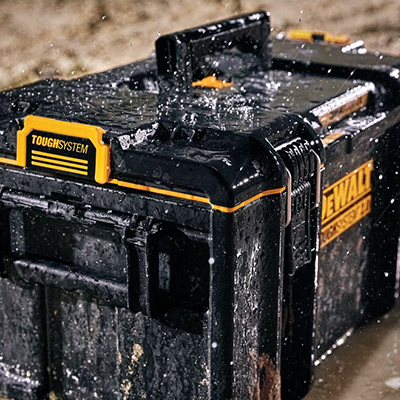 IP65 Rated
The IP65 in mold integrated seal provides a secure fit in helping to keep out the harshest elements.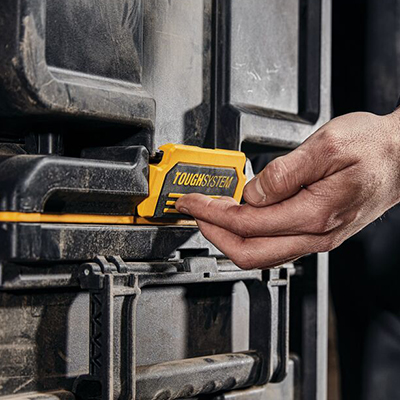 One-Touch Release
Also, the AutoLock allows a one-touch release for easy removal from just one side.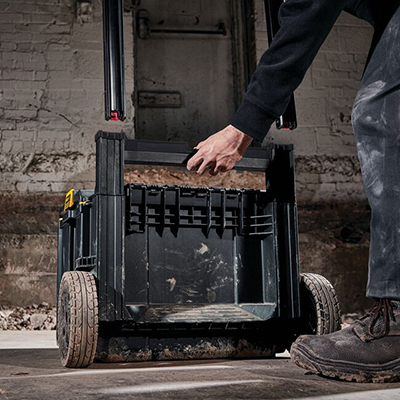 Removable Handle
Building onto those new features they have also added a removable back handle from the rolling toolbox (DWST08450) which now allows the organizer to fit under most full-size pickup truck covers.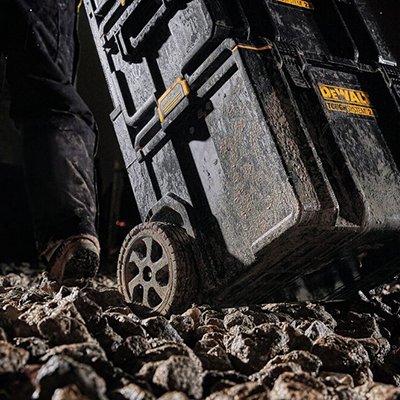 8″ Wheels
Large 8" durable wheels make job site portability easy and the reinforced metal padlock eye brings extra security to the job site.
DEWALT TSTAK 2.0 Vs. TOUGHSYSTEM 2.0
The DEWALT TSTAK 2.0 and TOUGHSYSTEM 2.0 storage systems were released around the same time and each has its own pros and cons. They both are compatible with previous iterations within the system, are lockable for added security, and provide an organized system to move your tools around. The TSTAK system is a less expensive option but that savings in cost cuts out or downgrades some of the features found in the higher prices TOUGHSYSTEM. The TOUGHSYSTEM 2.0 features a higher IP rating, thicker body, and larger load capacity. Ultimately what it boils down to is which system best fits the needs of your operation.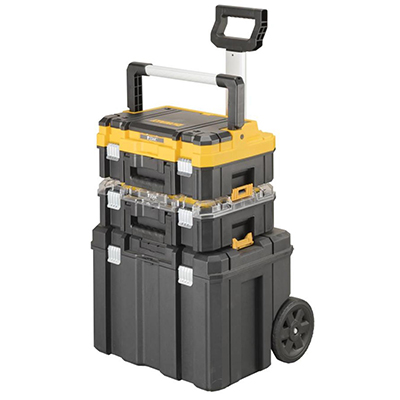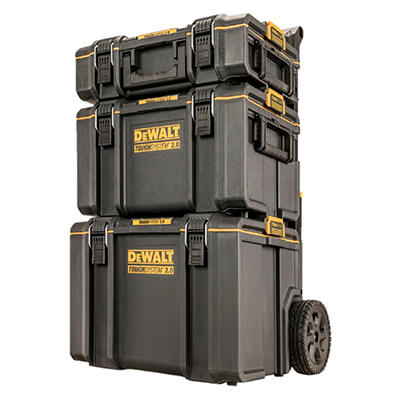 | TSTAK 2.0 | TOUGHSYSTEM 2.0 |
| --- | --- |
| 2.5mm Polypropylene Body | 3.5 mm Reinforced Body |
| IP54 Rated Water & Dust Seal | IP65 Rated Water & Dust Seal |
| 30kg Load Capacity | 50kg Load Capacity |
| Heavy-Duty Metal latches | Metal Wire Latches |
| Not Half-Width Module Compatible | Half-Width Module Compatible |
TOUGHSYSTEM 2.0 Lineup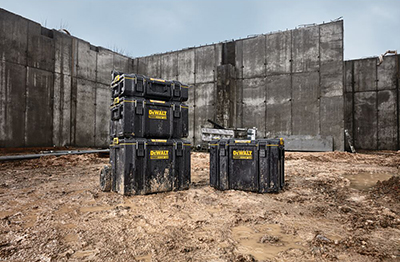 The TOUGHSYSTEM 2.0 consists of four different case sizes starting with small (DWST08165), large (DWST08300), XL (DWST08400), and its base model rolling toolbox (DWST08450) which is all backward compatible with most previous cases. In addition to the individual cases, two system sets can be ordered under one number. The first exclusive set to Acme Tools is the XL Storage Organizer Set (DWST60436) which consists of a small, XL and the rolling tool box base maximizing your storage capacity. The second set is the Large Storage Organizer Set (DWST60436-HD) which consists of a small, large, and rolling tool box base. Two optional accessories are available to create more versatility in the larger boxes. A shallow tool tray (DWST08110) and a deep tool tray (DWST08120) can be stacked inside the cases to customize your storage. Both tool trays include a pop-up handle on either end for easy portability in or out of your cases. (Tool trays are only compatible with 2.0 products).
For the organization of smaller items, such as nails, bolts, nuts, screws, and more there is the deep compact organizer (DWST08020). The organizer contains six removable cups for added flexibility of your loadout. For additional customization of your storage system, DEWALT offers a deep foam insert (DWST08121) that can be manually cut to keep specific tools in place. Over the next few months of 2022 DEWALT has more in store for their top-level storage system with a Full-Size Organizer (DWST08040), Compact Tool Bag (DWST08025), Jobsite Tool Bag (DWST08350), and a Two-Drawer Unit (DWST08320).
| Image | Product | Part Number | More Info |
| --- | --- | --- | --- |
| | Tool Box Tower 3pc Rolling Set | DWST60436 | Buy Now |
| | Small Tool Box | DWST08165 | Buy Now |
| | Large Tool Box | DWST08300 | Buy Now |
| | Extra Large Tool Box | DWST08400 | Buy Now |
| | Mobile Storage Tool Box | DWST08450 | Buy Now |
| | Shallow Tool Tray | DWST08110 | Buy Now |
| | Deep Tool Tray | DWST08120 | Buy Now |
| | Deep Compact Organizer | DWST08020 | Buy Now |
| | Deep Foam Insert | DWST08121 | Buy Now |
| | Full-Sized Organizer | DWST08040 | Pre-Order |
| | Compact Tool Bag | DWST08025 | Buy Now |
| | Jobsite Tool Bag | DWST08350 | Buy Now |
| | Two-Drawer Unit | DWST08320 | Pre-Order |
TOUGHSYSTEM 2.0 FAQ
When Did DEWALT TOUGHSYSTEM 2.0 launch?
Acme Tools was the exclusive Industrial Channel provider for the TOUGHSYSTEM 2.0 initial launch on July 1st, 2020. DEWALT is releasing new products every year in the TOUGHSYSTEM line with several products releasing in early 2022.
Is the TOUGHSYSTEM 2.0 compatible with TOUGHSYSTEM 1.0?
Yes, TOUGHSYSTEM 2.0 is compatible with most 1.0 systems. The few exceptions are the DCB104 charger, portable power charging station, and the original TOUGHSYSTEM 1.0 Radio.
What should I do with my TOUGHSYSTEM 1.0?
We encourage you to keep TOUGHSYSTEM 1.0 products and pair them with the new system! The different systems contain different product lineups and you may find uses for both. It will all depend on your individual needs and what types of tools and equipment you are organizing and storing.
Is the new DEWALT TOUGHSYSTEM compatible with TSTAK?
No, Dewalt TOUGHSYSTEM 1.0 and TOUGHSYSTEM 2.0 are not compatible with the TSTAK system.
What is the yellow button on the lower cross bar to the rolling tool box?
The yellow button on the crossbar of the rolling tool box handle is a release lever that is pressed to lower and raise the handle. It can also be used to remove the handle entirely after two small red tabs at the bottom of each side of the handle are turned 90 degrees. Removing the handle allows the rolling tool box to fit under most truck bed covers.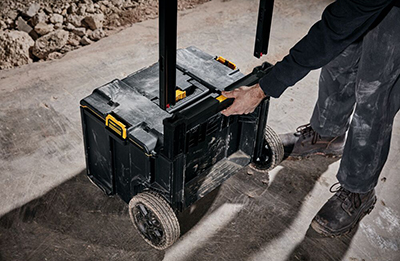 What is the yellow clip on the top, middle of the different boxes?
The yellow flip-up clip on the top of the boxes allows you to lock in 1/2 width boxes and bags, such as the Deep Compact Organizer and the Compact Tool Bag. This allows for two organizers or a combination of an organizer and tool bag to be stored on your stack.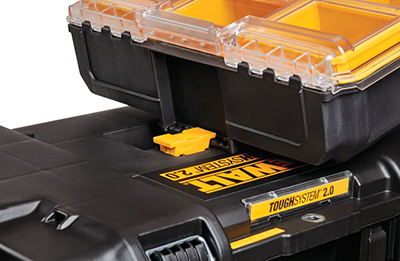 Shop DeWalt TOUGHSYSTEM 2.0 at Acme Tools.