Set up your project for conduit, wire, pipes and more with the DeWalt's VST joint drill. It has a powerful E-Clutch® that senses binding and adjusts the torque so you can keep working. This cordless stud and joist drill is part of the revolutionary FLEXVOLT™ battery line that gives you portable convenience with power comparable to a corded tool.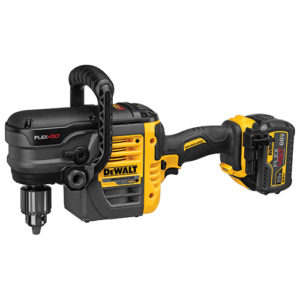 The 60V MAX* VSR Stud and Joist Drill Kit with E-Clutch System from DeWalt features a 90-degree bent head that makes it easy to fit into your existing frames so you can set them up for running electrical and plumbing materials. It comes with a 60V FLEXVOLT battery, fast charger, ball handle, chuck key and holder, dual-position side handle and kit bag. The DeWalt VSR joist drill's brushless motor has fewer moving parts, which reduces the need for maintenance and increases its power. You can set it to one of two speeds to work at the pace that's right for each job.
As part of the FLEXVOLT system, you can use the battery in several other 60V tools, and it's backwards-compatible with all of your 20V MAX tools so you can keep using your existing collection as you upgrade each piece. The stud and joist drill has enough power to create up to 138 2-9/16-inch holes in 2×10 boards on a single charge so you can work with less downtime. It's certified for Perform and Protect™ safety and comfort features, including reduced vibration to let you work for extended periods without developing hand strain.
The side handles are adjustable, which makes the DeWalt brushless drill usable from two different positions for more ergonomic work while standing or crouching, and approaching the wood from a vertical or horizontal position. The manufacturer stands by its products with a 90-day money-back guarantee, one-year free service contract and three-year limited warranty to protect your investment. Check out this cordless stud and joist drill and add it to your collection today to get fast and professional results.