EGO adds to their growing line of innovative outdoor power equipment with the latest additions of string trimmers, lawnmowers, blowers, and inverters.
EGO POWER+ Multi-Head 16″ String Trimmer Kit with POWERLOAD Technology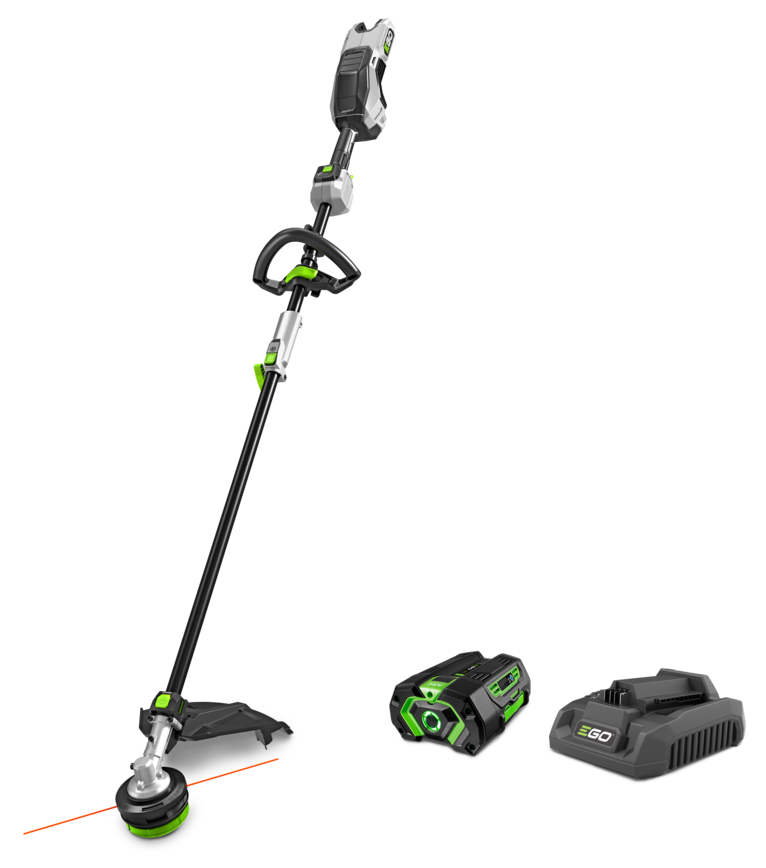 EGO adds the EGO POWER+ Multi-Head 16″ String Trimmer with POWERLOAD™ technology, which automatically winds your trimmer line, to their impressive line of outdoor power equipment. The Power Head (PH1420) is compatible with a full range of EGO POWER+ multi-head attachments to cut, trim, clear, and more. The 16″ string trimmer and Power Head feature a quick-release adjustable handle and digital speed selector with a variable speed trigger for maximum control. Powered by EGO 56V ARC Lithium batteries, the string trimmer can run for up to 45 minutes on a single charge with a 4.0Ah battery.
Includes the Power Head with POWERLOAD™ String Trimmer Attachment, 56V 4.0Ah battery (BA2242T), and 320W charger (CH3200)
EGO POWER+ 21″ Select Cut XP Mower with Speed IQ Technology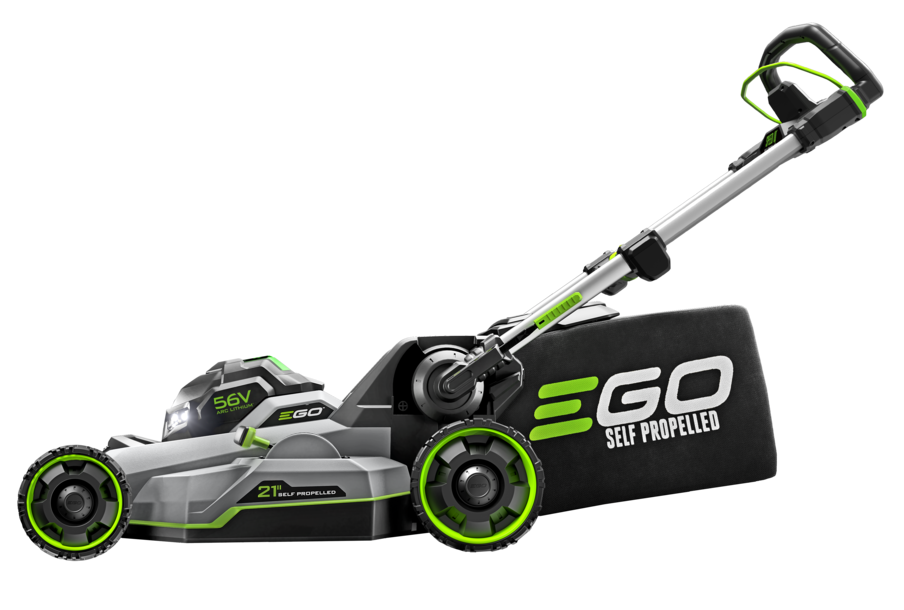 The EGO POWER+ 21″ Select Cut XP Mower uses Speed IQ self-propelling technology that digitally senses and adapts to the speed to match your stride. Check self-propel mode, charging status, and blade speed with the industry's first handlebar-integrated digital display. The 21″ mower features the Select Cut Multi-Blade System equipped with three interchangeable lower blades: the mulching blade, high lift bagging blade, and extended run time blade. The cordless lawn mower is powered by the industry's most advanced 56V ARC Lithium™ batteries and delivers up to 90 minutes of run time.
Includes the 21″ SELECT CUT XP SP Mower With Adaptive Drive, 56V 12Ah battery (BA6720T), and 56V 700W charger (CH7000)
EGO POWER+ 42″ Zero Turn Mower Kit with e-STEER Technology
The POWER+ 42″ Zero Turn Mower Kit (ZT4205S) uses the industry's first e-STEER technology delivering maximum control with the addition of a precision steering wheel. The electric lawn mower uses the power of six EGO 56V ARC Lithium batteries packing the equivalent power of 22 horsepower in a gas-powered mower. The 42″ mower has three driving modes that can be accessed on an LCD screen: control, standard, and sport. Other features include LED lights, a USB charging port, and Bluetooth. Get more done with the 3-in-1 mulching, bagging, and side-discharge capabilities.
Includes 42″ Zero Turn Riding Mower Kit w/ e-STEER, (4) 56V 12Ah battery (BA6720T), 56V 1600W charger (CHV1600)
EGO POWER+ 765 CFM Blower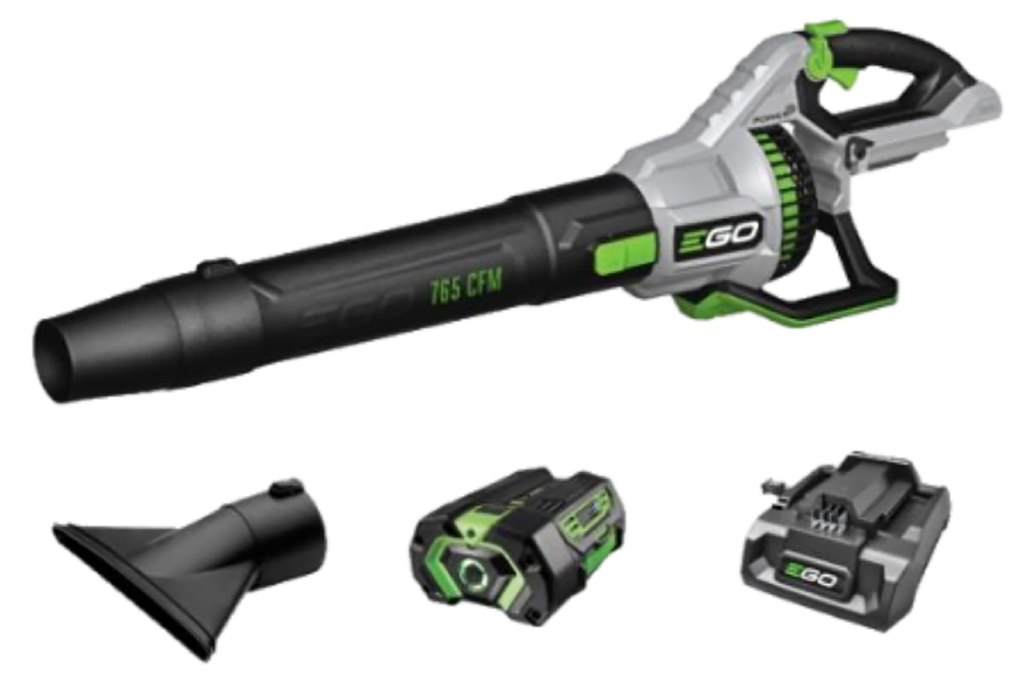 Experience air speeds up to 200 MPH with the 765 CFM EGO POWER+ Blower (LB7654), the world's most powerful handheld blower. The newest EGO blower is over 15% more powerful than any other handheld blower on the market. The speed-control dial lets you adjust the airspeed and turbo mode to move rocks, mud, snow, and wet leaves. The high-efficiency brushless motor delivers low vibrations, longer run time, and extended motor life. The quiet, lightweight EGO POWER+ 765 CFM Blower gets an average run time of 90 minutes when paired with an EGO 56V 5.0Ah ARC Lithium™ battery.
Includes: POWER+ 765CFM Blower, POWER+ 5.0 AMP Hour Battery (BA2800T), POWER+ 320W Charger (CH3200), SpreadNozzle, Tapered Nozzle
The EGO POWER+ Blower 765 CFM Kit with 2 x 5Ah Batteries (LB7654-2) is also available and includes 2 POWER+ 5.0 AMP Hour Batteries.
EGO POWER+ Nexus Escape 400W Inverter Bare Tool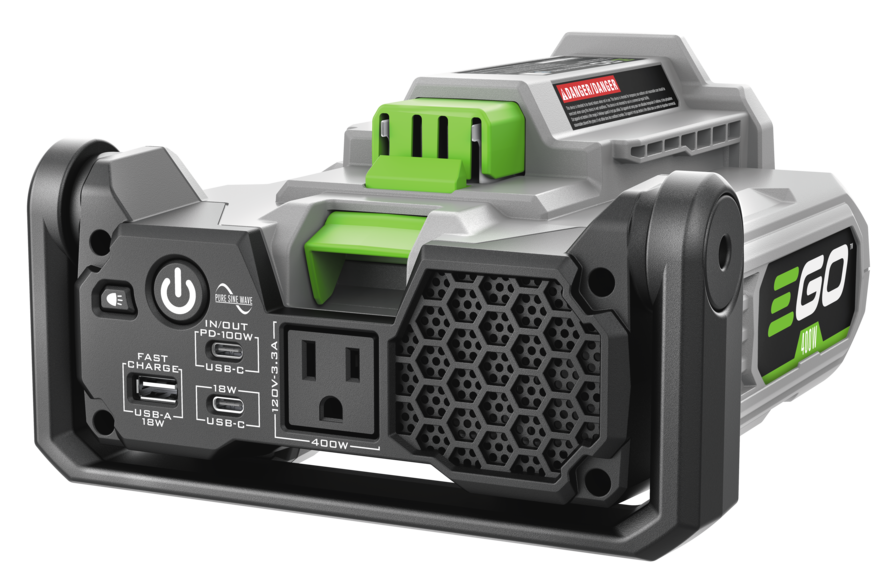 Enjoy portable power whenever you need it with the EGO POWER+ Nexus Escape 400W Inverter (PAD50000). Providing 400 watts of continuous power and 800-watt peak power, the EGO inverter with Pure Sine Wave delivers high-quality power to even the most sensitive electronics. The inverter can power up to three USB devices via one USB-C port, one USB-C PD port, and one USB-A port. The Nexus Escape Inverter features a 120V power outlet to power houseled items, and built-in LED lights can provide light when needed.