Introducing the Fein SLUGGER MagForce 90 Compact Magnetic Drill, a powerhouse tool designed to revolutionize your drilling experience. Check out the exceptional features and benefits that make it a must-have in any professional's arsenal.
Compact Design for Unparalleled Accessibility
This innovative Magnetic Drill has an incredibly compact and lightweight design, making it the perfect solution for accessing hard-to-reach areas effortlessly. Its ergonomic construction ensures comfortable operation even in tight spaces while maintaining exceptional stability and performance.
Memory Function for Speed Storage
Enhancing productivity and consistency, the Fein SLUGGER MagForce 90 features a unique memory function for speed storage. This advanced capability allows users to save and recall their preferred drilling speeds, eliminating the need for manual adjustments. Experience precise speed control and achieve optimal results across various drilling applications.
Enhanced Cooling System
The MagForce 90 is engineered for peak performance and incorporates an inner cooling lubrication system. This innovative feature, coupled with the included hand pump, delivers cooling lubricant directly to the drilling site, dissipating heat and ensuring uninterrupted operation during demanding tasks. Say goodbye to overheating issues and enjoy extended tool lifespan.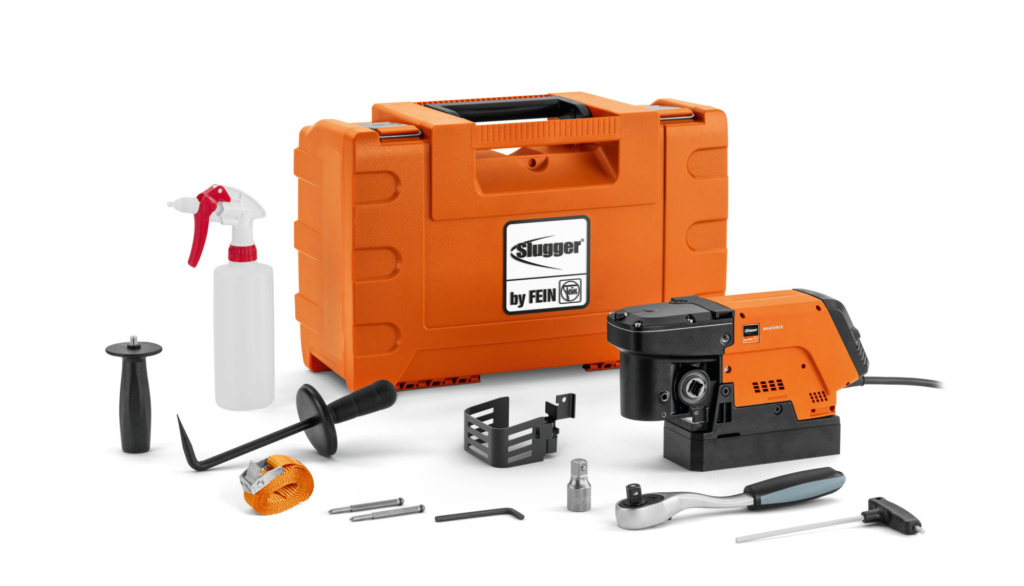 Powerful and Maintenance-Free Brushless Motor
At the heart of the Fein Magnetic Drill lies a robust 1200w high-performance brushless motor. This maintenance-free motor delivers exceptional torque and power, enabling effortless drilling across various applications. With its brushless design, the motor guarantees longer life, reduced maintenance, and increased overall efficiency.
Versatile Forward/Reverse Operation
Experience unparalleled versatility with the Fein SLUGGER MagForce 90's variable speed control and forward/reverse operation. Seamlessly switch between drilling and tapping operations, expanding your range of applications and maximizing productivity. The intuitive controls ensure smooth operation and quick adjustments, enhancing efficiency and precision.
German Engineering for Unmatched Durability
Like all Fein Tools and Accessories, the MagForce 90 is engineered with German precision and withstands the most demanding work environments. Its exceptional durability and wear resistance ensures reliable performance, even in challenging conditions. Trust it to deliver outstanding results, project after project.
Safety and Convenience Features
Prioritizing user safety, the Fein SLUGGER MagForce 90 boasts essential safety features, including a tilt sensor and a safety shutoff mechanism. These features provide enhanced protection during operation, minimizing the risk of accidents. The easy-to-read magnetic holding force display offers real-time feedback on drilling stability, ensuring secure and reliable performance.
Unobstructed View of Hole Location
Achieve unparalleled accuracy with the Fein SLUGGER MagForce 90's high gear level. This design feature provides a clear, unobstructed view of the hole location, eliminating guesswork and enhancing precision. Enjoy enhanced drilling control and achieve perfect results every time.
Warranty and Registration
We have complete confidence in the durability and performance of the Fein SLUGGER MagForce 90. We offer a one-year warranty with every purchase to demonstrate our commitment to quality. Additionally, by registering your product, you can extend the warranty by an additional two years, providing long-term protection and peace of mind.