The ultimate solution for all your heating needs in cold weather conditions. The Milwaukee 0801-20 M18 70,000BTU Propane (LP) Heater delivers optimal performance and maximum comfort with its best-in-class heat output and innovative features.
With variable heat output control and a forced air fan, the M18™ Propane Heater ensures you get the perfect heat for any situation. It offers a wide range of BTU ratings, from 30,000 to an impressive 70,000, allowing you to customize the heat output to suit your specific requirements. Say goodbye to shivering in the cold – this heater provides consistent and efficient heat to keep you warm throughout the day. Powered by a brushless motor, this propane heater runs on the MILWAUKEE M18 XC 5.0 battery (batteries and charger sold separately), ensuring extended runtime for all-day use. No need to worry about running out of power or constantly changing batteries – this heater is designed to provide long-lasting performance. The AC/DC functionality also allows you to use the heater with different power sources, making it ideal for various settings and locations.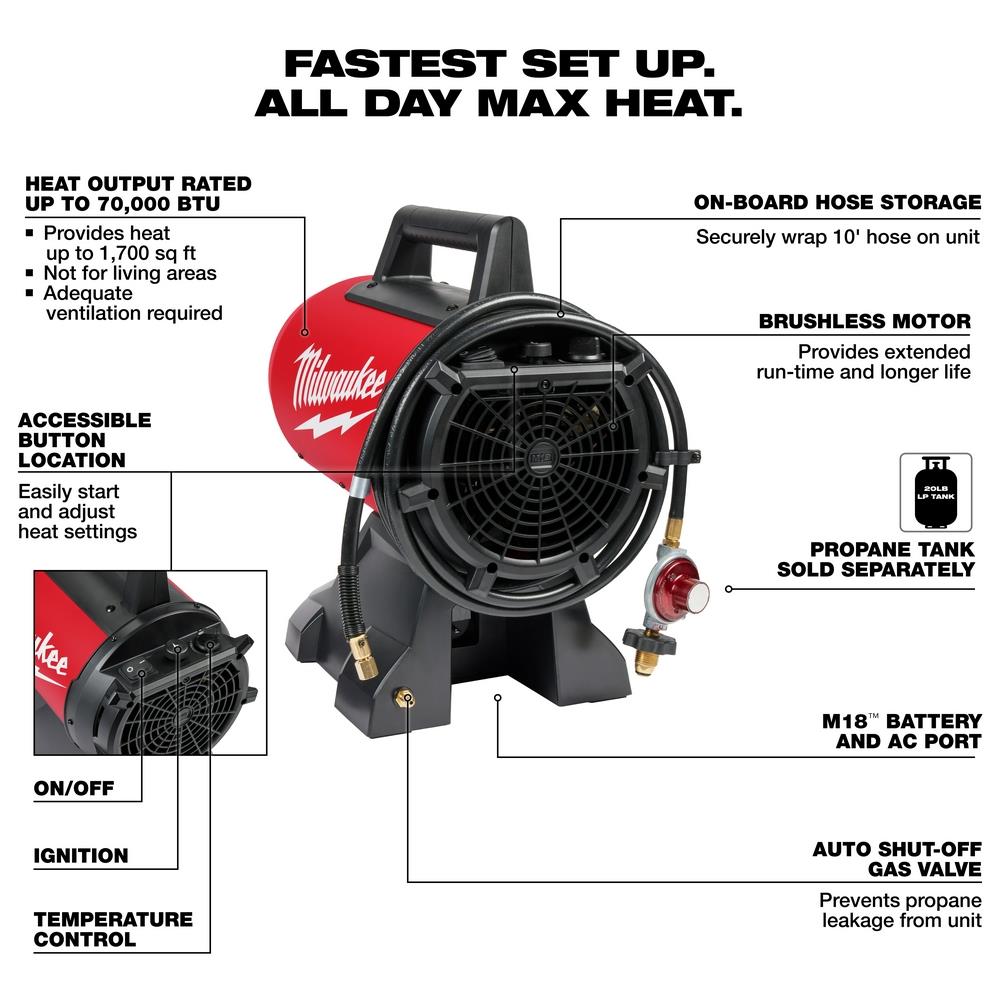 Setting up the M18™ Propane Heater is a breeze, thanks to its user-friendly design and easy-to-follow start-up process. The straightforward user interface on the top of the unit allows for quick ignition, ensuring you can enjoy the warmth immediately. Plus, with onboard hose storage, this heater provides convenient space to store its hose and regulator directly on the unit, allowing for a fast and hassle-free setup.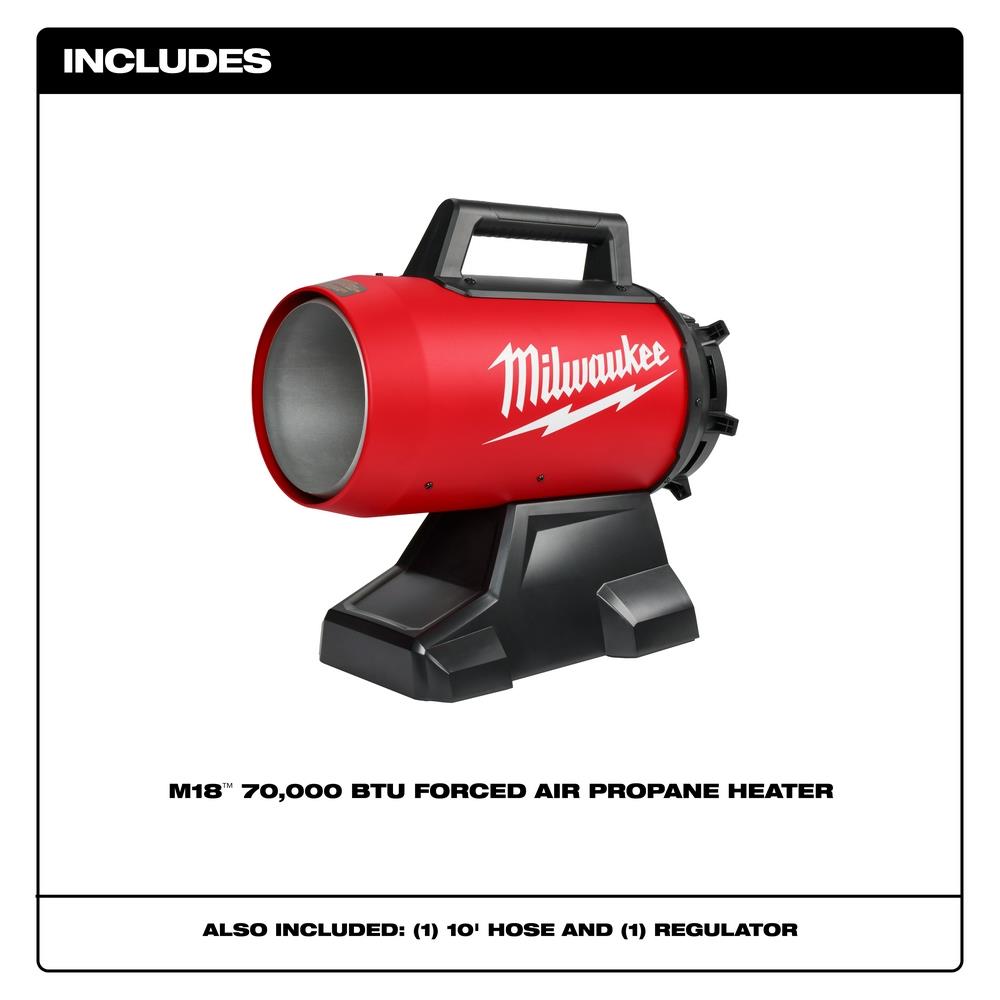 The MILWAUKEE® M18™ 70,000 BTU Forced Air Propane Heater comes with a 10ft hose and regulator for easy connection to your LP tank of 20lb or larger. Additionally, it is backed by a 1 Year Limited Warranty, giving you peace of mind and confidence in your purchase.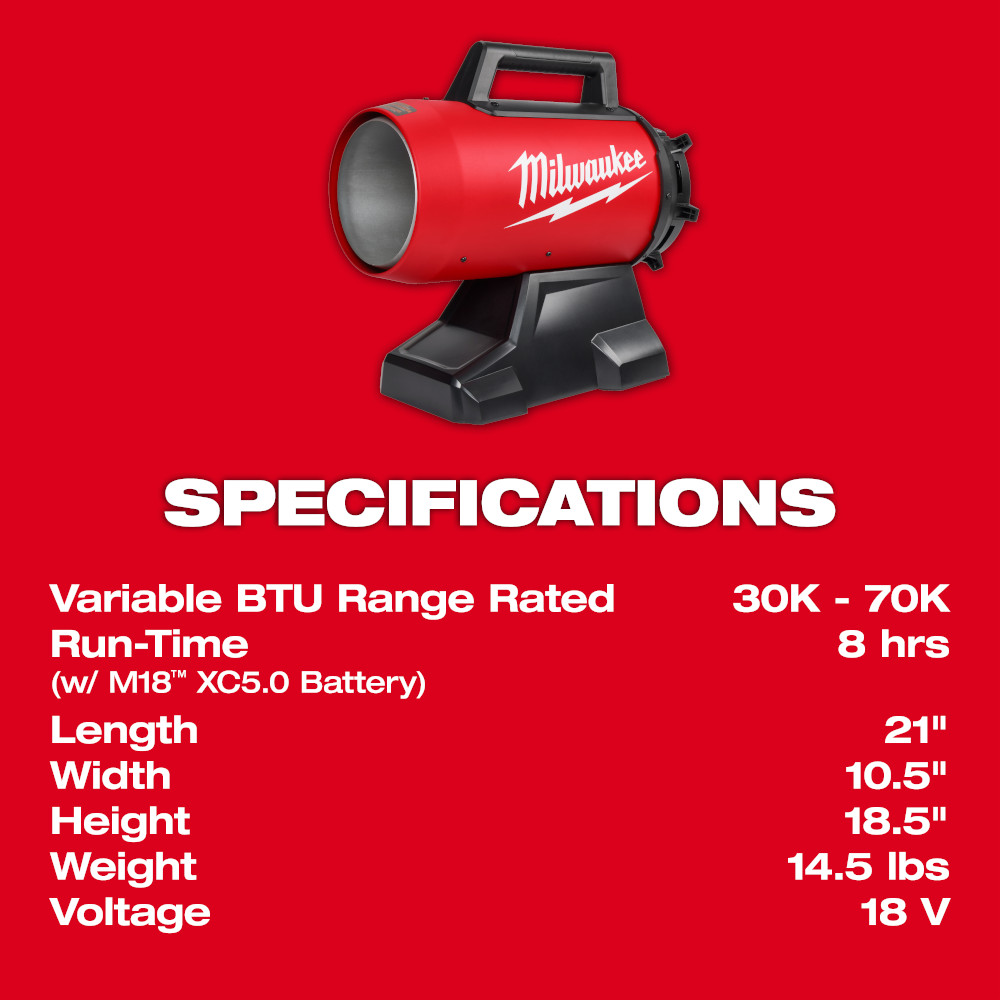 Experience the fastest setup, all-day maximum heat output, and unparalleled convenience with the MILWAUKEE® 0801-20 M18™ 70,000 BTU Forced Air Propane Heater. In Stock, Order yours now at Acme Tools, and prepare for the temperatures to drop.