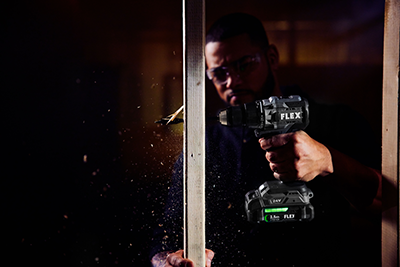 Known as the inventors of the original angle grinder, FLEX definitely knows their way around a power tool. So they had very high aspirations of competing with some of the top cordless tool brands such as DEWALT, Milwaukee, Makita, and Bosch when they released their 24-Volt Cordless Power Tools line. And they didn't mess around. The platform boasts lithium-ion and brushless motor technologies found in some of the best tools on the market, but FLEX's tools feature 20 percent more power than competitors and up to 50 percent faster charging times. 
Top FLEX 24-Volt Cordless Power Tools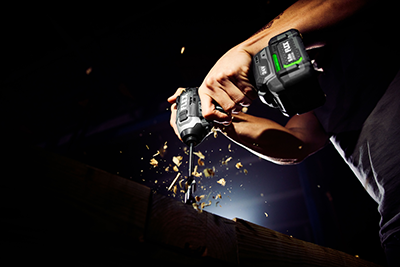 The initial lineup of tools on the 24-volt platform includes an angle grinder, circular saw, drill driver, oscillating multi-tool, jigsaw, hammer drill, reciprocating saw, mud mixer, and several other products. FLEX offers over 45 products in the 24-volt system between power tools and accessories.
A few of their standout tools include the 1/2-inch 2-Speed Drill Driver with Turbo Mode, 1/4-inch Quick Eject Impact Driver, and Reciprocating Saw with Quick Eject. The Drill Driver is the most powerful drill on the platform, with an industry-leading 1,400 inch-pounds of torque. That power combined with turbo mode's speed of 2,500 RPMs makes every job faster and more efficient.
The Quick Eject Impact Driver features 1,800 inch-pounds of torque to handle driving lag bolts with ease. An unparalleled runtime allows for driving up to 160 3-inch screws in 2×4 lumber with a 2.5 Ah battery. A quick eject collet makes it easy to make one-handed bit changes.
The FLEX Reciprocating Saw brings the power but doesn't sacrifice the control. Vibration suppression reduces vibrations by up to 40 percent for maximum control during cuts. For longer jobs, the saw can make up to 40 4×4 cuts with a 5.0Ah battery.
FLEX is currently offering a limited lifetime warranty on any tool, battery, or charger purchased with registration through the end of 2022. Shop all of FLEX's cordless tools and many other products at Acme Tools.