Easy access to the right tools is a timesaving benefit of a well-organized garage or workshop. GEARWRENCH understands the value of organizing and identifying your tools, which launched their MEGAMOD sets. Along with high-quality tools and boxes, these sets have a standout feature: premium, solvent-resistant foam inserts. In this post, you'll discover how these foam inserts, along with Gearwrench tools, can maximize the workspace, making it organized, productive, and cost-effective.
GEARWRENCH Modular Tool Storage Systems
Not only can you optimize your shop or garage space with Gearwrench tools storage systems, but you can also locate tools quickly. The foam inserts improve your organization with better tool control. You can identify the location of every hand tool in the set. The designated spot for each tool features high-visibility size markings for quick tool identification. You assemble an easy workflow, saving valuable time during your projects and eliminating the frustration of misplaced tools. The backbone to all of these new GEARWRENCH kits is the GSX Tool Cabinet. It features textured power coated paint which provides superior corrosion resistance, 20ga steel cabinet sides and 22ga steel drawers for added strength and durability. The aluminum drawer pulls activate the door trigger lock and the ball bearing slides allow the drawers to carry 100-300lbs depending on model and drawer configuration. Heavy duty casters give the entire unit a capacity of 615lb all the way up to 2,000lbs so no matter how many tools you may have, if they fit into these superior quality toolboxes, they will be able to be carried to where the work is and they are all backed with a 3yr limited warranty.
Efficient Tool Management With GEARWRENCH
Imagine never having to search for a misplaced tool again. With the Gearwrench MEGAMOD system, you can say goodbye to the endless hunt for that elusive wrench or socket. The foam inserts ensure each tool has its designated spot, making it easy to see if something is missing. This organization system allows you to focus more on the task at hand, saving you time and increasing your overall efficiency.
GEARWRENCH Tool Storage Solutions for Consistency and Safety
Besides making the tool-finding process efficient, the foam inserts ensure that every user consistently returns the tool to its designated spot. This consistency not only helps in maintaining an organized workspace but also saves money. The cost of losing tools adds up at the end of the year. Users consistently store their screw extractors or nut drivers in the same place. There is a reduced risk of accidents caused by misplaced and forgotten tools around motors or worksites. Such due diligence is crucial when working in a busy or shared workshop, where everyone needs to know where each tool belongs.
High-Quality Tools and Boxes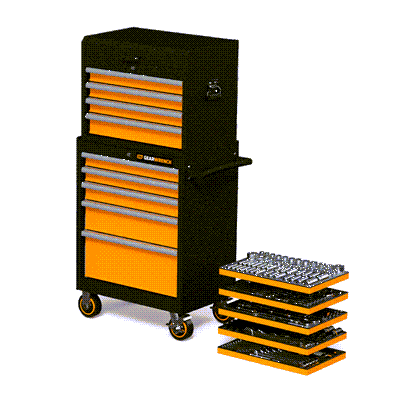 Aside from the foam inserts, the Gearwrench MEGAMOD system boasts high-quality, powder-coated tools and boxes. Each tool has durability and reliability, ensuring it can withstand the demands of professional use. So are the Gearwrench GSX tool storage products. Each rolling toolbox is built with sturdy materials, with ball bearings slides and 100 lbs. drawer slide capacity, providing secure storage and easy transportability. When investing in the Gearwrench MEGAMOD sets, you not only benefit from the organization system but also from the quality of the tools and boxes themselves.
GEARWRENCH Tool Storage Offers Endless Possibilities
The Gearwrench MEGAMOD sets come in various sizes, offering a range of options to fit different functions and budgets. Whether you opt for the 614-piece or the larger 1268-piece set, you can customize your collection to suit your specific requirements. The modular nature of the foam inserts allows for flexibility and future expansion as your tool collection grows. You can easily add new foam inserts to accommodate an additional SAE/Metric socket set. It ensures your organization system remains intact.
MEGAMODMRO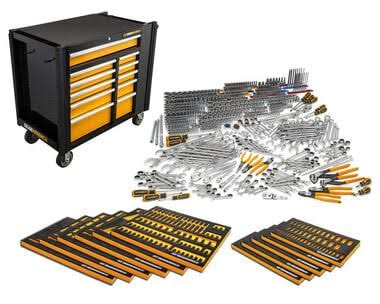 The MEGAMODMRO master mechanics hand tool set is built with maintenance, repair, and operations professionals in mind. It includes all tools needed to complete any job, premium foam inserts, and a GSX mobile workstation.
614-piece set
Includes drive tools, wrenches, bit sockets, sockets, ratcheting wrenches, pliers, and screwdrivers
42-inch, 11-drawer GSX mobile workstation provides 19,000 cubic inches of storage capacity
Premium pre-cut foam inserts keep all tools in place
MEGAMODPRO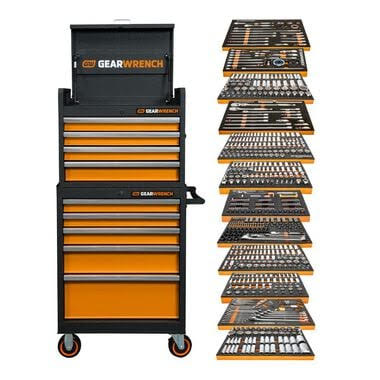 The MEGAMODPRO mechanics toolbox includes 791 pieces. 789 professional mechanics tools in modular trays and 2 GSX storage units.
791-piece set
Includes drive tools, wrenches, sockets, and hex keys, as well as Bolt Biter extraction tools
26-inch GSX top chest and rolling cart provide 9 drawers of storage space
MEGAMOD873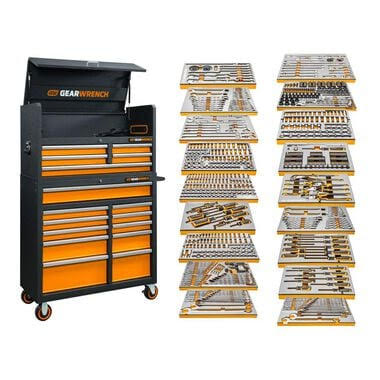 The MEGAMOD873 contains many of the tools found in other sets, as well as 2 GSX tool storage units.
873-piece set
Includes drive tools, sockets, bit and impact sockets, wrenches, pliers, screwdrivers, and Bolt Biter extraction tool
2 GSX tool storage units with 18 premium modular tool trays
MEGAMOD1024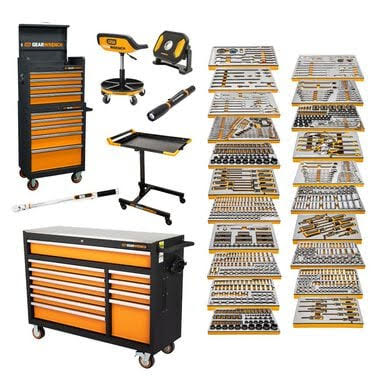 The MEGAMOD1024 has all the same great qualities as the MEGAMODMRO . It still includes all the tools needed to complete any job but also comes with work lights and other workshop accessories like a rolling chair and vehicle side workbench.
1024-piece set
Includes all the tools listed above, as well as Bolt Biter™ extraction tools
52-inch, 11-drawer GSX rolling tool cabinet features a heavy-gauge stainless steel worktop and built-in charging station
MEGAMOD1268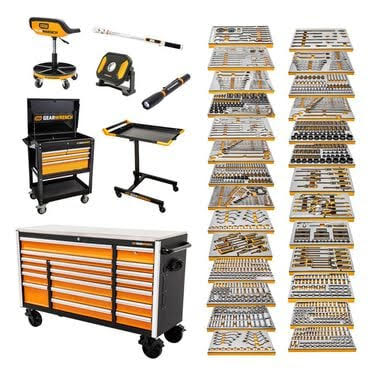 With 1268 pieces, this MEGAMOD tool set is the largest in the series. Not only does it contain all the tools needed to complete any job, it also contains work lights, an electronic torque wrench, and numerous shop accessories.
1268-piece set
Includes all tools found in smaller sets as well as work lights, electronic torque wrench, and shop accessories
75-inch, 18-drawer GSX rolling tool cabinet with heavy-gauge stainless steel worktop and built-in charging station

Organizing your garage, workshop, or repair workspace has never been easier, thanks to the Gearwrench MEGAMOD system. The foam inserts provide a home for every hand tool, allowing for easy identification of missing tools and consistent tool placement. With the added benefits of high-quality tools and sturdy rolling toolboxes, Gearwrench ensures your workspace stays organized but also efficient and safe. Invest in the Gearwrench MEGAMOD system and experience the ease and simplicity of an organized workshop.