Investing in a truck tool box makes sense for the professional who is continually working from site to site. It also is an excellent investment for any truck owner who needs safe and secure storage for their items. Weather Guard truck boxes are known for their durability and security, which it makes it a prime candidate for your first truck toolbox, or an upgrade from the one you already have.
There are different styles of truck tool boxes but finding the best one for your truck can be difficult. That is why Acme Tools wanted to make your selection easier. Down below all you have to do is pick your truck brand, select the model, choose your desired truck box, and finally pick the best one for your use.
Don't Know How to Choose a Truck Tool Box?
Truck Tool Box Breakdown
All-Purpose Box: The All-Purpose Box is just like its name, has a use for all purposes. Storing tools, tool boxes, and any other items that you need for your day to day job. It does not take up a lot of space on your bed but will lie on it.
Cross Box: With easy access from either side of your truck, preferred for anyone who needs to grab and go. Buttons on either side make it easy to open and safely secure in the box.
Hi-Side Box: This is great for maximum accessibility while you are working. When you need to swap a tool just fling open the door and grab the one you need. There are no pre-installed shelves for these boxes though and since you are getting more height and not width you will have to stack your tools. This can easily be remedied with a homemade or store-bought shelf system.
Lo-Side Box: Maximize your work effort without having to constantly go into your truck bed to fetch tools. These boxes give you space on the bed of your truck without losing space for storage for your tools. For additional storage, you can also use them in tandem with your cross box for more room for your tools.
Pork Chop Box: When you are hard on space or just need a little bit more storage for your tools, the Pork Chop is what you will need. This toolbox mounts right on top of the wheel hub near the tailgate. This box uses what would otherwise be a wasted space, for tools or maybe even an emergency kit.
Saddle Box: This box is a melding of the All-Purpose and the Cross Box with a focus on utilizing the frame of the bed while maximizing storage space. With this box, you have easy access from either side of the truck and from the bed itself. You do make the sacrifice with more storage for tools you lose space in your truck bed to load materials.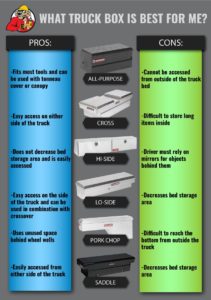 Selecting Your Box
To find the box that bests fits your truck; select your truck brand, select your model, select the style of box you would like, and select the box you want. The link will take you to our website, there you can find more information about the truck box and add it to your cart.
[expand title="Chevrolet"]
[expandsub1 title="Colorado"]
[expandsub2 title="

All-Purpose Chest" tag="div"]
644-0-01 37″ L x 20.25″ W x 17″ H, Compact, Aluminum, 6.0 cu', Clear
644-5-01 37″ L x 20.25″ W x 17″ H, Compact, Aluminum 6.0 cu', Gloss Black
645-3-01 36.75″ L x 20.25″ W x 16.25″ H, Compact, Steel, 6.0 cu' White[/expandsub2]
[expandsub2 title="

Hi-Side Box" tag="div"]
391-3-02 90.25″ L x 16.25″ W x 18″ H, Super-Side Box, Aluminum, 15.2 cu', White
391-52-02 90.25″ L x 16.25″ W x 18″ H, Super-Side Box, Aluminum, 15.2 cu', Textured Matte Black
265-3-02 64.25″ L x 16.25″ W x 18″ H, Super-Side Box, Steel, 10.8 cu', White
272-3-02 72.25″ L x 13.5″ W x 16″ H, Hi-Side Box, Steel, 8.9 cu', White
291-3-02 90.25″ L x 16.25″ W x 18″ H, Super-Side Box, Steel, 15.2 cu', White
296-3-02 96.25″ L x 13.25″ W x 16″ H, Hi-Side Box, Steel, 11.8 cu', White
297-3-02 96.25″ L x 16.25″ W x 24″ H, Super-Side Box, Steel, Jumbo, 21.4 cu', White
364-0-02 64.25″ L x 13.25″ W x 16″ H, Hi-Side Box, Aluminum, 7.9 cu', Clear
365-0-02 64.25″ L x 16.25″ W x 18″ H, Hi-Side Box, Aluminum, 10.8 cu', Clear
372-0-02 72.25″ L x 13.25″ W x 16″ H, Hi-Side Box, Aluminum, 8.9 cu', Clear
372-5-02 72.25″ L x 13.25″ W x 16″ H, Hi-Side Box, Aluminum, 8.9 cu', Gloss Black
390-0-02 90.25″ L x 13.25″ W x 16″ H, Hi-Side Box, Aluminum, 11.1 cu', Clear
390-5-02 90.25″ L x 13.25″ W x 16″ H, Hi-Side Box, Aluminum, 11.1 cu', Gloss Black
391-0-02 90.25″ L x 16.25″ W x 18″ H, Super-Side Box, Aluminum, 15.2 cu', Clear
391-5-02 90.25″ L x 16.25″ W x 18″ H, Super-Side Box, Aluminum, 15.2 cu', Gloss Black
396-0-02 96.25″ L x 13.25″ W x 16″ H, Hi-Side Box, Aluminum, 11.8 cu', Clear
300302-53-01 60.13″ L x 13.33″ W x 16.06″ H, Standard Hi-Side Box, Aluminum, 6.7 cu', Black
300302-9-01 60.13″ L x 13.33″ W x 16.06″ H, Standard Hi-Side Box, Aluminum, 6.7 cu', Uncoated
300303-53-01 90.13″ L x 13.33″ W x 16.06″ H, Long Hi-Side Box, Aluminum, 10 cu', Black
300303-9-01 90.13″ L x 13.33″ W x 16.06″ H, Long Hi-Side Box, Aluminum, 10 cu', Uncoated[/expandsub2]
[expandsub2 title="

Lo-Side Box" tag="div"]
174-0-01 56.25″ L x 16.25″ W x 13.25″ H, Standard, Aluminum, 4.1 cu', Clear
174-5-01 56.25″ L x 16.25″ W x 13.25″ H, Standard, Aluminum, 4.1 cu', Gloss Black
174-3-01 56.25″ L x 16.25″ W x 13.25″ H, Standard, Aluminum, 4.1 cu', White
174-52-01 56.25″ L x 16.25″ W x 13.25″ H, Standard, Aluminum, 4.1 cu', Textured Matte Black
184-3-01 47.25″ L x 16.25″ W x 13.25″ H, Short, Aluminum, 3.4 cu', White
184-52-01 47.25″ L x 16.25″ W x 13.25″ H, Short, Aluminum, 3.4 cu', Textured Matte Black
175-3-01 60.37″ L x 13.62″ W x 12.87″ H, Standard, Steel, 4.5 cu', White
176-3-01 60.25″ L x 18″ W x 14″ H, Standard, Steel, 6.5 cu', White
178-0-01 59.25″ L x 19.25″ W x 11.75″ H, Standard, Aluminum, 4.3 cu', Clear
178-5-01 59.25″ L x 19.25″ W x 11.75″ H, Standard, Aluminum, 4.3 cu', Gloss Block
179-0-01 59.25″ L x 19.25″ W x 11.75″ H, Standard, Aluminum, 4.3 cu', Clear
179-5-01 59.25″ L x 19.25″ W x 11.75″ H, Standard, Aluminum, 4.3 cu', Gloss Black
180-0-01 44.25″ L x 19.25″ W x 11.75″ H, Short, Aluminum, 3.2 cu', Clear
180-5-01 44.25″ L x 19.25″ W x 11.75″ H, Short, Aluminum, 3.2 cu', Gloss Black
181-0-01 44.25″ L x 19.25″ W x 11.75″ H, Short, Aluminum, 3.2 cu', Clear
181-5-01 44.25″ L x 19.25″ W x 11.75″ H, Short, Aluminum, 3.2 cu', Gloss Black
184-0-01 47.25″ L x 16.25″ W x 13.25″ H, Short, Aluminum, 3.4 cu', Clear
184-5-01 47.25″ L x 16.25 " W x 13.25″ H, Short, Aluminum, 3.4 cu', Gloss Black
185-3-01 46.25″ L x 13.5″ W x 13″ H, Short, Steel, 3.2 cu', White
186-3-01 46.75″ L 18″ W x 13″ H, Short, Steel, 4.5 cu', White
300300-53-01 60.12″ L x 16.62″ W x 12.87″ H, Standard, Aluminum, 4.4 cu', Black
300300-9-01 60.12″ L x 16.62″ W x 12.87″ H, Standard, Aluminum, 4.4 cu', Uncoated
300304-53-01 46.62″ L x 16.62″ W x 12.87″ H, Short, Aluminum, 3.3 cu', Black
300304-9-01 46.62″ L x 16.62″ W x 12.87″ H, Short, Aluminum, 3.3 cu', Uncoated
[/expandsub2]
[expandsub2 title="

Porkchop Box" tag="div"]
160-3-01 46.5″ L x 9.25″ W x 19.12″ H, Driver Side, Steel, 2.1 cu', White
161-3-01 46.5″ L x 9.25″ W x 19.12″ H, Passanger Side, Steel, White, 2.1 cu', White
162-3-01 46.5″ L x 13.62″ W x 19.12″ H, Driver Side, Steel, 3.4 cu', White
163-3-01 46.5″ L x 13.62″ W x 19.12″ H, Passanger Side, Steel, 3.4 cu', White
170-0-01 46.75″ L x 9.25″ W x 19.5″ H, Driver Side, Aluminum, 2.1 cu', Clear
170-5-01 46.75″ L x 9.25″ W x 19.5″ H, Driver Side, Aluminum, 2.1 cu', Gloss Black
171-0-01 46.75″ L x 9.25″ W x 19.5″ H, Passanger Side, Aluminum, 2.1 cu' Clear
171-5-01 46.75″ L x 9.25″ W x 19.5″ H, Passanger Side, Aluminum, 2.1 cu' Gloss Black
172-0-01 46.75″ L x 9.25″ W x 19.5″ H, Driver Side, Aluminum, 3.4 cu' Clear
172-5-01 46.75″ L x 13.5″ W x 19.5″ H, Driver Side, Aluminum, 3.4 cu', Gloss Black
173-0-01 46.75″ L x 13.5″ W x 19.5″ H, Passanger Side, Aluminum, 3.4 cu', Clear
173-5-01 46.75″ L x 13.5″ W x 19.5″ H, Passanger Side, Aluminum, 3.4 cu', Gloss Black
[/expandsub2]
[expandsub2 title="

Saddle Box" tag="div"]
127-0-02 71.5″ L x 20.25″ W x 18.5″ H, Full Standard, Aluminum, 11.3 cu', Clear
127-5-02 71.5″ L x 20.25″ W x 18.5″ H, Full Standard, Aluminum, 11.3 cu', Black
117-5-02 71.5″ L x 27.5″ W x 18.5″ H, Full Extra Wide, Aluminum, 15.3 cu', Black
127-3-02 71.5″ L x 20.25″ W x 18.5″ H, Full Standard, Aluminum, 11.3 cu', White
127-52-02 71.5″ L x 20.25″ W x 18.5″ H, Full Standard, Aluminum, 11.3 cu', Black
117-52-02 71.5″ L x 20.25″ W x 18.5″ H, Full Extra Wide, Aluminum,15.3 cu', Black
121-5-01 71.5″ L x 20.25″ W x 15″ H, Full Low Profile, Aluminum, 8.8 cu', Black
121-52-01 71.5″ L x 20.25″ W x 15″ H, Full Low Profile, Aluminum, 8.8 cu', Black
300104-53-01 62″ L x 19.7″ W x 18.2″ H, Compact Saddle Box, Aluminum 9.5 cu', Black
300105-53-01 71″ L x 19.7″ W x 17.7″ H, Full Size Saddle Box, Aluminum, 10.7 cu', Black
300105-9-01 71″ L x 19.7″ W x 17.7″ H, Full Size Saddle Box, Aluminum, 10.7 cu', Uncoated
116-3-02 71.5″ L x 27.5″ W x 18.5″ H, Full Extra Wide, Steel, 15.3 cu', White
116-5-02 71.5″ L x 27.5″ W x 18.5″ H, Full Extra Wide, Steel, 15.3 cu', Black
120-3-01 71.5″ L x 21.25″ W x 15.8″ H, Full Low Profile, Steel, 8.8 cu', White
120-5-01 71.5″ L x 21.25″ W x 15.8″ H, Full Low Profile, Steel, 8.8 cu', Black
121-0-01 71.5″ L x 20.25″ W x 15″ H, Full Low Profile, Aluminum, 8.8 cu', Clear
123-0-01 71.5″ L x 20.25″ W x 24″ H, Full Extra Deep, Aluminum, 15.1 cu', Clear
123-5-01 71.5″ L x 20.25″ W x 24″ H, Full Extra Deep, Aluminum, 15.1 cu', Gloss Black
126-3-02 71.5″ L x 20.25″ W x 18.5″ H, Standard, Steel, 11.3 cu', White
126-5-02 71.5″ L x 20.25″ W x 18.5″ H, Standard, Steel, 11.3 cu', Gloss Black
300104-9-01 61.8″ L x 19.8″ W x 18.1″ H, Compact Saddle, Aluminum 9.5 cu', Uncoated
300106-53-01 71″ L x 19.7″ W x 16.2″ H, Full Size Lo-Profile, Aluminum, 9.5 cu', Black
300106-9-01 71″ L x 19.7″ W x 16.2″ H, Full Size Lo-Profile, Aluminum, 9.5 cu', Uncoated[/expandsub2]
[/expandsub1]
[expandsub1 title="Silverado 1500″]
[expandsub2 title="

All-Purpose Chest" tag="div"]
674-52-01 47″ L x 20.25″ W x 19.25″ H, Full Compact, Aluminum, 10 cu', Textured Matte Black
664-52-01 62″ L x 20″ W x 19.25 " H, Full, Aluminum, 13.1 cu', Textured Matte Black
644-0-01 37″ L x 20.25″ W x 17″ H, Compact, Aluminum, 6.0 cu', Clear
644-5-01 37″ L x 20.25″ W x 17″ H, Compact, Aluminum 6.0 cu', Gloss Black
645-3-01 36.75″ L x 20.25″ W x 16.25″ H, Compact, Steel, 6.0 cu', White
654-0-01 55″ L x 20″ W x 19.25″ H Compact, Aluminum, 12.0 cu', Clear
654-5-01 55″ L x 20″ W x 19.25″ H Full Compact, Aluminum, 12.0 cu', Gloss Black
655-3-01 55″ L x 20″ W x 19.25″ H Full Compact, Steel, 12.0 cu', White
664-0-01 62″ L x 20″ W x 19.25″ H, Full, Aluminum, 13.1 cu', Clear
664-5-01 62″ L x 20″ W x 19.25″ H, Full, Aluminum, 13.1 cu', Gloss Black
665-3-01 62″ L x 20″ W x 19.25″ H, Full, Aluminum, 13.1 cu', White
665-5-01 62″ L x 20″ W x 19.25″ H, Full, Steel, 13.1 cu', Black
674-0-01 47″ L x 20.25″ W x 19.25 H, Full, Aluminum, 10.1 cu', Clear
674-5-01 47″ L x 20.25″ W x 19.25″ H, Full, Aluminum, 10.0 cu', Gloss Black
675-3-01 47″ L x 20.25″ W x 19.25″ H, Full Compact, Steel, 10.0 cu', White
684-0-01 62″ L x 27.5″ W x 19.25″ H, Full Extra Wide, Aluminum, 18.6 cu', Clear
684-5-01 62″ L x 27.5″ W x 19.25 " H, Full Extra Wide, Aluminum, 18.6 cu', Gloss Black
685-3-01 62″ L x 27″ W x 19.25″ H, Full Extra Wide, Steel, 18.6 cu', White
300401-53-01 50″ L x 19.6″ W x 19.3″ H, Universal Chest Box, Aluminum, 9.3 cu', Black
300401-9-01 50″ L x 19.6″ W x 19.3″ H, Universal Chest Box, Aluminum, 9.3 cu', Uncoated
[/expandsub2]
[expandsub2 title="

Cross Box" tag="div"]
114-0-01 71.5″ L x 27.5″ W x 18.5″ H, Full Extra Wide, Aluminum, 15.3 cu', Clear
114-5-01 71.5″ L x 27.5″ W x 18.5″ H, Full Extra Wide, Aluminum, 15.3 cu', Gloss Black
115-3-01 71.5″ L x 27.5″ W x 18.5″ H, Full Extra Wide, Steel, 15.3 cu', White
124-0-01 72″ L x 20.5″ W x 18.37″ H, Full Standard, Aluminum, 11.3 cu', Clear
124-5-01 72″ L x 20.5″ W x 18.37″ H, Full Standard, Aluminum, 11.3 cu', Gloss Black
125-3-01 71.5″ L x 20″ W x 17.87″ H, Full Standard, Steel, 11.3 cu', White
125-5-01 71.5″ L x 20″ W x 17.87″ H, Full Standard, Steel, 11.3 cu', Gloss Black
300207-53-01 71.5″ L x 19.62″ W x 17.75″ H, Full Size, Aluminum, 10.7 cu', Black
300207-9-01 71.5″ L x 19.62″ W x 17.75″ H, Full Size, Aluminum, 10.7 cu', Uncoated
[/expandsub2]
[expandsub2 title="

Hi-Side Box" tag="div"]
391-3-02 90.25″ L x 16.25″ W x 18″ H, Super-Side Box, Aluminum, 15.2 cu', White
391-52-02 90.25″ L x 16.25″ W x 18″ H, Super-Side Box, Aluminum, 15.2 cu', Textured Matte Black
265-3-02 64.25″ L x 16.25″ W x 18″ H, Super-Side Box, Steel, 10.8 cu', White
272-3-02 72.25″ L x 13.5″ W x 16″ H, Hi-Side Box, Steel, 8.9 cu', White
291-3-02 90.25″ L x 16.25″ W x 18″ H, Super-Side Box, Steel, 15.2 cu', White
296-3-02 96.25″ L x 13.25″ W x 16″ H, Hi-Side Box, Steel, 11.8 cu', White
297-3-02 96.25″ L x 16.25″ W x 24″ H, Super-Side Box, Steel, Jumbo, 21.4 cu', White
364-0-02 64.25″ L x 13.25″ W x 16″ H, Hi-Side Box, Aluminum, 7.9 cu', Clear
365-0-02 64.25″ L x 16.25″ W x 18″ H, Hi-Side Box, Aluminum, 10.8 cu', Clear
372-0-02 72.25″ L x 13.25″ W x 16″ H, Hi-Side Box, Aluminum, 8.9 cu', Clear
372-5-02 72.25″ L x 13.25″ W x 16″ H, Hi-Side Box, Aluminum, 8.9 cu', Gloss Black
390-0-02 90.25″ L x 13.25″ W x 16″ H, Hi-Side Box, Aluminum, 11.1 cu', Clear
390-5-02 90.25″ L x 13.25″ W x 16″ H, Hi-Side Box, Aluminum, 11.1 cu', Gloss Black
391-0-02 90.25″ L x 16.25″ W x 18″ H, Super-Side Box, Aluminum, 15.2 cu', Clear
391-5-02 90.25″ L x 16.25″ W x 18″ H, Super-Side Box, Aluminum, 15.2 cu', Gloss Black
396-0-02 96.25″ L x 13.25″ W x 16″ H, Hi-Side Box, Aluminum, 11.8 cu', Clear
300302-53-01 60.13″ L x 13.33″ W x 16.06″ H, Standard Hi-Side Box, Aluminum, 6.7 cu', Black
300302-9-01 60.13″ L x 13.33″ W x 16.06″ H, Standard Hi-Side Box, Aluminum, 6.7 cu', Uncoated
300303-53-01 90.13″ L x 13.33″ W x 16.06″ H, Long Hi-Side Box, Aluminum, 10 cu', Black
300303-9-01 90.13″ L x 13.33″ W x 16.06″ H, Long Hi-Side Box, Aluminum, 10 cu', Uncoated
[/expandsub2]
[expandsub2 title="

Lo-Side Box" tag="div"]
174-0-01 56.25″ L x 16.25″ W x 13.25″ H, Standard, Aluminum, 4.1 cu', Clear
174-5-01 56.25″ L x 16.25″ W x 13.25″ H, Standard, Aluminum, 4.1 cu', Gloss Black
174-3-01 56.25″ L x 16.25″ W x 13.25″ H, Standard, Aluminum, 4.1 cu', White
174-52-01 56.25″ L x 16.25″ W x 13.25″ H, Standard, Aluminum, 4.1 cu', Textured Matte Black
184-3-01 47.25″ L x 16.25″ W x 13.25″ H, Short, Aluminum, 3.4 cu', White
184-52-01 47.25″ L x 16.25″ W x 13.25″ H, Short, Aluminum, 3.4 cu', Textured Matte Black
164-0-01 87.75″ L, 16.25″ W x 13.5″ H, Long, Aluminum, 6.4 cu', Clear
164-5-01 87.12″ L x 16.25″ W x 13.5″ H, Long, Aluminum, 6.4 cu', Gloss Black
175-3-01 60.37″ L x 13.62″ W x 12.87″ H, Standard, Steel, 4.5 cu', White
176-3-01 60.25″ L x 18″ W x 14″ H, Standard, Steel, 6.5 cu', White
178-0-01 59.25″ L x 19.25″ W x 11.75″ H, Standard, Aluminum, 4.3 cu', Clear
178-5-01 59.25″ L x 19.25″ W x 11.75″ H, Standard, Aluminum, 4.3 cu', Gloss Block
179-0-01 59.25″ L x 19.25″ W x 11.75″ H, Standard, Aluminum, 4.3 cu', Clear
179-5-01 59.25″ L x 19.25″ W x 11.75″ H, Standard, Aluminum, 4.3 cu', Gloss Black
180-0-01 44.25″ L x 19.25″ W x 11.75″ H, Short, Aluminum, 3.2 cu', Clear
180-5-01 44.25″ L x 19.25″ W x 11.75″ H, Short, Aluminum, 3.2 cu', Gloss Black
181-0-01 44.25″ L x 19.25″ W x 11.75″ H, Short, Aluminum, 3.2 cu', Clear
181-5-01 44.25″ L x 19.25″ W x 11.75″ H, Short, Aluminum, 3.2 cu', Gloss Black
184-0-01 47.25″ L x 16.25″ W x 13.25″ H, Short, Aluminum, 3.4 cu', Clear
184-5-01 47.25″ L x 16.25 " W x 13.25″ H, Short, Aluminum, 3.4 cu', Gloss Black
185-3-01 46.25″ L x 13.5″ W x 13″ H, Short, Steel, 3.2 cu', White
186-3-01 46.75″ L 18″ W x 13″ H, Short, Steel, 4.5 cu', White
300300-53-01 60.12″ L x 16.62″ W x 12.87″ H, Standard, Aluminum, 4.4 cu', Black
300300-9-01 60.12″ L x 16.62″ W x 12.87″ H, Standard, Aluminum, 4.4 cu', Uncoated
300304-53-01 46.62″ L x 16.62″ W x 12.87″ H, Short, Aluminum, 3.3 cu', Black
300304-9-01 46.62″ L x 16.62″ W x 12.87″ H, Short, Aluminum, 3.3 cu', Uncoated
[/expandsub2]
[expandsub2 title="

Porkchop Box" tag="div"]
160-3-01 46.5″ L x 9.25″ W x 19.12″ H, Driver Side, Steel, 2.1 cu', White
161-3-01 46.5″ L x 9.25″ W x 19.12″ H, Passanger Side, Steel, White, 2.1 cu', White
162-3-01 46.5″ L x 13.62″ W x 19.12″ H, Driver Side, Steel, 3.4 cu', White
163-3-01 46.5″ L x 13.62″ W x 19.12″ H, Passanger Side, Steel, 3.4 cu', White
170-0-01 46.75″ L x 9.25″ W x 19.5″ H, Driver Side, Aluminum, 2.1 cu', Clear
170-5-01 46.75″ L x 9.25″ W x 19.5″ H, Driver Side, Aluminum, 2.1 cu', Gloss Black
171-0-01 46.75″ L x 9.25″ W x 19.5″ H, Passanger Side, Aluminum, 2.1 cu' Clear
171-5-01 46.75″ L x 9.25″ W x 19.5″ H, Passanger Side, Aluminum, 2.1 cu' Gloss Black
172-0-01 46.75″ L x 9.25″ W x 19.5″ H, Driver Side, Aluminum, 3.4 cu' Clear
172-5-01 46.75″ L x 13.5″ W x 19.5″ H, Driver Side, Aluminum, 3.4 cu', Gloss Black
173-0-01 46.75″ L x 13.5″ W x 19.5″ H, Passanger Side, Aluminum, 3.4 cu', Clear
173-5-01 46.75″ L x 13.5″ W x 19.5″ H, Passanger Side, Aluminum, 3.4 cu', Gloss Black
[/expandsub2]
[expandsub2 title="

Saddle Box" tag="div"]
127-0-02 71.5″ L x 20.25″ W x 18.5″ H, Full Standard, Aluminum, 11.3 cu', Clear
127-5-02 71.5″ L x 20.25″ W x 18.5″ H, Full Standard, Aluminum, 11.3 cu', Black
117-5-02 71.5″ L x 27.5″ W x 18.5″ H, Full Extra Wide, Aluminum, 15.3 cu', Black
127-3-02 71.5″ L x 20.25″ W x 18.5″ H, Full Standard, Aluminum, 11.3 cu', White
127-52-02 71.5″ L x 20.25″ W x 18.5″ H, Full Standard, Aluminum, 11.3 cu', Black
117-52-02 71.5″ L x 20.25″ W x 18.5″ H, Full Extra Wide, Aluminum,15.3 cu', Black
121-5-01 71.5″ L x 20.25″ W x 15″ H, Full Low Profile, Aluminum, 8.8 cu', Black
121-52-01 71.5″ L x 20.25″ W x 15″ H, Full Low Profile, Aluminum, 8.8 cu', Black
300105-53-01 71″ L x 19.7″ W x 17.7″ H, Full Size Saddle Box, Aluminum, 10.7 cu', Black
300105-9-01 71″ L x 19.7″ W x 17.7″ H, Full Size Saddle Box, Aluminum, 10.7 cu', Uncoated
116-3-02 71.5″ L x 27.5″ W x 18.5″ H, Full Extra Wide, Steel, 15.3 cu', White
116-5-02 71.5″ L x 27.5″ W x 18.5″ H, Full Extra Wide, Steel, 15.3 cu', Black
120-3-01 71.5″ L x 21.25″ W x 15.8″ H, Full Low Profile, Steel, 8.8 cu', White
120-5-01 71.5″ L x 21.25″ W x 15.8″ H, Full Low Profile, Steel, 8.8 cu', Black
121-0-01 71.5″ L x 20.25″ W x 15″ H, Full Low Profile, Aluminum, 8.8 cu', Clear
123-0-01 71.5″ L x 20.25″ W x 24″ H, Full Extra Deep, Aluminum, 15.1 cu', Clear
123-5-01 71.5″ L x 20.25″ W x 24″ H, Full Extra Deep, Aluminum, 15.1 cu', Gloss Black
126-3-02 71.5″ L x 20.25″ W x 18.5″ H, Standard, Steel, 11.3 cu', White
126-5-02 71.5″ L x 20.25″ W x 18.5″ H, Standard, Steel, 11.3 cu', Gloss Black
300106-53-01 71″ L 19.7″ W x 16.2″ H, Full Size Lo-Profile, Aluminum, 9.5 cu', Black
300106-9-01 71″ L 19.7″ W x 16.2″ H, Full Size Lo-Profile, Aluminum, 9.5 cu', Uncoated
[/expandsub2]
[/expandsub1]
[expandsub1 title="Silverado 2500/3500″]
[expandsub2 title="

All-Purpose Chest" tag="div"]
674-52-01 47″ L x 20.25″ W x 19.25″ H, Full Compact, Aluminum, 10 cu', Textured Matte Black
664-52-01 62″ L x 20″ W x 19.25 " H, Full, Aluminum, 13.1 cu', Textured Matte Black
644-0-01 37″ L x 20.25″ W x 17″ H, Compact, Aluminum, 6.0 cu', Clear
644-5-01 37″ L x 20.25″ W x 17″ H, Compact, Aluminum 6.0 cu', Gloss Black
645-3-01 36.75″ L x 20.25″ W x 16.25″ H, Compact, Steel, 6.0 cu', White
654-0-01 55″ L x 20″ W x 19.25″ H Compact, Aluminum, 12.0 cu', Clear
654-5-01 55″ L x 20″ W x 19.25″ H Full Compact, Aluminum, 12.0 cu', Gloss Black
655-3-01 55″ L x 20″ W x 19.25″ H Full Compact, Steel, 12.0 cu', White
664-0-01 62″ L x 20″ W x 19.25″ H, Full, Aluminum, 13.1 cu', Clear
664-5-01 62″ L x 20″ W x 19.25″ H, Full, Aluminum, 13.1 cu', Gloss Black
665-3-01 62″ L x 20″ W x 19.25″ H, Full, Aluminum, 13.1 cu', White
665-5-01 62″ L x 20″ W x 19.25″ H, Full, Steel, 13.1 cu', Black
674-0-01 47″ L x 20.25″ W x 19.25 H, Full, Aluminum, 10.1 cu', Clear
674-5-01 47″ L x 20.25″ W x 19.25″ H, Full, Aluminum, 10.0 cu', Gloss Black
675-3-01 47″ L x 20.25″ W x 19.25″ H, Full Compact, Steel, 10.0 cu', White
684-0-01 62″ L x 27.5″ W x 19.25″ H, Full Extra Wide, Aluminum, 18.6 cu', Clear
684-5-01 62″ L x 27.5″ W x 19.25 " H, Full Extra Wide, Aluminum, 18.6 cu', Gloss Black
685-3-01 62″ L x 27″ W x 19.25″ H, Full Extra Wide, Steel, 18.6 cu', White
300401-53-01 50″ L x 19.6″ W x 19.3″ H, Universal Chest Box, Aluminum, 9.3 cu', Black
300401-9-01 50″ L x 19.6″ W x 19.3″ H, Universal Chest Box, Aluminum, 9.3 cu', Uncoated
[/expandsub2]
[expandsub2 title="

Cross Box" tag="div"]
114-0-01 71.5″ L x 27.5″ W x 18.5″ H, Full Extra Wide, Aluminum, 15.3 cu', Clear
114-5-01 71.5″ L x 27.5″ W x 18.5″ H, Full Extra Wide, Aluminum, 15.3 cu', Gloss Black
115-3-01 71.5″ L x 27.5″ W x 18.5″ H, Full Extra Wide, Steel, 15.3 cu', White
124-0-01 72″ L x 20.5″ W x 18.37″ H, Full Standard, Aluminum, 11.3 cu', Clear
124-5-01 72″ L x 20.5″ W x 18.37″ H, Full Standard, Aluminum, 11.3 cu', Gloss Black
125-3-01 71.5″ L x 20″ W x 17.87″ H, Full Standard, Steel, 11.3 cu', White
125-5-01 71.5″ L x 20″ W x 17.87″ H, Full Standard, Steel, 11.3 cu', Gloss Black
300207-53-01 71.5″ L x 19.62″ W x 17.75″ H, Full Size, Aluminum, 10.7 cu', Black
300207-9-01 71.5″ L x 19.62″ W x 17.75″ H, Full Size, Aluminum, 10.7 cu', Uncoated
[/expandsub2]
[expandsub2 title="

Hi-Side Box" tag="div"]
391-3-02 90.25″ L x 16.25″ W x 18″ H, Super-Side Box, Aluminum, 15.2 cu', White
391-52-02 90.25″ L x 16.25″ W x 18″ H, Super-Side Box, Aluminum, 15.2 cu', Textured Matte Black
265-3-02 64.25″ L x 16.25″ W x 18″ H, Super-Side Box, Steel, 10.8 cu', White
272-3-02 72.25″ L x 13.5″ W x 16″ H, Hi-Side Box, Steel, 8.9 cu', White
291-3-02 90.25″ L x 16.25″ W x 18″ H, Super-Side Box, Steel, 15.2 cu', White
296-3-02 96.25″ L x 13.25″ W x 16″ H, Hi-Side Box, Steel, 11.8 cu', White
297-3-02 96.25″ L x 16.25″ W x 24″ H, Super-Side Box, Steel, Jumbo, 21.4 cu', White
364-0-02 64.25″ L x 13.25″ W x 16″ H, Hi-Side Box, Aluminum, 7.9 cu', Clear
365-0-02 64.25″ L x 16.25″ W x 18″ H, Hi-Side Box, Aluminum, 10.8 cu', Clear
372-0-02 72.25″ L x 13.25″ W x 16″ H, Hi-Side Box, Aluminum, 8.9 cu', Clear
372-5-02 72.25″ L x 13.25″ W x 16″ H, Hi-Side Box, Aluminum, 8.9 cu', Gloss Black
390-0-02 90.25″ L x 13.25″ W x 16″ H, Hi-Side Box, Aluminum, 11.1 cu', Clear
390-5-02 90.25″ L x 13.25″ W x 16″ H, Hi-Side Box, Aluminum, 11.1 cu', Gloss Black
391-0-02 90.25″ L x 16.25″ W x 18″ H, Super-Side Box, Aluminum, 15.2 cu', Clear
391-5-02 90.25″ L x 16.25″ W x 18″ H, Super-Side Box, Aluminum, 15.2 cu', Gloss Black
396-0-02 96.25″ L x 13.25″ W x 16″ H, Hi-Side Box, Aluminum, 11.8 cu', Clear
300302-53-01 60.13″ L x 13.33″ W x 16.06″ H, Standard Hi-Side Box, Aluminum, 6.7 cu', Black
300302-9-01 60.13″ L x 13.33″ W x 16.06″ H, Standard Hi-Side Box, Aluminum, 6.7 cu', Uncoated
300303-53-01 90.13″ L x 13.33″ W x 16.06″ H, Long Hi-Side Box, Aluminum, 10 cu', Black
300303-9-01 90.13″ L x 13.33″ W x 16.06″ H, Long Hi-Side Box, Aluminum, 10 cu', Uncoated
[/expandsub2]
[expandsub2 title="

Lo-Side Box" tag="div"]
174-0-01 56.25″ L x 16.25″ W x 13.25″ H, Standard, Aluminum, 4.1 cu', Clear
174-5-01 56.25″ L x 16.25″ W x 13.25″ H, Standard, Aluminum, 4.1 cu', Gloss Black
174-3-01 56.25″ L x 16.25″ W x 13.25″ H, Standard, Aluminum, 4.1 cu', White
174-52-01 56.25″ L x 16.25″ W x 13.25″ H, Standard, Aluminum, 4.1 cu', Textured Matte Black
184-3-01 47.25″ L x 16.25″ W x 13.25″ H, Short, Aluminum, 3.4 cu', White
184-52-01 47.25″ L x 16.25″ W x 13.25″ H, Short, Aluminum, 3.4 cu', Textured Matte Black
164-0-01 87.75″ L, 16.25″ W x 13.5″ H, Long, Aluminum, 6.4 cu', Clear
164-5-01 87.12″ L x 16.25″ W x 13.5″ H, Long, Aluminum, 6.4 cu', Gloss Black
175-3-01 60.37″ L x 13.62″ W x 12.87″ H, Standard, Steel, 4.5 cu', White
176-3-01 60.25″ L x 18″ W x 14″ H, Standard, Steel, 6.5 cu', White
178-0-01 59.25″ L x 19.25″ W x 11.75″ H, Standard, Aluminum, 4.3 cu', Clear
178-5-01 59.25″ L x 19.25″ W x 11.75″ H, Standard, Aluminum, 4.3 cu', Gloss Block
179-0-01 59.25″ L x 19.25″ W x 11.75″ H, Standard, Aluminum, 4.3 cu', Clear
179-5-01 59.25″ L x 19.25″ W x 11.75″ H, Standard, Aluminum, 4.3 cu', Gloss Black
180-0-01 44.25″ L x 19.25″ W x 11.75″ H, Short, Aluminum, 3.2 cu', Clear
180-5-01 44.25″ L x 19.25″ W x 11.75″ H, Short, Aluminum, 3.2 cu', Gloss Black
181-0-01 44.25″ L x 19.25″ W x 11.75″ H, Short, Aluminum, 3.2 cu', Clear
181-5-01 44.25″ L x 19.25″ W x 11.75″ H, Short, Aluminum, 3.2 cu', Gloss Black
184-0-01 47.25″ L x 16.25″ W x 13.25″ H, Short, Aluminum, 3.4 cu', Clear
184-5-01 47.25″ L x 16.25 " W x 13.25″ H, Short, Aluminum, 3.4 cu', Gloss Black
185-3-01 46.25″ L x 13.5″ W x 13″ H, Short, Steel, 3.2 cu', White
186-3-01 46.75″ L 18″ W x 13″ H, Short, Steel, 4.5 cu', White
300300-53-01 60.12″ L x 16.62″ W x 12.87″ H, Standard, Aluminum, 4.4 cu', Black
300300-9-01 60.12″ L x 16.62″ W x 12.87″ H, Standard, Aluminum, 4.4 cu', Uncoated
300304-53-01 46.62″ L x 16.62″ W x 12.87″ H, Short, Aluminum, 3.3 cu', Black
300304-9-01 46.62″ L x 16.62″ W x 12.87″ H, Short, Aluminum, 3.3 cu', Uncoated
[/expandsub2]
[expandsub2 title="

Porkchop Box" tag="div"]
160-3-01 46.5″ L x 9.25″ W x 19.12″ H, Driver Side, Steel, 2.1 cu', White
161-3-01 46.5″ L x 9.25″ W x 19.12″ H, Passanger Side, Steel, White, 2.1 cu', White
162-3-01 46.5″ L x 13.62″ W x 19.12″ H, Driver Side, Steel, 3.4 cu', White
163-3-01 46.5″ L x 13.62″ W x 19.12″ H, Passanger Side, Steel, 3.4 cu', White
170-0-01 46.75″ L x 9.25″ W x 19.5″ H, Driver Side, Aluminum, 2.1 cu', Clear
170-5-01 46.75″ L x 9.25″ W x 19.5″ H, Driver Side, Aluminum, 2.1 cu', Gloss Black
171-0-01 46.75″ L x 9.25″ W x 19.5″ H, Passanger Side, Aluminum, 2.1 cu' Clear
171-5-01 46.75″ L x 9.25″ W x 19.5″ H, Passanger Side, Aluminum, 2.1 cu' Gloss Black
172-0-01 46.75″ L x 9.25″ W x 19.5″ H, Driver Side, Aluminum, 3.4 cu' Clear
172-5-01 46.75″ L x 13.5″ W x 19.5″ H, Driver Side, Aluminum, 3.4 cu', Gloss Black
173-0-01 46.75″ L x 13.5″ W x 19.5″ H, Passanger Side, Aluminum, 3.4 cu', Clear
173-5-01 46.75″ L x 13.5″ W x 19.5″ H, Passanger Side, Aluminum, 3.4 cu', Gloss Black
[/expandsub2]
[expandsub2 title="

Saddle Box" tag="div"]
127-0-02 71.5″ L x 20.25″ W x 18.5″ H, Full Standard, Aluminum, 11.3 cu', Clear
127-5-02 71.5″ L x 20.25″ W x 18.5″ H, Full Standard, Aluminum, 11.3 cu', Black
117-5-02 71.5″ L x 27.5″ W x 18.5″ H, Full Extra Wide, Aluminum, 15.3 cu', Black
127-3-02 71.5″ L x 20.25″ W x 18.5″ H, Full Standard, Aluminum, 11.3 cu', White
127-52-02 71.5″ L x 20.25″ W x 18.5″ H, Full Standard, Aluminum, 11.3 cu', Black
117-52-02 71.5″ L x 20.25″ W x 18.5″ H, Full Extra Wide, Aluminum,15.3 cu', Black
121-5-01 71.5″ L x 20.25″ W x 15″ H, Full Low Profile, Aluminum, 8.8 cu', Black
121-52-01 71.5″ L x 20.25″ W x 15″ H, Full Low Profile, Aluminum, 8.8 cu', Black
300104-53-01 62″ L x 19.7″ W x 18.2″ H, Compact Saddle Box, Aluminum, 9.5 cu', Black
300105-53-01 71″ L x 19.7″ W x 17.7″ H, Full Size Saddle Box, Aluminum, 10.7 cu', Black
300105-9-01 71″ L x 19.7″ W x 17.7″ H, Full Size Saddle Box, Aluminum, 10.7 cu', Uncoated
116-3-02 71.5″ L x 27.5″ W x 18.5″ H, Full Extra Wide, Steel, 15.3 cu', White
116-5-02 71.5″ L x 27.5″ W x 18.5″ H, Full Extra Wide, Steel, 15.3 cu', Black
120-3-01 71.5″ L x 21.25″ W x 15.8″ H, Full Low Profile, Steel, 8.8 cu', White
120-5-01 71.5″ L x 21.25″ W x 15.8″ H, Full Low Profile, Steel, 8.8 cu', Black
121-0-01 71.5″ L x 20.25″ W x 15″ H, Full Low Profile, Aluminum, 8.8 cu', Clear
123-0-01 71.5″ L x 20.25″ W x 24″ H, Full Extra Deep, Aluminum, 15.1 cu', Clear
123-5-01 71.5″ L x 20.25″ W x 24″ H, Full Extra Deep, Aluminum, 15.1 cu', Gloss Black
126-3-02 71.5″ L x 20.25″ W x 18.5″ H, Standard, Steel, 11.3 cu', White
126-5-02 71.5″ L x 20.25″ W x 18.5″ H, Standard, Steel, 11.3 cu', Gloss Black
300104-9-01 62″ L x 19.7″ W x 18.2″ H, Compact Saddle Box, Aluminum, 9.5 cu', Uncoated
300106-53-01 71″ L 19.7″ W x 16.2″ H, Full Size Lo-Profile, Aluminum, 9.5 cu', Black
300106-9-01 71″ L 19.7″ W x 16.2″ H, Full Size Lo-Profile, Aluminum, 9.5 cu', Uncoated
[/expandsub2]
[/expandsub1]
[/expand]
[expand title="Dodge"]
[expandsub1 title="Dakota"]
[expandsub2 title="

All-Purpose Chest" tag="div"]
674-52-01 47″ L x 20.25″ W x 19.25″ H, Full Compact, Aluminum, 10 cu', Textured Matte Black
644-0-01 37″ L x 20.25″ W x 17″ H, Compact, Aluminum, 6.0 cu', Clear
644-5-01 37″ L x 20.25″ W x 17″ H, Compact, Aluminum 6.0 cu', Gloss Black
645-3-01 36.75″ L x 20.25″ W x 16.25″ H, Compact, Steel, 6.0 cu', White
674-0-01 47″ L x 20.25″ W x 19.25 H, Full, Aluminum, 10.1 cu', Clear
674-5-01 47″ L x 20.25″ W x 19.25″ H, Full, Aluminum, 10.0 cu', Gloss Black
675-3-01 47″ L x 20.25″ W x 19.25″ H, Full Compact, Steel, 10.0 cu', White
[/expandsub2]
[expandsub2 title="

Hi-Side Box" tag="div"]
265-3-02 64.25″ L x 16.25″ W x 18″ H, Super-Side Box, Steel, 10.8 cu', White
272-3-02 72.25″ L x 13.5″ W x 16″ H, Hi-Side Box, Steel, 8.9 cu', White
364-0-02 64.25″ L x 13.25″ W x 16″ H, Hi-Side Box, Aluminum, 7.9 cu', Clear
365-0-02 64.25″ L x 16.25″ W x 18″ H, Hi-Side Box, Aluminum, 10.8 cu', Clear
300302-53-01 60.13″ L x 13.33″ W x 16.06″ H, Standard Hi-Side Box, Aluminum, 6.7 cu', Black
300302-9-01 60.13″ L x 13.33″ W x 16.06″ H, Standard Hi-Side Box, Aluminum, 6.7 cu', Uncoated
[/expandsub2]
[expandsub2 title="

Lo-Side Box" tag="div"]
174-0-01 56.25″ L x 16.25″ W x 13.25″ H, Standard, Aluminum, 4.1 cu', Clear
174-5-01 56.25″ L x 16.25″ W x 13.25″ H, Standard, Aluminum, 4.1 cu', Gloss Black
174-3-01 56.25″ L x 16.25″ W x 13.25″ H, Standard, Aluminum, 4.1 cu', White
174-52-01 56.25″ L x 16.25″ W x 13.25″ H, Standard, Aluminum, 4.1 cu', Textured Matte Black
184-3-01 47.25″ L x 16.25″ W x 13.25″ H, Short, Aluminum, 3.4 cu', White
184-52-01 47.25″ L x 16.25″ W x 13.25″ H, Short, Aluminum, 3.4 cu', Textured Matte Black
164-0-01 87.75″ L, 16.25″ W x 13.5″ H, Long, Aluminum, 6.4 cu', Clear
164-5-01 87.12″ L x 16.25″ W x 13.5″ H, Long, Aluminum, 6.4 cu', Gloss Black
175-3-01 60.37″ L x 13.62″ W x 12.87″ H, Standard, Steel, 4.5 cu', White
176-3-01 60.25″ L x 18″ W x 14″ H, Standard, Steel, 6.5 cu', White
178-0-01 59.25″ L x 19.25″ W x 11.75″ H, Standard, Aluminum, 4.3 cu', Clear
178-5-01 59.25″ L x 19.25″ W x 11.75″ H, Standard, Aluminum, 4.3 cu', Gloss Block
179-0-01 59.25″ L x 19.25″ W x 11.75″ H, Standard, Aluminum, 4.3 cu', Clear
179-5-01 59.25″ L x 19.25″ W x 11.75″ H, Standard, Aluminum, 4.3 cu', Gloss Black
180-0-01 44.25″ L x 19.25″ W x 11.75″ H, Short, Aluminum, 3.2 cu', Clear
180-5-01 44.25″ L x 19.25″ W x 11.75″ H, Short, Aluminum, 3.2 cu', Gloss Black
181-0-01 44.25″ L x 19.25″ W x 11.75″ H, Short, Aluminum, 3.2 cu', Clear
181-5-01 44.25″ L x 19.25″ W x 11.75″ H, Short, Aluminum, 3.2 cu', Gloss Black
184-0-01 47.25″ L x 16.25″ W x 13.25″ H, Short, Aluminum, 3.4 cu', Clear
184-5-01 47.25″ L x 16.25 " W x 13.25″ H, Short, Aluminum, 3.4 cu', Gloss Black
185-3-01 46.25″ L x 13.5″ W x 13″ H, Short, Steel, 3.2 cu', White
186-3-01 46.75″ L 18″ W x 13″ H, Short, Steel, 4.5 cu', White
300300-53-01 60.12″ L x 16.62″ W x 12.87″ H, Standard, Aluminum, 4.4 cu', Black
300300-9-01 60.12″ L x 16.62″ W x 12.87″ H, Standard, Aluminum, 4.4 cu', Uncoated
300304-53-01 46.62″ L x 16.62″ W x 12.87″ H, Short, Aluminum, 3.3 cu', Black
300304-9-01 46.62″ L x 16.62″ W x 12.87″ H, Short, Aluminum, 3.3 cu', Uncoated
[/expandsub2]
[expandsub2 title="

Porkchop Box" tag="div"]
160-3-01 46.5″ L x 9.25″ W x 19.12″ H, Driver Side, Steel, 2.1 cu', White
161-3-01 46.5″ L x 9.25″ W x 19.12″ H, Passanger Side, Steel, White, 2.1 cu', White
162-3-01 46.5″ L x 13.62″ W x 19.12″ H, Driver Side, Steel, 3.4 cu', White
163-3-01 46.5″ L x 13.62″ W x 19.12″ H, Passanger Side, Steel, 3.4 cu', White
170-0-01 46.75″ L x 9.25″ W x 19.5″ H, Driver Side, Aluminum, 2.1 cu', Clear
170-5-01 46.75″ L x 9.25″ W x 19.5″ H, Driver Side, Aluminum, 2.1 cu', Gloss Black
171-0-01 46.75″ L x 9.25″ W x 19.5″ H, Passanger Side, Aluminum, 2.1 cu' Clear
171-5-01 46.75″ L x 9.25″ W x 19.5″ H, Passanger Side, Aluminum, 2.1 cu' Gloss Black
172-0-01 46.75″ L x 9.25″ W x 19.5″ H, Driver Side, Aluminum, 3.4 cu' Clear
172-5-01 46.75″ L x 13.5″ W x 19.5″ H, Driver Side, Aluminum, 3.4 cu', Gloss Black
173-0-01 46.75″ L x 13.5″ W x 19.5″ H, Passanger Side, Aluminum, 3.4 cu', Clear
173-5-01 46.75″ L x 13.5″ W x 19.5″ H, Passanger Side, Aluminum, 3.4 cu', Gloss Black
[/expandsub2]
[expandsub2 title="

Saddle Box" tag="div"]
300104-53-01 62″ L x 19.7″ W x 18.2″ H, Compact Saddle Box, Aluminum, 9.5 cu', Black
300104-9-01 62″ L x 19.7″ W x 18.2″ H, Compact Saddle Box, Aluminum, 9.5 cu', Uncoated
[/expandsub2]
[/expandsub1]
[expandsub1 title=" RAM 1500″]
[expandsub2 title="

All-Purpose Chest" tag="div"]
674-52-01 47″ L x 20.25″ W x 19.25″ H, Full Compact, Aluminum, 10 cu', Textured Matte Black
664-52-01 62″ L x 20″ W x 19.25 " H, Full, Aluminum, 13.1 cu', Textured Matte Black
644-0-01 37″ L x 20.25″ W x 17″ H, Compact, Aluminum, 6.0 cu', Clear
644-5-01 37″ L x 20.25″ W x 17″ H, Compact, Aluminum 6.0 cu', Gloss Black
645-3-01 36.75″ L x 20.25″ W x 16.25″ H, Compact, Steel, 6.0 cu', White
654-0-01 55″ L x 20″ W x 19.25″ H Compact, Aluminum, 12.0 cu', Clear
654-5-01 55″ L x 20″ W x 19.25″ H Full Compact, Aluminum, 12.0 cu', Gloss Black
655-3-01 55″ L x 20″ W x 19.25″ H Full Compact, Steel, 12.0 cu', White
664-0-01 62″ L x 20″ W x 19.25″ H, Full, Aluminum, 13.1 cu', Clear
664-5-01 62″ L x 20″ W x 19.25″ H, Full, Aluminum, 13.1 cu', Gloss Black
665-3-01 62″ L x 20″ W x 19.25″ H, Full, Aluminum, 13.1 cu', White
665-5-01 62″ L x 20″ W x 19.25″ H, Full, Steel, 13.1 cu', Black
674-0-01 47″ L x 20.25″ W x 19.25 H, Full, Aluminum, 10.1 cu', Clear
674-5-01 47″ L x 20.25″ W x 19.25″ H, Full, Aluminum, 10.0 cu', Gloss Black
675-3-01 47″ L x 20.25″ W x 19.25″ H, Full Compact, Steel, 10.0 cu', White
684-0-01 62″ L x 27.5″ W x 19.25″ H, Full Extra Wide, Aluminum, 18.6 cu', Clear
684-5-01 62″ L x 27.5″ W x 19.25 " H, Full Extra Wide, Aluminum, 18.6 cu', Gloss Black
685-3-01 62″ L x 27″ W x 19.25″ H, Full Extra Wide, Steel, 18.6 cu', White
300401-53-01 50″ L x 19.6″ W x 19.3″ H, Universal Chest Box, Aluminum, 9.3 cu', Black
300401-9-01 50″ L x 19.6″ W x 19.3″ H, Universal Chest Box, Aluminum, 9.3 cu', Uncoated
[/expandsub2]
[expandsub2 title="

Cross Box" tag="div"]
114-0-01 71.5″ L x 27.5″ W x 18.5″ H, Full Extra Wide, Aluminum, 15.3 cu', Clear
114-5-01 71.5″ L x 27.5″ W x 18.5″ H, Full Extra Wide, Aluminum, 15.3 cu', Gloss Black
115-3-01 71.5″ L x 27.5″ W x 18.5″ H, Full Extra Wide, Steel, 15.3 cu', White
124-0-01 72″ L x 20.5″ W x 18.37″ H, Full Standard, Aluminum, 11.3 cu', Clear
124-5-01 72″ L x 20.5″ W x 18.37″ H, Full Standard, Aluminum, 11.3 cu', Gloss Black
125-3-01 71.5″ L x 20″ W x 17.87″ H, Full Standard, Steel, 11.3 cu', White
125-5-01 71.5″ L x 20″ W x 17.87″ H, Full Standard, Steel, 11.3 cu', Gloss Black
300207-53-01 71.5″ L x 19.62″ W x 17.75″ H, Full Size, Aluminum, 10.7 cu', Black
300207-9-01 71.5″ L x 19.62″ W x 17.75″ H, Full Size, Aluminum, 10.7 cu', Uncoated
[/expandsub2]
[expandsub2 title="

Hi-Side Box" tag="div"]
265-3-02 64.25″ L x 16.25″ W x 18″ H, Super-Side Box, Steel, 10.8 cu', White
272-3-02 72.25″ L x 13.5″ W x 16″ H, Hi-Side Box, Steel, 8.9 cu', White
291-3-02 90.25″ L x 16.25″ W x 18″ H, Super-Side Box, Steel, 15.2 cu', White
296-3-02 96.25″ L x 13.25″ W x 16″ H, Hi-Side Box, Steel, 11.8 cu', White
297-3-02 96.25″ L x 16.25″ W x 24″ H, Super-Side Box, Steel, Jumbo, 21.4 cu', White
364-0-02 64.25″ L x 13.25″ W x 16″ H, Hi-Side Box, Aluminum, 7.9 cu', Clear
365-0-02 64.25″ L x 16.25″ W x 18″ H, Hi-Side Box, Aluminum, 10.8 cu', Clear
300302-53-01 60.13″ L x 13.33″ W x 16.06″ H, Standard Hi-Side Box, Aluminum, 6.7 cu', Black
300302-9-01 60.13″ L x 13.33″ W x 16.06″ H, Standard Hi-Side Box, Aluminum, 6.7 cu', Uncoated
300303-53-01 90.13″ L x 13.33″ W x 16.06″ H, Long Hi-Side Box, Aluminum, 10 cu', Black
300303-9-01 90.13″ L x 13.33″ W x 16.06″ H, Long Hi-Side Box, Aluminum, 10 cu', Uncoated
[/expandsub2]
[expandsub2 title="

Lo-Side Box" tag="div"]
174-0-01 56.25″ L x 16.25″ W x 13.25″ H, Standard, Aluminum, 4.1 cu', Clear
174-5-01 56.25″ L x 16.25″ W x 13.25″ H, Standard, Aluminum, 4.1 cu', Gloss Black
174-3-01 56.25″ L x 16.25″ W x 13.25″ H, Standard, Aluminum, 4.1 cu', White
174-52-01 56.25″ L x 16.25″ W x 13.25″ H, Standard, Aluminum, 4.1 cu', Textured Matte Black
184-3-01 47.25″ L x 16.25″ W x 13.25″ H, Short, Aluminum, 3.4 cu', White
184-52-01 47.25″ L x 16.25″ W x 13.25″ H, Short, Aluminum, 3.4 cu', Textured Matte Black
164-0-01 87.75″ L, 16.25″ W x 13.5″ H, Long, Aluminum, 6.4 cu', Clear
164-5-01 87.12″ L x 16.25″ W x 13.5″ H, Long, Aluminum, 6.4 cu', Gloss Black
175-3-01 60.37″ L x 13.62″ W x 12.87″ H, Standard, Steel, 4.5 cu', White
176-3-01 60.25″ L x 18″ W x 14″ H, Standard, Steel, 6.5 cu', White
178-0-01 59.25″ L x 19.25″ W x 11.75″ H, Standard, Aluminum, 4.3 cu', Clear
178-5-01 59.25″ L x 19.25″ W x 11.75″ H, Standard, Aluminum, 4.3 cu', Gloss Block
179-0-01 59.25″ L x 19.25″ W x 11.75″ H, Standard, Aluminum, 4.3 cu', Clear
179-5-01 59.25″ L x 19.25″ W x 11.75″ H, Standard, Aluminum, 4.3 cu', Gloss Black
180-0-01 44.25″ L x 19.25″ W x 11.75″ H, Short, Aluminum, 3.2 cu', Clear
180-5-01 44.25″ L x 19.25″ W x 11.75″ H, Short, Aluminum, 3.2 cu', Gloss Black
181-0-01 44.25″ L x 19.25″ W x 11.75″ H, Short, Aluminum, 3.2 cu', Clear
181-5-01 44.25″ L x 19.25″ W x 11.75″ H, Short, Aluminum, 3.2 cu', Gloss Black
184-0-01 47.25″ L x 16.25″ W x 13.25″ H, Short, Aluminum, 3.4 cu', Clear
184-5-01 47.25″ L x 16.25 " W x 13.25″ H, Short, Aluminum, 3.4 cu', Gloss Black
185-3-01 46.25″ L x 13.5″ W x 13″ H, Short, Steel, 3.2 cu', White
186-3-01 46.75″ L 18″ W x 13″ H, Short, Steel, 4.5 cu', White
300300-53-01 60.12″ L x 16.62″ W x 12.87″ H, Standard, Aluminum, 4.4 cu', Black
300300-9-01 60.12″ L x 16.62″ W x 12.87″ H, Standard, Aluminum, 4.4 cu', Uncoated
300304-53-01 46.62″ L x 16.62″ W x 12.87″ H, Short, Aluminum, 3.3 cu', Black
300304-9-01 46.62″ L x 16.62″ W x 12.87″ H, Short, Aluminum, 3.3 cu', Uncoated
[/expandsub2]
[expandsub2 title="

Porkchop Box" tag="div"]
160-3-01 46.5″ L x 9.25″ W x 19.12″ H, Driver Side, Steel, 2.1 cu', White
161-3-01 46.5″ L x 9.25″ W x 19.12″ H, Passanger Side, Steel, White, 2.1 cu', White
162-3-01 46.5″ L x 13.62″ W x 19.12″ H, Driver Side, Steel, 3.4 cu', White
163-3-01 46.5″ L x 13.62″ W x 19.12″ H, Passanger Side, Steel, 3.4 cu', White
170-0-01 46.75″ L x 9.25″ W x 19.5″ H, Driver Side, Aluminum, 2.1 cu', Clear
170-5-01 46.75″ L x 9.25″ W x 19.5″ H, Driver Side, Aluminum, 2.1 cu', Gloss Black
171-0-01 46.75″ L x 9.25″ W x 19.5″ H, Passanger Side, Aluminum, 2.1 cu' Clear
171-5-01 46.75″ L x 9.25″ W x 19.5″ H, Passanger Side, Aluminum, 2.1 cu' Gloss Black
172-0-01 46.75″ L x 9.25″ W x 19.5″ H, Driver Side, Aluminum, 3.4 cu' Clear
172-5-01 46.75″ L x 13.5″ W x 19.5″ H, Driver Side, Aluminum, 3.4 cu', Gloss Black
173-0-01 46.75″ L x 13.5″ W x 19.5″ H, Passanger Side, Aluminum, 3.4 cu', Clear
173-5-01 46.75″ L x 13.5″ W x 19.5″ H, Passanger Side, Aluminum, 3.4 cu', Gloss Black
[/expandsub2]
[expandsub2 title="

Saddle Box" tag="div"]
127-0-02 71.5″ L x 20.25″ W x 18.5″ H, Full Standard, Aluminum, 11.3 cu', Clear
127-5-02 71.5″ L x 20.25″ W x 18.5″ H, Full Standard, Aluminum, 11.3 cu', Black
117-5-02 71.5″ L x 27.5″ W x 18.5″ H, Full Extra Wide, Aluminum, 15.3 cu', Black
127-3-02 71.5″ L x 20.25″ W x 18.5″ H, Full Standard, Aluminum, 11.3 cu', White
127-52-02 71.5″ L x 20.25″ W x 18.5″ H, Full Standard, Aluminum, 11.3 cu', Black
117-52-02 71.5″ L x 20.25″ W x 18.5″ H, Full Extra Wide, Aluminum,15.3 cu', Black
121-5-01 71.5″ L x 20.25″ W x 15″ H, Full Low Profile, Aluminum, 8.8 cu', Black
121-52-01 71.5″ L x 20.25″ W x 15″ H, Full Low Profile, Aluminum, 8.8 cu', Black
300104-53-01 62″ L x 19.7″ W x 18.2″ H, Compact Saddle Box, Aluminum, 9.5 cu', Black
300105-53-01 71″ L x 19.7″ W x 17.7″ H, Full Size Saddle Box, Aluminum, 10.7 cu', Black
300105-9-01 71″ L x 19.7″ W x 17.7″ H, Full Size Saddle Box, Aluminum, 10.7 cu', Uncoated
116-3-02 71.5″ L x 27.5″ W x 18.5″ H, Full Extra Wide, Steel, 15.3 cu', White
116-5-02 71.5″ L x 27.5″ W x 18.5″ H, Full Extra Wide, Steel, 15.3 cu', Black
120-3-01 71.5″ L x 21.25″ W x 15.8″ H, Full Low Profile, Steel, 8.8 cu', White
120-5-01 71.5″ L x 21.25″ W x 15.8″ H, Full Low Profile, Steel, 8.8 cu', Black
121-0-01 71.5″ L x 20.25″ W x 15″ H, Full Low Profile, Aluminum, 8.8 cu', Clear
123-0-01 71.5″ L x 20.25″ W x 24″ H, Full Extra Deep, Aluminum, 15.1 cu', Clear
123-5-01 71.5″ L x 20.25″ W x 24″ H, Full Extra Deep, Aluminum, 15.1 cu', Gloss Black
126-3-02 71.5″ L x 20.25″ W x 18.5″ H, Standard, Steel, 11.3 cu', White
126-5-02 71.5″ L x 20.25″ W x 18.5″ H, Standard, Steel, 11.3 cu', Gloss Black
300106-53-01 71″ L 19.7″ W x 16.2″ H, Full Size Lo-Profile, Aluminum, 9.5 cu', Black
300106-9-01 71″ L 19.7″ W x 16.2″ H, Full Size Lo-Profile, Aluminum, 9.5 cu', Uncoated
[/expandsub2]
[/expandsub1]
[expandsub1 title="RAM 2500/3500″]
[expandsub2 title="

All-Purpose Chest" tag="div"]
674-52-01 47″ L x 20.25″ W x 19.25″ H, Full Compact, Aluminum, 10 cu', Textured Matte Black
664-52-01 62″ L x 20″ W x 19.25 " H, Full, Aluminum, 13.1 cu', Textured Matte Black
644-0-01 37″ L x 20.25″ W x 17″ H, Compact, Aluminum, 6.0 cu', Clear
644-5-01 37″ L x 20.25″ W x 17″ H, Compact, Aluminum 6.0 cu', Gloss Black
645-3-01 36.75″ L x 20.25″ W x 16.25″ H, Compact, Steel, 6.0 cu', White
654-0-01 55″ L x 20″ W x 19.25″ H Compact, Aluminum, 12.0 cu', Clear
654-5-01 55″ L x 20″ W x 19.25″ H Full Compact, Aluminum, 12.0 cu', Gloss Black
655-3-01 55″ L x 20″ W x 19.25″ H Full Compact, Steel, 12.0 cu', White
664-0-01 62″ L x 20″ W x 19.25″ H, Full, Aluminum, 13.1 cu', Clear
664-5-01 62″ L x 20″ W x 19.25″ H, Full, Aluminum, 13.1 cu', Gloss Black
665-3-01 62″ L x 20″ W x 19.25″ H, Full, Aluminum, 13.1 cu', White
665-5-01 62″ L x 20″ W x 19.25″ H, Full, Steel, 13.1 cu', Black
674-0-01 47″ L x 20.25″ W x 19.25 H, Full, Aluminum, 10.1 cu', Clear
674-5-01 47″ L x 20.25″ W x 19.25″ H, Full, Aluminum, 10.0 cu', Gloss Black
675-3-01 47″ L x 20.25″ W x 19.25″ H, Full Compact, Steel, 10.0 cu', White
684-0-01 62″ L x 27.5″ W x 19.25″ H, Full Extra Wide, Aluminum, 18.6 cu', Clear
684-5-01 62″ L x 27.5″ W x 19.25 " H, Full Extra Wide, Aluminum, 18.6 cu', Gloss Black
685-3-01 62″ L x 27″ W x 19.25″ H, Full Extra Wide, Steel, 18.6 cu', White
300401-53-01 50″ L x 19.6″ W x 19.3″ H, Universal Chest Box, Aluminum, 9.3 cu', Black
300401-9-01 50″ L x 19.6″ W x 19.3″ H, Universal Chest Box, Aluminum, 9.3 cu', Uncoated
[/expandsub2]
[expandsub2 title="

Cross Box" tag="div"]
114-0-01 71.5″ L x 27.5″ W x 18.5″ H, Full Extra Wide, Aluminum, 15.3 cu', Clear
114-5-01 71.5″ L x 27.5″ W x 18.5″ H, Full Extra Wide, Aluminum, 15.3 cu', Gloss Black
115-3-01 71.5″ L x 27.5″ W x 18.5″ H, Full Extra Wide, Steel, 15.3 cu', White
124-0-01 72″ L x 20.5″ W x 18.37″ H, Full Standard, Aluminum, 11.3 cu', Clear
124-5-01 72″ L x 20.5″ W x 18.37″ H, Full Standard, Aluminum, 11.3 cu', Gloss Black
125-3-01 71.5″ L x 20″ W x 17.87″ H, Full Standard, Steel, 11.3 cu', White
125-5-01 71.5″ L x 20″ W x 17.87″ H, Full Standard, Steel, 11.3 cu', Gloss Black
300207-53-01 71.5″ L x 19.62″ W x 17.75″ H, Full Size, Aluminum, 10.7 cu', Black
300207-9-01 71.5″ L x 19.62″ W x 17.75″ H, Full Size, Aluminum, 10.7 cu', Uncoated
[/expandsub2]
[expandsub2 title="

Hi-Side Box" tag="div"]
265-3-02 64.25″ L x 16.25″ W x 18″ H, Super-Side Box, Steel, 10.8 cu', White
272-3-02 72.25″ L x 13.5″ W x 16″ H, Hi-Side Box, Steel, 8.9 cu', White
291-3-02 90.25″ L x 16.25″ W x 18″ H, Super-Side Box, Steel, 15.2 cu', White
296-3-02 96.25″ L x 13.25″ W x 16″ H, Hi-Side Box, Steel, 11.8 cu', White
297-3-02 96.25″ L x 16.25″ W x 24″ H, Super-Side Box, Steel, Jumbo, 21.4 cu', White
364-0-02 64.25″ L x 13.25″ W x 16″ H, Hi-Side Box, Aluminum, 7.9 cu', Clear
365-0-02 64.25″ L x 16.25″ W x 18″ H, Hi-Side Box, Aluminum, 10.8 cu', Clear
300302-53-01 60.13″ L x 13.33″ W x 16.06″ H, Standard Hi-Side Box, Aluminum, 6.7 cu', Black
300302-9-01 60.13″ L x 13.33″ W x 16.06″ H, Standard Hi-Side Box, Aluminum, 6.7 cu', Uncoated
300303-53-01 90.13″ L x 13.33″ W x 16.06″ H, Long Hi-Side Box, Aluminum, 10 cu', Black
300303-9-01 90.13″ L x 13.33″ W x 16.06″ H, Long Hi-Side Box, Aluminum, 10 cu', Uncoated
[/expandsub2]
[expandsub2 title="

Lo-Side Box" tag="div"]
174-0-01 56.25″ L x 16.25″ W x 13.25″ H, Standard, Aluminum, 4.1 cu', Clear
174-5-01 56.25″ L x 16.25″ W x 13.25″ H, Standard, Aluminum, 4.1 cu', Gloss Black
174-3-01 56.25″ L x 16.25″ W x 13.25″ H, Standard, Aluminum, 4.1 cu', White
174-52-01 56.25″ L x 16.25″ W x 13.25″ H, Standard, Aluminum, 4.1 cu', Textured Matte Black
184-3-01 47.25″ L x 16.25″ W x 13.25″ H, Short, Aluminum, 3.4 cu', White
184-52-01 47.25″ L x 16.25″ W x 13.25″ H, Short, Aluminum, 3.4 cu', Textured Matte Black
164-0-01 87.75″ L, 16.25″ W x 13.5″ H, Long, Aluminum, 6.4 cu', Clear
164-5-01 87.12″ L x 16.25″ W x 13.5″ H, Long, Aluminum, 6.4 cu', Gloss Black
175-3-01 60.37″ L x 13.62″ W x 12.87″ H, Standard, Steel, 4.5 cu', White
176-3-01 60.25″ L x 18″ W x 14″ H, Standard, Steel, 6.5 cu', White
178-0-01 59.25″ L x 19.25″ W x 11.75″ H, Standard, Aluminum, 4.3 cu', Clear
178-5-01 59.25″ L x 19.25″ W x 11.75″ H, Standard, Aluminum, 4.3 cu', Gloss Block
179-0-01 59.25″ L x 19.25″ W x 11.75″ H, Standard, Aluminum, 4.3 cu', Clear
179-5-01 59.25″ L x 19.25″ W x 11.75″ H, Standard, Aluminum, 4.3 cu', Gloss Black
180-0-01 44.25″ L x 19.25″ W x 11.75″ H, Short, Aluminum, 3.2 cu', Clear
180-5-01 44.25″ L x 19.25″ W x 11.75″ H, Short, Aluminum, 3.2 cu', Gloss Black
181-0-01 44.25″ L x 19.25″ W x 11.75″ H, Short, Aluminum, 3.2 cu', Clear
181-5-01 44.25″ L x 19.25″ W x 11.75″ H, Short, Aluminum, 3.2 cu', Gloss Black
184-0-01 47.25″ L x 16.25″ W x 13.25″ H, Short, Aluminum, 3.4 cu', Clear
184-5-01 47.25″ L x 16.25 " W x 13.25″ H, Short, Aluminum, 3.4 cu', Gloss Black
185-3-01 46.25″ L x 13.5″ W x 13″ H, Short, Steel, 3.2 cu', White
186-3-01 46.75″ L 18″ W x 13″ H, Short, Steel, 4.5 cu', White
300300-53-01 60.12″ L x 16.62″ W x 12.87″ H, Standard, Aluminum, 4.4 cu', Black
300300-9-01 60.12″ L x 16.62″ W x 12.87″ H, Standard, Aluminum, 4.4 cu', Uncoated
300304-53-01 46.62″ L x 16.62″ W x 12.87″ H, Short, Aluminum, 3.3 cu', Black
300304-9-01 46.62″ L x 16.62″ W x 12.87″ H, Short, Aluminum, 3.3 cu', Uncoated
[/expandsub2]
[expandsub2 title="

Porkchop Box" tag="div"]
160-3-01 46.5″ L x 9.25″ W x 19.12″ H, Driver Side, Steel, 2.1 cu', White
161-3-01 46.5″ L x 9.25″ W x 19.12″ H, Passanger Side, Steel, White, 2.1 cu', White
162-3-01 46.5″ L x 13.62″ W x 19.12″ H, Driver Side, Steel, 3.4 cu', White
163-3-01 46.5″ L x 13.62″ W x 19.12″ H, Passanger Side, Steel, 3.4 cu', White
170-0-01 46.75″ L x 9.25″ W x 19.5″ H, Driver Side, Aluminum, 2.1 cu', Clear
170-5-01 46.75″ L x 9.25″ W x 19.5″ H, Driver Side, Aluminum, 2.1 cu', Gloss Black
171-0-01 46.75″ L x 9.25″ W x 19.5″ H, Passanger Side, Aluminum, 2.1 cu' Clear
171-5-01 46.75″ L x 9.25″ W x 19.5″ H, Passanger Side, Aluminum, 2.1 cu' Gloss Black
172-0-01 46.75″ L x 9.25″ W x 19.5″ H, Driver Side, Aluminum, 3.4 cu' Clear
172-5-01 46.75″ L x 13.5″ W x 19.5″ H, Driver Side, Aluminum, 3.4 cu', Gloss Black
173-0-01 46.75″ L x 13.5″ W x 19.5″ H, Passanger Side, Aluminum, 3.4 cu', Clear
173-5-01 46.75″ L x 13.5″ W x 19.5″ H, Passanger Side, Aluminum, 3.4 cu', Gloss Black
[/expandsub2]
[expandsub2 title="

Saddle Box" tag="div"]
127-0-02 71.5″ L x 20.25″ W x 18.5″ H, Full Standard, Aluminum, 11.3 cu', Clear
127-5-02 71.5″ L x 20.25″ W x 18.5″ H, Full Standard, Aluminum, 11.3 cu', Black
117-5-02 71.5″ L x 27.5″ W x 18.5″ H, Full Extra Wide, Aluminum, 15.3 cu', Black
127-3-02 71.5″ L x 20.25″ W x 18.5″ H, Full Standard, Aluminum, 11.3 cu', White
127-52-02 71.5″ L x 20.25″ W x 18.5″ H, Full Standard, Aluminum, 11.3 cu', Black
117-52-02 71.5″ L x 20.25″ W x 18.5″ H, Full Extra Wide, Aluminum,15.3 cu', Black
121-5-01 71.5″ L x 20.25″ W x 15″ H, Full Low Profile, Aluminum, 8.8 cu', Black
121-52-01 71.5″ L x 20.25″ W x 15″ H, Full Low Profile, Aluminum, 8.8 cu', Black
300104-53-01 62″ L x 19.7″ W x 18.2″ H, Compact Saddle Box, Aluminum, 9.5 cu', Black
300105-53-01 71″ L x 19.7″ W x 17.7″ H, Full Size Saddle Box, Aluminum, 10.7 cu', Black
300105-9-01 71″ L x 19.7″ W x 17.7″ H, Full Size Saddle Box, Aluminum, 10.7 cu', Uncoated
116-3-02 71.5″ L x 27.5″ W x 18.5″ H, Full Extra Wide, Steel, 15.3 cu', White
116-5-02 71.5″ L x 27.5″ W x 18.5″ H, Full Extra Wide, Steel, 15.3 cu', Black
120-3-01 71.5″ L x 21.25″ W x 15.8″ H, Full Low Profile, Steel, 8.8 cu', White
120-5-01 71.5″ L x 21.25″ W x 15.8″ H, Full Low Profile, Steel, 8.8 cu', Black
121-0-01 71.5″ L x 20.25″ W x 15″ H, Full Low Profile, Aluminum, 8.8 cu', Clear
123-0-01 71.5″ L x 20.25″ W x 24″ H, Full Extra Deep, Aluminum, 15.1 cu', Clear
123-5-01 71.5″ L x 20.25″ W x 24″ H, Full Extra Deep, Aluminum, 15.1 cu', Gloss Black
126-3-02 71.5″ L x 20.25″ W x 18.5″ H, Standard, Steel, 11.3 cu', White
126-5-02 71.5″ L x 20.25″ W x 18.5″ H, Standard, Steel, 11.3 cu', Gloss Black
300106-53-01 71″ L 19.7″ W x 16.2″ H, Full Size Lo-Profile, Aluminum, 9.5 cu', Black
300106-9-01 71″ L 19.7″ W x 16.2″ H, Full Size Lo-Profile, Aluminum, 9.5 cu', Uncoated
[/expandsub2]
[/expandsub1]
[/expand]
[expand title="Ford"]
[expandsub1 title="F-150″]
[expandsub2 title="

All-Purpose Chest" tag="div"]
674-52-01 47″ L x 20.25″ W x 19.25″ H, Full Compact, Aluminum, 10 cu', Textured Matte Black
664-52-01 62″ L x 20″ W x 19.25 " H, Full, Aluminum, 13.1 cu', Textured Matte Black
644-0-01 37″ L x 20.25″ W x 17″ H, Compact, Aluminum, 6.0 cu', Clear
644-5-01 37″ L x 20.25″ W x 17″ H, Compact, Aluminum 6.0 cu', Gloss Black
645-3-01 36.75″ L x 20.25″ W x 16.25″ H, Compact, Steel, 6.0 cu', White
654-0-01 55″ L x 20″ W x 19.25″ H Compact, Aluminum, 12.0 cu', Clear
654-5-01 55″ L x 20″ W x 19.25″ H Full Compact, Aluminum, 12.0 cu', Gloss Black
655-3-01 55″ L x 20″ W x 19.25″ H Full Compact, Steel, 12.0 cu', White
664-0-01 62″ L x 20″ W x 19.25″ H, Full, Aluminum, 13.1 cu', Clear
664-5-01 62″ L x 20″ W x 19.25″ H, Full, Aluminum, 13.1 cu', Gloss Black
665-3-01 62″ L x 20″ W x 19.25″ H, Full, Aluminum, 13.1 cu', White
665-5-01 62″ L x 20″ W x 19.25″ H, Full, Steel, 13.1 cu', Black
674-0-01 47″ L x 20.25″ W x 19.25 H, Full, Aluminum, 10.1 cu', Clear
674-5-01 47″ L x 20.25″ W x 19.25″ H, Full, Aluminum, 10.0 cu', Gloss Black
675-3-01 47″ L x 20.25″ W x 19.25″ H, Full Compact, Steel, 10.0 cu', White
684-0-01 62″ L x 27.5″ W x 19.25″ H, Full Extra Wide, Aluminum, 18.6 cu', Clear
684-5-01 62″ L x 27.5″ W x 19.25 " H, Full Extra Wide, Aluminum, 18.6 cu', Gloss Black
685-3-01 62″ L x 27″ W x 19.25″ H, Full Extra Wide, Steel, 18.6 cu', White
300401-53-01 50″ L x 19.6″ W x 19.3″ H, Universal Chest Box, Aluminum, 9.3 cu', Black
300401-9-01 50″ L x 19.6″ W x 19.3″ H, Universal Chest Box, Aluminum, 9.3 cu', Uncoated
[/expandsub2]
[expandsub2 title="

Cross Box" tag="div"]
114-0-01 71.5″ L x 27.5″ W x 18.5″ H, Full Extra Wide, Aluminum, 15.3 cu', Clear
114-5-01 71.5″ L x 27.5″ W x 18.5″ H, Full Extra Wide, Aluminum, 15.3 cu', Gloss Black
115-3-01 71.5″ L x 27.5″ W x 18.5″ H, Full Extra Wide, Steel, 15.3 cu', White
124-0-01 72″ L x 20.5″ W x 18.37″ H, Full Standard, Aluminum, 11.3 cu', Clear
124-5-01 72″ L x 20.5″ W x 18.37″ H, Full Standard, Aluminum, 11.3 cu', Gloss Black
125-3-01 71.5″ L x 20″ W x 17.87″ H, Full Standard, Steel, 11.3 cu', White
125-5-01 71.5″ L x 20″ W x 17.87″ H, Full Standard, Steel, 11.3 cu', Gloss Black
300207-53-01 71.5″ L x 19.62″ W x 17.75″ H, Full Size, Aluminum, 10.7 cu', Black
300207-9-01 71.5″ L x 19.62″ W x 17.75″ H, Full Size, Aluminum, 10.7 cu', Uncoated
[/expandsub2]
[expandsub2 title="

Hi-Side Box" tag="div"]
391-3-02 90.25″ L x 16.25″ W x 18″ H, Super-Side Box, Aluminum, 15.2 cu', White
391-52-02 90.25″ L x 16.25″ W x 18″ H, Super-Side Box, Aluminum, 15.2 cu', Textured Matte Black
265-3-02 64.25″ L x 16.25″ W x 18″ H, Super-Side Box, Steel, 10.8 cu', White
272-3-02 72.25″ L x 13.5″ W x 16″ H, Hi-Side Box, Steel, 8.9 cu', White
291-3-02 90.25″ L x 16.25″ W x 18″ H, Super-Side Box, Steel, 15.2 cu', White
296-3-02 96.25″ L x 13.25″ W x 16″ H, Hi-Side Box, Steel, 11.8 cu', White
297-3-02 96.25″ L x 16.25″ W x 24″ H, Super-Side Box, Steel, Jumbo, 21.4 cu', White
364-0-02 64.25″ L x 13.25″ W x 16″ H, Hi-Side Box, Aluminum, 7.9 cu', Clear
365-0-02 64.25″ L x 16.25″ W x 18″ H, Hi-Side Box, Aluminum, 10.8 cu', Clear
372-0-02 72.25″ L x 13.25″ W x 16″ H, Hi-Side Box, Aluminum, 8.9 cu', Clear
372-5-02 72.25″ L x 13.25″ W x 16″ H, Hi-Side Box, Aluminum, 8.9 cu', Gloss Black
390-0-02 90.25″ L x 13.25″ W x 16″ H, Hi-Side Box, Aluminum, 11.1 cu', Clear
390-5-02 90.25″ L x 13.25″ W x 16″ H, Hi-Side Box, Aluminum, 11.1 cu', Gloss Black
391-0-02 90.25″ L x 16.25″ W x 18″ H, Super-Side Box, Aluminum, 15.2 cu', Clear
391-5-02 90.25″ L x 16.25″ W x 18″ H, Super-Side Box, Aluminum, 15.2 cu', Gloss Black
396-0-02 96.25″ L x 13.25″ W x 16″ H, Hi-Side Box, Aluminum, 11.8 cu', Clear
300302-53-01 60.13″ L x 13.33″ W x 16.06″ H, Standard Hi-Side Box, Aluminum, 6.7 cu', Black
300302-9-01 60.13″ L x 13.33″ W x 16.06″ H, Standard Hi-Side Box, Aluminum, 6.7 cu', Uncoated
300303-53-01 90.13″ L x 13.33″ W x 16.06″ H, Long Hi-Side Box, Aluminum, 10 cu', Black
300303-9-01 90.13″ L x 13.33″ W x 16.06″ H, Long Hi-Side Box, Aluminum, 10 cu', Uncoated
[/expandsub2]
[expandsub2 title="

Lo-Side Box" tag="div"]
174-0-01 56.25″ L x 16.25″ W x 13.25″ H, Standard, Aluminum, 4.1 cu', Clear
174-5-01 56.25″ L x 16.25″ W x 13.25″ H, Standard, Aluminum, 4.1 cu', Gloss Black
174-3-01 56.25″ L x 16.25″ W x 13.25″ H, Standard, Aluminum, 4.1 cu', White
174-52-01 56.25″ L x 16.25″ W x 13.25″ H, Standard, Aluminum, 4.1 cu', Textured Matte Black
184-3-01 47.25″ L x 16.25″ W x 13.25″ H, Short, Aluminum, 3.4 cu', White
184-52-01 47.25″ L x 16.25″ W x 13.25″ H, Short, Aluminum, 3.4 cu', Textured Matte Black
164-0-01 87.75″ L, 16.25″ W x 13.5″ H, Long, Aluminum, 6.4 cu', Clear
164-5-01 87.12″ L x 16.25″ W x 13.5″ H, Long, Aluminum, 6.4 cu', Gloss Black
175-3-01 60.37″ L x 13.62″ W x 12.87″ H, Standard, Steel, 4.5 cu', White
176-3-01 60.25″ L x 18″ W x 14″ H, Standard, Steel, 6.5 cu', White
178-0-01 59.25″ L x 19.25″ W x 11.75″ H, Standard, Aluminum, 4.3 cu', Clear
178-5-01 59.25″ L x 19.25″ W x 11.75″ H, Standard, Aluminum, 4.3 cu', Gloss Block
179-0-01 59.25″ L x 19.25″ W x 11.75″ H, Standard, Aluminum, 4.3 cu', Clear
179-5-01 59.25″ L x 19.25″ W x 11.75″ H, Standard, Aluminum, 4.3 cu', Gloss Black
180-0-01 44.25″ L x 19.25″ W x 11.75″ H, Short, Aluminum, 3.2 cu', Clear
180-5-01 44.25″ L x 19.25″ W x 11.75″ H, Short, Aluminum, 3.2 cu', Gloss Black
181-0-01 44.25″ L x 19.25″ W x 11.75″ H, Short, Aluminum, 3.2 cu', Clear
181-5-01 44.25″ L x 19.25″ W x 11.75″ H, Short, Aluminum, 3.2 cu', Gloss Black
184-0-01 47.25″ L x 16.25″ W x 13.25″ H, Short, Aluminum, 3.4 cu', Clear
184-5-01 47.25″ L x 16.25 " W x 13.25″ H, Short, Aluminum, 3.4 cu', Gloss Black
185-3-01 46.25″ L x 13.5″ W x 13″ H, Short, Steel, 3.2 cu', White
186-3-01 46.75″ L 18″ W x 13″ H, Short, Steel, 4.5 cu', White
300300-53-01 60.12″ L x 16.62″ W x 12.87″ H, Standard, Aluminum, 4.4 cu', Black
300300-9-01 60.12″ L x 16.62″ W x 12.87″ H, Standard, Aluminum, 4.4 cu', Uncoated
300304-53-01 46.62″ L x 16.62″ W x 12.87″ H, Short, Aluminum, 3.3 cu', Black
300304-9-01 46.62″ L x 16.62″ W x 12.87″ H, Short, Aluminum, 3.3 cu', Uncoated
[/expandsub2]
[expandsub2 title="

Porkchop Box" tag="div"]
160-3-01 46.5″ L x 9.25″ W x 19.12″ H, Driver Side, Steel, 2.1 cu', White
161-3-01 46.5″ L x 9.25″ W x 19.12″ H, Passanger Side, Steel, White, 2.1 cu', White
162-3-01 46.5″ L x 13.62″ W x 19.12″ H, Driver Side, Steel, 3.4 cu', White
163-3-01 46.5″ L x 13.62″ W x 19.12″ H, Passanger Side, Steel, 3.4 cu', White
170-0-01 46.75″ L x 9.25″ W x 19.5″ H, Driver Side, Aluminum, 2.1 cu', Clear
170-5-01 46.75″ L x 9.25″ W x 19.5″ H, Driver Side, Aluminum, 2.1 cu', Gloss Black
171-0-01 46.75″ L x 9.25″ W x 19.5″ H, Passanger Side, Aluminum, 2.1 cu' Clear
171-5-01 46.75″ L x 9.25″ W x 19.5″ H, Passanger Side, Aluminum, 2.1 cu' Gloss Black
172-0-01 46.75″ L x 9.25″ W x 19.5″ H, Driver Side, Aluminum, 3.4 cu' Clear
172-5-01 46.75″ L x 13.5″ W x 19.5″ H, Driver Side, Aluminum, 3.4 cu', Gloss Black
173-0-01 46.75″ L x 13.5″ W x 19.5″ H, Passanger Side, Aluminum, 3.4 cu', Clear
173-5-01 46.75″ L x 13.5″ W x 19.5″ H, Passanger Side, Aluminum, 3.4 cu', Gloss Black
[/expandsub2]
[expandsub2 title="

Saddle Box" tag="div"]
127-0-02 71.5″ L x 20.25″ W x 18.5″ H, Full Standard, Aluminum, 11.3 cu', Clear
127-5-02 71.5″ L x 20.25″ W x 18.5″ H, Full Standard, Aluminum, 11.3 cu', Black
117-5-02 71.5″ L x 27.5″ W x 18.5″ H, Full Extra Wide, Aluminum, 15.3 cu', Black
127-3-02 71.5″ L x 20.25″ W x 18.5″ H, Full Standard, Aluminum, 11.3 cu', White
127-52-02 71.5″ L x 20.25″ W x 18.5″ H, Full Standard, Aluminum, 11.3 cu', Black
117-52-02 71.5″ L x 20.25″ W x 18.5″ H, Full Extra Wide, Aluminum,15.3 cu', Black
121-5-01 71.5″ L x 20.25″ W x 15″ H, Full Low Profile, Aluminum, 8.8 cu', Black
121-52-01 71.5″ L x 20.25″ W x 15″ H, Full Low Profile, Aluminum, 8.8 cu', Black
300104-53-01 62″ L x 19.7″ W x 18.2″ H, Compact Saddle Box, Aluminum, 9.5 cu', Black
300105-53-01 71″ L x 19.7″ W x 17.7″ H, Full Size Saddle Box, Aluminum, 10.7 cu', Black
300105-9-01 71″ L x 19.7″ W x 17.7″ H, Full Size Saddle Box, Aluminum, 10.7 cu', Uncoated
116-3-02 71.5″ L x 27.5″ W x 18.5″ H, Full Extra Wide, Steel, 15.3 cu', White
116-5-02 71.5″ L x 27.5″ W x 18.5″ H, Full Extra Wide, Steel, 15.3 cu', Black
120-3-01 71.5″ L x 21.25″ W x 15.8″ H, Full Low Profile, Steel, 8.8 cu', White
120-5-01 71.5″ L x 21.25″ W x 15.8″ H, Full Low Profile, Steel, 8.8 cu', Black
121-0-01 71.5″ L x 20.25″ W x 15″ H, Full Low Profile, Aluminum, 8.8 cu', Clear
123-0-01 71.5″ L x 20.25″ W x 24″ H, Full Extra Deep, Aluminum, 15.1 cu', Clear
123-5-01 71.5″ L x 20.25″ W x 24″ H, Full Extra Deep, Aluminum, 15.1 cu', Gloss Black
126-3-02 71.5″ L x 20.25″ W x 18.5″ H, Standard, Steel, 11.3 cu', White
126-5-02 71.5″ L x 20.25″ W x 18.5″ H, Standard, Steel, 11.3 cu', Gloss Black
300104-9-01 62″ L x 19.7″ W x 18.2″ H, Compact Saddle Box, Aluminum, 9.5 cu', Uncoated
300106-53-01 71″ L 19.7″ W x 16.2″ H, Full Size Lo-Profile, Aluminum, 9.5 cu', Black
300106-9-01 71″ L 19.7″ W x 16.2″ H, Full Size Lo-Profile, Aluminum, 9.5 cu', Uncoated
[/expandsub2]
[/expandsub1]
[expandsub1 title="F-250/F-350″]
[expandsub2 title="

All-Purpose Chest" tag="div"]
674-52-01 47″ L x 20.25″ W x 19.25″ H, Full Compact, Aluminum, 10 cu', Textured Matte Black
664-52-01 62″ L x 20″ W x 19.25 " H, Full, Aluminum, 13.1 cu', Textured Matte Black
644-0-01 37″ L x 20.25″ W x 17″ H, Compact, Aluminum, 6.0 cu', Clear
644-5-01 37″ L x 20.25″ W x 17″ H, Compact, Aluminum 6.0 cu', Gloss Black
645-3-01 36.75″ L x 20.25″ W x 16.25″ H, Compact, Steel, 6.0 cu', White
654-0-01 55″ L x 20″ W x 19.25″ H Compact, Aluminum, 12.0 cu', Clear
654-5-01 55″ L x 20″ W x 19.25″ H Full Compact, Aluminum, 12.0 cu', Gloss Black
655-3-01 55″ L x 20″ W x 19.25″ H Full Compact, Steel, 12.0 cu', White
664-0-01 62″ L x 20″ W x 19.25″ H, Full, Aluminum, 13.1 cu', Clear
664-5-01 62″ L x 20″ W x 19.25″ H, Full, Aluminum, 13.1 cu', Gloss Black
665-3-01 62″ L x 20″ W x 19.25″ H, Full, Aluminum, 13.1 cu', White
665-5-01 62″ L x 20″ W x 19.25″ H, Full, Steel, 13.1 cu', Black
674-0-01 47″ L x 20.25″ W x 19.25 H, Full, Aluminum, 10.1 cu', Clear
674-5-01 47″ L x 20.25″ W x 19.25″ H, Full, Aluminum, 10.0 cu', Gloss Black
675-3-01 47″ L x 20.25″ W x 19.25″ H, Full Compact, Steel, 10.0 cu', White
684-0-01 62″ L x 27.5″ W x 19.25″ H, Full Extra Wide, Aluminum, 18.6 cu', Clear
684-5-01 62″ L x 27.5″ W x 19.25 " H, Full Extra Wide, Aluminum, 18.6 cu', Gloss Black
685-3-01 62″ L x 27″ W x 19.25″ H, Full Extra Wide, Steel, 18.6 cu', White
300401-53-01 50″ L x 19.6″ W x 19.3″ H, Universal Chest Box, Aluminum, 9.3 cu', Black
300401-9-01 50″ L x 19.6″ W x 19.3″ H, Universal Chest Box, Aluminum, 9.3 cu', Uncoated
[/expandsub2]
[expandsub2 title="

Cross Box" tag="div"]
114-0-01 71.5″ L x 27.5″ W x 18.5″ H, Full Extra Wide, Aluminum, 15.3 cu', Clear
114-5-01 71.5″ L x 27.5″ W x 18.5″ H, Full Extra Wide, Aluminum, 15.3 cu', Gloss Black
115-3-01 71.5″ L x 27.5″ W x 18.5″ H, Full Extra Wide, Steel, 15.3 cu', White
124-0-01 72″ L x 20.5″ W x 18.37″ H, Full Standard, Aluminum, 11.3 cu', Clear
124-5-01 72″ L x 20.5″ W x 18.37″ H, Full Standard, Aluminum, 11.3 cu', Gloss Black
125-3-01 71.5″ L x 20″ W x 17.87″ H, Full Standard, Steel, 11.3 cu', White
125-5-01 71.5″ L x 20″ W x 17.87″ H, Full Standard, Steel, 11.3 cu', Gloss Black
300207-53-01 71.5″ L x 19.62″ W x 17.75″ H, Full Size, Aluminum, 10.7 cu', Black
300207-9-01 71.5″ L x 19.62″ W x 17.75″ H, Full Size, Aluminum, 10.7 cu', Uncoated
[/expandsub2]
[expandsub2 title="

Hi-Side Box" tag="div"]
391-3-02 90.25″ L x 16.25″ W x 18″ H, Super-Side Box, Aluminum, 15.2 cu', White
391-52-02 90.25″ L x 16.25″ W x 18″ H, Super-Side Box, Aluminum, 15.2 cu', Textured Matte Black
265-3-02 64.25″ L x 16.25″ W x 18″ H, Super-Side Box, Steel, 10.8 cu', White
272-3-02 72.25″ L x 13.5″ W x 16″ H, Hi-Side Box, Steel, 8.9 cu', White
291-3-02 90.25″ L x 16.25″ W x 18″ H, Super-Side Box, Steel, 15.2 cu', White
296-3-02 96.25″ L x 13.25″ W x 16″ H, Hi-Side Box, Steel, 11.8 cu', White
297-3-02 96.25″ L x 16.25″ W x 24″ H, Super-Side Box, Steel, Jumbo, 21.4 cu', White
364-0-02 64.25″ L x 13.25″ W x 16″ H, Hi-Side Box, Aluminum, 7.9 cu', Clear
365-0-02 64.25″ L x 16.25″ W x 18″ H, Hi-Side Box, Aluminum, 10.8 cu', Clear
372-0-02 72.25″ L x 13.25″ W x 16″ H, Hi-Side Box, Aluminum, 8.9 cu', Clear
372-5-02 72.25″ L x 13.25″ W x 16″ H, Hi-Side Box, Aluminum, 8.9 cu', Gloss Black
390-0-02 90.25″ L x 13.25″ W x 16″ H, Hi-Side Box, Aluminum, 11.1 cu', Clear
390-5-02 90.25″ L x 13.25″ W x 16″ H, Hi-Side Box, Aluminum, 11.1 cu', Gloss Black
391-0-02 90.25″ L x 16.25″ W x 18″ H, Super-Side Box, Aluminum, 15.2 cu', Clear
391-5-02 90.25″ L x 16.25″ W x 18″ H, Super-Side Box, Aluminum, 15.2 cu', Gloss Black
396-0-02 96.25″ L x 13.25″ W x 16″ H, Hi-Side Box, Aluminum, 11.8 cu', Clear
300302-53-01 60.13″ L x 13.33″ W x 16.06″ H, Standard Hi-Side Box, Aluminum, 6.7 cu', Black
300302-9-01 60.13″ L x 13.33″ W x 16.06″ H, Standard Hi-Side Box, Aluminum, 6.7 cu', Uncoated
300303-53-01 90.13″ L x 13.33″ W x 16.06″ H, Long Hi-Side Box, Aluminum, 10 cu', Black
300303-9-01 90.13″ L x 13.33″ W x 16.06″ H, Long Hi-Side Box, Aluminum, 10 cu', Uncoated
[/expandsub2]
[expandsub2 title="

Lo-Side Box" tag="div"]
174-0-01 56.25″ L x 16.25″ W x 13.25″ H, Standard, Aluminum, 4.1 cu', Clear
174-5-01 56.25″ L x 16.25″ W x 13.25″ H, Standard, Aluminum, 4.1 cu', Gloss Black
174-3-01 56.25″ L x 16.25″ W x 13.25″ H, Standard, Aluminum, 4.1 cu', White
174-52-01 56.25″ L x 16.25″ W x 13.25″ H, Standard, Aluminum, 4.1 cu', Textured Matte Black
184-3-01 47.25″ L x 16.25″ W x 13.25″ H, Short, Aluminum, 3.4 cu', White
184-52-01 47.25″ L x 16.25″ W x 13.25″ H, Short, Aluminum, 3.4 cu', Textured Matte Black
164-0-01 87.75″ L, 16.25″ W x 13.5″ H, Long, Aluminum, 6.4 cu', Clear
164-5-01 87.12″ L x 16.25″ W x 13.5″ H, Long, Aluminum, 6.4 cu', Gloss Black
175-3-01 60.37″ L x 13.62″ W x 12.87″ H, Standard, Steel, 4.5 cu', White
176-3-01 60.25″ L x 18″ W x 14″ H, Standard, Steel, 6.5 cu', White
178-0-01 59.25″ L x 19.25″ W x 11.75″ H, Standard, Aluminum, 4.3 cu', Clear
178-5-01 59.25″ L x 19.25″ W x 11.75″ H, Standard, Aluminum, 4.3 cu', Gloss Block
179-0-01 59.25″ L x 19.25″ W x 11.75″ H, Standard, Aluminum, 4.3 cu', Clear
179-5-01 59.25″ L x 19.25″ W x 11.75″ H, Standard, Aluminum, 4.3 cu', Gloss Black
180-0-01 44.25″ L x 19.25″ W x 11.75″ H, Short, Aluminum, 3.2 cu', Clear
180-5-01 44.25″ L x 19.25″ W x 11.75″ H, Short, Aluminum, 3.2 cu', Gloss Black
181-0-01 44.25″ L x 19.25″ W x 11.75″ H, Short, Aluminum, 3.2 cu', Clear
181-5-01 44.25″ L x 19.25″ W x 11.75″ H, Short, Aluminum, 3.2 cu', Gloss Black
184-0-01 47.25″ L x 16.25″ W x 13.25″ H, Short, Aluminum, 3.4 cu', Clear
184-5-01 47.25″ L x 16.25 " W x 13.25″ H, Short, Aluminum, 3.4 cu', Gloss Black
185-3-01 46.25″ L x 13.5″ W x 13″ H, Short, Steel, 3.2 cu', White
186-3-01 46.75″ L 18″ W x 13″ H, Short, Steel, 4.5 cu', White
300300-53-01 60.12″ L x 16.62″ W x 12.87″ H, Standard, Aluminum, 4.4 cu', Black
300300-9-01 60.12″ L x 16.62″ W x 12.87″ H, Standard, Aluminum, 4.4 cu', Uncoated
300304-53-01 46.62″ L x 16.62″ W x 12.87″ H, Short, Aluminum, 3.3 cu', Black
300304-9-01 46.62″ L x 16.62″ W x 12.87″ H, Short, Aluminum, 3.3 cu', Uncoated
[/expandsub2]
[expandsub2 title="

Porkchop Box" tag="div"]
160-3-01 46.5″ L x 9.25″ W x 19.12″ H, Driver Side, Steel, 2.1 cu', White
161-3-01 46.5″ L x 9.25″ W x 19.12″ H, Passanger Side, Steel, White, 2.1 cu', White
162-3-01 46.5″ L x 13.62″ W x 19.12″ H, Driver Side, Steel, 3.4 cu', White
163-3-01 46.5″ L x 13.62″ W x 19.12″ H, Passanger Side, Steel, 3.4 cu', White
170-0-01 46.75″ L x 9.25″ W x 19.5″ H, Driver Side, Aluminum, 2.1 cu', Clear
170-5-01 46.75″ L x 9.25″ W x 19.5″ H, Driver Side, Aluminum, 2.1 cu', Gloss Black
171-0-01 46.75″ L x 9.25″ W x 19.5″ H, Passanger Side, Aluminum, 2.1 cu' Clear
171-5-01 46.75″ L x 9.25″ W x 19.5″ H, Passanger Side, Aluminum, 2.1 cu' Gloss Black
172-0-01 46.75″ L x 9.25″ W x 19.5″ H, Driver Side, Aluminum, 3.4 cu' Clear
172-5-01 46.75″ L x 13.5″ W x 19.5″ H, Driver Side, Aluminum, 3.4 cu', Gloss Black
173-0-01 46.75″ L x 13.5″ W x 19.5″ H, Passanger Side, Aluminum, 3.4 cu', Clear
173-5-01 46.75″ L x 13.5″ W x 19.5″ H, Passanger Side, Aluminum, 3.4 cu', Gloss Black
[/expandsub2]
[expandsub2 title="

Saddle Box" tag="div"]
127-0-02 71.5″ L x 20.25″ W x 18.5″ H, Full Standard, Aluminum, 11.3 cu', Clear
127-5-02 71.5″ L x 20.25″ W x 18.5″ H, Full Standard, Aluminum, 11.3 cu', Black
117-5-02 71.5″ L x 27.5″ W x 18.5″ H, Full Extra Wide, Aluminum, 15.3 cu', Black
127-3-02 71.5″ L x 20.25″ W x 18.5″ H, Full Standard, Aluminum, 11.3 cu', White
127-52-02 71.5″ L x 20.25″ W x 18.5″ H, Full Standard, Aluminum, 11.3 cu', Black
117-52-02 71.5″ L x 20.25″ W x 18.5″ H, Full Extra Wide, Aluminum,15.3 cu', Black
121-5-01 71.5″ L x 20.25″ W x 15″ H, Full Low Profile, Aluminum, 8.8 cu', Black
121-52-01 71.5″ L x 20.25″ W x 15″ H, Full Low Profile, Aluminum, 8.8 cu', Black
300104-53-01 62″ L x 19.7″ W x 18.2″ H, Compact Saddle Box, Aluminum, 9.5 cu', Black
300105-53-01 71″ L x 19.7″ W x 17.7″ H, Full Size Saddle Box, Aluminum, 10.7 cu', Black
300105-9-01 71″ L x 19.7″ W x 17.7″ H, Full Size Saddle Box, Aluminum, 10.7 cu', Uncoated
116-3-02 71.5″ L x 27.5″ W x 18.5″ H, Full Extra Wide, Steel, 15.3 cu', White
116-5-02 71.5″ L x 27.5″ W x 18.5″ H, Full Extra Wide, Steel, 15.3 cu', Black
120-3-01 71.5″ L x 21.25″ W x 15.8″ H, Full Low Profile, Steel, 8.8 cu', White
120-5-01 71.5″ L x 21.25″ W x 15.8″ H, Full Low Profile, Steel, 8.8 cu', Black
121-0-01 71.5″ L x 20.25″ W x 15″ H, Full Low Profile, Aluminum, 8.8 cu', Clear
123-0-01 71.5″ L x 20.25″ W x 24″ H, Full Extra Deep, Aluminum, 15.1 cu', Clear
123-5-01 71.5″ L x 20.25″ W x 24″ H, Full Extra Deep, Aluminum, 15.1 cu', Gloss Black
126-3-02 71.5″ L x 20.25″ W x 18.5″ H, Standard, Steel, 11.3 cu', White
126-5-02 71.5″ L x 20.25″ W x 18.5″ H, Standard, Steel, 11.3 cu', Gloss Black
300104-9-01 62″ L x 19.7″ W x 18.2″ H, Compact Saddle Box, Aluminum, 9.5 cu', Uncoated
300106-53-01 71″ L 19.7″ W x 16.2″ H, Full Size Lo-Profile, Aluminum, 9.5 cu', Black
300106-9-01 71″ L 19.7″ W x 16.2″ H, Full Size Lo-Profile, Aluminum, 9.5 cu', Uncoated
[/expandsub2]
[/expandsub1]
[expandsub1 title="Ranger"]
[expandsub2 title="

All-Purpose Chest" tag="div"]
674-52-01 47″ L x 20.25″ W x 19.25″ H, Full Compact, Aluminum, 10 cu', Textured Matte Black
644-0-01 37″ L x 20.25″ W x 17″ H, Compact, Aluminum, 6.0 cu', Clear
644-5-01 37″ L x 20.25″ W x 17″ H, Compact, Aluminum 6.0 cu', Gloss Black
645-3-01 36.75″ L x 20.25″ W x 16.25″ H, Compact, Steel, 6.0 cu', White
674-0-01 47″ L x 20.25″ W x 19.25 H, Full, Aluminum, 10.1 cu', Clear
674-5-01 47″ L x 20.25″ W x 19.25″ H, Full, Aluminum, 10.0 cu', Gloss Black
675-3-01 47″ L x 20.25″ W x 19.25″ H, Full Compact, Steel, 10.0 cu', White
300401-53-01 50″ L x 19.6″ W x 19.3″ H, Universal Chest Box, Aluminum, 9.3 cu', Black
300401-9-01 50″ L x 19.6″ W x 19.3″ H, Universal Chest Box, Aluminum, 9.3 cu', Uncoated
[/expandsub2]
[expandsub2 title="

Hi-Side Box" tag="div"]
265-3-02 64.25″ L x 16.25″ W x 18″ H, Super-Side Box, Steel, 10.8 cu', White
272-3-02 72.25″ L x 13.5″ W x 16″ H, Hi-Side Box, Steel, 8.9 cu', White
364-0-02 64.25″ L x 13.25″ W x 16″ H, Hi-Side Box, Aluminum, 7.9 cu', Clear
365-0-02 64.25″ L x 16.25″ W x 18″ H, Hi-Side Box, Aluminum, 10.8 cu', Clear
372-0-02 72.25″ L x 13.25″ W x 16″ H, Hi-Side Box, Aluminum, 8.9 cu', Clear
372-5-02 72.25″ L x 13.25″ W x 16″ H, Hi-Side Box, Aluminum, 8.9 cu', Gloss Black
300302-53-01 60.13″ L x 13.33″ W x 16.06″ H, Standard Hi-Side Box, Aluminum, 6.7 cu', Black
300302-9-01 60.13″ L x 13.33″ W x 16.06″ H, Standard Hi-Side Box, Aluminum, 6.7 cu', Uncoated
[/expandsub2]
[expandsub2 title="

Lo-Side Box" tag="div"]
174-0-01 56.25″ L x 16.25″ W x 13.25″ H, Standard, Aluminum, 4.1 cu', Clear
174-5-01 56.25″ L x 16.25″ W x 13.25″ H, Standard, Aluminum, 4.1 cu', Gloss Black
174-3-01 56.25″ L x 16.25″ W x 13.25″ H, Standard, Aluminum, 4.1 cu', White
174-52-01 56.25″ L x 16.25″ W x 13.25″ H, Standard, Aluminum, 4.1 cu', Textured Matte Black
184-3-01 47.25″ L x 16.25″ W x 13.25″ H, Short, Aluminum, 3.4 cu', White
184-52-01 47.25″ L x 16.25″ W x 13.25″ H, Short, Aluminum, 3.4 cu', Textured Matte Black
164-0-01 87.75″ L, 16.25″ W x 13.5″ H, Long, Aluminum, 6.4 cu', Clear
164-5-01 87.12″ L x 16.25″ W x 13.5″ H, Long, Aluminum, 6.4 cu', Gloss Black
175-3-01 60.37″ L x 13.62″ W x 12.87″ H, Standard, Steel, 4.5 cu', White
176-3-01 60.25″ L x 18″ W x 14″ H, Standard, Steel, 6.5 cu', White
178-0-01 59.25″ L x 19.25″ W x 11.75″ H, Standard, Aluminum, 4.3 cu', Clear
178-5-01 59.25″ L x 19.25″ W x 11.75″ H, Standard, Aluminum, 4.3 cu', Gloss Block
179-0-01 59.25″ L x 19.25″ W x 11.75″ H, Standard, Aluminum, 4.3 cu', Clear
179-5-01 59.25″ L x 19.25″ W x 11.75″ H, Standard, Aluminum, 4.3 cu', Gloss Black
180-0-01 44.25″ L x 19.25″ W x 11.75″ H, Short, Aluminum, 3.2 cu', Clear
180-5-01 44.25″ L x 19.25″ W x 11.75″ H, Short, Aluminum, 3.2 cu', Gloss Black
181-0-01 44.25″ L x 19.25″ W x 11.75″ H, Short, Aluminum, 3.2 cu', Clear
181-5-01 44.25″ L x 19.25″ W x 11.75″ H, Short, Aluminum, 3.2 cu', Gloss Black
184-0-01 47.25″ L x 16.25″ W x 13.25″ H, Short, Aluminum, 3.4 cu', Clear
184-5-01 47.25″ L x 16.25 " W x 13.25″ H, Short, Aluminum, 3.4 cu', Gloss Black
185-3-01 46.25″ L x 13.5″ W x 13″ H, Short, Steel, 3.2 cu', White
186-3-01 46.75″ L 18″ W x 13″ H, Short, Steel, 4.5 cu', White
300300-53-01 60.12″ L x 16.62″ W x 12.87″ H, Standard, Aluminum, 4.4 cu', Black
300300-9-01 60.12″ L x 16.62″ W x 12.87″ H, Standard, Aluminum, 4.4 cu', Uncoated
300304-53-01 46.62″ L x 16.62″ W x 12.87″ H, Short, Aluminum, 3.3 cu', Black
300304-9-01 46.62″ L x 16.62″ W x 12.87″ H, Short, Aluminum, 3.3 cu', Uncoated
[/expandsub2]
[expandsub2 title="

Porkchop Box" tag="div"]
160-3-01 46.5″ L x 9.25″ W x 19.12″ H, Driver Side, Steel, 2.1 cu', White
161-3-01 46.5″ L x 9.25″ W x 19.12″ H, Passanger Side, Steel, White, 2.1 cu', White
162-3-01 46.5″ L x 13.62″ W x 19.12″ H, Driver Side, Steel, 3.4 cu', White
163-3-01 46.5″ L x 13.62″ W x 19.12″ H, Passanger Side, Steel, 3.4 cu', White
170-0-01 46.75″ L x 9.25″ W x 19.5″ H, Driver Side, Aluminum, 2.1 cu', Clear
170-5-01 46.75″ L x 9.25″ W x 19.5″ H, Driver Side, Aluminum, 2.1 cu', Gloss Black
171-0-01 46.75″ L x 9.25″ W x 19.5″ H, Passanger Side, Aluminum, 2.1 cu' Clear
171-5-01 46.75″ L x 9.25″ W x 19.5″ H, Passanger Side, Aluminum, 2.1 cu' Gloss Black
172-0-01 46.75″ L x 9.25″ W x 19.5″ H, Driver Side, Aluminum, 3.4 cu' Clear
172-5-01 46.75″ L x 13.5″ W x 19.5″ H, Driver Side, Aluminum, 3.4 cu', Gloss Black
173-0-01 46.75″ L x 13.5″ W x 19.5″ H, Passanger Side, Aluminum, 3.4 cu', Clear
173-5-01 46.75″ L x 13.5″ W x 19.5″ H, Passanger Side, Aluminum, 3.4 cu', Gloss Black
[/expandsub2]
[expandsub2 title="

Saddle Box" tag="div"]
300104-53-01 62″ L x 19.7″ W x 18.2″ H, Compact Saddle Box, Aluminum, 9.5 cu', Black
300104-9-01 62″ L x 19.7″ W x 18.2″ H, Compact Saddle Box, Aluminum, 9.5 cu', Uncoated
[/expandsub2]
[/expandsub1]
[/expand]
[expand title="GMC"]
[expandsub1 title="Canyon"]
[expandsub2 title="

All-Purpose Chest" tag="div"]
644-0-01 37″ L x 20.25″ W x 17″ H, Compact, Aluminum, 6.0 cu', Clear
644-5-01 37″ L x 20.25″ W x 17″ H, Compact, Aluminum, 6.0 cu', Gloss Black
645-3-01 36.75″ L x 20.25″ W x 16.25″ H, Compact, Steel, 6.0 cu', White
[/expandsub2]
[expandsub2 title="

Hi-Side Box" tag="div"]
265-3-02 64.25″ L x 16.25″ W x 18″ H, Super-Side Box, Steel, 10.8 cu' White
364-0-02 64.25″ L x 13.25″ W x 16″ H, Aluminum, 7.9 cu', Clear
365-0-02 64.25″ L x 16.25″ W x 18″ H, Aluminum, 10.8 cu', Clear
300302-53-01 60.12″ L x 13.33″ W x 16.06″ H, Aluminum, Clear
300302-9-01 60.12″ L x 13.33″ W x 16.06 " H, Aluminum, Uncoated
[/expandsub2]
[expandsub2 title="

Lo-Side Box" tag="div"]
174-0-01 56.25″ L x 16.25″ W x 13.25″ H, Standard, Aluminum, 4.1 cu', Clear
174-5-01 56.25″ L x 16.25″ W x 13.25″ H, Standard, Aluminum, 4.1 cu', Gloss Black
174-3-01 56.25″ L x 16.25″ W x 13.25″ H, Standard, Aluminum, 4.1 cu', White
174-52-01 56.25″ L x 16.25″ W x 13.25″ H, Standard, Aluminum, 4.1 cu', Textured Matte Black
184-3-01 47.25″ L x 16.25″ W x 13.25″ H, Short, Aluminum, 3.4 cu', White
184-52-01 47.25″ L x 16.25″ W x 13.25″ H, Short, Aluminum, 3.4 cu', Textured Matte Black
164-0-01 87.75″ L, 16.25″ W x 13.5″ H, Long, Aluminum, 6.4 cu', Clear
164-5-01 87.12″ L x 16.25″ W x 13.5″ H, Long, Aluminum, 6.4 cu', Gloss Black
175-3-01 60.37″ L x 13.62″ W x 12.87″ H, Standard, Steel, 4.5 cu', White
176-3-01 60.25″ L x 18″ W x 14″ H, Standard, Steel, 6.5 cu', White
178-0-01 59.25″ L x 19.25″ W x 11.75″ H, Standard, Aluminum, 4.3 cu', Clear
178-5-01 59.25″ L x 19.25″ W x 11.75″ H, Standard, Aluminum, 4.3 cu', Gloss Block
179-0-01 59.25″ L x 19.25″ W x 11.75″ H, Standard, Aluminum, 4.3 cu', Clear
179-5-01 59.25″ L x 19.25″ W x 11.75″ H, Standard, Aluminum, 4.3 cu', Gloss Black
180-0-01 44.25″ L x 19.25″ W x 11.75″ H, Short, Aluminum, 3.2 cu', Clear
180-5-01 44.25″ L x 19.25″ W x 11.75″ H, Short, Aluminum, 3.2 cu', Gloss Black
181-0-01 44.25″ L x 19.25″ W x 11.75″ H, Short, Aluminum, 3.2 cu', Clear
181-5-01 44.25″ L x 19.25″ W x 11.75″ H, Short, Aluminum, 3.2 cu', Gloss Black
184-0-01 47.25″ L x 16.25″ W x 13.25″ H, Short, Aluminum, 3.4 cu', Clear
184-5-01 47.25″ L x 16.25 " W x 13.25″ H, Short, Aluminum, 3.4 cu', Gloss Black
185-3-01 46.25″ L x 13.5″ W x 13″ H, Short, Steel, 3.2 cu', White
186-3-01 46.75″ L 18″ W x 13″ H, Short, Steel, 4.5 cu', White
300300-53-01 60.12″ L x 16.62″ W x 12.87″ H, Standard, Aluminum, 4.4 cu', Black
300300-9-01 60.12″ L x 16.62″ W x 12.87″ H, Standard, Aluminum, 4.4 cu', Uncoated
300304-53-01 46.62″ L x 16.62″ W x 12.87″ H, Short, Aluminum, 3.3 cu', Black
300304-9-01 46.62″ L x 16.62″ W x 12.87″ H, Short, Aluminum, 3.3 cu', Uncoated
[/expandsub2]
[expandsub2 title="

Porkchop Box" tag="div"]
160-3-01 46.5″ L x 9.25″ W x 19.12″ H, Driver Side, Steel, 2.1 cu', White
161-3-01 46.5″ L x 9.25″ W x 19.12″ H, Passanger Side, Steel, White, 2.1 cu', White
162-3-01 46.5″ L x 13.62″ W x 19.12″ H, Driver Side, Steel, 3.4 cu', White
163-3-01 46.5″ L x 13.62″ W x 19.12″ H, Passanger Side, Steel, 3.4 cu', White
170-0-01 46.75″ L x 9.25″ W x 19.5″ H, Driver Side, Aluminum, 2.1 cu', Clear
170-5-01 46.75″ L x 9.25″ W x 19.5″ H, Driver Side, Aluminum, 2.1 cu', Gloss Black
171-0-01 46.75″ L x 9.25″ W x 19.5″ H, Passanger Side, Aluminum, 2.1 cu' Clear
171-5-01 46.75″ L x 9.25″ W x 19.5″ H, Passanger Side, Aluminum, 2.1 cu' Gloss Black
172-0-01 46.75″ L x 9.25″ W x 19.5″ H, Driver Side, Aluminum, 3.4 cu' Clear
172-5-01 46.75″ L x 13.5″ W x 19.5″ H, Driver Side, Aluminum, 3.4 cu', Gloss Black
173-0-01 46.75″ L x 13.5″ W x 19.5″ H, Passanger Side, Aluminum, 3.4 cu', Clear
173-5-01 46.75″ L x 13.5″ W x 19.5″ H, Passanger Side, Aluminum, 3.4 cu', Gloss Black
[/expandsub2]
[expandsub2 title="

Saddle Box" tag="div"]
300104-53-01 62″ L x 19.7″ W x 18.2″ H, Compact Saddle Box, Aluminum, 9.5 cu', Black
300104-9-01 62″ L x 19.7″ W x 18.2″ H, Compact Saddle Box, Aluminum, 9.5 cu', Uncoated
[/expandsub2]
[/expandsub1]
[expandsub1 title="Sierra 1500″]
[expandsub2 title="

All-Purpose Chest" tag="div"]
674-52-01 47″ L x 20.25″ W x 19.25″ H, Full Compact, Aluminum, 10 cu', Textured Matte Black
664-52-01 62″ L x 20″ W x 19.25 " H, Full, Aluminum, 13.1 cu', Textured Matte Black
644-0-01 37″ L x 20.25″ W x 17″ H, Compact, Aluminum, 6.0 cu', Clear
644-5-01 37″ L x 20.25″ W x 17″ H, Compact, Aluminum 6.0 cu', Gloss Black
645-3-01 36.75″ L x 20.25″ W x 16.25″ H, Compact, Steel, 6.0 cu', White
654-0-01 55″ L x 20″ W x 19.25″ H Compact, Aluminum, 12.0 cu', Clear
654-5-01 55″ L x 20″ W x 19.25″ H Full Compact, Aluminum, 12.0 cu', Gloss Black
655-3-01 55″ L x 20″ W x 19.25″ H Full Compact, Steel, 12.0 cu', White
664-0-01 62″ L x 20″ W x 19.25″ H, Full, Aluminum, 13.1 cu', Clear
664-5-01 62″ L x 20″ W x 19.25″ H, Full, Aluminum, 13.1 cu', Gloss Black
665-3-01 62″ L x 20″ W x 19.25″ H, Full, Aluminum, 13.1 cu', White
665-5-01 62″ L x 20″ W x 19.25″ H, Full, Steel, 13.1 cu', Black
674-0-01 47″ L x 20.25″ W x 19.25 H, Full, Aluminum, 10.1 cu', Clear
674-5-01 47″ L x 20.25″ W x 19.25″ H, Full, Aluminum, 10.0 cu', Gloss Black
675-3-01 47″ L x 20.25″ W x 19.25″ H, Full Compact, Steel, 10.0 cu', White
684-0-01 62″ L x 27.5″ W x 19.25″ H, Full Extra Wide, Aluminum, 18.6 cu', Clear
684-5-01 62″ L x 27.5″ W x 19.25 " H, Full Extra Wide, Aluminum, 18.6 cu', Gloss Black
685-3-01 62″ L x 27″ W x 19.25″ H, Full Extra Wide, Steel, 18.6 cu', White
300401-53-01 50″ L x 19.6″ W x 19.3″ H, Universal Chest Box, Aluminum, 9.3 cu', Black
300401-9-01 50″ L x 19.6″ W x 19.3″ H, Universal Chest Box, Aluminum, 9.3 cu', Uncoated
[/expandsub2]
[expandsub2 title="

Cross Box" tag="div"]
114-0-01 71.5″ L x 27.5″ W x 18.5″ H, Full Extra Wide, Aluminum, 15.3 cu', Clear
114-5-01 71.5″ L x 27.5″ W x 18.5″ H, Full Extra Wide, Aluminum, 15.3 cu', Gloss Black
115-3-01 71.5″ L x 27.5″ W x 18.5″ H, Full Extra Wide, Steel, 15.3 cu', White
124-0-01 72″ L x 20.5″ W x 18.37″ H, Full Standard, Aluminum, 11.3 cu', Clear
124-5-01 72″ L x 20.5″ W x 18.37″ H, Full Standard, Aluminum, 11.3 cu', Gloss Black
125-3-01 71.5″ L x 20″ W x 17.87″ H, Full Standard, Steel, 11.3 cu', White
125-5-01 71.5″ L x 20″ W x 17.87″ H, Full Standard, Steel, 11.3 cu', Gloss Black
300207-53-01 71.5″ L x 19.62″ W x 17.75″ H, Full Size, Aluminum, 10.7 cu', Black
300207-9-01 71.5″ L x 19.62″ W x 17.75″ H, Full Size, Aluminum, 10.7 cu', Uncoated
[/expandsub2]
[expandsub2 title="

Hi-Side Box" tag="div"]
391-3-02 90.25″ L x 16.25″ W x 18″ H, Super-Side Box, Aluminum, 15.2 cu', White
391-52-02 90.25″ L x 16.25″ W x 18″ H, Super-Side Box, Aluminum, 15.2 cu', Textured Matte Black
265-3-02 64.25″ L x 16.25″ W x 18″ H, Super-Side Box, Steel, 10.8 cu', White
272-3-02 72.25″ L x 13.5″ W x 16″ H, Hi-Side Box, Steel, 8.9 cu', White
291-3-02 90.25″ L x 16.25″ W x 18″ H, Super-Side Box, Steel, 15.2 cu', White
296-3-02 96.25″ L x 13.25″ W x 16″ H, Hi-Side Box, Steel, 11.8 cu', White
297-3-02 96.25″ L x 16.25″ W x 24″ H, Super-Side Box, Steel, Jumbo, 21.4 cu', White
364-0-02 64.25″ L x 13.25″ W x 16″ H, Hi-Side Box, Aluminum, 7.9 cu', Clear
365-0-02 64.25″ L x 16.25″ W x 18″ H, Hi-Side Box, Aluminum, 10.8 cu', Clear
372-0-02 72.25″ L x 13.25″ W x 16″ H, Hi-Side Box, Aluminum, 8.9 cu', Clear
372-5-02 72.25″ L x 13.25″ W x 16″ H, Hi-Side Box, Aluminum, 8.9 cu', Gloss Black
390-0-02 90.25″ L x 13.25″ W x 16″ H, Hi-Side Box, Aluminum, 11.1 cu', Clear
390-5-02 90.25″ L x 13.25″ W x 16″ H, Hi-Side Box, Aluminum, 11.1 cu', Gloss Black
391-0-02 90.25″ L x 16.25″ W x 18″ H, Super-Side Box, Aluminum, 15.2 cu', Clear
391-5-02 90.25″ L x 16.25″ W x 18″ H, Super-Side Box, Aluminum, 15.2 cu', Gloss Black
396-0-02 96.25″ L x 13.25″ W x 16″ H, Hi-Side Box, Aluminum, 11.8 cu', Clear
300302-53-01 60.13″ L x 13.33″ W x 16.06″ H, Standard Hi-Side Box, Aluminum, 6.7 cu', Black
300302-9-01 60.13″ L x 13.33″ W x 16.06″ H, Standard Hi-Side Box, Aluminum, 6.7 cu', Uncoated
300303-53-01 90.13″ L x 13.33″ W x 16.06″ H, Long Hi-Side Box, Aluminum, 10 cu', Black
300303-9-01 90.13″ L x 13.33″ W x 16.06″ H, Long Hi-Side Box, Aluminum, 10 cu', Uncoated
[/expandsub2]
[expandsub2 title="

Lo-Side Box" tag="div"]
174-0-01 56.25″ L x 16.25″ W x 13.25″ H, Standard, Aluminum, 4.1 cu', Clear
174-5-01 56.25″ L x 16.25″ W x 13.25″ H, Standard, Aluminum, 4.1 cu', Gloss Black
174-3-01 56.25″ L x 16.25″ W x 13.25″ H, Standard, Aluminum, 4.1 cu', White
174-52-01 56.25″ L x 16.25″ W x 13.25″ H, Standard, Aluminum, 4.1 cu', Textured Matte Black
184-3-01 47.25″ L x 16.25″ W x 13.25″ H, Short, Aluminum, 3.4 cu', White
184-52-01 47.25″ L x 16.25″ W x 13.25″ H, Short, Aluminum, 3.4 cu', Textured Matte Black
164-0-01 87.75″ L, 16.25″ W x 13.5″ H, Long, Aluminum, 6.4 cu', Clear
164-5-01 87.12″ L x 16.25″ W x 13.5″ H, Long, Aluminum, 6.4 cu', Gloss Black
175-3-01 60.37″ L x 13.62″ W x 12.87″ H, Standard, Steel, 4.5 cu', White
176-3-01 60.25″ L x 18″ W x 14″ H, Standard, Steel, 6.5 cu', White
178-0-01 59.25″ L x 19.25″ W x 11.75″ H, Standard, Aluminum, 4.3 cu', Clear
178-5-01 59.25″ L x 19.25″ W x 11.75″ H, Standard, Aluminum, 4.3 cu', Gloss Block
179-0-01 59.25″ L x 19.25″ W x 11.75″ H, Standard, Aluminum, 4.3 cu', Clear
179-5-01 59.25″ L x 19.25″ W x 11.75″ H, Standard, Aluminum, 4.3 cu', Gloss Black
180-0-01 44.25″ L x 19.25″ W x 11.75″ H, Short, Aluminum, 3.2 cu', Clear
180-5-01 44.25″ L x 19.25″ W x 11.75″ H, Short, Aluminum, 3.2 cu', Gloss Black
181-0-01 44.25″ L x 19.25″ W x 11.75″ H, Short, Aluminum, 3.2 cu', Clear
181-5-01 44.25″ L x 19.25″ W x 11.75″ H, Short, Aluminum, 3.2 cu', Gloss Black
184-0-01 47.25″ L x 16.25″ W x 13.25″ H, Short, Aluminum, 3.4 cu', Clear
184-5-01 47.25″ L x 16.25 " W x 13.25″ H, Short, Aluminum, 3.4 cu', Gloss Black
185-3-01 46.25″ L x 13.5″ W x 13″ H, Short, Steel, 3.2 cu', White
186-3-01 46.75″ L 18″ W x 13″ H, Short, Steel, 4.5 cu', White
300300-53-01 60.12″ L x 16.62″ W x 12.87″ H, Standard, Aluminum, 4.4 cu', Black
300300-9-01 60.12″ L x 16.62″ W x 12.87″ H, Standard, Aluminum, 4.4 cu', Uncoated
300304-53-01 46.62″ L x 16.62″ W x 12.87″ H, Short, Aluminum, 3.3 cu', Black
300304-9-01 46.62″ L x 16.62″ W x 12.87″ H, Short, Aluminum, 3.3 cu', Uncoated
[/expandsub2]
[expandsub2 title="

Porkchop Box" tag="div"]
160-3-01 46.5″ L x 9.25″ W x 19.12″ H, Driver Side, Steel, 2.1 cu', White
161-3-01 46.5″ L x 9.25″ W x 19.12″ H, Passanger Side, Steel, White, 2.1 cu', White
162-3-01 46.5″ L x 13.62″ W x 19.12″ H, Driver Side, Steel, 3.4 cu', White
163-3-01 46.5″ L x 13.62″ W x 19.12″ H, Passanger Side, Steel, 3.4 cu', White
170-0-01 46.75″ L x 9.25″ W x 19.5″ H, Driver Side, Aluminum, 2.1 cu', Clear
170-5-01 46.75″ L x 9.25″ W x 19.5″ H, Driver Side, Aluminum, 2.1 cu', Gloss Black
171-0-01 46.75″ L x 9.25″ W x 19.5″ H, Passanger Side, Aluminum, 2.1 cu' Clear
171-5-01 46.75″ L x 9.25″ W x 19.5″ H, Passanger Side, Aluminum, 2.1 cu' Gloss Black
172-0-01 46.75″ L x 9.25″ W x 19.5″ H, Driver Side, Aluminum, 3.4 cu' Clear
172-5-01 46.75″ L x 13.5″ W x 19.5″ H, Driver Side, Aluminum, 3.4 cu', Gloss Black
173-0-01 46.75″ L x 13.5″ W x 19.5″ H, Passanger Side, Aluminum, 3.4 cu', Clear
173-5-01 46.75″ L x 13.5″ W x 19.5″ H, Passanger Side, Aluminum, 3.4 cu', Gloss Black
[/expandsub2]
[expandsub2 title="

Saddle Box" tag="div"]
127-0-02 71.5″ L x 20.25″ W x 18.5″ H, Full Standard, Aluminum, 11.3 cu', Clear
127-5-02 71.5″ L x 20.25″ W x 18.5″ H, Full Standard, Aluminum, 11.3 cu', Black
117-5-02 71.5″ L x 27.5″ W x 18.5″ H, Full Extra Wide, Aluminum, 15.3 cu', Black
127-3-02 71.5″ L x 20.25″ W x 18.5″ H, Full Standard, Aluminum, 11.3 cu', White
127-52-02 71.5″ L x 20.25″ W x 18.5″ H, Full Standard, Aluminum, 11.3 cu', Black
117-52-02 71.5″ L x 20.25″ W x 18.5″ H, Full Extra Wide, Aluminum,15.3 cu', Black
121-5-01 71.5″ L x 20.25″ W x 15″ H, Full Low Profile, Aluminum, 8.8 cu', Black
121-52-01 71.5″ L x 20.25″ W x 15″ H, Full Low Profile, Aluminum, 8.8 cu', Black
300104-53-01 62″ L x 19.7″ W x 18.2″ H, Compact Saddle Box, Aluminum, 9.5 cu', Black
300105-53-01 71″ L x 19.7″ W x 17.7″ H, Full Size Saddle Box, Aluminum, 10.7 cu', Black
300105-9-01 71″ L x 19.7″ W x 17.7″ H, Full Size Saddle Box, Aluminum, 10.7 cu', Uncoated
116-3-02 71.5″ L x 27.5″ W x 18.5″ H, Full Extra Wide, Steel, 15.3 cu', White
116-5-02 71.5″ L x 27.5″ W x 18.5″ H, Full Extra Wide, Steel, 15.3 cu', Black
120-3-01 71.5″ L x 21.25″ W x 15.8″ H, Full Low Profile, Steel, 8.8 cu', White
120-5-01 71.5″ L x 21.25″ W x 15.8″ H, Full Low Profile, Steel, 8.8 cu', Black
121-0-01 71.5″ L x 20.25″ W x 15″ H, Full Low Profile, Aluminum, 8.8 cu', Clear
123-0-01 71.5″ L x 20.25″ W x 24″ H, Full Extra Deep, Aluminum, 15.1 cu', Clear
123-5-01 71.5″ L x 20.25″ W x 24″ H, Full Extra Deep, Aluminum, 15.1 cu', Gloss Black
126-3-02 71.5″ L x 20.25″ W x 18.5″ H, Standard, Steel, 11.3 cu', White
126-5-02 71.5″ L x 20.25″ W x 18.5″ H, Standard, Steel, 11.3 cu', Gloss Black
300106-53-01 71″ L 19.7″ W x 16.2″ H, Full Size Lo-Profile, Aluminum, 9.5 cu', Black
300106-9-01 71″ L 19.7″ W x 16.2″ H, Full Size Lo-Profile, Aluminum, 9.5 cu', Uncoated
[/expandsub2]
[/expandsub1]
[expandsub1 title="Sierra 2500/3500″]
[expandsub2 title="

All-Purpose Chest" tag="div"]
674-52-01 47″ L x 20.25″ W x 19.25″ H, Full Compact, Aluminum, 10 cu', Textured Matte Black
664-52-01 62″ L x 20″ W x 19.25 " H, Full, Aluminum, 13.1 cu', Textured Matte Black
644-0-01 37″ L x 20.25″ W x 17″ H, Compact, Aluminum, 6.0 cu', Clear
644-5-01 37″ L x 20.25″ W x 17″ H, Compact, Aluminum 6.0 cu', Gloss Black
645-3-01 36.75″ L x 20.25″ W x 16.25″ H, Compact, Steel, 6.0 cu', White
654-0-01 55″ L x 20″ W x 19.25″ H Compact, Aluminum, 12.0 cu', Clear
654-5-01 55″ L x 20″ W x 19.25″ H Full Compact, Aluminum, 12.0 cu', Gloss Black
655-3-01 55″ L x 20″ W x 19.25″ H Full Compact, Steel, 12.0 cu', White
664-0-01 62″ L x 20″ W x 19.25″ H, Full, Aluminum, 13.1 cu', Clear
664-5-01 62″ L x 20″ W x 19.25″ H, Full, Aluminum, 13.1 cu', Gloss Black
665-3-01 62″ L x 20″ W x 19.25″ H, Full, Aluminum, 13.1 cu', White
665-5-01 62″ L x 20″ W x 19.25″ H, Full, Steel, 13.1 cu', Black
674-0-01 47″ L x 20.25″ W x 19.25 H, Full, Aluminum, 10.1 cu', Clear
674-5-01 47″ L x 20.25″ W x 19.25″ H, Full, Aluminum, 10.0 cu', Gloss Black
675-3-01 47″ L x 20.25″ W x 19.25″ H, Full Compact, Steel, 10.0 cu', White
684-0-01 62″ L x 27.5″ W x 19.25″ H, Full Extra Wide, Aluminum, 18.6 cu', Clear
684-5-01 62″ L x 27.5″ W x 19.25 " H, Full Extra Wide, Aluminum, 18.6 cu', Gloss Black
685-3-01 62″ L x 27″ W x 19.25″ H, Full Extra Wide, Steel, 18.6 cu', White
300401-53-01 50″ L x 19.6″ W x 19.3″ H, Universal Chest Box, Aluminum, 9.3 cu', Black
300401-9-01 50″ L x 19.6″ W x 19.3″ H, Universal Chest Box, Aluminum, 9.3 cu', Uncoated
[/expandsub2]
[expandsub2 title="

Cross Box" tag="div"]
114-0-01 71.5″ L x 27.5″ W x 18.5″ H, Full Extra Wide, Aluminum, 15.3 cu', Clear
114-5-01 71.5″ L x 27.5″ W x 18.5″ H, Full Extra Wide, Aluminum, 15.3 cu', Gloss Black
115-3-01 71.5″ L x 27.5″ W x 18.5″ H, Full Extra Wide, Steel, 15.3 cu', White
124-0-01 72″ L x 20.5″ W x 18.37″ H, Full Standard, Aluminum, 11.3 cu', Clear
124-5-01 72″ L x 20.5″ W x 18.37″ H, Full Standard, Aluminum, 11.3 cu', Gloss Black
125-3-01 71.5″ L x 20″ W x 17.87″ H, Full Standard, Steel, 11.3 cu', White
125-5-01 71.5″ L x 20″ W x 17.87″ H, Full Standard, Steel, 11.3 cu', Gloss Black
300207-53-01 71.5″ L x 19.62″ W x 17.75″ H, Full Size, Aluminum, 10.7 cu', Black
300207-9-01 71.5″ L x 19.62″ W x 17.75″ H, Full Size, Aluminum, 10.7 cu', Uncoated
[/expandsub2]
[expandsub2 title="

Hi-Side Box" tag="div"]
391-3-02 90.25″ L x 16.25″ W x 18″ H, Super-Side Box, Aluminum, 15.2 cu', White
391-52-02 90.25″ L x 16.25″ W x 18″ H, Super-Side Box, Aluminum, 15.2 cu', Textured Matte Black
265-3-02 64.25″ L x 16.25″ W x 18″ H, Super-Side Box, Steel, 10.8 cu', White
272-3-02 72.25″ L x 13.5″ W x 16″ H, Hi-Side Box, Steel, 8.9 cu', White
291-3-02 90.25″ L x 16.25″ W x 18″ H, Super-Side Box, Steel, 15.2 cu', White
296-3-02 96.25″ L x 13.25″ W x 16″ H, Hi-Side Box, Steel, 11.8 cu', White
297-3-02 96.25″ L x 16.25″ W x 24″ H, Super-Side Box, Steel, Jumbo, 21.4 cu', White
364-0-02 64.25″ L x 13.25″ W x 16″ H, Hi-Side Box, Aluminum, 7.9 cu', Clear
365-0-02 64.25″ L x 16.25″ W x 18″ H, Hi-Side Box, Aluminum, 10.8 cu', Clear
372-0-02 72.25″ L x 13.25″ W x 16″ H, Hi-Side Box, Aluminum, 8.9 cu', Clear
372-5-02 72.25″ L x 13.25″ W x 16″ H, Hi-Side Box, Aluminum, 8.9 cu', Gloss Black
390-0-02 90.25″ L x 13.25″ W x 16″ H, Hi-Side Box, Aluminum, 11.1 cu', Clear
390-5-02 90.25″ L x 13.25″ W x 16″ H, Hi-Side Box, Aluminum, 11.1 cu', Gloss Black
391-0-02 90.25″ L x 16.25″ W x 18″ H, Super-Side Box, Aluminum, 15.2 cu', Clear
391-5-02 90.25″ L x 16.25″ W x 18″ H, Super-Side Box, Aluminum, 15.2 cu', Gloss Black
396-0-02 96.25″ L x 13.25″ W x 16″ H, Hi-Side Box, Aluminum, 11.8 cu', Clear
300302-53-01 60.13″ L x 13.33″ W x 16.06″ H, Standard Hi-Side Box, Aluminum, 6.7 cu', Black
300302-9-01 60.13″ L x 13.33″ W x 16.06″ H, Standard Hi-Side Box, Aluminum, 6.7 cu', Uncoated
300303-53-01 90.13″ L x 13.33″ W x 16.06″ H, Long Hi-Side Box, Aluminum, 10 cu', Black
300303-9-01 90.13″ L x 13.33″ W x 16.06″ H, Long Hi-Side Box, Aluminum, 10 cu', Uncoated
[/expandsub2]
[expandsub2 title="

Lo-Side Box" tag="div"]
174-0-01 56.25″ L x 16.25″ W x 13.25″ H, Standard, Aluminum, 4.1 cu', Clear
174-5-01 56.25″ L x 16.25″ W x 13.25″ H, Standard, Aluminum, 4.1 cu', Gloss Black
174-3-01 56.25″ L x 16.25″ W x 13.25″ H, Standard, Aluminum, 4.1 cu', White
174-52-01 56.25″ L x 16.25″ W x 13.25″ H, Standard, Aluminum, 4.1 cu', Textured Matte Black
184-3-01 47.25″ L x 16.25″ W x 13.25″ H, Short, Aluminum, 3.4 cu', White
184-52-01 47.25″ L x 16.25″ W x 13.25″ H, Short, Aluminum, 3.4 cu', Textured Matte Black
164-0-01 87.75″ L, 16.25″ W x 13.5″ H, Long, Aluminum, 6.4 cu', Clear
164-5-01 87.12″ L x 16.25″ W x 13.5″ H, Long, Aluminum, 6.4 cu', Gloss Black
175-3-01 60.37″ L x 13.62″ W x 12.87″ H, Standard, Steel, 4.5 cu', White
176-3-01 60.25″ L x 18″ W x 14″ H, Standard, Steel, 6.5 cu', White
178-0-01 59.25″ L x 19.25″ W x 11.75″ H, Standard, Aluminum, 4.3 cu', Clear
178-5-01 59.25″ L x 19.25″ W x 11.75″ H, Standard, Aluminum, 4.3 cu', Gloss Block
179-0-01 59.25″ L x 19.25″ W x 11.75″ H, Standard, Aluminum, 4.3 cu', Clear
179-5-01 59.25″ L x 19.25″ W x 11.75″ H, Standard, Aluminum, 4.3 cu', Gloss Black
180-0-01 44.25″ L x 19.25″ W x 11.75″ H, Short, Aluminum, 3.2 cu', Clear
180-5-01 44.25″ L x 19.25″ W x 11.75″ H, Short, Aluminum, 3.2 cu', Gloss Black
181-0-01 44.25″ L x 19.25″ W x 11.75″ H, Short, Aluminum, 3.2 cu', Clear
181-5-01 44.25″ L x 19.25″ W x 11.75″ H, Short, Aluminum, 3.2 cu', Gloss Black
184-0-01 47.25″ L x 16.25″ W x 13.25″ H, Short, Aluminum, 3.4 cu', Clear
184-5-01 47.25″ L x 16.25 " W x 13.25″ H, Short, Aluminum, 3.4 cu', Gloss Black
185-3-01 46.25″ L x 13.5″ W x 13″ H, Short, Steel, 3.2 cu', White
186-3-01 46.75″ L 18″ W x 13″ H, Short, Steel, 4.5 cu', White
300300-53-01 60.12″ L x 16.62″ W x 12.87″ H, Standard, Aluminum, 4.4 cu', Black
300300-9-01 60.12″ L x 16.62″ W x 12.87″ H, Standard, Aluminum, 4.4 cu', Uncoated
300304-53-01 46.62″ L x 16.62″ W x 12.87″ H, Short, Aluminum, 3.3 cu', Black
300304-9-01 46.62″ L x 16.62″ W x 12.87″ H, Short, Aluminum, 3.3 cu', Uncoated
[/expandsub2]
[expandsub2 title="

Porkchop Box" tag="div"]
160-3-01 46.5″ L x 9.25″ W x 19.12″ H, Driver Side, Steel, 2.1 cu', White
161-3-01 46.5″ L x 9.25″ W x 19.12″ H, Passanger Side, Steel, White, 2.1 cu', White
162-3-01 46.5″ L x 13.62″ W x 19.12″ H, Driver Side, Steel, 3.4 cu', White
163-3-01 46.5″ L x 13.62″ W x 19.12″ H, Passanger Side, Steel, 3.4 cu', White
170-0-01 46.75″ L x 9.25″ W x 19.5″ H, Driver Side, Aluminum, 2.1 cu', Clear
170-5-01 46.75″ L x 9.25″ W x 19.5″ H, Driver Side, Aluminum, 2.1 cu', Gloss Black
171-0-01 46.75″ L x 9.25″ W x 19.5″ H, Passanger Side, Aluminum, 2.1 cu' Clear
171-5-01 46.75″ L x 9.25″ W x 19.5″ H, Passanger Side, Aluminum, 2.1 cu' Gloss Black
172-0-01 46.75″ L x 9.25″ W x 19.5″ H, Driver Side, Aluminum, 3.4 cu' Clear
172-5-01 46.75″ L x 13.5″ W x 19.5″ H, Driver Side, Aluminum, 3.4 cu', Gloss Black
173-0-01 46.75″ L x 13.5″ W x 19.5″ H, Passanger Side, Aluminum, 3.4 cu', Clear
173-5-01 46.75″ L x 13.5″ W x 19.5″ H, Passanger Side, Aluminum, 3.4 cu', Gloss Black
[/expandsub2]
[expandsub2 title="

Saddle Box" tag="div"]
127-0-02 71.5″ L x 20.25″ W x 18.5″ H, Full Standard, Aluminum, 11.3 cu', Clear
127-5-02 71.5″ L x 20.25″ W x 18.5″ H, Full Standard, Aluminum, 11.3 cu', Black
117-5-02 71.5″ L x 27.5″ W x 18.5″ H, Full Extra Wide, Aluminum, 15.3 cu', Black
127-3-02 71.5″ L x 20.25″ W x 18.5″ H, Full Standard, Aluminum, 11.3 cu', White
127-52-02 71.5″ L x 20.25″ W x 18.5″ H, Full Standard, Aluminum, 11.3 cu', Black
117-52-02 71.5″ L x 20.25″ W x 18.5″ H, Full Extra Wide, Aluminum,15.3 cu', Black
121-5-01 71.5″ L x 20.25″ W x 15″ H, Full Low Profile, Aluminum, 8.8 cu', Black
121-52-01 71.5″ L x 20.25″ W x 15″ H, Full Low Profile, Aluminum, 8.8 cu', Black
300104-53-01 62″ L x 19.7″ W x 18.2″ H, Compact Saddle Box, Aluminum, 9.5 cu', Black
300105-53-01 71″ L x 19.7″ W x 17.7″ H, Full Size Saddle Box, Aluminum, 10.7 cu', Black
300105-9-01 71″ L x 19.7″ W x 17.7″ H, Full Size Saddle Box, Aluminum, 10.7 cu', Uncoated
116-3-02 71.5″ L x 27.5″ W x 18.5″ H, Full Extra Wide, Steel, 15.3 cu', White
116-5-02 71.5″ L x 27.5″ W x 18.5″ H, Full Extra Wide, Steel, 15.3 cu', Black
120-3-01 71.5″ L x 21.25″ W x 15.8″ H, Full Low Profile, Steel, 8.8 cu', White
120-5-01 71.5″ L x 21.25″ W x 15.8″ H, Full Low Profile, Steel, 8.8 cu', Black
121-0-01 71.5″ L x 20.25″ W x 15″ H, Full Low Profile, Aluminum, 8.8 cu', Clear
123-0-01 71.5″ L x 20.25″ W x 24″ H, Full Extra Deep, Aluminum, 15.1 cu', Clear
123-5-01 71.5″ L x 20.25″ W x 24″ H, Full Extra Deep, Aluminum, 15.1 cu', Gloss Black
126-3-02 71.5″ L x 20.25″ W x 18.5″ H, Standard, Steel, 11.3 cu', White
126-5-02 71.5″ L x 20.25″ W x 18.5″ H, Standard, Steel, 11.3 cu', Gloss Black
300106-53-01 71″ L 19.7″ W x 16.2″ H, Full Size Lo-Profile, Aluminum, 9.5 cu', Black
300106-9-01 71″ L 19.7″ W x 16.2″ H, Full Size Lo-Profile, Aluminum, 9.5 cu', Uncoated
[/expandsub2]
[/expandsub1]
[/expand]
[expand title="Nissan"]
[expandsub1 title="Frontier"]
[expandsub2 title="

All-Purpose Chest" tag="div"]
644-0-01 37″ L x 20.25″ W x 17″ H, Compact, Aluminum, 6.0 cu', Clear
644-5-01 37″ L x 20.25″ W x 17″ H, Compact, Aluminum 6.0 cu', Gloss Black
645-3-01 36.75″ L x 20.25″ W x 16.25″ H, Compact, Steel, 6.0 cu', White
[/expandsub2]
[expandsub2 title="

Hi-Side Box" tag="div"]
265-3-02 64.25″ L x 16.25″ W x 18″ H, Super-Side Box, Steel, 10.8 cu', White
272-3-02 72.25″ L x 13.5″ W x 16″ H, Hi-Side Box, Steel, 8.9 cu', White
364-0-02 64.25″ L x 13.25″ W x 16″ H, Hi-Side Box, Aluminum, 7.9 cu', Clear
365-0-02 64.25″ L x 16.25″ W x 18″ H, Hi-Side Box, Aluminum, 10.8 cu', Clear
300302-53-01 60.13″ L x 13.33″ W x 16.06″ H, Standard Hi-Side Box, Aluminum, 6.7 cu', Black
300302-9-01 60.13″ L x 13.33″ W x 16.06″ H, Standard Hi-Side Box, Aluminum, 6.7 cu', Uncoated
[/expandsub2]
[expandsub2 title="

Lo-Side Box" tag="div"]
174-0-01 56.25″ L x 16.25″ W x 13.25″ H, Standard, Aluminum, 4.1 cu', Clear
174-5-01 56.25″ L x 16.25″ W x 13.25″ H, Standard, Aluminum, 4.1 cu', Gloss Black
174-3-01 56.25″ L x 16.25″ W x 13.25″ H, Standard, Aluminum, 4.1 cu', White
174-52-01 56.25″ L x 16.25″ W x 13.25″ H, Standard, Aluminum, 4.1 cu', Textured Matte Black
184-3-01 47.25″ L x 16.25″ W x 13.25″ H, Short, Aluminum, 3.4 cu', White
184-52-01 47.25″ L x 16.25″ W x 13.25″ H, Short, Aluminum, 3.4 cu', Textured Matte Black
175-3-01 60.37″ L x 13.62″ W x 12.87″ H, Standard, Steel, 4.5 cu', White
176-3-01 60.25″ L x 18″ W x 14″ H, Standard, Steel, 6.5 cu', White
178-0-01 59.25″ L x 19.25″ W x 11.75″ H, Standard, Aluminum, 4.3 cu', Clear
178-5-01 59.25″ L x 19.25″ W x 11.75″ H, Standard, Aluminum, 4.3 cu', Gloss Block
179-0-01 59.25″ L x 19.25″ W x 11.75″ H, Standard, Aluminum, 4.3 cu', Clear
179-5-01 59.25″ L x 19.25″ W x 11.75″ H, Standard, Aluminum, 4.3 cu', Gloss Black
180-0-01 44.25″ L x 19.25″ W x 11.75″ H, Short, Aluminum, 3.2 cu', Clear
180-5-01 44.25″ L x 19.25″ W x 11.75″ H, Short, Aluminum, 3.2 cu', Gloss Black
181-0-01 44.25″ L x 19.25″ W x 11.75″ H, Short, Aluminum, 3.2 cu', Clear
181-5-01 44.25″ L x 19.25″ W x 11.75″ H, Short, Aluminum, 3.2 cu', Gloss Black
184-0-01 47.25″ L x 16.25″ W x 13.25″ H, Short, Aluminum, 3.4 cu', Clear
184-5-01 47.25″ L x 16.25 " W x 13.25″ H, Short, Aluminum, 3.4 cu', Gloss Black
185-3-01 46.25″ L x 13.5″ W x 13″ H, Short, Steel, 3.2 cu', White
186-3-01 46.75″ L 18″ W x 13″ H, Short, Steel, 4.5 cu', White
300300-53-01 60.12″ L x 16.62″ W x 12.87″ H, Standard, Aluminum, 4.4 cu', Black
300300-9-01 60.12″ L x 16.62″ W x 12.87″ H, Standard, Aluminum, 4.4 cu', Uncoated
300304-53-01 46.62″ L x 16.62″ W x 12.87″ H, Short, Aluminum, 3.3 cu', Black
300304-9-01 46.62″ L x 16.62″ W x 12.87″ H, Short, Aluminum, 3.3 cu', Uncoated
[/expandsub2]
[expandsub2 title="

Porkchop Box" tag="div"]
160-3-01 46.5″ L x 9.25″ W x 19.12″ H, Driver Side, Steel, 2.1 cu', White
161-3-01 46.5″ L x 9.25″ W x 19.12″ H, Passanger Side, Steel, White, 2.1 cu', White
162-3-01 46.5″ L x 13.62″ W x 19.12″ H, Driver Side, Steel, 3.4 cu', White
163-3-01 46.5″ L x 13.62″ W x 19.12″ H, Passanger Side, Steel, 3.4 cu', White
170-0-01 46.75″ L x 9.25″ W x 19.5″ H, Driver Side, Aluminum, 2.1 cu', Clear
170-5-01 46.75″ L x 9.25″ W x 19.5″ H, Driver Side, Aluminum, 2.1 cu', Gloss Black
171-0-01 46.75″ L x 9.25″ W x 19.5″ H, Passanger Side, Aluminum, 2.1 cu' Clear
171-5-01 46.75″ L x 9.25″ W x 19.5″ H, Passanger Side, Aluminum, 2.1 cu' Gloss Black
172-0-01 46.75″ L x 9.25″ W x 19.5″ H, Driver Side, Aluminum, 3.4 cu' Clear
172-5-01 46.75″ L x 13.5″ W x 19.5″ H, Driver Side, Aluminum, 3.4 cu', Gloss Black
173-0-01 46.75″ L x 13.5″ W x 19.5″ H, Passanger Side, Aluminum, 3.4 cu', Clear
173-5-01 46.75″ L x 13.5″ W x 19.5″ H, Passanger Side, Aluminum, 3.4 cu', Gloss Black
[/expandsub2]
[expandsub2 title="

Saddle Box" tag="div"]
300104-53-01 62″ L x 19.7″ W x 18.2″ H, Compact Saddle Box, Aluminum, 9.5 cu', Black
300104-9-01 62″ L x 19.7″ W x 18.2″ H, Compact Saddle Box, Aluminum, 9.5 cu', Uncoated
[/expandsub2]
[/expandsub1]
[expandsub1 title="Titan"]
[expandsub2 title="

All-Purpose Chest" tag="div"]
674-52-01 47″ L x 20.25″ W x 19.25″ H, Full Compact, Aluminum, 10 cu', Textured Matte Black
644-0-01 37″ L x 20.25″ W x 17″ H, Compact, Aluminum, 6.0 cu', Clear
644-5-01 37″ L x 20.25″ W x 17″ H, Compact, Aluminum 6.0 cu', Gloss Black
645-3-01 36.75″ L x 20.25″ W x 16.25″ H, Compact, Steel, 6.0 cu', White
654-0-01 55″ L x 20″ W x 19.25″ H Compact, Aluminum, 12.0 cu', Clear
654-5-01 55″ L x 20″ W x 19.25″ H Full Compact, Aluminum, 12.0 cu', Gloss Black
655-3-01 55″ L x 20″ W x 19.25″ H Full Compact, Steel, 12.0 cu', White
674-0-01 47″ L x 20.25″ W x 19.25 H, Full, Aluminum, 10.1 cu', Clear
674-5-01 47″ L x 20.25″ W x 19.25″ H, Full, Aluminum, 10.0 cu', Gloss Black
675-3-01 47″ L x 20.25″ W x 19.25″ H, Full Compact, Steel, 10.0 cu', White
300401-53-01 50″ L x 19.6″ W x 19.3″ H, Universal Chest Box, Aluminum, 9.3 cu', Black
300401-9-01 50″ L x 19.6″ W x 19.3″ H, Universal Chest Box, Aluminum, 9.3 cu', Uncoated
[/expandsub2]
[expandsub2 title="

Cross Box" tag="div"]
114-0-01 71.5″ L x 27.5″ W x 18.5″ H, Full Extra Wide, Aluminum, 15.3 cu', Clear
114-5-01 71.5″ L x 27.5″ W x 18.5″ H, Full Extra Wide, Aluminum, 15.3 cu', Gloss Black
115-3-01 71.5″ L x 27.5″ W x 18.5″ H, Full Extra Wide, Steel, 15.3 cu', White
124-0-01 72″ L x 20.5″ W x 18.37″ H, Full Standard, Aluminum, 11.3 cu', Clear
124-5-01 72″ L x 20.5″ W x 18.37″ H, Full Standard, Aluminum, 11.3 cu', Gloss Black
125-3-01 71.5″ L x 20″ W x 17.87″ H, Full Standard, Steel, 11.3 cu', White
125-5-01 71.5″ L x 20″ W x 17.87″ H, Full Standard, Steel, 11.3 cu', Gloss Black
300207-53-01 71.5″ L x 19.62″ W x 17.75″ H, Full Size, Aluminum, 10.7 cu', Black
300207-9-01 71.5″ L x 19.62″ W x 17.75″ H, Full Size, Aluminum, 10.7 cu', Uncoated
[/expandsub2]
[expandsub2 title="

Hi-Side Box" tag="div"]
265-3-02 64.25″ L x 16.25″ W x 18″ H, Super-Side Box, Steel, 10.8 cu', White
272-3-02 72.25″ L x 13.5″ W x 16″ H, Hi-Side Box, Steel, 8.9 cu', White
291-3-02 90.25″ L x 16.25″ W x 18″ H, Super-Side Box, Steel, 15.2 cu', White
296-3-02 96.25″ L x 13.25″ W x 16″ H, Hi-Side Box, Steel, 11.8 cu', White
297-3-02 96.25″ L x 16.25″ W x 24″ H, Super-Side Box, Steel, Jumbo, 21.4 cu', White
364-0-02 64.25″ L x 13.25″ W x 16″ H, Hi-Side Box, Aluminum, 7.9 cu', Clear
365-0-02 64.25″ L x 16.25″ W x 18″ H, Hi-Side Box, Aluminum, 10.8 cu', Clear
300302-53-01 60.13″ L x 13.33″ W x 16.06″ H, Standard Hi-Side Box, Aluminum, 6.7 cu', Black
300302-9-01 60.13″ L x 13.33″ W x 16.06″ H, Standard Hi-Side Box, Aluminum, 6.7 cu', Uncoated
300303-53-01 90.13″ L x 13.33″ W x 16.06″ H, Long Hi-Side Box, Aluminum, 10 cu', Black
300303-9-01 90.13″ L x 13.33″ W x 16.06″ H, Long Hi-Side Box, Aluminum, 10 cu', Uncoated
[/expandsub2]
[expandsub2 title="

Lo-Side Box" tag="div"]
174-0-01 56.25″ L x 16.25″ W x 13.25″ H, Standard, Aluminum, 4.1 cu', Clear
174-5-01 56.25″ L x 16.25″ W x 13.25″ H, Standard, Aluminum, 4.1 cu', Gloss Black
174-3-01 56.25″ L x 16.25″ W x 13.25″ H, Standard, Aluminum, 4.1 cu', White
174-52-01 56.25″ L x 16.25″ W x 13.25″ H, Standard, Aluminum, 4.1 cu', Textured Matte Black
184-3-01 47.25″ L x 16.25″ W x 13.25″ H, Short, Aluminum, 3.4 cu', White
184-52-01 47.25″ L x 16.25″ W x 13.25″ H, Short, Aluminum, 3.4 cu', Textured Matte Black
175-3-01 60.37″ L x 13.62″ W x 12.87″ H, Standard, Steel, 4.5 cu', White
176-3-01 60.25″ L x 18″ W x 14″ H, Standard, Steel, 6.5 cu', White
178-0-01 59.25″ L x 19.25″ W x 11.75″ H, Standard, Aluminum, 4.3 cu', Clear
178-5-01 59.25″ L x 19.25″ W x 11.75″ H, Standard, Aluminum, 4.3 cu', Gloss Black
179-0-01 59.25″ L x 19.25″ W x 11.75″ H, Standard, Aluminum, 4.3 cu', Clear
179-5-01 59.25″ L x 19.25″ W x 11.75″ H, Standard, Aluminum, 4.3 cu', Gloss Black
180-0-01 44.25″ L x 19.25″ W x 11.75″ H, Short, Aluminum, 3.2 cu', Clear
180-5-01 44.25″ L x 19.25″ W x 11.75″ H, Short, Aluminum, 3.2 cu', Gloss Black
181-0-01 44.25″ L x 19.25″ W x 11.75″ H, Short, Aluminum, 3.2 cu', Clear
181-5-01 44.25″ L x 19.25″ W x 11.75″ H, Short, Aluminum, 3.2 cu', Gloss Black
184-0-01 47.25″ L x 16.25″ W x 13.25″ H, Short, Aluminum, 3.4 cu', Clear
184-5-01 47.25″ L x 16.25 " W x 13.25″ H, Short, Aluminum, 3.4 cu', Gloss Black
185-3-01 46.25″ L x 13.5″ W x 13″ H, Short, Steel, 3.2 cu', White
186-3-01 46.75″ L 18″ W x 13″ H, Short, Steel, 4.5 cu', White
300300-53-01 60.12″ L x 16.62″ W x 12.87″ H, Standard, Aluminum, 4.4 cu', Black
300300-9-01 60.12″ L x 16.62″ W x 12.87″ H, Standard, Aluminum, 4.4 cu', Uncoated
300304-53-01 46.62″ L x 16.62″ W x 12.87″ H, Short, Aluminum, 3.3 cu', Black
300304-9-01 46.62″ L x 16.62″ W x 12.87″ H, Short, Aluminum, 3.3 cu', Uncoated
[/expandsub2]
[expandsub2 title="

Porkchop Box" tag="div"]
160-3-01 46.5″ L x 9.25″ W x 19.12″ H, Driver Side, Steel, 2.1 cu', White
161-3-01 46.5″ L x 9.25″ W x 19.12″ H, Passanger Side, Steel, White, 2.1 cu', White
162-3-01 46.5″ L x 13.62″ W x 19.12″ H, Driver Side, Steel, 3.4 cu', White
163-3-01 46.5″ L x 13.62″ W x 19.12″ H, Passanger Side, Steel, 3.4 cu', White
170-0-01 46.75″ L x 9.25″ W x 19.5″ H, Driver Side, Aluminum, 2.1 cu', Clear
170-5-01 46.75″ L x 9.25″ W x 19.5″ H, Driver Side, Aluminum, 2.1 cu', Gloss Black
171-0-01 46.75″ L x 9.25″ W x 19.5″ H, Passanger Side, Aluminum, 2.1 cu' Clear
171-5-01 46.75″ L x 9.25″ W x 19.5″ H, Passanger Side, Aluminum, 2.1 cu' Gloss Black
172-0-01 46.75″ L x 9.25″ W x 19.5″ H, Driver Side, Aluminum, 3.4 cu' Clear
172-5-01 46.75″ L x 13.5″ W x 19.5″ H, Driver Side, Aluminum, 3.4 cu', Gloss Black
173-0-01 46.75″ L x 13.5″ W x 19.5″ H, Passanger Side, Aluminum, 3.4 cu', Clear
173-5-01 46.75″ L x 13.5″ W x 19.5″ H, Passanger Side, Aluminum, 3.4 cu', Gloss Black
[/expandsub2]
[expandsub2 title="

Saddle Box" tag="div"]
127-0-02 71.5″ L x 20.25″ W x 18.5″ H, Full Standard, Aluminum, 11.3 cu', Clear
127-5-02 71.5″ L x 20.25″ W x 18.5″ H, Full Standard, Aluminum, 11.3 cu', Black
117-5-02 71.5″ L x 27.5″ W x 18.5″ H, Full Extra Wide, Aluminum, 15.3 cu', Black
127-3-02 71.5″ L x 20.25″ W x 18.5″ H, Full Standard, Aluminum, 11.3 cu', White
127-52-02 71.5″ L x 20.25″ W x 18.5″ H, Full Standard, Aluminum, 11.3 cu', Black
117-52-02 71.5″ L x 20.25″ W x 18.5″ H, Full Extra Wide, Aluminum,15.3 cu', Black
121-5-01 71.5″ L x 20.25″ W x 15″ H, Full Low Profile, Aluminum, 8.8 cu', Black
121-52-01 71.5″ L x 20.25″ W x 15″ H, Full Low Profile, Aluminum, 8.8 cu', Black
300104-53-01 62″ L x 19.7″ W x 18.2″ H, Compact Saddle Box, Aluminum, 9.5 cu', Black
300105-53-01 71″ L x 19.7″ W x 17.7″ H, Full Size Saddle Box, Aluminum, 10.7 cu', Black
300105-9-01 71″ L x 19.7″ W x 17.7″ H, Full Size Saddle Box, Aluminum, 10.7 cu', Uncoated
116-3-02 71.5″ L x 27.5″ W x 18.5″ H, Full Extra Wide, Steel, 15.3 cu', White
116-5-02 71.5″ L x 27.5″ W x 18.5″ H, Full Extra Wide, Steel, 15.3 cu', Black
120-3-01 71.5″ L x 21.25″ W x 15.8″ H, Full Low Profile, Steel, 8.8 cu', White
120-5-01 71.5″ L x 21.25″ W x 15.8″ H, Full Low Profile, Steel, 8.8 cu', Black
121-0-01 71.5″ L x 20.25″ W x 15″ H, Full Low Profile, Aluminum, 8.8 cu', Clear
123-0-01 71.5″ L x 20.25″ W x 24″ H, Full Extra Deep, Aluminum, 15.1 cu', Clear
123-5-01 71.5″ L x 20.25″ W x 24″ H, Full Extra Deep, Aluminum, 15.1 cu', Gloss Black
126-3-02 71.5″ L x 20.25″ W x 18.5″ H, Standard, Steel, 11.3 cu', White
126-5-02 71.5″ L x 20.25″ W x 18.5″ H, Standard, Steel, 11.3 cu', Gloss Black
300106-53-01 71″ L 19.7″ W x 16.2″ H, Full Size Lo-Profile, Aluminum, 9.5 cu', Black
300106-9-01 71″ L 19.7″ W x 16.2″ H, Full Size Lo-Profile, Aluminum, 9.5 cu', Uncoated
[/expandsub2]
[/expandsub1]
[/expand]
[expand title="Toyota"]
[expandsub1 title="Tacoma"]
[expandsub2 title="

Saddle Box" tag="div"]
300104-53-01 62″ L x 19.7″ W x 18.2″ H, Compact Saddle Box, Aluminum, 9.5 cu', Black
300104-9-01 62″ L x 19.7″ W x 18.2″ H, Compact Saddle Box, Aluminum, 9.5 cu', Uncoated
[/expandsub2]
[/expandsub1]
[expandsub1 title="Tundra"]
[expandsub2 title="

All-Purpose Chest" tag="div"]
674-52-01 47″ L x 20.25″ W x 19.25″ H, Full Compact, Aluminum, 10 cu', Textured Matte Black
644-0-01 37″ L x 20.25″ W x 17″ H, Compact, Aluminum, 6.0 cu', Clear
644-5-01 37″ L x 20.25″ W x 17″ H, Compact, Aluminum 6.0 cu', Gloss Black
645-3-01 36.75″ L x 20.25″ W x 16.25″ H, Compact, Steel, 6.0 cu', White
654-0-01 55″ L x 20″ W x 19.25″ H Compact, Aluminum, 12.0 cu', Clear
654-5-01 55″ L x 20″ W x 19.25″ H Full Compact, Aluminum, 12.0 cu', Gloss Black
655-3-01 55″ L x 20″ W x 19.25″ H Full Compact, Steel, 12.0 cu', White
674-0-01 47″ L x 20.25″ W x 19.25 H, Full, Aluminum, 10.1 cu', Clear
674-5-01 47″ L x 20.25″ W x 19.25″ H, Full, Aluminum, 10.0 cu', Gloss Black
675-3-01 47″ L x 20.25″ W x 19.25″ H, Full Compact, Steel, 10.0 cu', White
300401-53-01 50″ L x 19.6″ W x 19.3″ H, Universal Chest Box, Aluminum, 9.3 cu', Black
300401-9-01 50″ L x 19.6″ W x 19.3″ H, Universal Chest Box, Aluminum, 9.3 cu', Uncoated
[/expandsub2]
[expandsub2 title="

Cross Box" tag="div"]
114-0-01 71.5″ L x 27.5″ W x 18.5″ H, Full Extra Wide, Aluminum, 15.3 cu', Clear
114-5-01 71.5″ L x 27.5″ W x 18.5″ H, Full Extra Wide, Aluminum, 15.3 cu', Gloss Black
115-3-01 71.5″ L x 27.5″ W x 18.5″ H, Full Extra Wide, Steel, 15.3 cu', White
124-0-01 72″ L x 20.5″ W x 18.37″ H, Full Standard, Aluminum, 11.3 cu', Clear
124-5-01 72″ L x 20.5″ W x 18.37″ H, Full Standard, Aluminum, 11.3 cu', Gloss Black
125-3-01 71.5″ L x 20″ W x 17.87″ H, Full Standard, Steel, 11.3 cu', White
125-5-01 71.5″ L x 20″ W x 17.87″ H, Full Standard, Steel, 11.3 cu', Gloss Black
300207-53-01 71.5″ L x 19.62″ W x 17.75″ H, Full Size, Aluminum, 10.7 cu', Black
300207-9-01 71.5″ L x 19.62″ W x 17.75″ H, Full Size, Aluminum, 10.7 cu', Uncoated
[/expandsub2]
[expandsub2 title="

Hi-Side Box" tag="div"]
265-3-02 64.25″ L x 16.25″ W x 18″ H, Super-Side Box, Steel, 10.8 cu', White
272-3-02 72.25″ L x 13.5″ W x 16″ H, Hi-Side Box, Steel, 8.9 cu', White
291-3-02 90.25″ L x 16.25″ W x 18″ H, Super-Side Box, Steel, 15.2 cu', White
296-3-02 96.25″ L x 13.25″ W x 16″ H, Hi-Side Box, Steel, 11.8 cu', White
297-3-02 96.25″ L x 16.25″ W x 24″ H, Super-Side Box, Steel, Jumbo, 21.4 cu', White
364-0-02 64.25″ L x 13.25″ W x 16″ H, Hi-Side Box, Aluminum, 7.9 cu', Clear
365-0-02 64.25″ L x 16.25″ W x 18″ H, Hi-Side Box, Aluminum, 10.8 cu', Clear
300302-53-01 60.13″ L x 13.33″ W x 16.06″ H, Standard Hi-Side Box, Aluminum, 6.7 cu', Black
300302-9-01 60.13″ L x 13.33″ W x 16.06″ H, Standard Hi-Side Box, Aluminum, 6.7 cu', Uncoated
300303-53-01 90.13″ L x 13.33″ W x 16.06″ H, Long Hi-Side Box, Aluminum, 10 cu', Black
300303-9-01 90.13″ L x 13.33″ W x 16.06″ H, Long Hi-Side Box, Aluminum, 10 cu', Uncoated
[/expandsub2]
[expandsub2 title="

Lo-Side Box" tag="div"]
174-0-01 56.25″ L x 16.25″ W x 13.25″ H, Standard, Aluminum, 4.1 cu', Clear
174-5-01 56.25″ L x 16.25″ W x 13.25″ H, Standard, Aluminum, 4.1 cu', Gloss Black
174-3-01 56.25″ L x 16.25″ W x 13.25″ H, Standard, Aluminum, 4.1 cu', White
174-52-01 56.25″ L x 16.25″ W x 13.25″ H, Standard, Aluminum, 4.1 cu', Textured Matte Black
184-3-01 47.25″ L x 16.25″ W x 13.25″ H, Short, Aluminum, 3.4 cu', White
184-52-01 47.25″ L x 16.25″ W x 13.25″ H, Short, Aluminum, 3.4 cu', Textured Matte Black
164-0-01 87.75″ L, 16.25″ W x 13.5″ H, Long, Aluminum, 6.4 cu', Clear
164-5-01 87.12″ L x 16.25″ W x 13.5″ H, Long, Aluminum, 6.4 cu', Gloss Black
175-3-01 60.37″ L x 13.62″ W x 12.87″ H, Standard, Steel, 4.5 cu', White
176-3-01 60.25″ L x 18″ W x 14″ H, Standard, Steel, 6.5 cu', White
178-0-01 59.25″ L x 19.25″ W x 11.75″ H, Standard, Aluminum, 4.3 cu', Clear
178-5-01 59.25″ L x 19.25″ W x 11.75″ H, Standard, Aluminum, 4.3 cu', Gloss Block
179-0-01 59.25″ L x 19.25″ W x 11.75″ H, Standard, Aluminum, 4.3 cu', Clear
179-5-01 59.25″ L x 19.25″ W x 11.75″ H, Standard, Aluminum, 4.3 cu', Gloss Black
180-0-01 44.25″ L x 19.25″ W x 11.75″ H, Short, Aluminum, 3.2 cu', Clear
180-5-01 44.25″ L x 19.25″ W x 11.75″ H, Short, Aluminum, 3.2 cu', Gloss Black
181-0-01 44.25″ L x 19.25″ W x 11.75″ H, Short, Aluminum, 3.2 cu', Clear
181-5-01 44.25″ L x 19.25″ W x 11.75″ H, Short, Aluminum, 3.2 cu', Gloss Black
184-0-01 47.25″ L x 16.25″ W x 13.25″ H, Short, Aluminum, 3.4 cu', Clear
184-5-01 47.25″ L x 16.25 " W x 13.25″ H, Short, Aluminum, 3.4 cu', Gloss Black
185-3-01 46.25″ L x 13.5″ W x 13″ H, Short, Steel, 3.2 cu', White
186-3-01 46.75″ L 18″ W x 13″ H, Short, Steel, 4.5 cu', White
300300-53-01 60.12″ L x 16.62″ W x 12.87″ H, Standard, Aluminum, 4.4 cu', Black
300300-9-01 60.12″ L x 16.62″ W x 12.87″ H, Standard, Aluminum, 4.4 cu', Uncoated
300304-53-01 46.62″ L x 16.62″ W x 12.87″ H, Short, Aluminum, 3.3 cu', Black
300304-9-01 46.62″ L x 16.62″ W x 12.87″ H, Short, Aluminum, 3.3 cu', Uncoated
[/expandsub2]
[expandsub2 title="

Porkchop Box" tag="div"]
160-3-01 46.5″ L x 9.25″ W x 19.12″ H, Driver Side, Steel, 2.1 cu', White
161-3-01 46.5″ L x 9.25″ W x 19.12″ H, Passanger Side, Steel, White, 2.1 cu', White
162-3-01 46.5″ L x 13.62″ W x 19.12″ H, Driver Side, Steel, 3.4 cu', White
163-3-01 46.5″ L x 13.62″ W x 19.12″ H, Passanger Side, Steel, 3.4 cu', White
170-0-01 46.75″ L x 9.25″ W x 19.5″ H, Driver Side, Aluminum, 2.1 cu', Clear
170-5-01 46.75″ L x 9.25″ W x 19.5″ H, Driver Side, Aluminum, 2.1 cu', Gloss Black
171-0-01 46.75″ L x 9.25″ W x 19.5″ H, Passanger Side, Aluminum, 2.1 cu' Clear
171-5-01 46.75″ L x 9.25″ W x 19.5″ H, Passanger Side, Aluminum, 2.1 cu' Gloss Black
172-0-01 46.75″ L x 9.25″ W x 19.5″ H, Driver Side, Aluminum, 3.4 cu' Clear
172-5-01 46.75″ L x 13.5″ W x 19.5″ H, Driver Side, Aluminum, 3.4 cu', Gloss Black
173-0-01 46.75″ L x 13.5″ W x 19.5″ H, Passanger Side, Aluminum, 3.4 cu', Clear
173-5-01 46.75″ L x 13.5″ W x 19.5″ H, Passanger Side, Aluminum, 3.4 cu', Gloss Black
[/expandsub2]
[expandsub2 title="

Saddle Box" tag="div"]
127-0-02 71.5″ L x 20.25″ W x 18.5″ H, Full Standard, Aluminum, 11.3 cu', Clear
127-5-02 71.5″ L x 20.25″ W x 18.5″ H, Full Standard, Aluminum, 11.3 cu', Black
117-5-02 71.5″ L x 27.5″ W x 18.5″ H, Full Extra Wide, Aluminum, 15.3 cu', Black
127-3-02 71.5″ L x 20.25″ W x 18.5″ H, Full Standard, Aluminum, 11.3 cu', White
127-52-02 71.5″ L x 20.25″ W x 18.5″ H, Full Standard, Aluminum, 11.3 cu', Black
117-52-02 71.5″ L x 20.25″ W x 18.5″ H, Full Extra Wide, Aluminum,15.3 cu', Black
121-5-01 71.5″ L x 20.25″ W x 15″ H, Full Low Profile, Aluminum, 8.8 cu', Black
121-52-01 71.5″ L x 20.25″ W x 15″ H, Full Low Profile, Aluminum, 8.8 cu', Black
300104-53-01 62″ L x 19.7″ W x 18.2″ H, Compact Saddle Box, Aluminum, 9.5 cu', Black
300105-53-01 71″ L x 19.7″ W x 17.7″ H, Full Size Saddle Box, Aluminum, 10.7 cu', Black
300105-9-01 71″ L x 19.7″ W x 17.7″ H, Full Size Saddle Box, Aluminum, 10.7 cu', Uncoated
116-3-02 71.5″ L x 27.5″ W x 18.5″ H, Full Extra Wide, Steel, 15.3 cu', White
116-5-02 71.5″ L x 27.5″ W x 18.5″ H, Full Extra Wide, Steel, 15.3 cu', Black
120-3-01 71.5″ L x 21.25″ W x 15.8″ H, Full Low Profile, Steel, 8.8 cu', White
120-5-01 71.5″ L x 21.25″ W x 15.8″ H, Full Low Profile, Steel, 8.8 cu', Black
121-0-01 71.5″ L x 20.25″ W x 15″ H, Full Low Profile, Aluminum, 8.8 cu', Clear
123-0-01 71.5″ L x 20.25″ W x 24″ H, Full Extra Deep, Aluminum, 15.1 cu', Clear
123-5-01 71.5″ L x 20.25″ W x 24″ H, Full Extra Deep, Aluminum, 15.1 cu', Gloss Black
126-3-02 71.5″ L x 20.25″ W x 18.5″ H, Standard, Steel, 11.3 cu', White
126-5-02 71.5″ L x 20.25″ W x 18.5″ H, Standard, Steel, 11.3 cu', Gloss Black
300106-53-01 71″ L 19.7″ W x 16.2″ H, Full Size Lo-Profile, Aluminum, 9.5 cu', Black
300106-9-01 71″ L 19.7″ W x 16.2″ H, Full Size Lo-Profile, Aluminum, 9.5 cu', Uncoated
[/expandsub2]
[/expandsub1]
[/expand]