Makita released a new series of cordless equipment specifically designed for your next adventure. Whether you're an avid fisherman or a weekend tailgater, Makita Outdoor Adventure has cordless equipment to enhance your experience. Check out the details of some of the Outdoor Adventure must-haves.
Lighting
Whether you're out on the trails or setting up a latenight campsite, Makita Outdoor Adventure has the right lighting for you. Find the perfect flashlight, spotlight, or lantern for your next weekend getaway.
Flashlight/Spotlight
Makita's 18V Flashlight/Spotlight is ideal for your next hunting, fishing, or camping trip. The fast-charging battery delivers up to seven hours of continuous use, so you won't have to worry about finding your way in the dark. This high-power flashlight has four modes of operation: Spotlight, Floodlight, Spot/Flood, and Strobe delivering up to 1250 lumens. The compact flashlight packs a powerful punch illuminating up to 700 yards when in spot and spot/flood mode. Weighing only 3.7 pounds with battery, this flashlight is light enough to take anywhere.
Lantern/Flashlight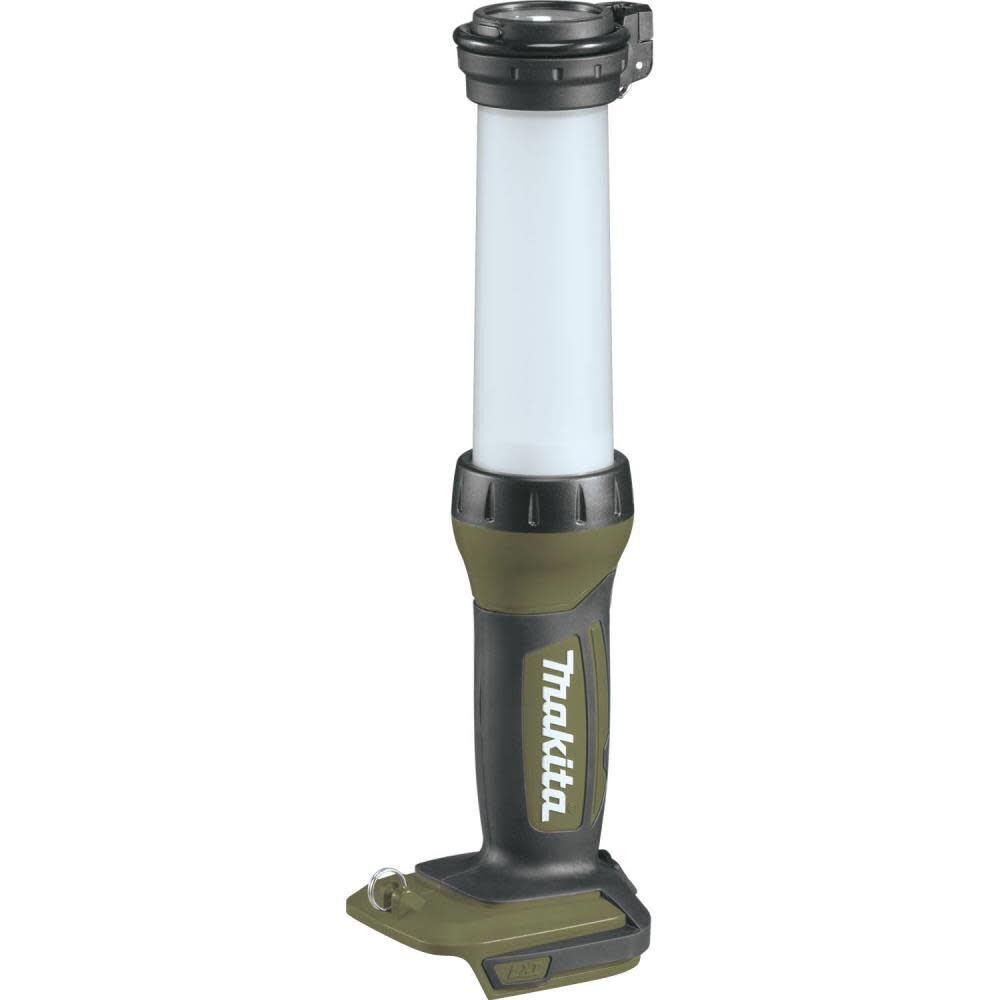 If you're looking for a long-lasting, multi-use light, the 18V LED Lantern/Flashlight is exactly what you need. This cordless flashlight offers three LED lighting modes; 360-degree lantern, 180-degree lantern, and flashlight. Enjoy incredible battery life with up to 36 hours of usage in the flashlight mode, 23 hours in 180-degree lantern mode, and 11 hours in 360-degree lantern mode. The slim profile and fold-away metal hook of the lantern/flashlight allow you to take and hang wherever you need.
Outdoor Living
Outdoor living just got easier with Makita Outdoor Adventure. Find everything you need to relax and enjoy your time outside. There's equipment for everyone, from hot water kettles to cooler/warmer boxes; Makita has what you need to make your next adventure perfect.
Bluetooth Speaker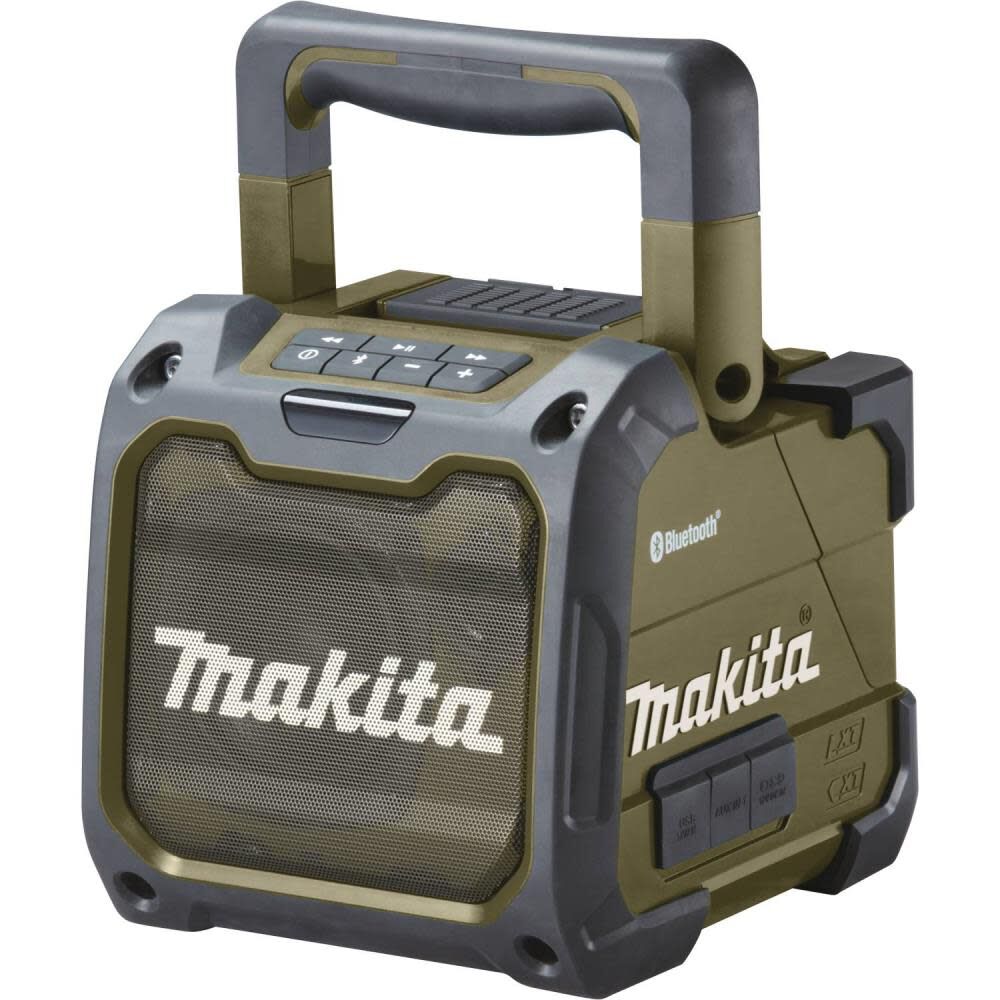 If you're tailgating your favorite team or hosting a backyard bbq, Makita's got you covered with the 18V LXT Bluetooth Speaker. Enjoy up to 31 hours of your favorite music when connected to a device via Bluetooth or 32 hours when connected directly to the aux port. The powerful speaker delivers a rich, full stereo sound. The cordless speaker is water-resistant and weighs only 7.2 pounds making this perfect for any occasion, anywhere.
Hot Water Kettle (Coming Soon!)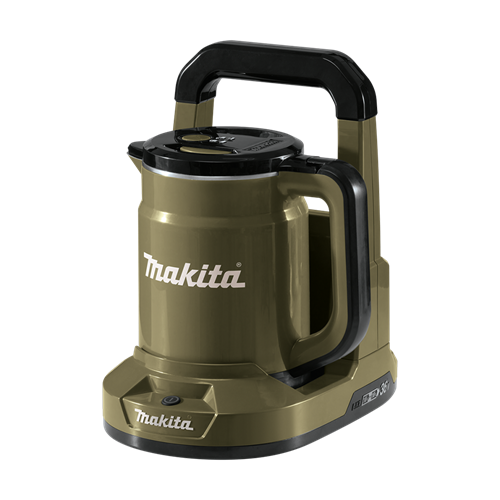 The 36V Hot Watter Kettle can hold 27oz and heat the water in just nine minutes when powered by two 18V LXT batteries. You won't have to constantly reheat your kettle as the dual-layer design retains heat longer. Makita has a focus on safety with three important features. The first is an automatic shut-off that cuts power to the kettle once boiling temperature has been reached. There is also a dry-boil feature that does not allow for operation when the kettle is empty. Lastly, a sensor prevents the kettle from operating on unstable surfaces to prevent spills and burns.
Cooler/Warmer (Coming Soon!)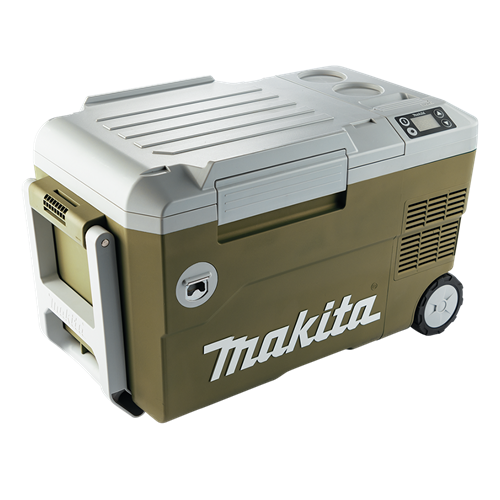 Whether you're enjoying some backyard camping with the kids or taking a cross-country road trip with your best friends, the 18V X2 LXT Cooler/Warmer Box is a must-have. The cooler has four cooling modes and is capable of holding constant temps of 15°F, 30°F, 40°F, and 50°F while having two warming modes capable of 130°F and 140°F. It operates on one 18V LXT battery but has the capability of holding one additional battery for extended run time. If you run out of battery life, don't worry, the cooler/warmer can operate from a 12V/24V vehicle plug or a corded AC power. The large, easy-to-read LED display allows you to monitor temperature and battery life.
Outdoor Power Equipment
Cordless Inflator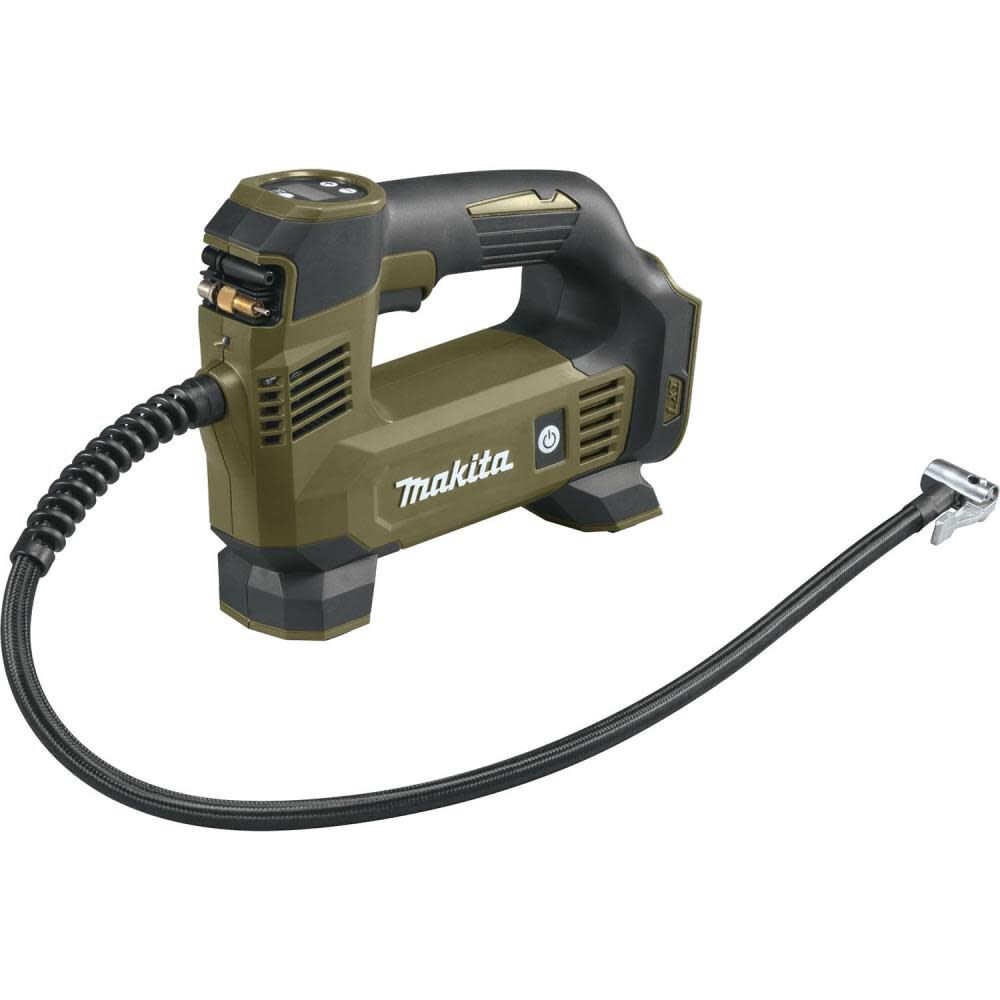 Save time blowing up your bike tires, air mattresses, or inflatable paddle boards with Makita's 18V Cordless Inflator. The built-in motor delivers up to 120 PSI to inflate your items with speed and ease. The inflator features a built-in LED light to conveniently brighten your workspace in low light conditions. The cordless inflator is also equipped with a highly visible pressure gauge with a backlight display. Lastly, it has an auto-stop function that stops inflation once the preset air pressure is reached, so you don't have to think twice about overfilling your equipment.
Top Handle Chain Saw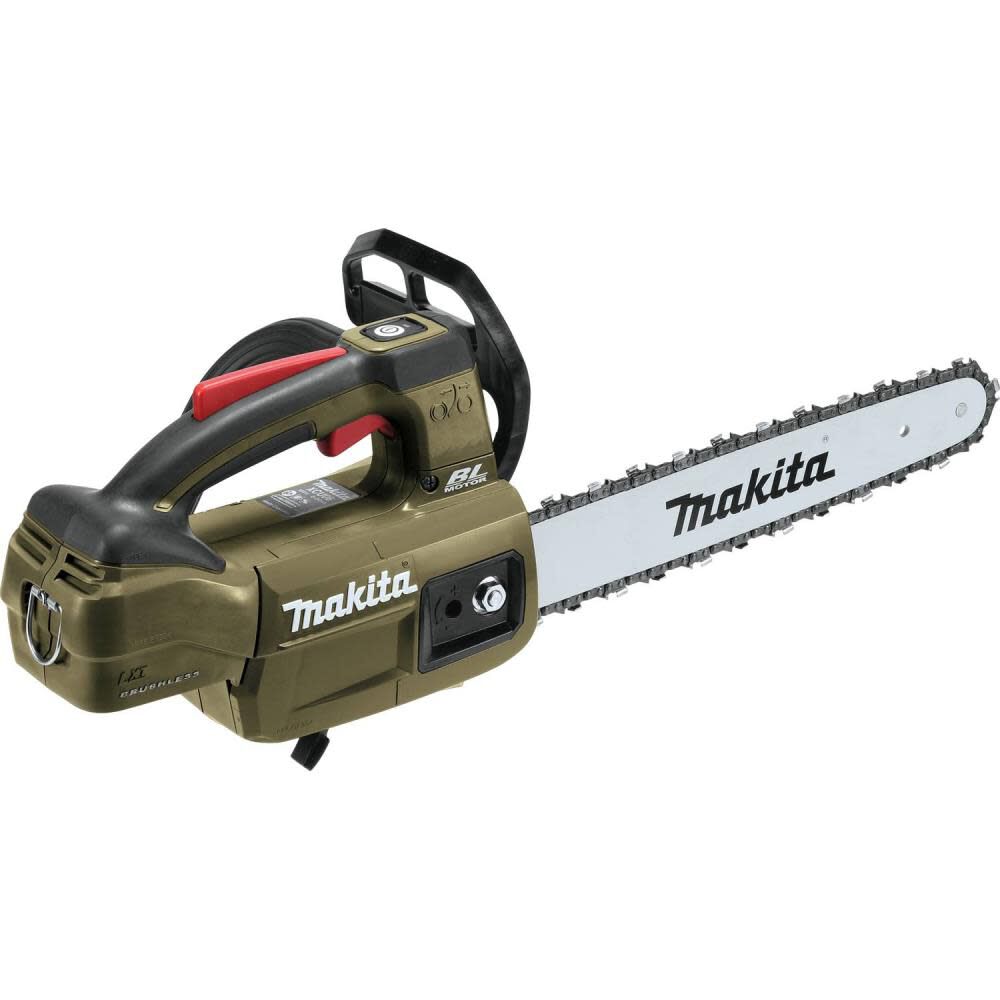 Easily cut wood for your next bonfire or clear a trail on your next hiking trip with the Top Handle, Brushless Chain Saw from Makita Outdoor Adventure. The chain saw features an LED light with an off/on switch that automatically shuts the saw off after 60 seconds of use. There is also a convenient view window on the oil filling port, so you know when it's starting to get low. The variable speed trigger allows you to alter the operating speed depending on your use.
Cordless Blower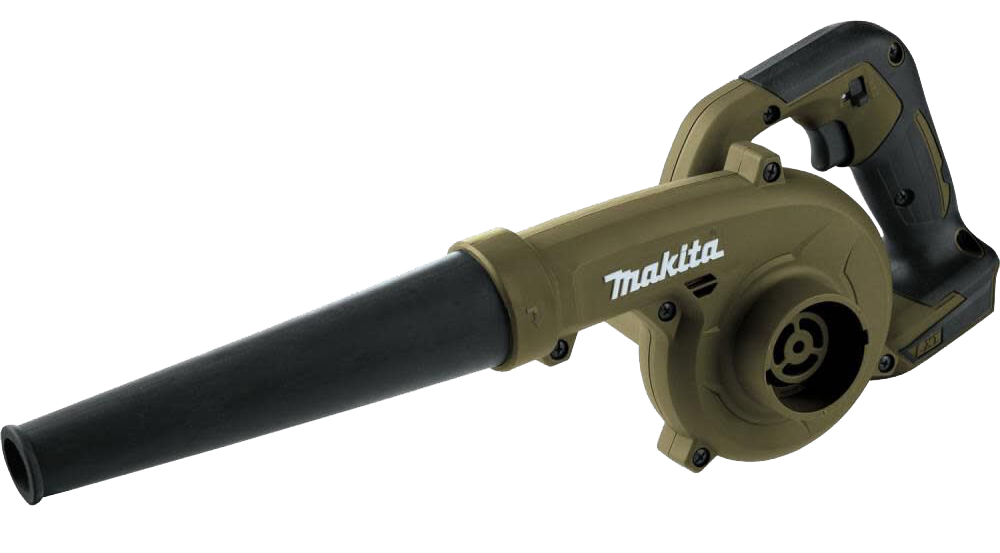 Get your campsite set up in a flash by blowing away leaves and dirt with the powerful, 3-speed Cordless Blower. The ergonomically designed handle and rubberized grip make it even easier to use. At only 20-3/8 inches long and 4.1 pounds, this compact blower is great for any adventure. This go-to clean-up tool is the perfect addition to your toolbox.
Shop these great items and more of the Outdoor Adventure line at Acme Tools.