Metabo HPT releases two new 4.5 inch 36V Angle Grinders: 36V MultiVolt™ 4-1/2" Variable Speed Slide Switch Angle Grinder (G3612DVEQ6) and 36V MultiVolt™ 4-1/2" Variable Speed Paddle Switch Angle Grinder (G3612DVFQ6). Metabo HPT also introduces the 36V MultiVolt™ 6" Variable Speed Paddle Switch Angle Grinder (G3615DVFQ6), which has the same great features of the 4.5 inch version. They're currently available for preorder at Acme Tools.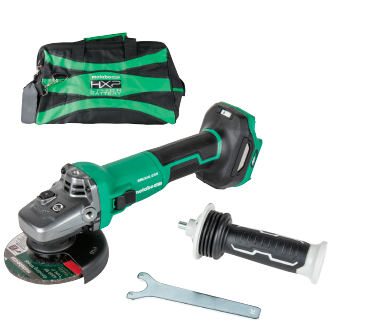 These next generation angle grinders feature:
• Improved durability against dust and water
• Larger bearing and a less open housing
• A more dust- and water-resistant switch assembly
• Side handle with three attachment positions
• Tool-less wheel guard
The angle grinders feature six speed settings and an automatic mode to increase productivity on the job site. The brushless motor delivers a no load speed of 3,200 to 10,000 RPM to take on a variety of tasks including rough grinding, paint removal grinding, polishing/finishing, and more. The ultra-efficient motor extends product life and eliminates downtime wasted with carbon brush maintenance.
The angle grinders have multiple safeguards to prevent injury such as drop shut-off, kickback protection, zero voltage restart, and overload protection. The grinders offer additional protection against dust and debris to ensure effective tool operation. The three-position, anti-vibration side handle and tool-less wheel guard provide increased user functionality.
All three angle grinders are part of the Metabo HPT MultiVolt System of power tools. Tools and equipment that are part of the MultiVolt System accept any MultiVolt battery and an AC Adapter (ET36A).
Visit Acme Tools for Power Tools, Accessories, Concrete Speciality Tools and more from Metabo HPT.