If you've ever been purchasing tools, equipment, or electronics, you may have noticed the item has an IP rating. If you have questions regarding this rating, you're not alone. To help you better understand IP ratings, we've created this guide.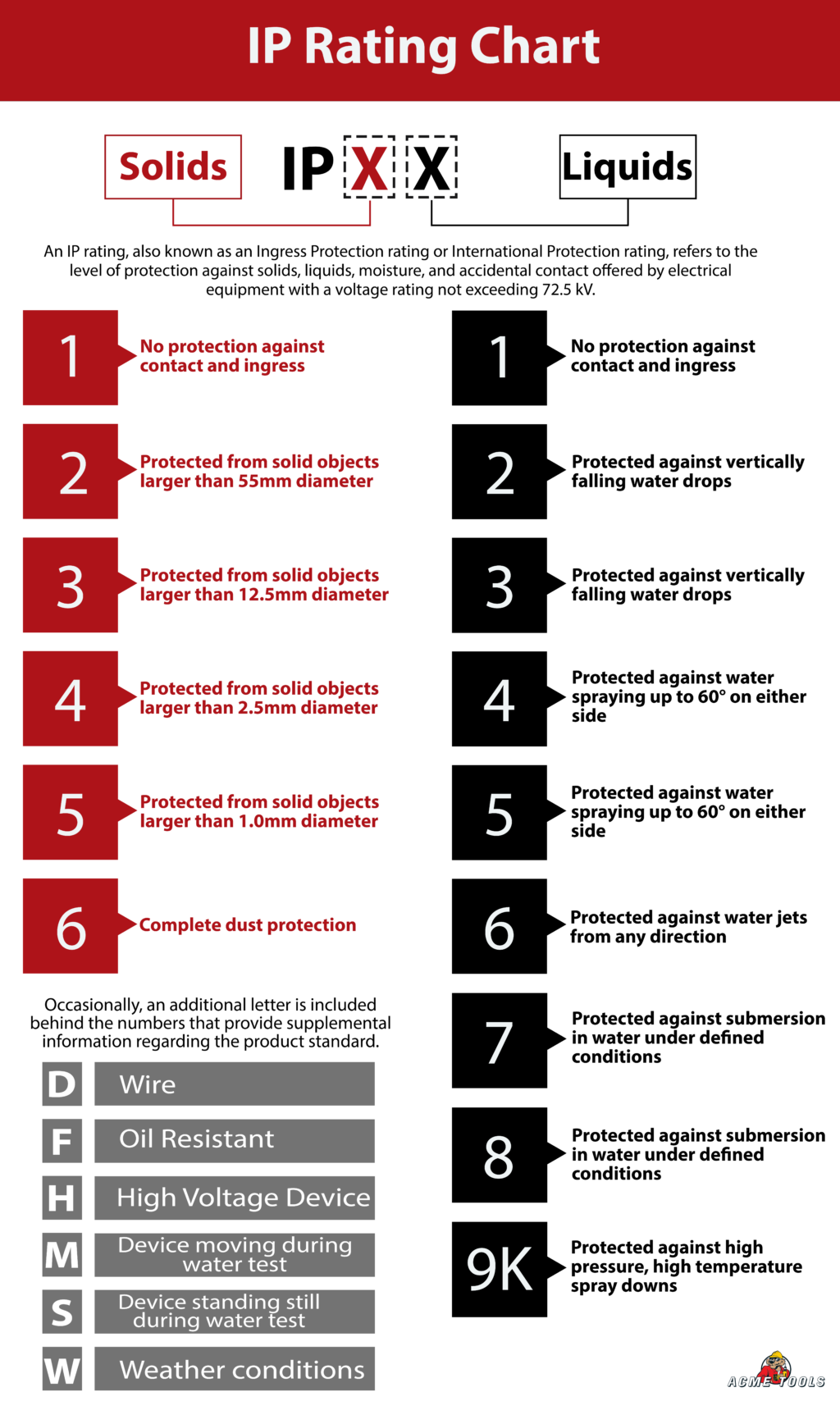 What does an IP rating mean?
An IP rating, also known as an Ingress Protection rating or International Protection rating, refers to the level of protection against solids, liquids, moisture, and accidental contact offered by electrical equipment with a voltage rating not exceeding 72.5 kV.
What do the Digits in an IP Rating mean?
An IP Rating consists of the letters IP followed by two numbers. The higher the number, the better the protection. Sometimes the numbers are replaced with an X, meaning the enclosure is not rated for the specification.
Using the IP67 rating as an example, let's break down what it means.
IP67 – First Digit = Solids
The first digit signifies the protection level against solids, such as tools, dirt, dust, or even fingers, that could damage the electrical conductors or movie parts if they were to come in contact. These numbers range from 0, meaning no protection against foreign objects, to 6, totally dust-tight.
IP67 – Second Digit = Liquids
The second digit indicates the level of protection against various forms of moisture, such as drips, sprays, and submersions. There are specific angles, pressure, and volume requirements when testing products. The liquid protection ranges from 0, no liquid protection, to 9(K), protection against high temp, high-pressure water jets.
Occasionally, an additional letter is included behind the numbers that provide supplemental information regarding the product standard. Below are the most commonly used supplementary letters:
D – Wire
F- Oil resistant
H- High voltage device
M- Device moving during water test
W- Weather conditions
What is an IPX rating?
IP ratings containing "X" denote that there is no available data. For example, IPX4 means the product has either not been tested to see its solid protection level or the data was inconclusive but protects against splashing water. Sometimes you will see "X" be replaced with a 0, as no protection rating has been given.
What is an IPK rating?
An IP rating containing a "K" indicates protection against water damage from direct water jets of high temperatures and pressure. Examples of an IPK rating would be wash down environments such as steam cleaning procedures, car washes, and food and beverage applications.
Other Frequently Asked Questions
What IP rating is waterproof?
Ip ratings of IP65, IP66, and IP67 are considered waterproof.
Who defines IP rating?
The International Electrotechnical Commission (IEC) classifies and provides guidelines determining protection against intrusion, dust, accidental contact, and water.
What is IP69K?
IP69K provides total protection against dust and direct water jets. IP69K is the highest level IP rating.
| | | |
| --- | --- | --- |
| IP Rating | First Digit- Solids | Second Digit- Liquids |
| IP00 | Not protected from solids | Not protected from liquids |
| IP01 | Not protected from solids | Protected from condensation |
| IP02 | Not protected from solids | Protected from water spray less than 15 degrees from vertical |
| IP03 | Not protected from solids | Protected from water spray less than 60 degrees from vertical |
| IP04 | Not protected from solids | Protected from water spray from any direction |
| IP05 | Not protected from solids | Protected from low pressure water jets from any direction |
| IP06 | Not protected from solids | Protected from high pressure water jets from any direction |
| IP07 | Not protected from solids | Protected from immersion between 15 centimeters and 1 meter in depth |
| IP08 | Not protected from solids | Protected from long term immersion up to a specified pressure |
| IP10 | Protected from touch by hands greater than 50 millimeters | Not protected from liquids |
| IP11 | Protected from touch by hands greater than 50 millimeters | Protected from condensation |
| IP12 | Protected from touch by hands greater than 50 millimeters | Protected from water spray less than 15 degrees from vertical |
| IP13 | Protected from touch by hands greater than 50 millimeters | Protected from water spray less than 60 degrees from vertical |
| IP14 | Protected from touch by hands greater than 50 millimeters | Protected from water spray from any direction |
| IP15 | Protected from touch by hands greater than 50 millimeters | Protected from low pressure water jets from any direction |
| IP16 | Protected from touch by hands greater than 50 millimeters | Protected from high pressure water jets from any direction |
| IP17 | Protected from touch by hands greater than 50 millimeters | Protected from immersion between 15 centimeters and 1 meter in depth |
| IP18 | Protected from touch by hands greater than 50 millimeters | Protected from long term immersion up to a specified pressure |
| IP20 | Protected from touch by fingers and objects greater than 12 millimeters | Not protected from liquids |
| IP21 | Protected from touch by fingers and objects greater than 12 millimeters | Protected from condensation |
| IP22 | Protected from touch by fingers and objects greater than 12 millimeters | Protected from water spray less than 15 degrees from vertical |
| IP23 | Protected from touch by fingers and objects greater than 12 millimeters | Protected from water spray less than 60 degrees from vertical |
| IP24 | Protected from touch by fingers and objects greater than 12 millimeters | Protected from water spray from any direction |
| IP25 | Protected from touch by fingers and objects greater than 12 millimeters | Protected from low pressure water jets from any direction |
| IP26 | Protected from touch by fingers and objects greater than 12 millimeters | Protected from high pressure water jets from any direction |
| IP27 | Protected from touch by fingers and objects greater than 12 millimeters | Protected from immersion between 15 centimeters and 1 meter in depth |
| IP28 | Protected from touch by fingers and objects greater than 12 millimeters | Protected from long term immersion up to a specified pressure |
| IP30 | Protected from tools and wires greater than 2.5 millimeters | Not protected from liquids |
| IP31 | Protected from tools and wires greater than 2.5 millimeters | Protected from condensation |
| IP32 | Protected from tools and wires greater than 2.5 millimeters | Protected from water spray less than 15 degrees from vertical |
| IP33 | Protected from tools and wires greater than 2.5 millimeters | Protected from water spray less than 60 degrees from vertical |
| IP34 | Protected from tools and wires greater than 2.5 millimeters | Protected from water spray from any direction |
| IP35 | Protected from tools and wires greater than 2.5 millimeters | Protected from low pressure water jets from any direction |
| IP36 | Protected from tools and wires greater than 2.5 millimeters | Protected from high pressure water jets from any direction |
| IP37 | Protected from tools and wires greater than 2.5 millimeters | Protected from immersion between 15 centimeters and 1 meter in depth |
| IP38 | Protected from tools and wires greater than 2.5 millimeters | Protected from long term immersion up to a specified pressure |
| IP40 | Protected from tools and small wires greater than 1 millimeter | Not protected from liquids |
| IP41 | Protected from tools and small wires greater than 1 millimeter | Protected from condensation |
| IP42 | Protected from tools and small wires greater than 1 millimeter | Protected from water spray less than 15 degrees from vertical |
| IP43 | Protected from tools and small wires greater than 1 millimeter | Protected from water spray less than 60 degrees from vertical |
| IP44 | Protected from tools and small wires greater than 1 millimeter | Protected from water spray from any direction |
| IP45 | Protected from tools and small wires greater than 1 millimeter | Protected from low pressure water jets from any direction |
| IP46 | Protected from tools and small wires greater than 1 millimeter | Protected from high pressure water jets from any direction |
| IP47 | Protected from tools and small wires greater than 1 millimeter | Protected from immersion between 15 centimeters and 1 meter in depth |
| IP48 | Protected from tools and small wires greater than 1 millimeter | Protected from long term immersion up to a specified pressure |
| IP50 | Protected from limited dust ingress | Not protected from liquids |
| IP51 | Protected from limited dust ingress | Protected from condensation |
| IP52 | Protected from limited dust ingress | Protected from water spray less than 15 degrees from vertical |
| IP53 | Protected from limited dust ingress | Protected from water spray less than 60 degrees from vertical |
| IP54 | Protected from limited dust ingress | Protected from water spray from any direction |
| IP55 | Protected from limited dust ingress | Protected from low pressure water jets from any direction |
| IP56 | Protected from limited dust ingress | Protected from high pressure water jets from any direction |
| IP57 | Protected from limited dust ingress | Protected from immersion between 15 centimeters and 1 meter in depth |
| IP58 | Protected from limited dust ingress | Protected from long term immersion up to a specified pressure |
| IP60 | Protected from total dust ingress | Not protected from liquids |
| IP61 | Protected from total dust ingress | Protected from condensation |
| IP62 | Protected from total dust ingress | Protected from water spray less than 15 degrees from vertical |
| IP63 | Protected from total dust ingress | Protected from water spray less than 60 degrees from vertical |
| IP64 | Protected from total dust ingress | Protected from water spray from any direction |
| IP65 | Protected from total dust ingress | Protected from low pressure water jets from any direction |
| IP66 | Protected from total dust ingress | Protected from high pressure water jets from any direction |
| IP67 | Protected from total dust ingress | Protected from immersion between 15 centimeters and 1 meter in depth |
| IP68 | Protected from total dust ingress | Protected from long term immersion up to a specified pressure |
| IP69K | Protected from total dust ingress | Protected from steam-jet cleaning |

Source: https://www.dsmt.com/resources/ip-rating-chart/