Metabo HPT released another addition to their MultiVolt System; the Cordless 36V MultiVolt SDS Plus 1-1/8″ D-Handle Rotary Hammer Kit (DH3628DDM). Metabo HPT's MutliVolt System accepts any MultiVolt battery and can also accept the AC Adapter (ET36A) for increased runtime and power on the go. The new rotary hammer is also available as a bare tool (DH3628DDQ4M).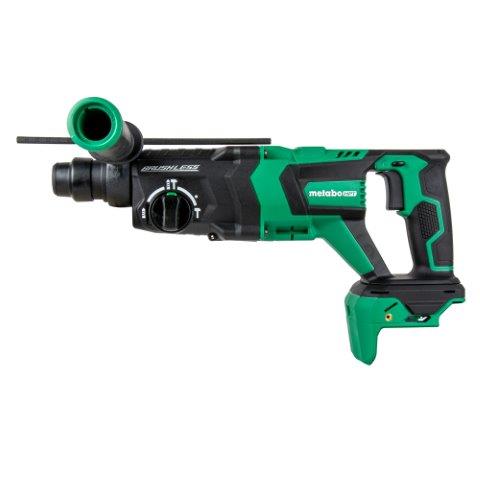 The 36V Rotary Hammer has an ergonomic D-handle design to make drilling easier, especially overhead and downward drilling. It offers a two-speed setting function and the option to select between three modes: hammer drilling, chipping, and drilling. Take advantage of the depth guide to drill at a consistent depth and one-push bit mounting for increased efficiency.
The lightweight, compact rotary hammer has increased power, more runtime, and extended durability thanks to brushless motor technology. With high impact energy of 2/3 ft/lbs and 950 RPM, the 36V MultiVolt Rotary Hammer boasts high drilling speeds and excellent demolition performance.
Metabo HPT keeps safety at the forefront with features such as reactive force control, allowing the tool to sense overload and stop rotation, and the ability to be used with the dust extractor attachment or vacuums/extractors.
The Cordless 36V MultiVolt SDS Plus 1-1/8″ D-Handle Rotary Hammer Kit comes with the included:
• 18V/36V MultiVolt Lithium Ion Slide Battery 8.0Ah/4.0Ah (372121M)
• Rapid Charger (UC18YSL3M)
• Side Handle
• Depth Gauge
• Carrying Case
Available for preorder now on Acme Tools.