Finding ways to pass the time during the cold winter months can be challenging. Ice fishing is a great way to spend time with friends and family and allows you to enjoy lakes and rivers without a boat. If you're looking to take up a new hobby and want information on a pastime you can love, Acme Tools is here to help. Together we will dive into the necessary equipment, tips and tricks, and frequently asked questions.
Ice Fishing Gear
To get started ice fishing, you'll need to get the correct ice fishing gear.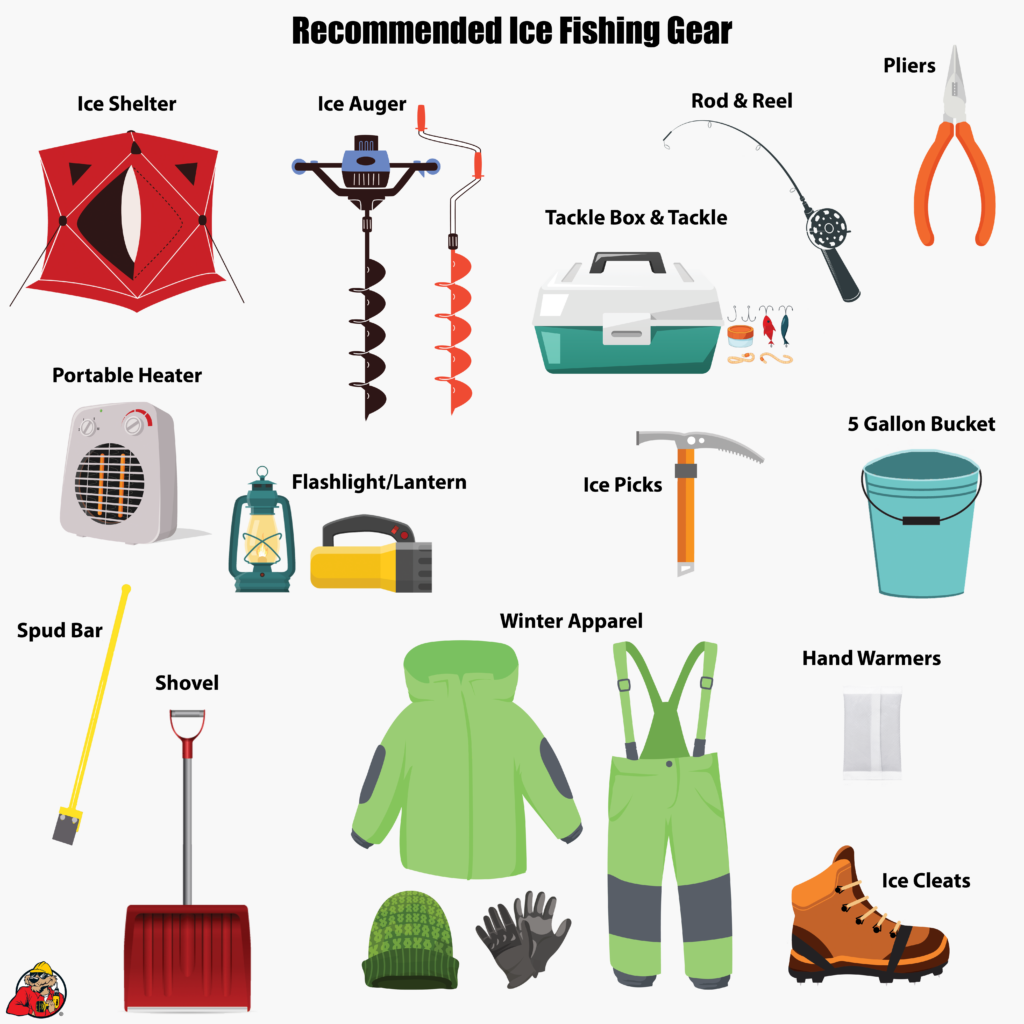 If you're heading out on the ice, here are some essential items that you may not want to leave home without:
Ice Fishing Shelter
An ice fishing shelter, also called an ice fishing tent, ice fishing house, or ice shanty, can make your life significantly easier on the ice. Ice fishing covers help keep the wind out and your gear in one place. A popular brand is Eskimo Ice Fishing, which sells ice fishing gear such as ice augers, ice shanties, and ice fishing apparel.
Recommended: Eskimo Quickfish Portable Pop Up Ice Fishing House
Ice fishing rod and reels
Ice fishing rods, which are smaller and shorter than regular fishing rods, are a key part of the ice fishing experience. Ice fishing rods are shorter because they're specifically designed for the user to be close to the hole and to make it easier to feel when the fish begins to bite. Ice fishing reels usually have one to three bearings, whereas most reels used for open-water fishing have five or more bearings.
Tacklebox and Tackle: lures, jigs, bait, bobbers, hook sharpener
Fish are typically less aggressive during ice fishing season, so make sure to use ice fishing specific tackle as it's smaller and less daunting to fish. Jigs and tip-ups are favored ice fishing tackle; however, depending on what you're fishing for, you'll want to research what tackle works best to save you money and time on the ice. Pick up a tackle box to keep your tackle organized and from getting broken.
Recommended: CLC Multi Tackle Small Backpack
Needle-nose pliers
Needle-nose pliers are a great addition to your tacklebox for unhooking fish, cutting lines, tightening hooks, and more. Some experienced anglers, a person who fishes with a fishing rod, even say pliers are the most important tool to pack.
Recommended: Channellock 6″ Long Nose Plier with Side Cutter
Flashlight or lantern
Ice fishing can be an all-day activity, so you might be on the ice after sunrise. Grab a flashlight, lantern, or both, so you safely gather your things and return to shore.
Recommended Lantern: Rayovac 1,130-Lumen Fluorescent Handheld Battery Flashlight
Recommended Flashlight: Klein Tools Flashlight with Worklight Rechargeable
Listen to music and have some light during night fishing with the Makita Outdoor Adventure 18V LXT Radio & LED Lantern!
Portable heater
A portable heater is the most convenient way to heat your ice house. Propane heaters deliver a steady, comfortable warmth and allow easy transportation to and from your fishing spot. With a wide variety of heater sizes, finding the right fit for your ice shelter will be effortless.
Recommended: Mr Heater 9,000 BTU Portable Buddy Propane Heater
Ice auger
An ice auger is used to drill holes in the ice, usually between 6 and 10 inches in diameter. There are two kinds of augers: hand and power. Hand augers are manual ice fishing augers that drill through the ice just like power augers; however, they are cheaper and lighter. Power augers can be gas or battery powered, allowing ice fishing holes to be drilled quickly and effortlessly.
Recommended Hand Auger: Eskimo Dual-Flat Blade Hand Auger 6″
Recommended Power Auger: Toro Earth Auger with Powerhead 8″ 52cc 2 Cycle
5 gallon bucket
A 5 gallon bucket is multifunctional for ice fishing. It can be used as a seat, to carry gear, or to hold your day's catches.
Recommended: Acme Tools Milwaukee Bucket Red 5 Gallon
Hand warmers
Pocket-sized hand warmers can be activated when exposed to air and keep your hands toasty even on the coldest days. Slip them into your pockets or gloves for up to 10 hours, depending on the brand you purchase.
Recommended: Occunomix Hi-Vis Orange Heat Pax Hand Warmers 5pk
Ice cleats
Ice cleats improve traction on the ice, making them perfect for ice fishing. They're designed to promote natural walking, even in slippery conditions. Ice cleats are adjustable and will easily fit over your winter boots.
Recommended: K1 Series Original Mid Sole Ice Cleat
Spud bar
Many of those with ice fishing experience suggest using a spud bar to check the thickness of the nice. A spud bar is a heavy metal rod with a flat, sharp blade on one end. It can be used to drive into the ice creating a hole that can then be measured with a tape measure to determine depth.
Recommended: Tranzsporter Spud Bar 3 1/2″ Bladeknob Handle
Ice picks
Safety is the number one priority on the ice, and taking precautions to ensure the ice is thick enough to fish on is the most significant step. However, we know accidents happen so it's best to be prepared. Ice picks are designed to hang around your neck so they are readily available if you fall through the ice. They allow you to get traction on wet ice to pull yourself out of the water.
Shovel
Shovels work great for clearing snow off the ice to easily set up your ice house and drill your hole. They're also handy for clearing any slush that builds up around your ice hole. A collapsible shovel is an excellent addition to your ice fishing gear.
Recommended: Marshalltown Proscape Folding Shovel Square Point
Clothing
Weather on the ice can change quickly, so having the proper clothing is essential. Layering is the quickest way to regulate your body temp. There is a wide variety of apparel options, such as t-shirts, long sleeve shirts, bibs, sweatshirts, and more. Research your intended fishing area to determine what clothing you'll need; here are a few recommendations:
Eskimo sells Bibs with Uplyft™ Float Assist Technology in both adult and children's sizes. The wind, rain, snow, and ice proof bibs feature a Sherpa fleece lining, cargo pocket storage, and full leg zippers.
Other recommended equipment:
Tips & Tricks
• Check the state and waterway fishing regulations where you will be fishing.
• Purchase a fishing license that is valid in the state you will be fishing.
• Consider bringing a cooler and packing snacks and drinks if you plan on staying on the ice for a while. Consider a snacklebox to keep your snacks organized. Check out our blog below for more information.
• If you're bringing kids, pack extra clothes, gloves, tissues, and activities to keep them entertained.
• Bring sunglasses, sunscreen, and chapstick with SPF. Sunburn can and will happen without protection.
Frequently Asked Questions
How thick should ice be for ice fishing?
If you're unfamiliar with the area, ask a local expert about ice conditions.
Ice that is less than 2″ should be avoided. If you're walking on ice, ice fishing, or skating, ice should be at least 4″. Snowmobiles and ATVs should only be used on at least 5″ of ice. Ice 8″ or more is generally considered safe for passenger cars and small trucks. Medium trucks should not be driven on less than 12″ thick ice.
This information is for solid, clear, blue/black pond and lake ice only. Slush ice has half the strength of the above ice and the strength value of river ice is 15% less.
When is it safe to start ice fishing?
A general rule is to wait until the ice is 4 inches thick.
Is it better to ice fish in the morning or at night?
The first couple hours after sunrise and roughly two hours before and after sunset are the best time to ice fish.
What is the best bait for ice fishing?
Many experienced anglers recommend minnows, wax worms, spikes, and wigglers if you want to use live bait. You can also use artificial ice fishing bait.