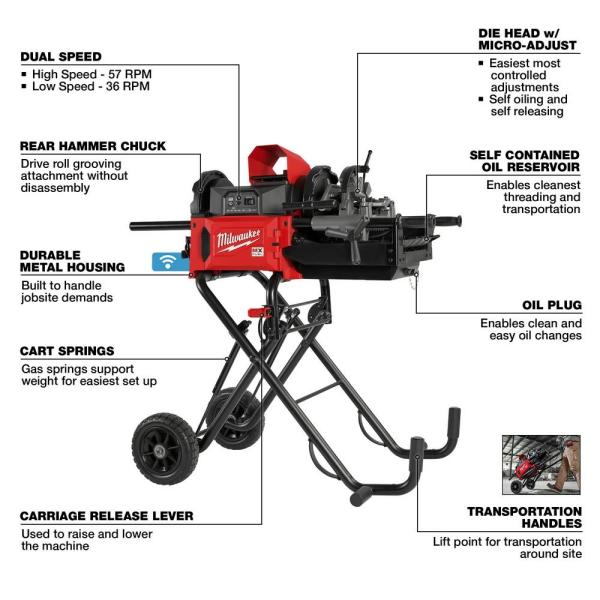 Milwaukee releases MX FUEL™ Pipe Threading Machine (MXF512-2XC). Powered by MX FUEL™ REDLITHIUM™ batteries, the machine allows you to set up wherever it's convenient, even in areas other threading machines can't. The threading machine features a spring-assisted cart for the most effortless transportation and a self-contained oil reservoir to reduce mess.
The Milwaukee MX FUEL™ Pipe Threading Machine has an additional rear hammer chuck that enables the connection of roll grooving for quick transitions between threading and grooving without requiring teardown or extra adapters. The durable threading machine can thread up to 2in. pipes of several materials, including black iron pipe, stainless steel, rigid metal conduit (RMC), and more.

The MX FUEL™ REDLITHIUM™ XC406 battery pack allows up to (140) 3/4in cut, ream, and threads per charge, providing all-day runtime and eliminating downtime waiting for your battery to charge. The threading machine can be stored vertically upright without spillage and saves storage space. Protect your investment with ONE-KEY™ Technology that wirelessly connects your machine to a smartphone allowing for inventory management, location tracking, and the ability to lock the tool out for added security.
Compatible Accessories
Product Name
NPT Pipe Threading Die Head with Micro-Adjust
1/2"-3/4" HIGH SPEED FOR STAINLESS NPT Universal Pipe Threading Dies
1"-2" HIGH SPEED FOR STAINLESS NPT Universal Pipe Threading Dies
Cutter Wheels for Universal Pipe Threading (4 PC)
BSPT Pipe Threading Die Head w/ Micro-Adjust
Reamer Cone For MX FUEL™ Pipe Threading Machine
Threading Jaw Inserts for Coated Pipe
1"-2" Universal Pipe Threading Dies HIGH SPEED NPT
Threading Jaw Inserts
1/2"-3/4" ALLOY NPT Universal Pipe Threading Dies
1"-2" ALLOY NPT Universal Pipe Threading Dies
1/2"-3/4" HIGH SPEED NPT Universal Pipe Threading Dies
SKU
49-16-5100
48-36-1205
48-36-1206
48-36-1401
49-16-5103
49-16-5105
49-16-5102
48-36-1204
49-16-5104
48-36-1201
48-36-1202
48-36-1203