Metabo has unveiled their newest cordless tool with the MT 18 LTX BL QSL, 18V Brushless Multi-tool. Metabo introduced their new 10.0 Ah Lithium High Density (LiHD )Technology Battery (625549000) alongside their new multi-tool. Together the new Metabo multi-tool and battery create a high-level performance for cutting wood, metal, or many other surfaces.
Metabo Multi-tool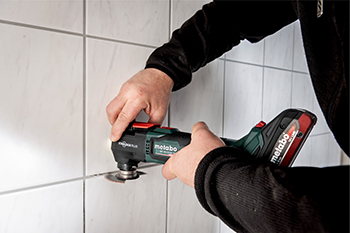 The new Metabo multi-tool has a slim, rubber-coated grip for optimized handling and comfort. For added handling, the battery is located at the rear of the tool. Therefore, the multi-tool has increased balance and optimal reach into tight spaces. Vario-speed Constamatic Electronics allows the multi-tool to maintain oscillations per minute under load, maximizing efficiency.
The multi-tool features a variable oscillating speed selector, so adjusting cutting speeds to fit any cut or sanding job is easy. The brushless motor delivers 8,000 to 20,000 oscillations per minute. Other features include an integrated double LED illumination light and magnetic blade change system, so there isn't a need for a tool to swap blades.
The Metabo multi-tool is available as a bare tool (613088850). It includes a curved-tech StarlockPlus wood + metal blade. Metabo also offers a combination of depth stop/dust extraction accessories. The tool is compatible with Metabo's StarlockPlus sanding plate, sanding discs, and various StarlockPlus plunge cut precision saw blades for wood, metal, and abrasive materials.
10.0 Ah LiHD Battery
Metabo's new 3-row battery is the world's most compact 18V battery with 10.0 Ah. The LiHD battery offers 25 percent more runtime than Metabo's 8.0 Ah batteries making it their longest-running battery pack. Compared to other 3-row battery packs, the LiHD is 20 percent smaller. A front-facing capacity display allows for a real-time view of how much juice is left on the battery.
All of Metabo's 18V batteries are compatible with their past, present, and future 18V Ultra-M systems. The battery's smart technology ensures optimum compatibility and communication between the tool and the battery. Therefore, each cell is evenly charged and protected from temperature extremes, extending the battery's life.
Metabo 18V
Cordless Multi-tool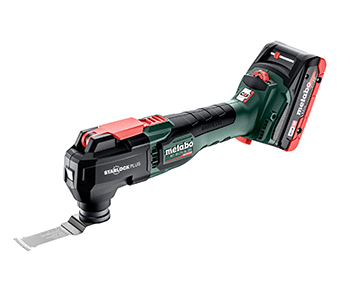 Battery Pack LiHD
18V – 10.0 Ah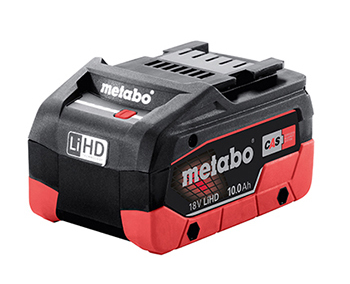 Shop more Metabo products at Acme Tools.