Everyone is always looking for a guide when buying tools and we're here to help. Whether you need a new miter saw to finish some projects around the house or need a generator to ensure you stay running during any storms we have you covered. These are our best tools of 2020.
1. DEWALT 20V MAX 5.0 Ah Starter Kit with 2 batteries (DCB205-2CK)
You can never have too many batteries, and what better place to begin your collection than with one of the best tools of 2020. This starter kit from DEWALT will keep you running all day long. Compatible with a wide range of 20V MAX DEWALT tools, these batteries work on every tool for your project. This starter kit features a lithium-ion design, which resists forming a memory. So you can charge the batteries before they're empty without worrying about losing maximum capacity. The charger allows you to swap out batteries and maximize efficiency. The battery packs weigh 1.4 pounds each, reducing strain while working.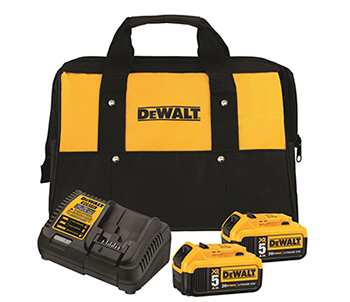 2. Milwaukee M12 FUEL 2-Tool Combo Kit (2598-22)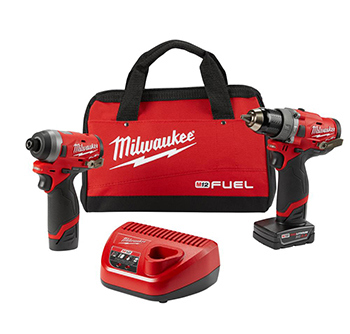 The 1/2-inch hammer drill and 1/4-inch hex impact driver included in this kit are the perfect combo for any job. The hammer drill provides 350 inch-pounds of torque, and the impact driver brings 1,300 inch-pounds of fastening torque. Each tool is the lightest weight in their class, making them easy to carry around on your tool belt throughout the workday. The compact design of the drill at 6.6 inches makes it easy to access tight spaces. The POWERSTATE brushless motor of the impact driver has a four-mode drive control to optimize output speed and torque. The kit also includes a 1.5-Amp-hour 12-volt rechargeable M12 REDLITHIUM battery, an M12 REDLITHIUM XC 4.0 extended capacity battery pack, and a contractor bag.
3. Metabo HPT 10-in. Jobsite Table Saw with Fool Roll Stand (C10RJSM)
The Metabo HPT Jobsite Table Saw compares to many of its competitors and outshines them in some aspects. It features a 15 Amp motor with 4,500 RPM for taking on the toughest of hardwoods. With 35 inches of ripping capacity to the right and 22 inches to the left, this table features one of the largest table capacities on the market. It also features a soft start, electric brake, and onboard storage for the push stick, blade guard, and other accessories. The stand is designed for easy setup and break down along with durable wheels, making it easy to move the saw around the jobsite.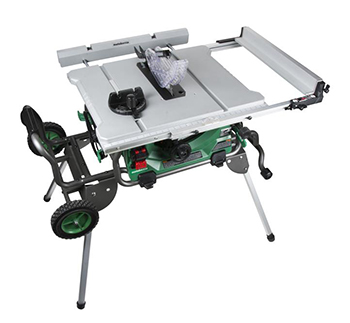 4. TREND Air Stealth Mask (U*STEALTH/ML)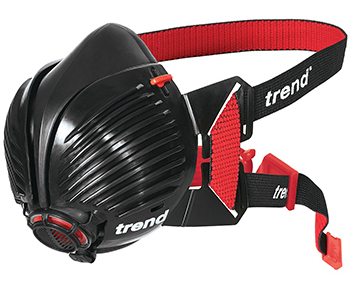 Choosing the right respiratory mask can be challenging. The TREND Air Stealth Mask's features make it simple. A twin HEPAC pleat encapsulated design filter provides 99.97% filtration of airborne particles and aerosols at a 0.3 micron and above. A protective grill covers 100% of the filter surface prevents moisture or particulates from entering the filter. The cover ensures the mask has less clogging pressure and increases filtration efficiency. A single piece head and neck strap combined with a lightweight thermoplastic elastomer face-piece allow the mask to fit easily to the contours of your face.
Click here to see the Air Stealth Mask in action.
5. EGO POWER+ Cordless String Trimmer and Edger Combo Kit (MHC1502)
This kit features two attachments of EGO's top lawn care tools making it one of the best tools of 2020. The kit comes with the EGO POWER+ power head system allowing quick swaps of different attachments. The trimmer features a rapid reload head, which rewinds the line faster and easier, making jobs run smoother and quicker. A 15-inch cutting swath creates fewer passes and makes you more efficient. The edger attachment has a quick and easy adjustment to make work around sidewalks and driveways a breeze. The kit includes the power head (PH1400), string trimmer head (STA1500), edger head (EA0800), 5.0 Ah battery (BA2800), and standard charger (CH2100).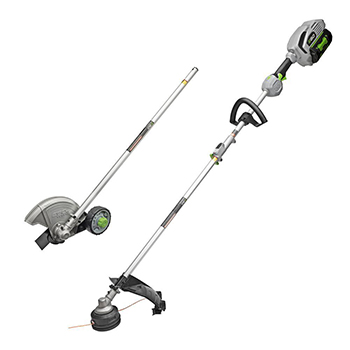 6. TRG Inc. 21-in Head Groundskeeper II Rake (GK102R)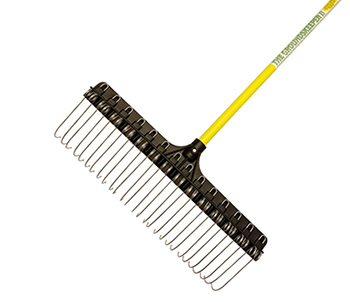 Ease of use, versatility, and durability are the cornerstones of the TRG Inc Groundskeeper II Rake. A no-break co-polymer head and fiberglass handle create a lightweight rake that's strong and easier to use. Angled, spring-loaded tines allow the rake to dig in and require less down pressure while working. Less stress on the rake takes the pressure off your back and enables you to rack in a more upright position. The Groundskeeper can handle leaves, mulch, pine straw, gravel, shingles, and much more. It's also simple to clean by flipping it over and raking it once across the ground.
7. JET 24-in. Parallel Clamp (70424)
The JET Parallel Clamp is the perfect tool to get maximum hold with minimal effort. Two features, the Slide-Glide body and Precision-Rule guidance system, make clamping your project easier and quicker. The Slide-Glide body measures materials up to 2-feet thick using a trigger for sizing. The Precision-Rule guidance system has exact measurements on it, so you know precisely where to clamp without damaging the surface of your material. A SUMOGRIP handle adds comfort and allows you to add more pressure once the clamp's general position is set.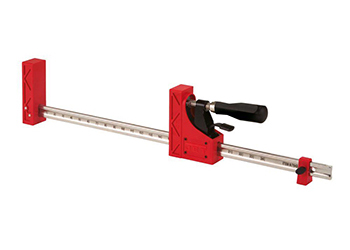 8. BOSCH 12-in. Dual-Bevel Glide Miter Saw (GCM12SD)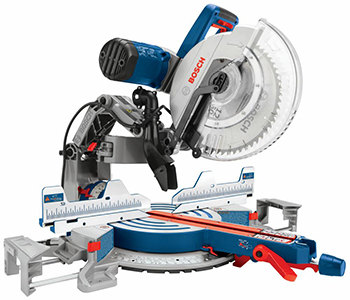 The feature that puts the BOSCH Dual-Bevel Glide Miter Saw on the list of best tools of 2020 is it's Axial Glide system. The system allows the articulated arm to fold back flush with the saw, saving valuable space on a workbench. It also allows for more clearance when performing straight cuts on wider pieces of wood. The saw also features a Squarelock fence that comes pre-aligned and a foam-coated grip that can be used both left- and right-handed. Detents at preset intervals make it easier to make miter and bevel cuts at common angles without stopping to measure.
9. HART 12-lb. PowerStrike Sledgehammer (HS12FS-1)
I know what you're thinking. If you've seen one sledge you've seen them all, but the HART PowerStrike Sledge makes the best tools of 2020 for a reason. It provides increased efficiency while remaining as comfortable as its competitors. The HART hammer features a power strike face, which has a raised cross on it, allowing for 44 percent more efficient impact. A side strike panel makes it easy to sink nails in tight spaces. The sledge also includes a fiberglass handle with a soft grip overmold, making it easier and more comfortable to hold. The forged head of the hammer makes it higher quality and increases the longevity of the tool.

10. RoboReel Portable Robo Reel (CR12PT-01)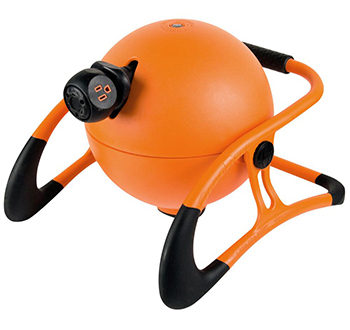 Rolling up extension cords is always a pain and then finding a place to store them is another problem in itself. The Portable Robo Reel keeps everything neat with the simple push of a button. The reel can operate freestanding on a workbench or even be mounted on a wall. It can hold up to 50 feet of 12-gauge electrical extension cord. The Robo Reel can rotate 360 degrees on its base to make it easier to reach any tool within a 100-foot diameter. It winds quickly and slows down when it's almost inside to prevent the cord from whipping around, causing injury. The reel will stop winding if the cord gets stepped on or caught, preventing the motor from becoming damaged.
11. Champion Portable Inverter Generator (100263C)
This Champion portable generator comes stacked with features. It runs on both gasoline and propane, includes smart economy mode making it more efficient, and a handful of different outlets. The 100263C has a run time of 7.5 hours at 25 percent load with 3100 running watts. The smart economy mode can reduce the electrical load, making the generator run quieter, extending the life of your engine, and creating better fuel economy. It includes a 120V 30A RV, two 120V 20A household outlets, and a 12V DC automotive-style outlet with a dual USB adapter. The generator also features an optional parallel kit to connect up to two 2800 watt or higher inverters, increasing power output.
Click here to see the Champion Portable Invert Generator in action.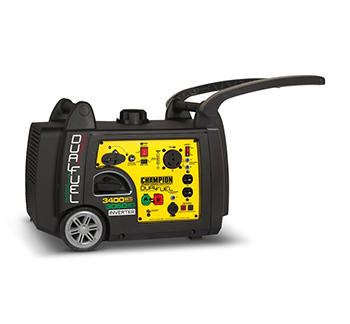 Best Tools of 2020 By Region
Northeast:

Makita Brushless Cordless Rear Handle 7-1/4 inch Circular Saw Kit (XSR01PT)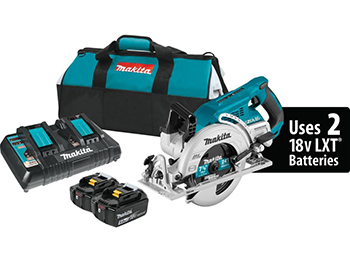 Everyone needs a good circular saw, and the Makita cordless circular saw fits the bill perfectly. Powered by two 18V LXT Lithium-Ion batteries, the brushless motor delivers 5,100 RPM that competes with corded saws. The saw delivers up to 558 cross-cuts per charge in 2×4 lumber and up to 291 cross-cuts per charge in 2×10 lumber. The XSR01PT has a compact, ergonomic design at only 17 1/2 inches long and weighs only 12.4 pounds, reducing stress while using. Included in the kit is the 7-1/4 inch circular saw, two 18V LXT 5.0Ah batteries, a dual-port rapid charger, a 24T blade, wrench, and bag.
Midwest:

Milwaukee 74-Piece SHOCKWAVE Impact Duty Driver Bit Set (48-32-4062)

This Milwaukee impact driver set will fit any job. With 74 pieces, there isn't a job you can't handle. Each bit features a unique Shock Zone bit geometry, which provides up to 30 times longer life and absorbs three times more torque than competitors. Being made of Custom Alloy76 steel maximizes the life of the bit and reduces shock. The set includes bits from 1/4 inch to 20 threaded mount and will fit either impact drivers or a drill driver.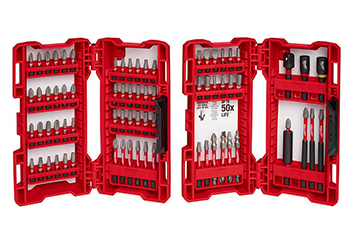 West:

Milwaukee PACKOUT 3 Piece Tool Box Kit (PACKOUT)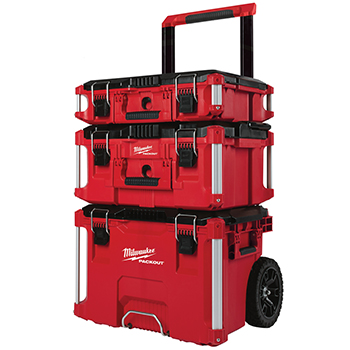 The toolboxes in the Milwaukee PACKOUT kit are made of impact-resistant polymers and have metal reinforced corners. Their durability provides up to 75 pounds for the small, 100 for the large, and 250 lbs of weight capacity for the rolling toolbox. The rolling toolbox features an industrial-grade extendable handle and 9-inch all-terrain wheels to easily handle the harshest job site conditions. This kit consists of the Milwaukee PACKOUT Tool Box (48-22-8424 ), Large Tool Box(48-22-8425), and Rolling Tool Box (48-22-8426).
Click here to see how the Milwaukee PACKOUT tool box kit works.
South:

DEWALT TOUGHSYSTEM 2.0 XL Storage Organizer Set (DWST60436)

Hauling tools out of the truck on the jobsite is a tedious process. The DEWALT TOUGHSYSTEM set makes it simple to tailor what tools you'll need and easily transport them to the jobsite. Patented auto-connect side latches allow for one-hand operation and ensure your set stays sturdy while moving it around. The set includes the TOUGHSYSTEM DS450 Mobile Storage (DWST08250), TOUGHSYSTEM 2.0 Extra Large Tool Box DS400 (DWST08400), and TOUGHSYSTEM 2.0 Tool Box DS165 (DWST08165).

Click here to see how the DEWALT TOUGHSYSTEM Storage Set works.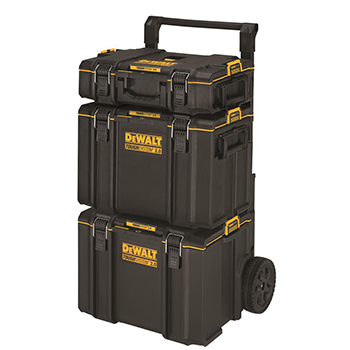 Shop more great products outside of the best tools of 2020 at Acme Tools.