Milwaukee has decided to enter the arena of battery-powered generators. Their new MX FUEL CARRY-ON 3600W/1800W Power Supply (MXF002-2XC) provides efficient, quiet, and portable power anywhere you need it. The compact size and zero emissions of this inverter generator make it safe to operate in indoor and outdoor spaces.
Milwaukee MX FUEL Power Supply
The CARRY-ON inverter generator runs off up to two Milwaukee MX FUEL batteries. The generator features battery level indicators to ensure you always know when power is about to run out. The run time of the MXF002-2XC with two batteries allows for 1210 cuts with a 7-1/4 inch circular saw or 270 cuts with a 12-inch miter saw. An integrated charger can charge a CP203 battery in 45 minutes and an XC406 battery in 90 minutes.
The MX FUEL Power Supply packs 1800 running watts of pure sine wave energy for everything from high-demand tools to personal electronics. The pure sine wave inverter allows variable-speed motors to run cooler and more efficiently while producing less interference with sensitive electronics.
Milwaukee MX FUEL CARRY-ON Power Supply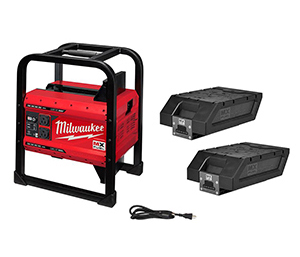 Additional Features
The generator features two 15A 120V outlets for running such things as circular saws, work lights, tv, or laptop. A 15 Amp tool and one lower wattage device, such as a radio or laptop, can run simultaneously with the generator's 3600W peak wattage. The CARRY-ON also features a push-button start, which allows you to get working in seconds. A roll cage provides added protection on outdoor jobsites. There are also two inset screw mounts for placing an M18/M12 hybrid charger directly on the generator. Therefore it's easier to charge batteries for other tools you may need. This generator also comes equipped with Milwaukee's patented ONE-KEY. The ONE-KEY system allows you to digitally track the generator wherever it goes and complete inventory management with the rest of your tools. The generator kit includes two MX FUEL REDLITHIUM XC406 battery packs and a detachable charger cord.
Shop more Milwaukee products at Acme Tools.