When Ironworkers are assembling a building or a bridge they rely on large, heavy, electric impact wrenches to get the job done, until now. Milwaukee Tools has just released their M18 Cordless 1″ Impact Wrench (2867-22) and with its fastening torque of 1500 ft-lbs and nut-busting torque of 1800 ft-lbs this tool is ideal for users that fasten bolts up to 1-3/4″ in size on a regular basis.
The World's Most Powerful Cordless Impact Wrench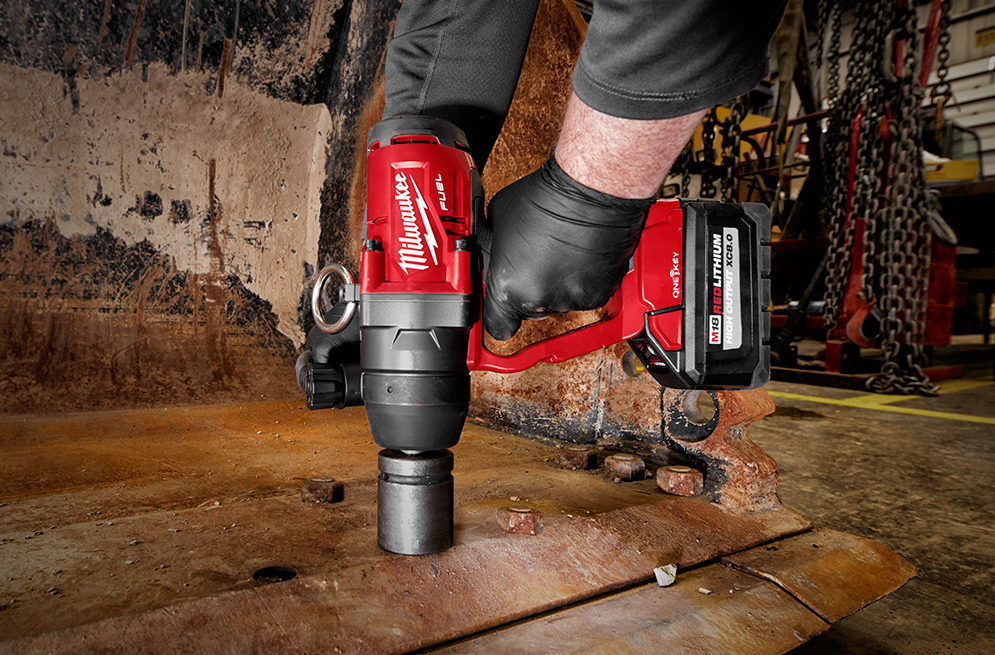 "The M18 FUEL™ 1" High Torque Impact Wrench is the epitome of what we're able to accomplish through M18 FUEL™* cordless technology – it's not only the first of its kind but it's also the most powerful cordless impact in the world. This tremendous power breaks down so many barriers on the jobsite and in the shop: Users will no longer need their compressors and generators, nor will they need to spend the time and money needed to maintain them. They'll experience much less fatigue because this tool is much lighter than what they have been using during these fastening applications. And they'll be able to perform their jobs without the interference of cords or hoses," said Eric Rusch, Senior Product Manager for Milwaukee Tool. "There simply hasn't been a cordless impact wrench like this ever before."
Add Milwaukee POWERSTATE Motor & REDLINK PLUS Intelligence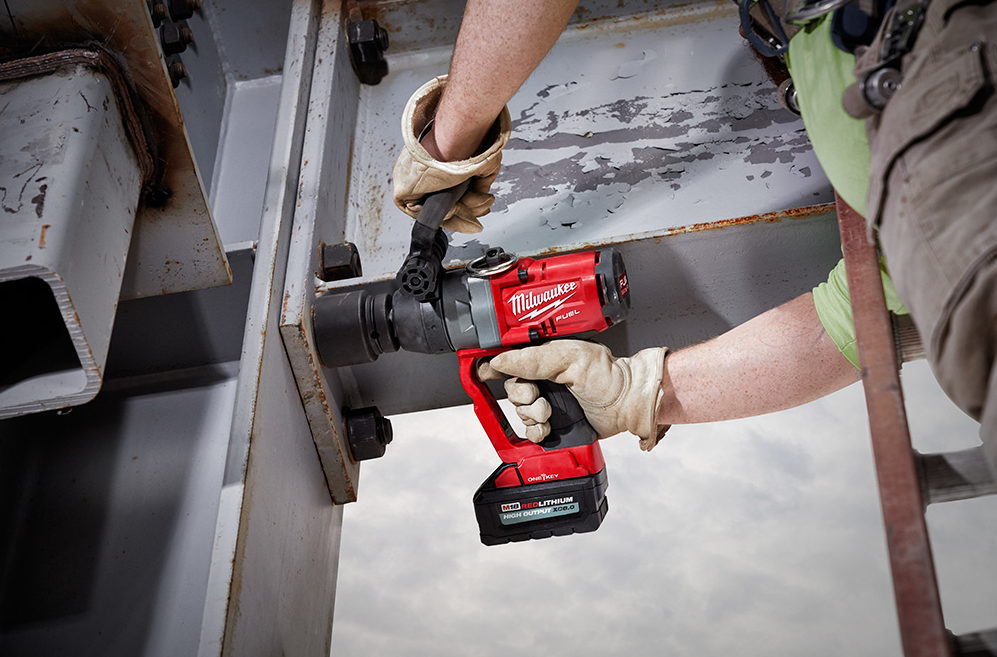 A brand-new POWERSTATE™ brushless motor packs more torque for demanding applications, while redesigned REDLINK PLUS™ Intelligence drastically reduces the size of the electronics to save space and increase thermal capacity and communication between the tool, motor, and HIGH OUTPUT™ XC8.0 battery. Finally, the mechanism has been optimized to deliver this incredible raw power in the most lightweight package possible. The tool is also designed with a four-mode DRIVE CONTROL™ feature, providing users the versatility to switch between modes to match the power and speed for the application. True to all M18 FUEL™ solutions, the new M18 FUEL™ 1" High Torque Impact Wrench combines three exclusive innovations – the POWERSTATE™ brushless motor, REDLITHIUM™ battery pack, and REDLINK PLUS™ intelligence. However, to deliver the world's first cordless 1" impact wrench, Milwaukee® reengineered the motor and electronics packages to deliver seamless communication with the battery and the best performance catered to this tool and its applications.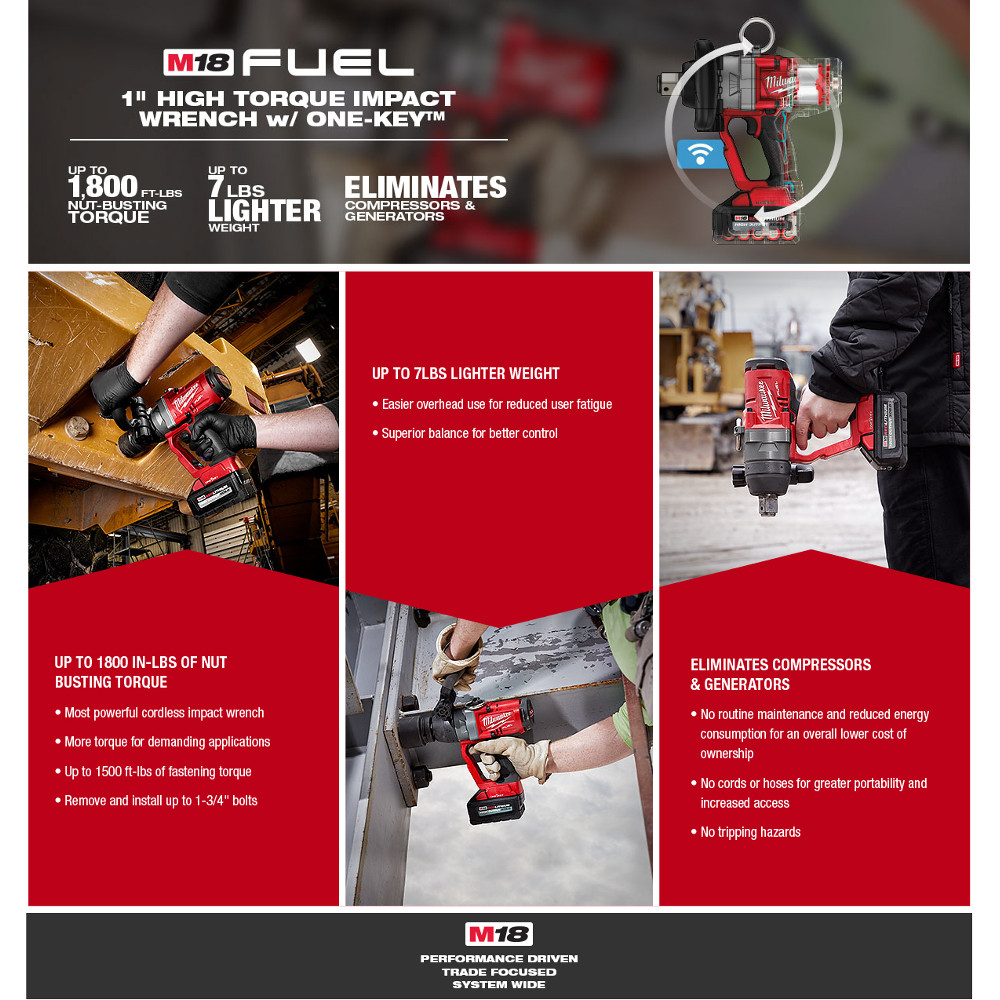 How do you make a perfect tool better?
As an added benefit Milwaukee Tools added their ONE-KEY solution to the impact wrench and it provides the ability to customize, track and manage this impact wrench, as well as set a repeatable torque.
ONE-KEY is the first digital platform for tools and equipment. By integrating industry-leading tool electronics with a custom-built cloud-based program, ONE-KEY™ provides a new level of control and access to information that revolutionizes the way work gets done. The ability to customize, track, and manage through ONE-KEY™ fundamentally changes the way users interact with their tools.
This powerful assembly tool is scheduled to be released in June of 2019 and Acme Tools will bring you more information as it is presented to us.
2867-22, 2867-20 SPECIFICATIONS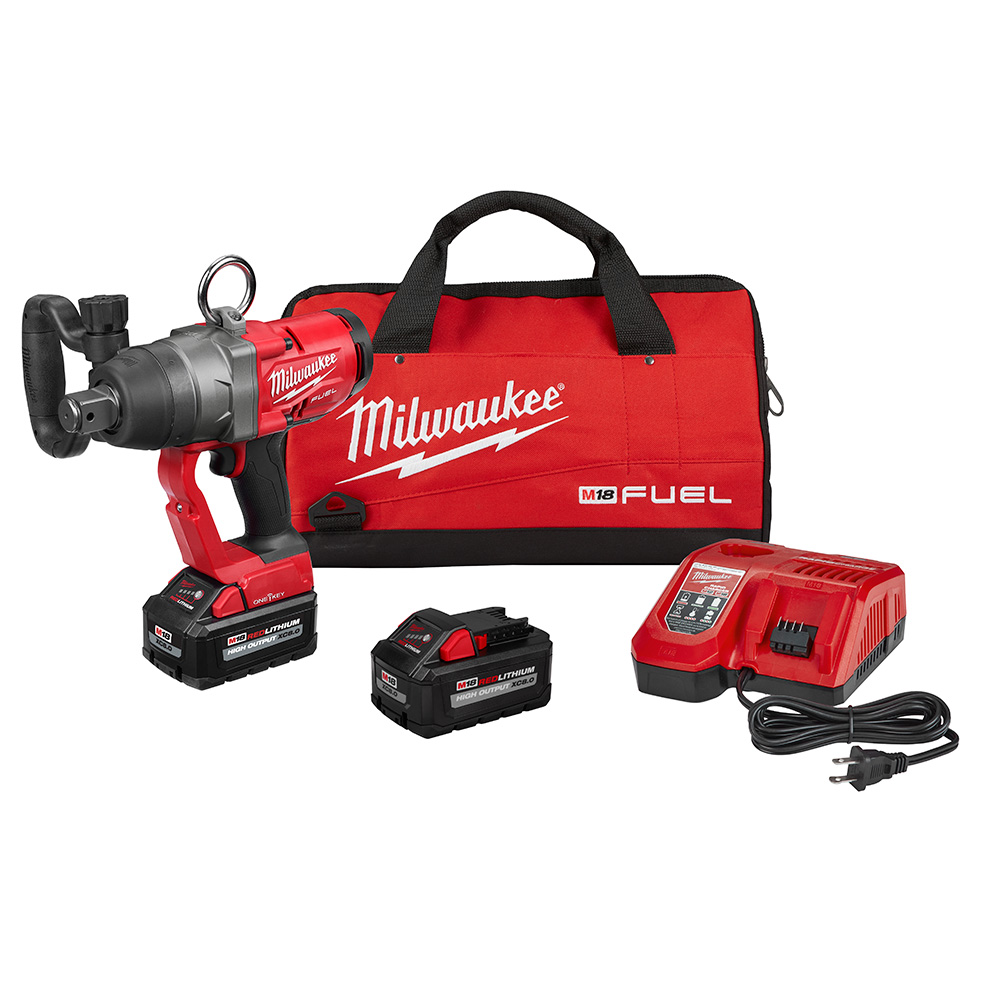 M18 FUEL™ 1" High Torque Impact Wrench w/ ONE-KEY™ (Kit 2867-22, Bare Tool 2867-20)
Anvil Type: 1" Friction Ring w/ Thru Hole
Fastening Torque: 1,500 ft-lbs
Nut-Busting Torque: 1,800 ft-lbs
DRIVE CONTROL™: 4-Mode Customizable
270° Tool-Free Adjustable Handle
RPM: 0 – 1,650
IPM: 0 – 2,450
ONE-KEY™ Enabled: Yes
Tool Length (w/ battery): 10.9"
Tool Weight (w/ battery): 12.9 lbs
Warranty: 3 Years