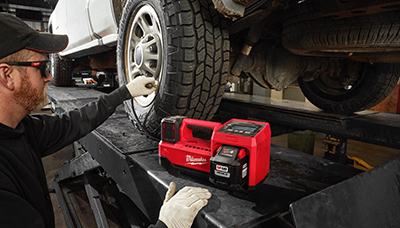 For years Milwaukee only offered a portable tire inflator as part of its M12 series. They had larger, bulky compressors to handle bigger fills, but hauling out hoses and the compressor can be a pain. Milwaukee's new addition to their M18 series is about to change that. The Milwaukee M18 Inflator (2848-20) brings all the best features of the M12 Compact Inflator and cranks up the speed. The M18 Inflator is an excellent solution for roadside service, fleet maintenance, automotive repair, and tire repair. It also works great for tradespeople, such as plumbers who could use it for system pressure testing and maintaining vehicles.
Milwaukee M18 Tire Inflator
Many tire inflators on the market right now sacrifice speed to achieve accuracy. The M18 Inflator fills over two times faster than cordless competitors and is able to top off 33-inch light-duty truck tires in under one minute. Milwaukee didn't forget about the inflator's accuracy as it features TRUEFILL Technology. The technology has two features, auto pressure check and automatic shut-off. The auto pressure check activates to ensure the PSI target is achieved, allowing fast, accurate inflations. The automatic shut-off feature prevents overinflation as you can set the desired PSI, and the inflator will shut down automatically.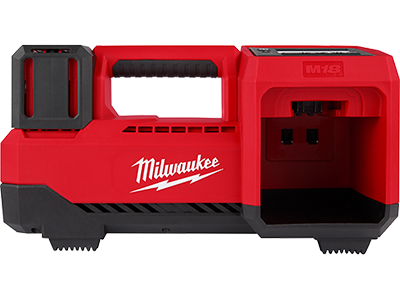 The new portable tire inflator features a 150 max PSI capacity and is capable of topping off up to 30 tires on an M18 5.0 battery. The M18 inflator is optimized for use on passenger, light truck, and other medium-duty trucks. The 2848-20 also features an ergonomic handle, anti-vibration rubber feet for added stability, four memory presets for common inflation levels, an onboard hose and nozzle storage, and a 36-inch inflation hose that makes it easy to reach a variety of valve stems.
Shop the wide selection of Milwaukee tools and products at Acme Tools.