OSHA's 2017 standards have made silica dust management a top priority for contractors in recent years. Milwaukee is committed to eliminating silica dust on the jobsite. Their new Gen 2 M12 Hammervac Universal Dust Extractor is a key product in simplifing dust compliance. The new product offers a universal solution that ensures OSHA Table 1 compliance.
Gen 2 M12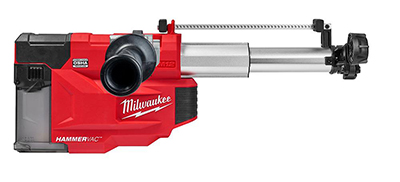 The new M12 Hammervac Universal Dust Extractor includes multiple user-demanded features while still providing universal dust compliance for SDS Plus drilling. The M12 has a couple one of a kind features. It is the only extractor that features an automatic filter cleaning mechanism for an on-board dust extractor. The M12's one of a kind AUTOPULSE Filter Cleaning Mechanism automatically knocks the filter to empty dust after each use. It's also the only dust extractor that includes a dust box with a vacuum port. The port allows the user to empty the dust box without silica exposure. The dust box is also translucent, so users can see when it's getting full.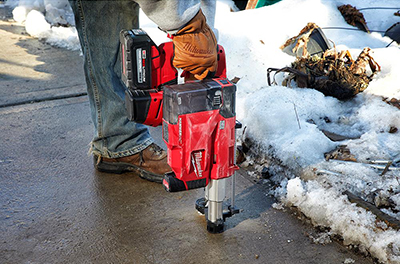 A universal handle allows the extractor to fit any SDS plus rotary hammer, regardless of brand, or corded or cordless. Furthermore, the drilling capacity of the new M12 is now up to 8 inches in depth. Included large and small dust nozzles accommodate up to 1-1/4 inch diameter drill bits. The larger capacity allows the Gen 2 to accommodate a wider range of applications for users. The Gen 2 M12 is available as a bare tool and as a kit.
2017 OSHA standard
OSHA's 2017 silica dust regulation states that any concrete application that produces dust now requires dust extraction, suppression, or elimination. Under the OSHA's control methods a rotary hammer drill must have a commercial shroud or cowling with a dust collection system. The drill must operate in accordance with manufacturer instructions to minimize dust emissions. The dust collector must provide airflow recommended by the manufacturer and have a filter with 99% efficiency and a filter-cleaning mechanism.