Milwaukee wants to give its users the power they need to get a job done and the freedom of movement. With their newest grinder, get the power and the cutting capability to handle any situation.
When it comes to grinders, they are used to use abuse and demanding jobs. But have you ever had a grinder that can stop on a dime, keep the user protected, and still handle all the tough work? With the Milwaukee M18 FUEL 4-½" – 6" Braking Grinder, you get all that in one machine. Thanks to the technology inside, battery, and control, see productivity increase and accidents go down.
Power to Protect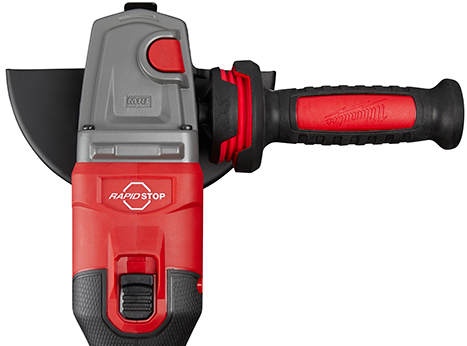 The grinder features a kickback-reducing clutch and Rapid Stop brake to protect the user from potential injuries and accidents. The Rapid Stop halts all accessories in under 3 seconds, allowing the user to set down the tool and continue to another task. Rapid Stop will increase the productivity time on a jobsite from no longer having to wait for the disc gradually come to a stop.
For metalworking purposes, this can make fabrication faster and allow the user to weld pieces together sooner. Removing any rust and imperfections from the material becomes an easy check as you go job. No more worries of wearing out the machine when you stop and check the work.
A journeyman or anyone who would use a grinder, having a tool that prevents kickback is essential. When working, you might not catch a snag in time or overestimate the machine, with REDLINK technology it will stop the grinder before causing any damage. The little feature can not only save you from injury but other workers as well.
One Powerful Battery
Running on one M18 REDLITHIUM HIGH OUTPUT XC 6.0 battery, it gives the grinder the same power as a 13A corded power tool. You can have a machine that has the same power without having unnecessary cords, cables, and need to find a plug. With the M18 battery, you can get hours of work without ever stopping and switch between other M18 tools with ease.

On that one battery with the grinder, you can easily cut through thicker material with no problem. With POWERSTATE Brushless motor spinning the blade at 9,000 RPM gives you a 6' grinding radius.
Two Options
For different workers, they have different preferences for how they want to use their tool. That's why the Braking Grinder offers a no-lock paddle switch configuration (2980-21) and a lock-on slide switch configuration (2981-21). The options are ideal for those workers who have preference and ideology on locking a grinder while it's in use. These options are personal preference but will give your safety inspector some breathing room knowing that you can get the one that doesn't lock.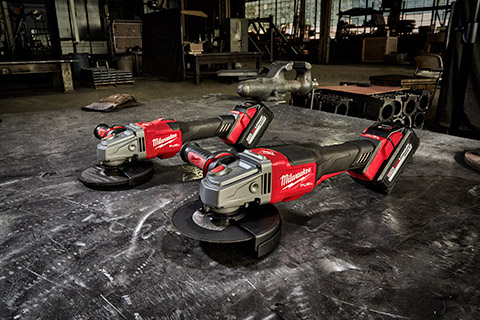 Final Thoughts
This new grinder from Milwaukee will make any metalworking easier with its size, power, and safety precautions. Improving the workflow on the job is what Milwaukee does. Any user on any job can perform an entire day's work on one battery. With over 175 power tool in the M18 platform, the grinder is a welcome addition to Milwaukee tools and your worksite.
---
Did you find this blog post useful? Will you be adding this grinder to your toolbox? Let us know in the comment section below. Want more articles like this? Then head to Acme Tool Blog where we have the latest tool news and other helpful tips for tool enthusiast or novice.
Need you Milwaukee fix now? Acme Tools online store also has daily deals where you can get the best for less. From Milwaukee, DeWalt, Makita, and other big brands, you can get the best for a little less. That was you can always Do Your Best Work.