Having to work in tight spaces is never fun, especially if you are a mechanic. Bolts on everything you work on doesn't make life easy. So, one of your best friends in your toolbox would be your ratchet. From under the hood and into the interior, it is the preferred tool needed in the garage. There is one major drawback with any ratchet though, being able to fit into tight spaces. Sometimes a particular job, task, or part is crammed into a place that is impossible to get too even with your smallest ratchet. Then you have to get creative and use extenders or adaptors to get to that part. Nothing wrong with these tools, but they add more steps to what should be an easy process.
Milwaukee innovates all their tools for the job, and they do it to improve the workflow for the trades professional. So how did they do it this time? They did it by not only looking into the design of the tool but what is inside the tool. It should fit in your hand, be able to fit into small places, and needs to handle the rough and tough grit of any garage. The Slim Profile Ratchets & Wrench-Compatible Sockets will make working under the hood easier for an already demanding job.
What Did Milwaukee Do This Time?
How can you improve on a ratchet? It is a simple and straightforward tool. Where most focus on redesigning the tool, Team Red decided to work on the mechanisms inside and the design. A standout feature to notice is how many teeth this ratchet has in its head. Containing 90 teeth it operates with a smaller swinging motion, 4 degrees to be precise, very useful in tight and cramped spaces.
A few noticeable design change is the handle, the lever, and the material of the tool. The handle, compared to others is not as bulky. You still have a rounded handle that helps for easy turning actions but with a flat top for better gripping. Great for when your hands or gloves get covered in grease or other fluids.
For ease of switching between loosening or tightening Milwaukee has also flushed the lever more. Useful and comfortable when you are already in a cramped space, and the parts you need to fix are next together. Realistically, you might have just loosened the wrong bolt and need to undo what you have done halfway through. Instead of pulling your arm out and changing the direction, then finding a way back in, you just flip the switch and fix it there.
Finally, the material of the tool is a sleek chrome finish. This ratchet can handle a rough garage and still come out shiny like new. With the chrome, it can get covered in oil, and it will simply wipe off, giving your tools and shop that professional look that customers want.
Let's Talk About Sockets
How often is it that you cannot find the right socket for your project? The socket is just as important as the ratchet itself, without it, no work can get done. Without finding the right one for the job, no work will get done. Milwaukee wanted to help solve that issue by engraving into the socket.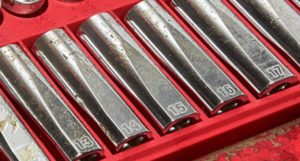 Unless you can eyeball the size of your sockets, having these easy to feel and see numbers make picking out the right one a breeze. Engraved to two of the flat sides of the sockets is the size of that particular one, providing visible information. So instead of flipping out each one to check the size, you can pick up the one you need and go.
What's In the Box (Case)?
Now depending on which kit you get, you will have a different measuring system or both. Regardless, each kit you receive the ratchet itself, an assortment of standard sockets, deep well sockets, and accessories for the ratchet along with the case. As accessories go, you receive a 3" and 6" extension, a universal joint, removable inner storage tray, and a bright red tool case.
The tray is also compatible with steel storage chests, like Milwaukee's steel storage unit. Perfect for a stable garage, and with the case, great for someone on the go.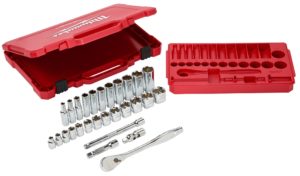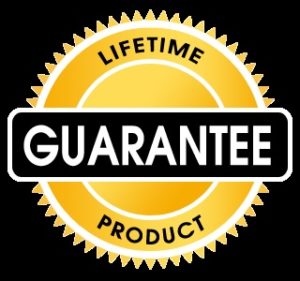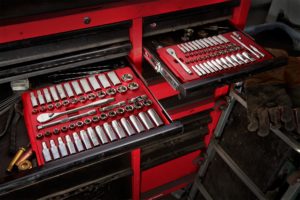 Final Thoughts
A mechanic needs tools that can work in grim, tight spaces, and doesn't bog them down. The Milwaukee Ratchet and Socket Set will give you that in addition to a cool chrome look. You will be able to get into tight places and still be able to work. Thanks to its 90 teeth mechanism you won't even need a lot of room to turn it. Easy to see and feel socket heads means reduce searching for the right one. With a chrome finish, you can get it dirty all you want and wipe it off, clean as out of the box.
Be able to do your best work without ever having to compromise quality or comfort.