How To Choose the Best Generator
Do you need a power generator, but don't have any idea where to start? Look no further. We here at Acme Tools have assembled the ultimate generator buying guide for you.
---
Types of Generators
Portable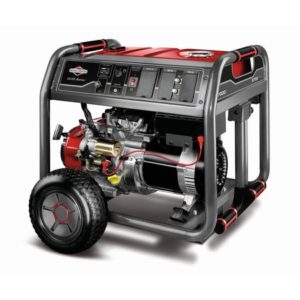 A standard portable generator uses a combustion engine to create alternating current, or AC. They are cheap and produce a practical amount of power. 
To get a feel for what's available, check out our favorite portable generators from 2017.
Many are either mounted on wheels for easy moving or have wheel kits available separately.
Great as tailgating and camping generators.
They can even be used as a whole home generator using a transfer switch
Standby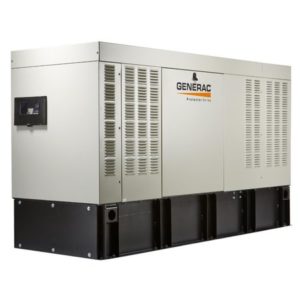 Standby generators are there to provide backup power to your home or business when utility power goes out. They are wired directly into the electrical system using a transfer switch. They are stationary and cannot be moved once installed.
To learn more about home backup generators, take a look at our article about Generac Standby Generators from April.
Can be programmed to automatically turn on as soon as normal electricity goes out.
If you are worried about losing power while you're not around, this is what you need.

Can be hooked up to your natural gas supply so that they will never run out of fuel.
Inverter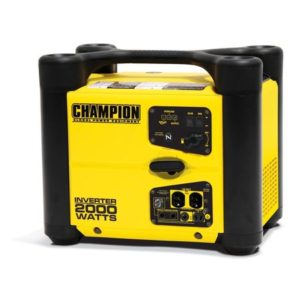 Inverter generators produce direct current (DC) like a battery, then "inverts" it back to alternating current (AC) that comes from an outlet. The result is known as clean power, which is suitable for delicate electronics. To know more why this matters, be sure to read our post about Clean Power.
An ideal small portable generator because they are so easy to pick up and move.

Sometimes called silent generators and aren't louder than a normal conversation.

They

 have small tanks and are highly fuel efficient.

Can run in parallel to get twice the power. This gives more watts than a single unit to keep small appliances running
Industrial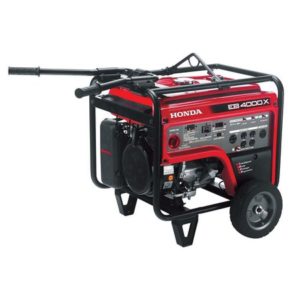 Industrial generators will have many similar features to standard portable units and inverters but have additional safety components.
Built on rugged frames to withstand harsh jobsite conditions.

Feature lifting hooks for easy lifting with a crane

Ground-fault circuit interrupters (GFCI outlets) for use in inclement weather.
Welder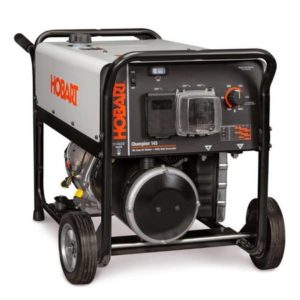 Welder generators are welding machines with an on-board generator to provide power anywhere it's needed. These are designed for when an external power source isn't available, such as repairing a tractor in the middle of a field.
Provide enough extra power for lights and other metalworking tools
Some are even strong enough to run a home, farm, or small business if the power goes out.
They are big and heavy and typically made for farm and ranch use.
Power Takeoff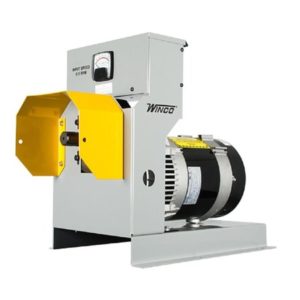 PTO generators harness the rotation of a tractor engine to generate current. They are made almost exclusively for farm and ranch use.
Because of the high horsepower of tractors, these generators are exceptionally powerful.
Since they use the power takeoff to create power, they do not use any sort of fuel and have very low maintenance.
If you want to check the best of all types of generators, also hop over to our ranking of the Best Generators of 2017.
---
Wattage
Watt do you mean?
How many watts do you need?
Volts, amps, and watts are all related to each other. To put it plain:
Watts = Volts x Amps
Imagine a 15-amp circular saw. It (theoretically) draws 15 amps of current while in use. That's multiplied by 120 volts, so it needs 1,800 watts of power to run. The sum total of watts of all tools or appliances you plan to use should be less than your generators rated wattage.
Take a look at the watt draws of some common generator applications.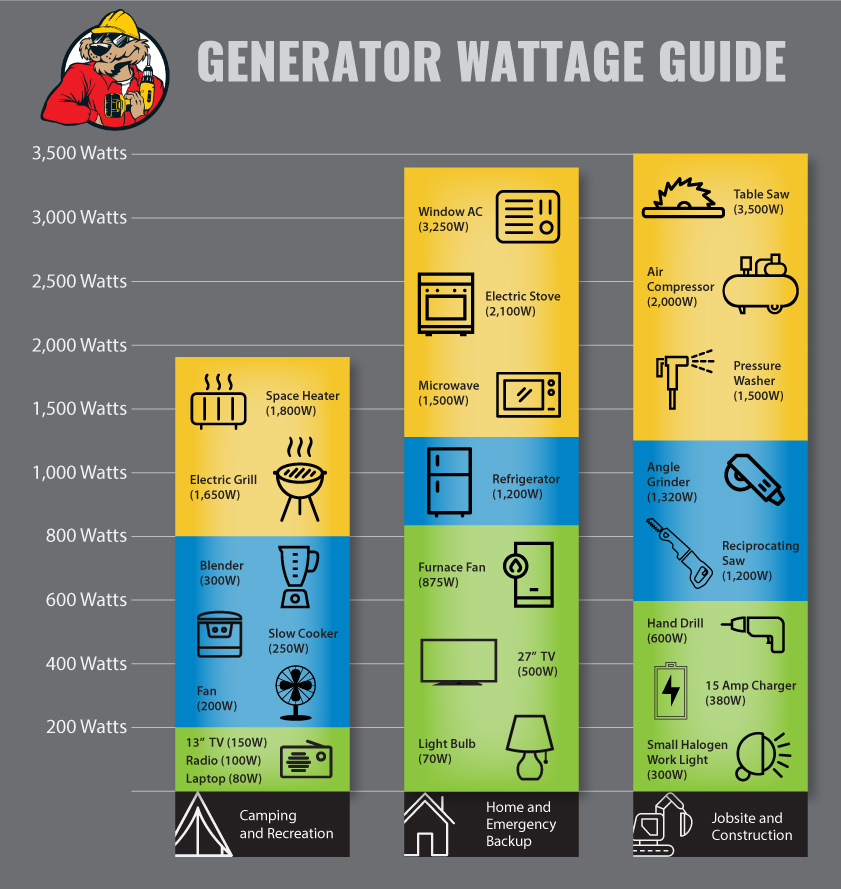 Rated vs Surge Watts
Generators wattages have two different numbers: rated and surge. The rated wattage is how much power the generator can consistently sustain for extended use. Surge wattage is the maximum power it can make, but only for a very short period. Surge rating is sometimes called "maximum", "spike", or "peak".
Never run a generator at peak wattage for more than about 30 minutes or you could damage the internal components. Rated power is generally about 90% of the maximum.
When Do I Need Surge Watts?
You need surge watts for most tools or components that need to build momentum, such as refrigerator compressors or fans. Also, anything that encounters resistance, like a chainsaw cutting through a log. Starting these will pull more power than they would without that extra strain.
Many electronic devices that create heat or light draw a flat amount of power, such as space heaters. If you are unsure how many watts your devices will be consuming, ask a licensed electrician and they will help you get an accurate evaluation.
What sizes are available?
| | | |
| --- | --- | --- |
| Wattage | Example | Uses |
| 1000 |   | Camping, recreation, tailgating, powering small electronics. Very small and good for light use. The |
| 2000 | | Camping, recreation, tailgating, powering small electronics. Inverters can run in parallel for more power. More versatile than 1000 watts but still small and portable. |
|  3000 | | Camping, RV camping, Home power. This Champion generator is actually made to power an RV and can burn either gasoline or propane. |
| 4000-8000 | | RV camping, emergency power, industrial uses. As outputs get bigger, it gets easier to use for backup power to a house or as an RV generator. This Honda 7000 Watt inverter generator is quiet and can run a fifth-wheel trailer on its own. |
|  8,000-10,000 | | Jobsite, home backup, commercial.  Generators get very big and harder to move, even if they're on wheels. This Pulsar 10,000 watt duel fuel generator burns either gasoline or propane and has two additional outlets that can deliver 240 volts. |
| 10,000+ |   | Emergency and PTO generators.  They range from as small as 8,000 watts all the way up to 40,000 and beyond.  You would need to contact an electrician to get an accurate estimate of what size fits your needs. Generac made a generator sizing calculator to give a rough idea of what you need. |
---
Fuel Types
Gasoline is the most common type of fuel for portable generators. It is easy to refill and works great in small engines. If you run out, it's easy to run to a gas station to get more. 
Pros: Easy to refuel, portable, biggest selection, lots of sizes available.
Cons: Toxic fumes, exhaust, gas has a limited shelf life, limited runtime.
Liquid propane (LP) is another common fuel used in portable generators. LP units hook up to propane cylinders just like a barbeque grill. If you run out, most gas stations keep a stock of prefilled tanks. They can also attach to large above-ground tanks so have much longer running time than gas generators. 
Pros: Longer runtime than gas, clean burning, easy to get more fuel.
Cons: Higher risk of leaks than gasoline, has trouble staying pressurized in cold weather, less energy than gas.
Natural Gas generators are powered by the gas already piped into a house, just like a stove. Connecting an NG generator to a gas line should also only be done by a professional. Gas leaks are very dangerous and you do not want one happening to you.
Pros: Unlimited fuel, cheap, clean burning.
Cons: Generator is immobile, possible gas leaks if set up improperly, impractical in earthquake zones.
Diesel generators run on diesel fuel, just like semi trucks and train engines. Since the engines are large and heavy, so you won't find as many portable diesel generators. Some diesel units are so big that they're mounted on forklift openings for transportation, such as this Kubota Lowboy generator.
Pros: Extremely high energy output, minimal maintenance, durable construction, long lifespan, easy to refuel.
Cons: Loud, high pollutant, big and heavy, not easy to move, high initial cost.
Dual-fuel
A dual fuel generator can burn either gasoline or propane. If you have an above-ground propane tank, this is a great option for a very long running time. It provides As a gas powered generator, it's great for camping and recreation. Propane, on the other hand, gives it a long runtime for emergency home standby power.
Tri-fuel
A small selection of units can draw power from gas, LP, or natural gas. They are great for being both portable and practical as home backup generators. They have the advantages of all three fuels but are generally only available in higher power outputs. If you need versatility, this is the best generator for you.
Tri fuel generators are the most flexible units in natural disasters. Especially if you live in an earthquake zone, natural gas lines might not always be open. When the power goes out, you can use gasoline or liquid propane until emergency crews arrive.
Other Fuels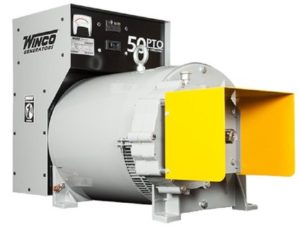 PTO generators use the energy from a tractor engine. They produce no exhaust fumes and have virtually no maintenance.  Without fuel tanks or bulky engines, they are also considerably smaller than other generators relative to how much power they produce.
---
Physical Size and Portability

Small Generators
Small units are great for camping, recreational use and any other situation where a small watt output is adequate.
If you have trouble lifting heavy objects, opt for a more compact model.
Large Generators
There is no substitute when lots of power is needed.  Best for RV camping, construction sites, or whole-home backup.
If the weight is too heavy, most manufacturers have wheel kits available to make moving easier.
---
Outlets
Let's look at the three most common outlets on generators.

1. Wall Outlets
Most generators come standard with at least 2 regular 120-volt walls outlets.
The more powerful a unit it, the more of these outlets it may have.
If you need to plug lots of things in, get a bigger generator.
Be sure to get GFCI outlets if you might use it in damp conditions.
2. RV Outlet
Larger generators have a 30-amp outlet to run an RV.
The pictured outlet is circular in shape and twist-lock so the cord doesn't accidentally pull out.
An adaptor may be needed for some RVs. Check your model to be sure what shape the plug is.
3. 120/240 Volt Outlet
Large generators often boast an additional locking 120/240 volt outlet.
Good for well pumps and other large appliances
Generally only seen on units with at least 4000 watts
Other Outlets You Might Find
240-volt non-locking outlet
Parallel adapter outlets.
Battery charger outlet
12 volt adapter (car charger port)
USB
---
Accessories
A variety of generator accessories can help you maximize the versatility and efficiency of your generator.
Transfer switches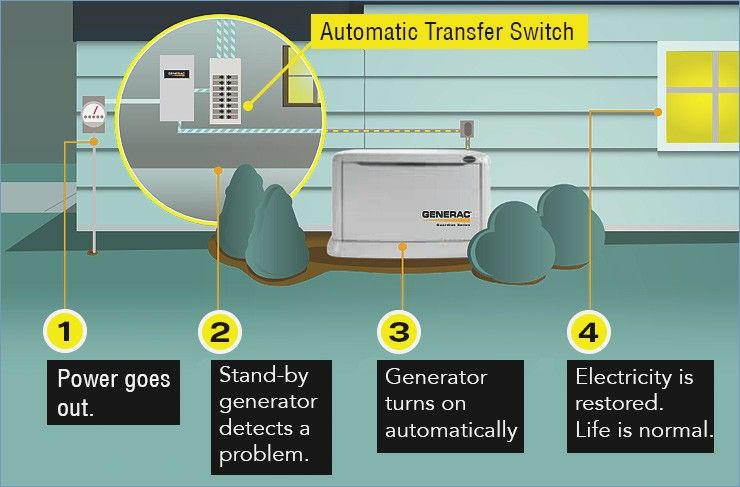 A generator transfer switch transfers the power source of your house from utility power to the unit. They are hardwired into your home, and should only ever be installed by a licensed electrician.
If you want to plug your generator into your home circuits, you need a transfer switch.
Trying to connect a generator without one can destroy your homes circuitry and hurt utility workers repairing the lines outside.
Transfer switches can either be automatic or manually operated.
Parallel kits
Parallel kits are great for camping and powering RVs. Honda even has a companion generator with 30-amp locking outlets made specifically for campers.
Allow you to connect two inverter generators together to get twice the wattage.
Saves money by not having to invest in a larger generator.
When you don't need the extra watts, simply go back to using a single generator and save gas.
Extension Cords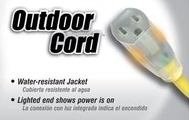 Only ever use a generator outside, at least 15 feet from the house, to avoid carbon monoxide poisoning. As such, only outdoor-rated extension cords should ever be used to bring power to the appliances you need. As more power is needed for larger appliances, also be sure that the cord you are using is strong enough to carry the electrical load.
An outdoor rating means that the jacket will be thicker and more durable than most cords in your house. Some also have a built-in GFCI to protect you if it is damp out.
There are even cords with lighted ends to find them more easily in the dark.
Don't get a cord longer than you need. Too much length will take away from the power delivered.
If you need extra plugs, use a power splitter. Splitters use either the standard outlets or the locking outlets, depending on your needs.
Fuel extenders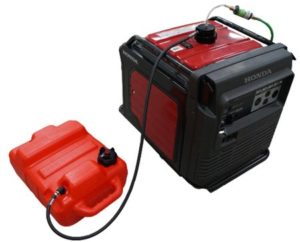 Safely adds to the runtime of the unit before it needs refueling.
Some have two hoses for connecting to two parallel inverter generators at the same time.
Most are made specifically for a particular model, so be sure to check specifications before buying one. If you're interested in learning more, check out our B.E.R.G.S. Fuel Extender Buying Guide
Covers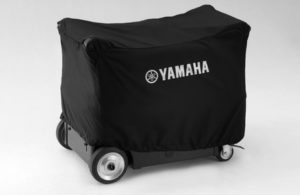 Some manufacturers make fitted covers for specific models.
Non-fitted third-party covers without flashy brand logos can reduce the threat of theft, but don't offer the same protection.
Wheel kits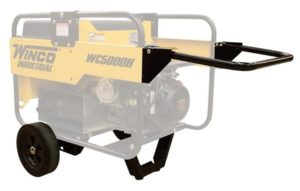 Not all generators come standard with wheels.
Wheels make moving heavy generators easier, especially on rough ground.
Check before buying to ensure the wheels are compatible with your model.
Cold weather kits
Keeps battery and oil warm and ready to go in backup generators.
Needed in cold climates to ensure standby power can turn on in the middle of winter.
---
Other Important Things To Keep In Mind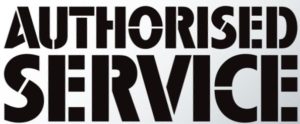 Engine Manufacturer And Serviceability
Some brands use motors made by other well-known companies and build the rest of the surrounding components. Honda and Generac are two common engine names that you will encounter. Engines by these manufacturers are very easy to fix and find parts for. They also already have well-established networks of service centers, so getting repairs done is much easier.
Keep in mind, a generator is a long-term investment that will likely outlive the manufacturer warranty. Be safe and get one that will stay working for many years.
Low Oil Shutoff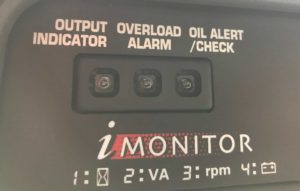 If the motor oil gets too low, this feature will automatically cut power to the engine to prevent damage. This saves you money on repairs later. You want this feature. 
Lifting Point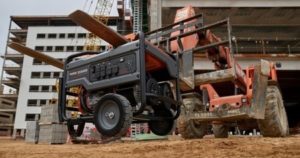 For industrial users, a lifting eyelet can be very important. It provides a secure attachment point for a crane to safely lift the unit. Keeping the generator up on the crane also keeps it out of reach of hooligans at night.
Covered Outlets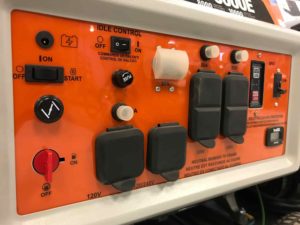 Covers protect the outlets from rain and other foreign debris. They can prolong the lifespan of the entire system. If you plan on using a generator frequently or storing it outside, make sure the outlets are sealed.
Electric and Remote Start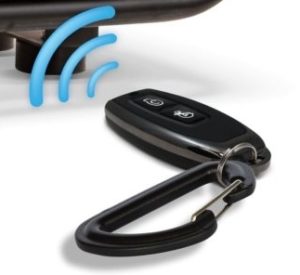 Standard generators need a pull cord to start. An electric start turns the motor on with just the turn of a key. Even on cold mornings, you won't have any trouble getting the motor started. If you have a hard time with heavy pullcords, it would be worth the extra cost.
A few manufacturers have models with a remote starter just like a car. Imagine turning on the heat in the middle of a heavy blizzard without ever stepping foot outside. 
---
Sourc
es:
https://blog.hondalawnparts.com/technology-hondas-advantage-in-the-small-engine-market/
https://powerequipment.honda.com/generators/inverter-generator-advantages
https://www.osha.gov/OshDoc/data_Hurricane_Facts/grounding_port_generator.html
https://powerequipment.honda.com/generators/generator-wattage-estimation-guide
https://www.consumerreports.org/cro/generators/Why-a-Home-Generator-Needs-a-Transfer-Switch
http://www.redcross.org/get-help/how-to-prepare-for-emergencies/types-of-emergencies/power-outage/safe-generator-use#Using-a-Generator-at-Home