There are several questions you will need to ask yourself about your tile saw needs. Let's talk about tile saws for a minute. As a contractor, you're probably always searching the market for the best equipment. So, when you buy a tile saw, you want to ensure that the tool will make your job easier and more efficient.
Buying the Best Tile Saw
You've probably come across a seemingly infinite list of tools you can work with, but how do you choose the best one? It's not as hard as your 'buyer remorse' might lead you to believe, but let's not get too much into the buyer's psychology. Well, at least not now. Having that right piece of equipment in your toolbox is essential for completing each project successfully and ensuring the satisfaction of your clients. The right tool is a game changer. But, with so many options available, it can be hard to distinguish between an amazing piece of equipment and one that will cost you time and your mental sanity. Worry no more! This comprehensive guide will teach how to buy the best tile saw for your needs. We'll take a close look at the specifications that you need to keep in mind when looking for tile saws and why they matter. Without further ado, here's how to decide on a tile saw.
What You Need to Keep in Mind
Cutting Capacity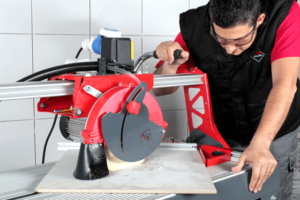 With a lot of cutting equipment, the person operating the tool also has to move the material back and forth while simultaneously cutting it. While it is at its core an inconvenience, this process might also result in quite a few cutting inconsistencies – and that is the best-case scenario. Worst case, your material is ruined.
Accuracy and Versatility
However, most tools today guarantee a higher level of accuracy. But if you want something to do the job right, you need to be looking for versatility. Just think about it: what you need is a machine that can successfully cut through different types of materials and allow you to make a square, L-cut or U-cut without worrying about your tool being pulled through.
Take RUBI DC-250 1200 as an example. It has a cutting depth of up to 3 ½" and the tool includes a plunge effect mechanism that allows you to fine-tune the cutting depth as needed. It has a generous rip cut of 47 7/16" and a diagonal cutting length of 33 1/2" X 33 ½". This tile saw also comes with a mobile head on bearings and foldable at 45" for miter cuts. The miter thickness cut is of 2".
Beveling Capacity
Look for a tile saw with a good beveling capability if you want it to make it easier to cut for different materials and shapes. Read tile saw reviews online to ensure that the tool you're buying delivers on its promises.
Horsepower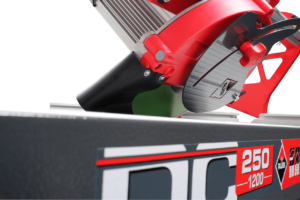 Horsepower is, perhaps, as important as cutting versatility. A tile saw designed to cut through different materials obviously won't do much good if it doesn't have the necessary horsepower to sustain the activity all the way through. It's just like having the right intention but lacking the drive needed to complete the job.
You need something powerful enough to deliver smooth cuts that won't damage the material. In other words, you need a tile saw with a powerful motor.
The DC-250 1200 has a single phase direct drive motor of 1.5 HP with a thermal protector to make sure the device doesn't crack halfway through the job.
Dimensions and Portability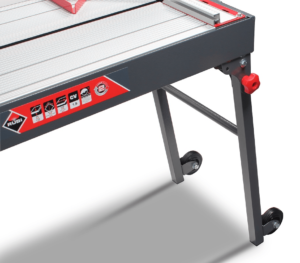 While working in a workshop brings its benefits, chances are most of your contracting jobs won't give you this luxury. And this is how the factor of portability comes into place. You need something that you can move easily from site to site.
RUBI's tile saw comes with wheels attached to the frame. The lightweight material makes the tile saw so easy to maneuver that one person can easily move it.
A tool that requires half your team to lift it won't do you much good. Try to give special consideration to the tool's size and portability. Pay attention to the material as well since the weight of the tile saw can impact your work significantly.
The right tool should be light yet sturdy enough to match the demands of the jobs and your clients' needs.
The DC-250 1200 is 63" long, 31 ½" wide and 51 3/4" tall, which makes it small enough to be maneuvered by just one person. Its net weight without packaging doesn't exceed 132 lbs. Moreover, it comes with folding legs with built-in wheels for easy transportation.
Blade Capacity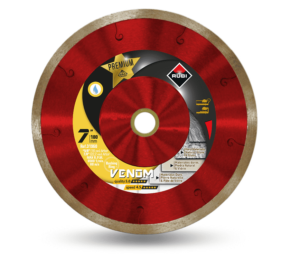 Now let's talk about arguably the piece de resistance of your saw: the blade. The importance of a good blade is clear if you've even once been in a kitchen. Let's say you're trying to fillet a chicken. If you have a professional knife, it will go smoothly through the meat, and your meal will have a high-cuisine look to it. If you're using an older knife, well, in the end, everything will look like it was torn apart.
The same principle applies when you're cutting through a piece of tile. With the right blade, your cuts will be even and smooth. As such, it will be a lot easier for you to use the materials afterward. If your blade can't do the job properly, then the result might come off with an amateur look – and that's not something you want.
When you buy tile saw, it's vital to choose a blade that leaves no sharp edges on your cuts. The best thing you can do to prevent this is to look for a diamond blade. The DC-250 incorporates a 10-inch blade and uses water to cool it off while you operate it so that the device won't overheat. As a result, your cuts will have a sharper look.  Overheating will inevitably cause the materials to break, rendering them useless and forcing you to go back to the drawing board. Buy something that has some cooling system and incorporates a blade strong enough to cut through the harder materials.
Water Splash and Dust Generation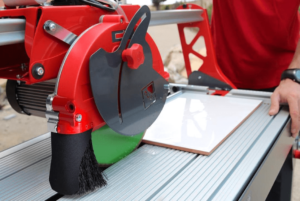 Remember the first time you've ever stepped into a workshop? What are the two things most distinctive about it? Chances are, your mind will go to the smell and the sawdust.
As you know already, sawdust is not good for your workers' health, especially in the long run. Dust that is thrown into the air can be easily inhaled and irritate the throat, affect breathing patterns and scar the lungs. It's not about big chips that might come of – you have equipment for that. But the smaller particles, some of which you can't even see, are the ones that can do some real harm.
When you buy tile saw, you need to look for a tool that incorporates a mechanism that prevents the majority of dust from getting into the air. Apart from keeping the saw from getting overheated, RUBI DC-250 also integrates ZERO DUST system, a water and spraying action to keep the silica dust from getting freed into your environment. This is a technology certified by The Netherlands Organization for Applied Scientific Research (TNO). Its mechanism also keeps water consumption at bay, so you won't have to keep refilling your water tank while you do the job.
The dangers of dust have been known for a while, and some North European countries have already imposed certain regulations regarding it. These rules have recently been in the news in the United States and OSHA will be regulating it soon.
So, make sure to buy tile saw that includes some protection from silica dust, if not as a foreseeable measure for shifting regulation, then as necessary health risk prevention.
Accessories Availability
Remember the argument of 'versatility'? Well, the same argument can apply when talking about your saw accessories.
Accessories are a wonderful thing. They mean your tool is adaptable, so instead of having to buy different types of saws for different jobs, buy a tile saw that can be accessorized to fit the task at hand. Think of them as small upgrades you can make for your tools, which cost less than a new piece of equipment and give your work the edge you need to set yourself apart.
If you choose to buy tile saw that doesn't accept different accessories, then you might be limiting the jobs you can do with it. RUBI's equipment features quite the variety of accessories from lateral stops for large format tile to table extensions, tile fixers, and even laser and level kits. These elements can ease the work of your saw, which in the end leads to a smoother result.
So, What Now?
Bear in mind that a tile saw is a much more practical tool than its table saw cousin. It is a reflection of modern practices where speed, versatility, and endurance become vital aspects of any job, not just contracting.
If you need to buy tile saw, then try to keep these factors in sight when you are browsing through tile saw reviews and specifications' lists. The best tile saw should be fast, able to do the job regardless of the condition and reduce waste. It's quite a handful of requirements, so don't rush into any decision.
If you take the requirement presented above to heart, then it will be easier for you to decide which tool you should buy. There is no shortage of tiles saws out there, so your problem won't be finding the right saw, but knowing which saw to choose. Research the market and remember to calibrate your choice to the type of jobs you're going to do to maximize your efficiency.
---
This blog post was created in cooperation with Rubi Tools, a manufacturer of Professional Tile Cutters. Acme Tools is a proud distributor of Rubi Tools products and supports their blog.
Interested in other informational articles on Tiling? Check out our post on How To Install Shower Tile.