During a storm, a blizzard, or a flood, power is never guaranteed. All it takes is one pole to fall, one line to freeze, or even one squirrel to be somewhere it shouldn't be, and electricity for the area goes down. Without that energy everything stops running, the fridge, the router, the sump pump, the heater, everything goes down.
But what if you had power even in those terrible situations, to avoid your food going bad, your basement flooding, or feeling the bite of the winter chill? With a generator, you can get all that, but not just any kind of generator, a Generac Generator. With a Generac Automatic Home Standby Generator, you can avoid damages to your house which would have cost upwards to thousands of dollars, while not even being at home.
How Does It Work?
The Generac Home Standby Generator monitors 24/7 for any change in power. If detected the generator will automatically turn on, and in a matter of seconds the generator will start to produce electricity. When it has sufficient energy, it will automatically activate the transfer switch connected to the homes electrical panel. The switch will change the source from line power to generator power, allowing energy into your home.
Generac's Generator will also continue to monitor the line of power while generating energy. The generator will continue to run until a fully restored line power is detected. Once consistently restored the generator will run for a few seconds then turn off and return to standby mode to save fuel.
Why Should You Get Generac Generator?
Why should you get a generator in general? Believe it or not, power outages have increased in the past ten years by six-fold. In the year 2000, there were on average 2.5 grid disruptions a month and in 2013 that number jumped up to 14.5 a month.* Be prepared for the situation, especially if you know that your area is prone to harsh weather and power outages.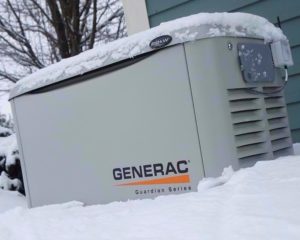 In the Midwest blizzards, floods, and harsh storms happen. Sometimes they can happen while you're not even at home. Generac Automatic Home Standby Generators don't need you there to turn them on, the system detects when electricity is no longer flowing and turns on within seconds to power your home. When power restores itself, the generator turns off not wasting any fuel.
Can I Use a Portable Generator for My House?
While mobile and useful, portable generators have less power and only gives energy to what is plugged in. You can not get everything you want to be powered by one small generator. Sometime the power it has won't be enough and will require constant refueling. If you need any more information see the graph below.
| | Portable Generators | Automatic Home Standby Generator |
| --- | --- | --- |
| Uses | Portability makes them ideal for jobsites, tailgating, camps, or other remote locations. | They are hard-wired to your home so it is the only place you will use them. |
| Starting | Starts with either a pull cord or an electric switch | Starts up automatically when utility power is lost-whether you're home or away. |
| Connecting | Most units have standard GFCI (Ground-Fault Circuit Interface) and have a limited number of outlets | Permanently connected to your homes electrical system so there is nothing you need to do when power is lost. |
| Refueling | Must be refueled every 6-12 hours, depending on loads and size of fuel tank. | No refueling if connected to your natural gas line. Also offers propane and diesel options with long run times. |
Worth the Investment?
Generac Home Standby Generators come with Smart Technology that makes it easy to use. From a Mobile Link interface that you can access information from your phone, tablet, or computer. Quiet-Test Technology that runs weekly at a lower RPM for a self-test to make sure everything is running at maximum efficiency, which also consumes less fuel. True Power Technology which optimizes the generators use for clean and smooth operation. Smart Management Modules (SMM) supplies energy to all essential circuits and pushes power to less-essential circuits as it becomes available.
The typical price for flood repairs is around $21,000 for 2 inches of water and can shoot up to almost double at $39,150 at 6 inches, in a 2000 square foot home.**  Compared to the cost of repairs needed after a flood, a generators price comes between a tenth or a fourth of that.
Final Thoughts:
During a crisis, you wouldn't want to be home without power. You wouldn't want to be at work and knowing that your family at home could be without power. Generac's generators are reliable and automatically turns on the moment it detects power loss. Give yourself peace of mind knowing that whether you're home or away, you'll have power.
Did you find this useful and informative? Let us know in the comment section down below. Also what other items, tools, or brands would you like to know more about? Check out the Generac Generators at acmetools.com so you can Always Do Your Best Work!
*Power Outages on the Rise Across the US insideenergy.org
**FloodSmart.gov