Milwaukee is rolling out a new wet/dry vacuum. Its excellent performance, durability, and versatility is the tool for jobsite cleanup. This vacuum is equipped with many dominant features to up your game. Its brushless motor outperforms 3.5 peak HP wet/dry vacuums, cleaning up more common debris in the same amount of time, making it more powerful than corded. The wheels and hoses have reinforced casters and tread design that gives it eight times the wheel life. It also has a crush and twist-resistant hose construction that delivers up to two times the hose life. Its max power mode lasts up to 31 minutes of clean time on an M18 REDLITHIUM HIGH OUTPUT HD 12.0 battery pack and a max run-time mode that lasts up to 47 minutes. 
This vacuum is part of a highly powerful wet/dry vacuum system that you won't want to miss out on. Choose from the 6 gallon, 9 gallon 36V, 9 gallon 36V kit, and the 12 gallon kit. Below, you can also find various accessories and attachments for the new m18 vacuum to help with any different time of jobsite cleanup.
Milwaukee M18 FUEL Wet/Dry Vacuum 6 Gallon Bare Tool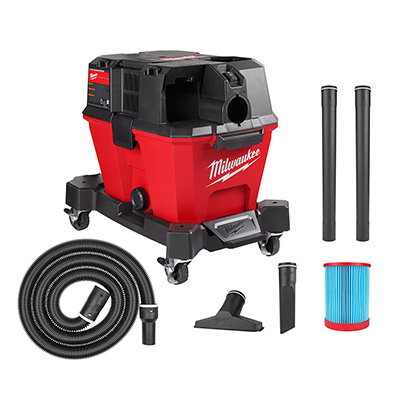 Milwaukee M18 FUEL Vacuum 9 Gallon 36V Wet/Dry Bare Tool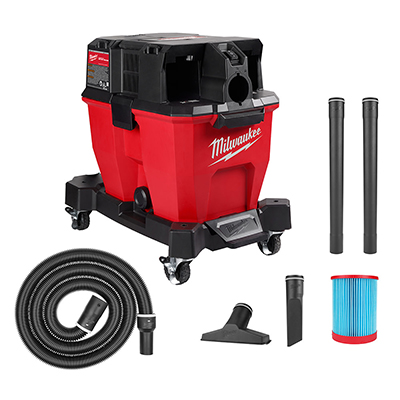 Milwaukee M18 FUEL Vacuum Kit 9 Gallon 36V Wet/Dry
Milwaukee M18 FUEL Vacuum Kit 12 Gallon 36V Wet/Dry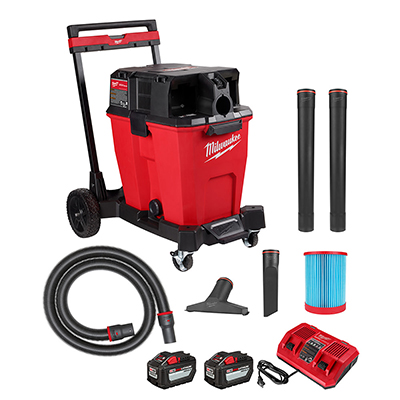 M18 FUEL Wet/Dry Vacuum Accessories
Vacuum Tool Storage Bag
The vacuum tool storage bag is a great storage option for longer vacuum tools. It provides a durable and versatile solution for vacuum tools and accessories. The bottom has adjustable velcro inserts that are customizable to fit all your vacuum tools. It has a durable mounting hook that can easily latch onto the moto heads for transportation.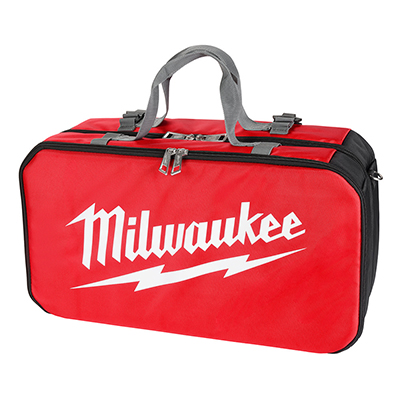 AIR-TIP Long Reach Flexible Micro Hose Set
This new hose set can reach the hardest of places with five interchangeable hose lengths and diameters. This set includes a 5/8″ x 2′ Flexible Hose, a 3/8″ x 2′ Semi-Ridgid Tube, a 1/2″ x 1′ Flexible Hose, a 3/8″ X 1′ Flexible Hose, a 1/4″ X 1′ Flexible Hose, and a durable vacuum hose storage case.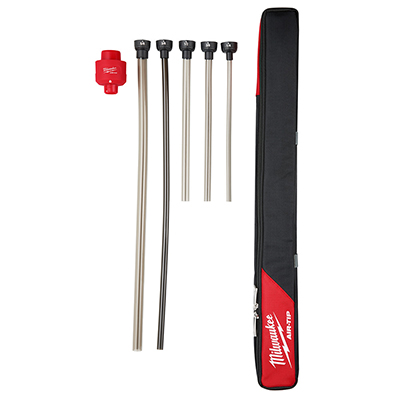 AIR-TIP Pivoting Extension Wand
With just a click of a button, this extension wand can pivot 90 degrees to make your life easier when cleaning either overhead or below. Once the joint is in place, it will lock and ensures that any additional 1-1/4" accessories can be attached to it as well.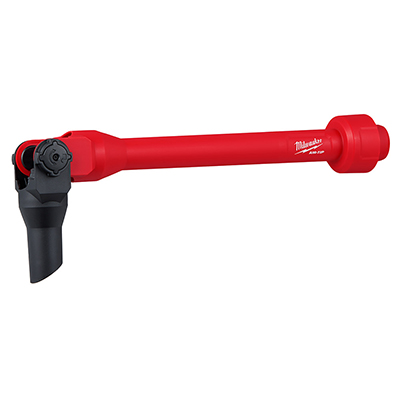 AIR-TIP Flexible Long Reach Crevice Tool
This flexible long, reach crevice tool is great for those hard-to-reach, awkward places. Its flexible rubber shaft has over 16 inches in length, giving your more accessibility in those tight areas.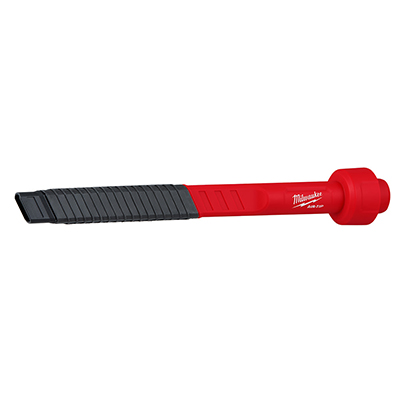 AIR-TIP Magnetic Utility Nozzle
Having any sort of metal enter your vacuum bags, and filters can cause a lot of damage and cost you money. The magnetic utility nozzle is equipped with a magnetic strip on the front and the back of the tool to catch any metal hardware before it enters your vacuum. There is also a 2-1/2" nozzle option that allows more debris to be sucked in than smaller tools.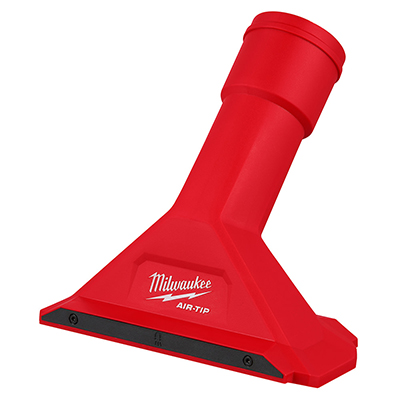 AIR-TIP 3-1 Crevice and Brush Tool
Equipped with a reversible brush head and 16 inches in length, this crevice and brush tool makes life easier. The reversible brush head has a long/soft bristle side and a short/stiff side for cleaning.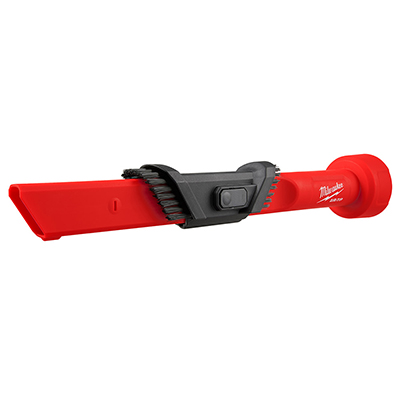 AIR-TIP Claw Utility Nozzle with Brushes
This tool makes cleanup more effective with an ergonomic claw grip and integrated brushes. Its design, combined with the bristles on the nozzle, gives you leverage to agitate debris while cleaning.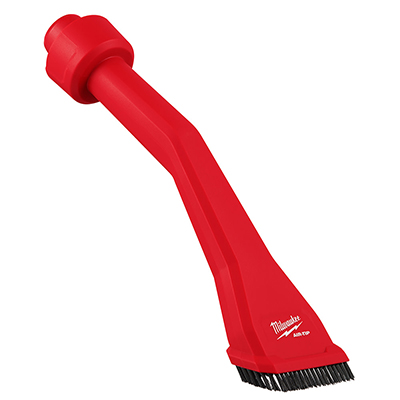 AIR-TIP Conduit Line Puller Kit
The conduit line puller kit is designed to seal multiple conduit sizes for strong line-pulling suction. It comes with three different tools to aid you in pulling applications. A flexible design tip for use on 1/2″ – 1″ conduit, a flexible design tip for use on 1-1/4″ – 1-1/2″ conduit, and a 2″ – 4″ conduit tip.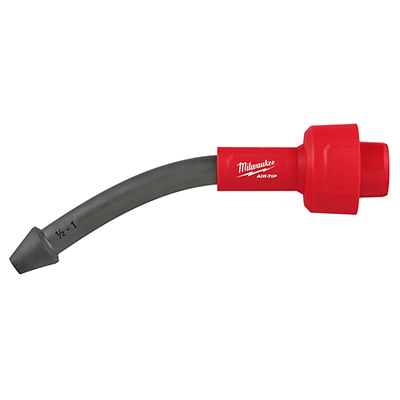 AIR-TIP Dust Collector
Next on the lineup is the dust collector. The dust collector uses the vacuum's suction to attach t a wall for hands-free work. The rubber seal will maintain suction throughout your work, leaving less dust in the air and the ground and giving your other hand some extra freedom instead of holding the nozzle yourself.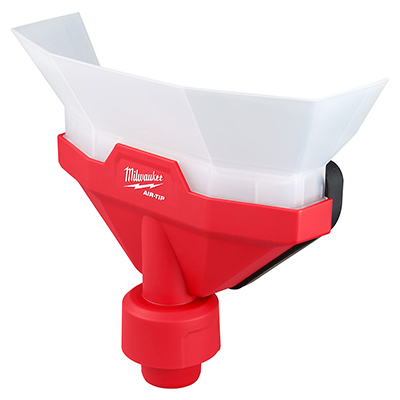 AIR-TIP Low-Profile Pivoting Brush Tool
The low-profile pivoting brush tool offers better cleaning access due to its pivoting design and low-profile head. This accessory allows for easier cleaning overhead, wast-level, or below with a click of a button. This accessory also offers more versatility, with its brush head able to swivel 30 degrees.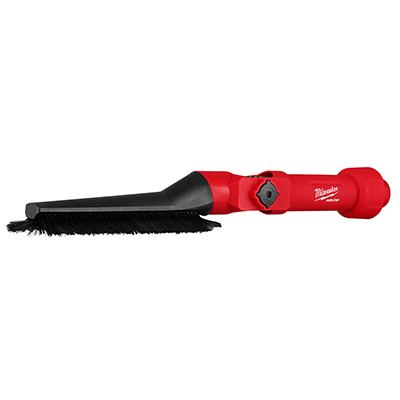 AIR-TIP Rocking Utility Nozzle with Brushes
The rocking utility nozzle with brushes bevels on either side of the nozzle and brushes all around the tool to ensure it never gets stuck. This tool is great for finished areas and agitating debris. There is also a 2-1/2" diameter option for more debris to flow into the vacuum.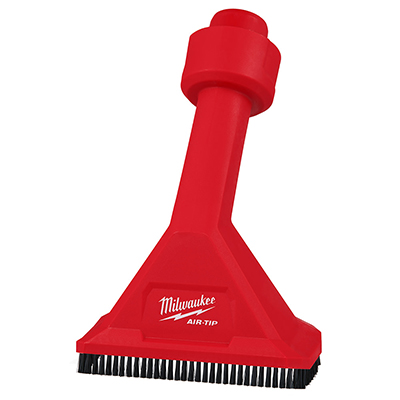 AIR-TIP Cross Brush Tool
This cross brush tool is designed to prevent debris from being pushed away from the brush and eliminate clogging. This tool can agitate, release, and clean hard, stubborn materials on your surfaces.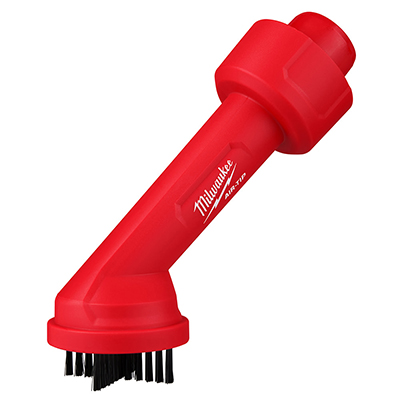 AIR-TIP Rotating Corner Brush Tool
With its spade-shaped tip, this tool is excellent for deep corner cleaning. Its brush is perfect for agitating debris, making it very easy to remove it. The brush head can rotate 360 degrees while being pushed or pulled in difficult areas, making cleaning corners much easier.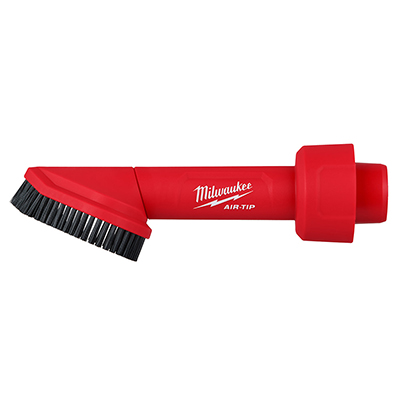 AIR-TIP Swiveling Palm Brush
The swiveling palm brush offers an enhanced cleaning experience. Equipped with an ergonomically 360 degree swiveling grip, it gives you more movement freedom. This brush comes with three interchangeable heads, a stiff brush for deep cleaning, a soft bristle head for delicate surfaces, and a rubber bristle head option for cleaning carpet.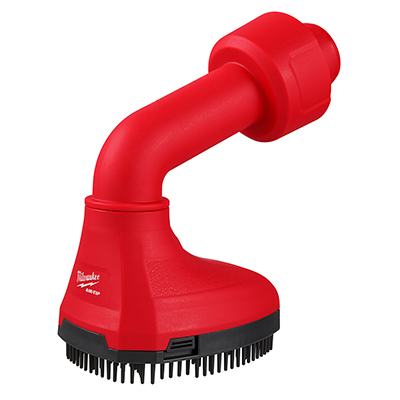 AIR-TIP Non-Marring Utility Nozzle Kit
This utility kit has non-marring edges to protect surfaces from getting marred. The kit includes a crevice tool and utility nozzle. The non-marring edges are indicated by the black edges.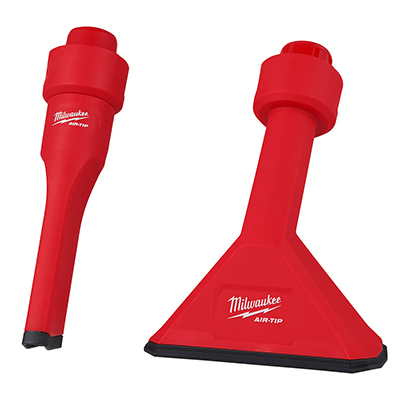 AIR-TIP 4-in-1 Right Angle Cleaning Tool
Reaching around obstacles can be annoying; the 4-in-1 right angle cleaning tool makes life easier. This tool can make your cleaning more versatile with four different interchangeable tips. It includes a short crevice, bottom-opening, brushed, and long crevice tips.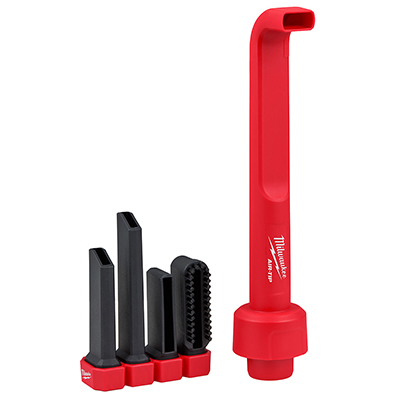 AIR-TIP 2-in-1 Utility Brush Tool
With a click of a button, this sliding brush tool can clean multiple surfaces with easy access. It can protect delicate surfaces or agitate debris whenever needed. When sliding the brush head back, it allows fr more cleaning versatility and suction when needed.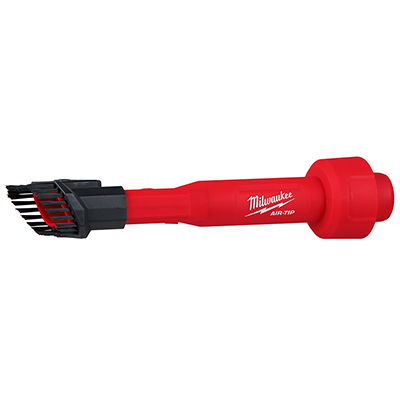 AIR-TIP Utility Tool
This powered brush is great for deep cleaning. Powered by the M12 REDLITHIUM battery, it gets going with a push of a button. It's equipped with a suction control valve that will make cleaning on carpets and substrates easy. It also has LED lights that will add better visibility for cleaning.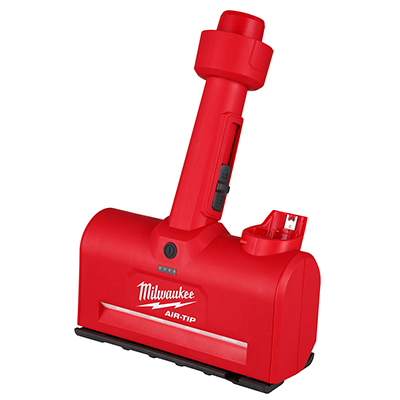 Shop the new Milwaukee M18 Wet/Dry Vacuum System now or other Milwaukee products at Acme Tools.