A HEPA Ready Extractor Designed For the Pros
Bosch introduces their newest tool to help the daily trades professional manage with the danger of silica dust. The Bosch GAS20-17AH Wet/Dry Dust Extractor is an industrial-grade machine with 300 CFM maximum capacity. Able to filter fine dust, coarse dirt, and liquid debris from your work area.
What're the Specs?
HEPA Ready…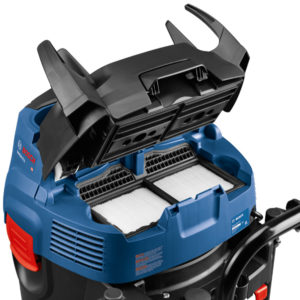 Getting straight into what you need to know about the extractor, it boasts a 17-gallon capacity and auto filter cleaning with HEPA filter. These improvements will help move workers to comply by OSHA silica dust regulation compliance, which if not followed can shut down your site. Filtering is automatic and activates every 15 seconds, and the HEPA filter captures 99.97% of particles at 0.3 microns or larger.
It's a Power House
It can maintain the maximum 300 CFM capacity thanks to its 17.5-amp high-performance motor. With the powerful dust extraction, it can handle heavy-duty application, from cutting concrete and surface grinding with larger 7" and 9" grinders. Not to mention it can even work with 12" cut-off tools.
Self-Cleaning Filter
With jobs that need big tools, you must think cleaning will be a problem to have it keep up? Not necessarily, the GAS20-17AH has a self-cleaning system for the filter which will keep you on top of the job. Every 15 seconds the filter will reverse airflow to HEPA filter, ensuring the extractor is at maximum efficiency.
The Design
It's Simply Tough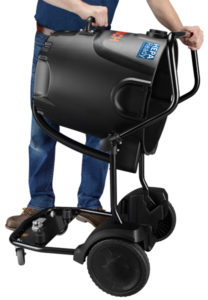 Now that we have got all the numbers out of the way the next thing to take notice is how Bosch designed the extractor. Built with convenience in mind for the user, it can handle most tough sites and is easy to set-up and remove waste. With metal castors, it can handle tough job site terrain easily. Along with the castors, a metal frame with a height-adjustable fold-down handle makes for easy maneuverability.
Packed With Convenient Features
The wet/dry extractor also comes with a water level sensor that helps to prevent overfilling, so filling up becomes less of a hassle. Before storing it away, you have to get rid of the waste in the machine. The GAS20-17AH has a discharge hose for stress-free drainage and a dumping mechanism for emptying convenience.
Hoses, Bags, and Connectors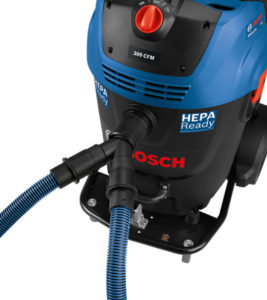 Included with every extractor is a HEPA filter and with that filter, you also receive a three-layer heavy-duty filter bag. The bag will help protect the filter from the abrasive material, to avoid potential damages. Finally, a 16' anti-static hose to eliminate clogging and errant shocks. This hose will also prevent dust from clinging to the outside of the hose keeping your job site clean.
An optional connector that comes in handy is the Y-Connect (sold separately), it allows for operation of two tools at the same time. Which is great for small jobs that use 5" or smaller angle grinders for surface grinding or cutting concrete.
What's in the Box?
When you buy this tool you are guaranteed the following:
(1) Bosch GAS20-17A Wet/Dry Dust Extractor, (1) VF430H HEPA Filter, (1) Three-Layer Heavy-Duty Filter Bag, (1) 16' 35mm Anti-Static Hose, (1) Bend Nozzle, (1) Power Tool Adapter Nozzle, (2) Extension Tubes, & (1) Floor Nozzle.
Final Thoughts
A great addition to any daily trades professional who is frequently around silica dust. This machine will not only keep you in OSHA regulations but will also keep your workers safe. Not to mention it won't impede on them getting there work done when it comes time to move the extractor around the site or cleaning it out.
---
If you don't want to get sucked in with OSHA violations check out our Acme Tools website for more HEPA ready gear. Stay tuned and up to date with all the latest tools news, DIY builds, and buying guides at our blog. That way you can Always Do Your Best Work!