Grand Forks, ND is one of the coldest cities in the country. Living here you know that winter, the cold, and wind chill, is nothing to take lightly. Witnessing students, and people who are unfamiliar with the Midwest, experience their first winter is always a site. Then overhearing how some of them "prepared" for it is a little concerning. That thick jacket from the thrift store and those long tube socks won't cut it when it drops below 0°. Even less when it gets past -20°. Yes, you read that right, WHEN.
So how do you dress for winter, in one of the coldest cities, in one of the coldest states? Acme Tools and its employees are veterans of living in the great white north and want to pass some knowledge onto you. From people who have been born and raised in the snow, to people who were transplanted here and had a few years of wisdom and mistakes. Don't worry you don't have to buy or do everything we say, but a lot of these experiences are hard learned. So get your hot beverage of choice ready and cozy up, because we are about to start your lesson.
Lesson 1: Layer, Layer, Oh and LAYER!
[expand title="If it hasn't been stated and emphasized enough in the header, layer your clothes!"]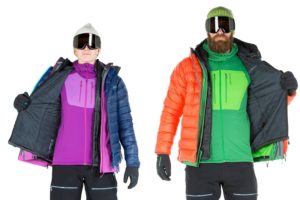 An essential survival lesson you shouldn't have to learn the hard way. When it comes to staying warm, you can afford to look a little puffy. Better than the alternative where you are out in just one layer, and the snow is smacking you in the face thanks to the strong winds.
It doesn't matter if you are out all day to work or out for just a few minutes. Any amount of time in the cold is terrible. There is also a major plus when it comes to layering up, if it's too hot you can remove what you don't need. Can't say the same if you are outside already and are in the cold.
Why Layer?
But layering has a method behind it to make it truly efficient. It starts from the bottom up and making sure you are tucking all the layers together. By tucking your clothes together, you minimize the loss of heat, which is something you want to keep while you're outside. You start from the bottom and build your way up. Also giving yourself enough room to breathe but not too much where cold air can get caught.
Layering though is only part of the solution. You can have everything tucked in nice and snug, but if the material of the clothes you have are subpar, you will still feel the cold. Your quality of clothes is just as key as layering.
Layering Tip
A company that a lot of people are familiar with is Carhartt as their clothes are durable, functional, and useful all around. This especially true for their jackets and coats. Ergodyne is another option you should look at for thermal wear, coats, and high visibility clothing. Don't worry about brand names so much but make sure that the clothes can keep you warm.
Lesson 2: There is Winter Apparel, and There is WINTER Apparel!
Around this time of year, stores like to roll out some winter clothes. Prices may attract you to buy some good and "handy" items for the season. From experience what you saved is not going to be worth the freezing you're going to feel outside. Acme Tool's main customer basis are people who work outdoors year-round. That said, those workers can tell you spending the money on a quality coat, jacket, hoodie, pants, underwear, and hat, are going to pay off in the long run.
Acme Tools Carries SERIOUS Winter Gear
Now winter apparel clothes need to retain body heat; some retail stores only focus on looking good while barely meeting that requirement. That can pass for acceptable in the southern part of the country where they can see 0º to -10º, where that's a harsh winter. We consider that a subtle and quite mild day. But when it gets to -40° and a wind chill of -50° that's when you appreciate those clothes that might have cost you an arm and a leg. That way you avoid potentially losing an arm and a leg outside.
If You're Serious About Staying Warm…
If you have the money, or just really vulnerable to the cold, layering might not be enough. In that case, you also have the option of clothes that won't only keep heat in but can generate it as well.
Optional Choice: Things are Getting Heated Out Here.
When you're working, or even walking outside, you can instantly feel the air sucking the heat out of you. From your feet to your head, you can feel numb in no time thanks to the weather. If you really can't stand the cold, you could invest into heated gear. They come in a variety of choices so you can have the best option that works for you and select something you wouldn't mind wearing outside of work.
Brand such as DeWalt, Milwaukee, Bosch, and Makita, have heated jackets that are something that any person would be envious of in the cold.
If you want to learn more about heated gear, check out our heated jackets blog post.
It's Almost Winter. Time to Wrap it Up!
Though designed for trade's professionals, it doesn't mean that anyone can't use these clothes. From the jackets to hats, they come in a variety of styles and colors so you can easily find one that suits you. Living in North Dakota, you need to stay warm. That comes at a price, whether that be price, comfort, or style. Though with some of these options, you could easily slim it down to just cost. Save yourself from the cold and take some of these tips to heart. Share them with a friend, a new person in town, and with anyone you know. Acme Tools always wants you to Do Your Best Work, and whether it's working outside or in an office, everyone deserves to stay warm.
Was this article useful? What item or piece of clothing do you have that you couldn't live without during winter? You can find all these items on our website at acmetools.com. Check out Acme Tools Blog for more posts like this and other tool news. Stay warm out there and Always Do Your Best Work.