Milwaukee is once again providing a performance-driven solution: The 18V cordless M18 FUEL 9″ Cut Off Saw with One-Key. Milwaukee's M18 FUEL 9″ Cut Off Saw harnesses the cordless technology to deliver the power to make versatile cuts without using gas. The battery-powered saw contains the power to cut reinforced concrete, metal, and masonry materials, including black pipe, cast iron, rebar, brick, and block.
Saw Features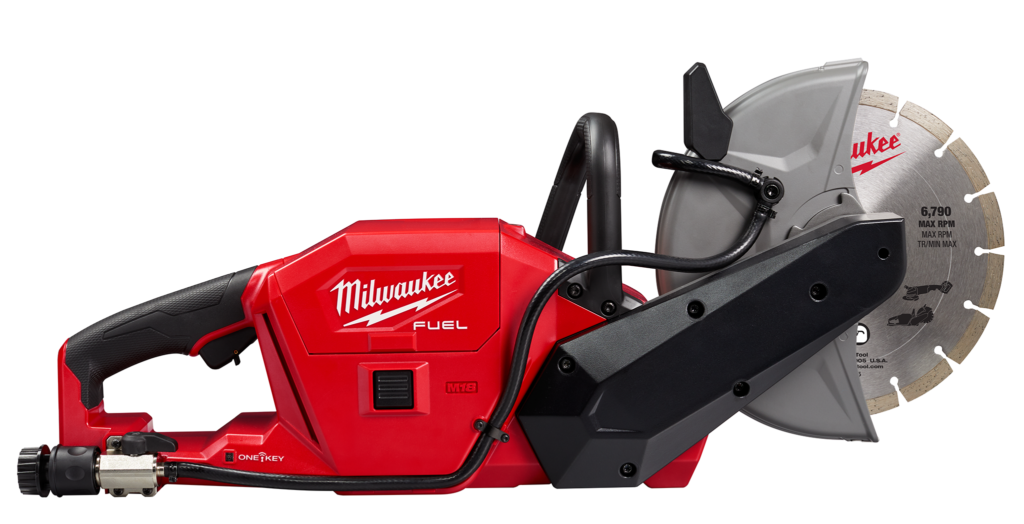 Milwaukee's cordless M18 FUEL 9″ Cut Off Saw has many user-friendly features including a rapid stop brake that stops the blade in under 3 seconds, an overload indicator light that illuminates when a user presses the saw too hard, and a fully-adjustable blade guard that easily positions the saw for all cuts needed. Diamond and Abrasive blades are included with the saw so that you can Do Your Best Work right out of the box.
Gas-free Benefits
A gas-free cut-off saw has many benefits. For example, the saw starts with the squeeze of a trigger instead of repeated pulling on a cord. Users no longer need to spend time mixing gas and oil to maintain the engine. Additionally, the saw can be used indoors/outdoors because it does not produce fumes. And the best part: no gas headaches.
Switch Tank Backpack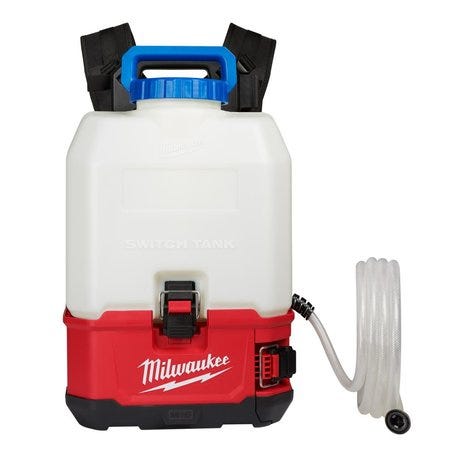 Replacing the regular water supply using a hand pump, the Milwaukee M18 FUEL 9″ Cut Off Saw pairs with a 4-Gallon Backpack Water Supply. Milwaukee's M18 Switch Tank Backpack supplies instant, constant, and adjustable pressure up to 60 PSI. The performance-driven backpack design has taken the two-person job and turned it into a one-person job.
M18 FUEL Innovations
Along with all M18 FUEL products, the Milwaukee M18 FUEL 9″ Cut Off Saw combines the POWERSTATE brushless motor, REDLITHIUM battery pack, and REDLINK PLUS intelligence. As an added feature, the saw comes equipped with ONE-KEY, a digital platform for tools. ONE-KEY has a custom-built cloud-based program that provides access and control to users to customize, track, and manage their devices.
Cut Off Saw Specs
M18 FUEL™ 9″ Cut Off Saw w/ ONE-KEY™ Kit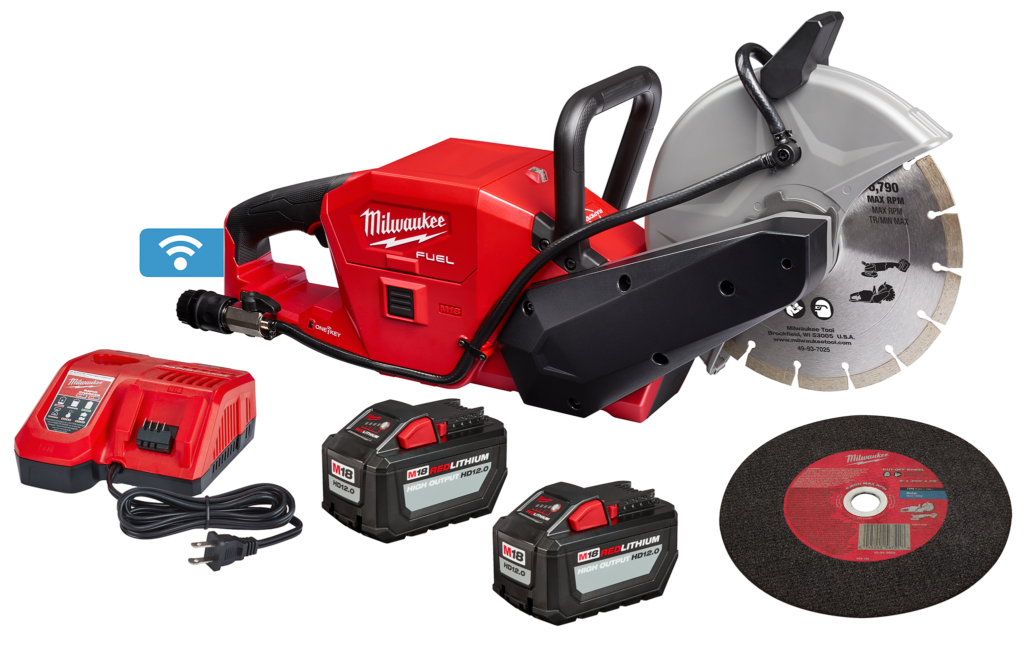 Cut Depth:
3.4″
Blade Diameter:
9″
RPM:
6,600
Blade Arbor:
7/8″
Onboard Water Connection:
Quick Connect
Load Indicator Light:
Yes
One-Key Enabled:
Yes
Onboard Tool Storage:
For Scrench and Hex Key
RAPIDSTOP Blade Brake:
Yes
Tool Length:
25.98″ w/ battery
Tool Weight:
14.86 lbs w/ battery
Warranty:
5 Years
Kit Includes:
-M18 FUEL 9″ Cut Off Saw w/ One-Key
-M18 REDLITHIUM High Output HD 12.0 Batery Packs
-M18 & M12 Rapid Charger
-Diamond Blade (49-93-7025)
-Abrasive Blade (49-94-9000)
*Also available as a bare tool. Bare tool includes Diamond Blade and Abrasive Blade mentioned above.
Switch Tank Backpack Specs
M18™ SWITCH TANK™ 4-Gallon Backpack Water Supply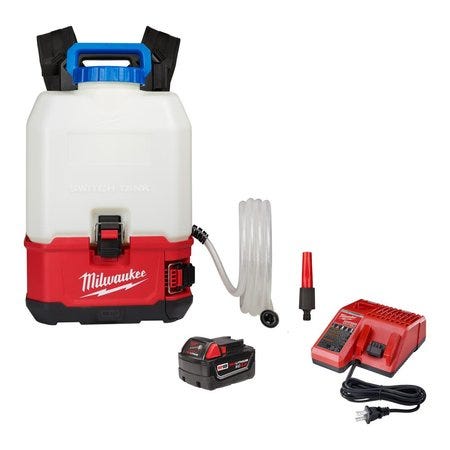 Dual Diaphragm Pump:
Yes
Pressure:
20-60 PSI (5 mode Adjustable)
Flow Rate:
.16-1.13 GPM
Run-Time:
Up to 12 Tanks per Charge
Seals:
Nitrile
Hose Length:
10′ w/ Quick Connect
Nozzles Included:
Water Spray Nozzle
Weight:
18.45 lbs
M18 Powered Based Warranty:
3 Years
Tank Assembly Warranty:
1 Year
Kit Includes:





-Switch Tank Powered Base
-Switch Tank 4-Gallon Water Supply Tank Assembly
-10ft Hose w/ Quick-Connect
-Water Spray Nozzle
-M18 REDLITHIUM XC3.0 Battery
-M18/M12 Multi-Voltage Charger
*Also available as tank assembly only
**Compatible with the M18 Switch Tank Interchangeable Sprayer and Water Supply System.
Final Thoughts
Milwaukee's M18 FUEL 9″ Cut Off Saw can perform a full days work on one battery system. The cut off saw removes frustrations and elevates user expectations of the M18 FUEL system. What trade-focused solution would you like to see next?
Follow our blog or shop online for more of the M18 products.