In 1926, STIHL revolutionized the chainsaw industry by releasing the first two-person electric chainsaw. Since then, they have developed tools that make any forestry, agriculture, landscape, construction, or home task more manageable. Stihl is known for their outstanding innovations and high-quality products, which is precisely what you get with the Stihl KombiSystem.
KombiMotor
The STIHL KombiSystem is a system of multi-task tools comprised of a STIHL KombiMotor and an expansive line of optional attachments. The battery powerhead motor delivers up to 8,500 RPM speed and up to 130 mph of air velocity. The award-winning tool provides three performance levels that optimize run time and power. The system not only saves space, but it also reduces the amount of fuel and maintenance needed when owning a fleet of yard tools.
Attachments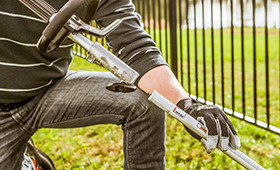 The KombiSystem attachments slide into the battery head easily and are secured with a quick-release system. With the KombiSystem, you only need one powerhead for all hedge trimming, edging, pruning, cleaning, and cultivating needs.
Hedge Trimmers
Attach the FS-KM Straight Shaft Trimmer when trimming around obstacles. AutoCut technology offers better maneuverability around different landscape objects.
The HL-KM Adjustable Hedge Trimmer attachment offers a flexible cutting performance. The 145° working range is lighter than previous models and helps to reduce fatigue when trimming. The redesigned gearbox provides an improved cutting performance.
Attach the HL-KM Straight Hedge Trimmer when you encounter hard to reach areas. The flexible trimmer gives you better cutting control so that you can trim around obstacles with extra precision. The new blade assembly and gearbox design help to reduce fatigue.
The FH-KM Adjustable Power Scythe features a 145° working range. The redesigned gearbox and design blade, along with a weight reduction, provide more comfort and better performance.
Stihl designed the user-friendly FSB-KM Curved Shaft Trimmer with comfort and ease of use features to power through those tight spaces. The trimmer features AutoCut technology and an 8mm arbor shaft thread.
Edgers
Connect the FCS-KM Straight Lawn Edger attachment to clean up dense growth and create precise edges. The accessory offers more power to cut and features a depth control wheel for better control. The open guard design allows for smoother cutting and less clogging.
The FCS-KM Curved Lawn Edger accessory is ideal for cleaning up edges along walkways and planting beds. The attachment features an adjustable depth control wheel and built-in blade sight for precision cutting.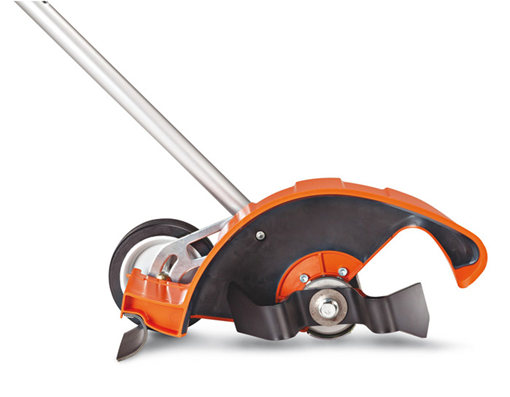 Attach the FBD-KM Bed Redefiner for efficient and precise definition. The accessory performs up to 7 times faster than manually using a shovel, saving you time and labor. It features an open deflector design to cut down on clogging and an adjustable depth control wheel and built-in blade sight for precision cutting. The Bed Redefiner is best suited for defining mulch and flower beds.
Brushcutters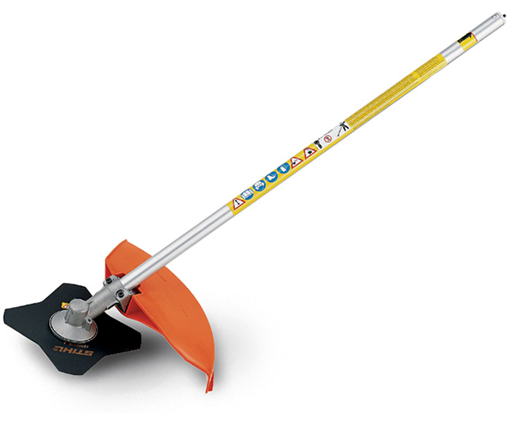 Attach the HT-KM Pole Pruner to remove branches and bushes. The Pruner features a side-access chain tensioner for easy adjustments and an oil tank retainer that stays in place during refills.
When working with stubborn weeds and tough grass, attach the FS-KM Brushcutter. The heavy-duty attachment features 4-tooth cutting blades, effectively removing tough brush.
Sweeping
The KB-KM Bristle Brush accessory makes quick work of sweeping all types of paved surfaces. The attachment features durable nylon bristles that offer a 24″ wide sweeping surface.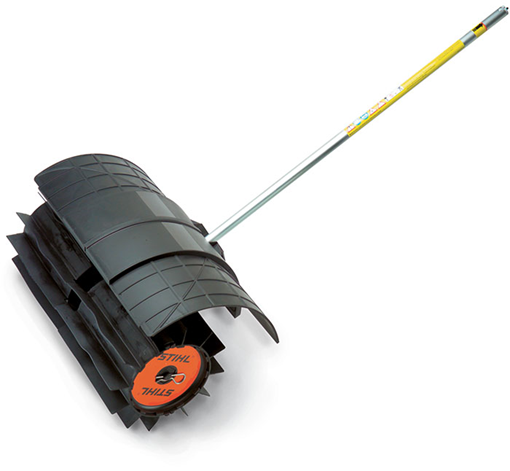 When dealing with the tough and compact jobs, count on the KW-KM PowerSweep attachment to get the job done. The accessory features heavy-duty rubber flaps that act as a squeegee. It can clean caked dirt along roads and sidewalks, move pebbles and sand from turf, and even remove water and light snow from flat surfaces.
Cultivator
Connect the BF-KM Mini-Cultivator when mixing amendments into the soil and restoring flower beds. The lightweight cultivator is ideal for getting into tight spaces and mixing components up. From rejuvenating flowerbeds to mixing amendments into the soil, the mini-cultivator is the perfect gardening tool.
Blowers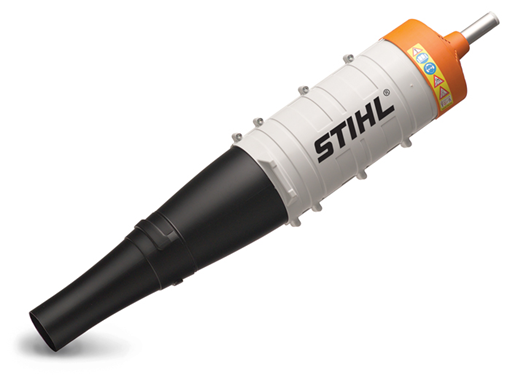 The lightweight multi-stage axial BG-KM Blower attachment delivers the power you need. With air velocity that ranges from 121-157 mph, the blower is sure to clean up any driveway, sidewalk, or any other outdoor area.

Final Thoughts
The Stihl KombiSystem is the ultimate portable powerhouse. The landscape system gives professionals and homeowners the ability to tackle a wide range of tasks with only one engine, which saves users time, space, and money.
The KombiSystem and attachments will be available soon at Acme Tools. In the meantime, browse the STIHL product page on our website and follow our blog for updates.