Punxsutawney Phil might say six more weeks of winter, but spring will be here before we know it. While you may be planning how to tackle your interior spring cleaning, it's just as important to make a checklist for the exterior spring cleaning. We've put together this outdoor spring cleaning checklist to make your life easier.
Tips and Tricks
Make a schedule
• Cleaning the exterior of your home can be time-consuming but worth the end result. Planning how to complete the job successfully can help keep you motivated and focused.
Work top to bottom
• Starting from the roof down will prevent you from having to repeat steps.
Protect yourself
• Wearing proper PPE is important when spring cleaning. Pick up gloves, safety goggles, masks, or any safety equipment you feel is necessary.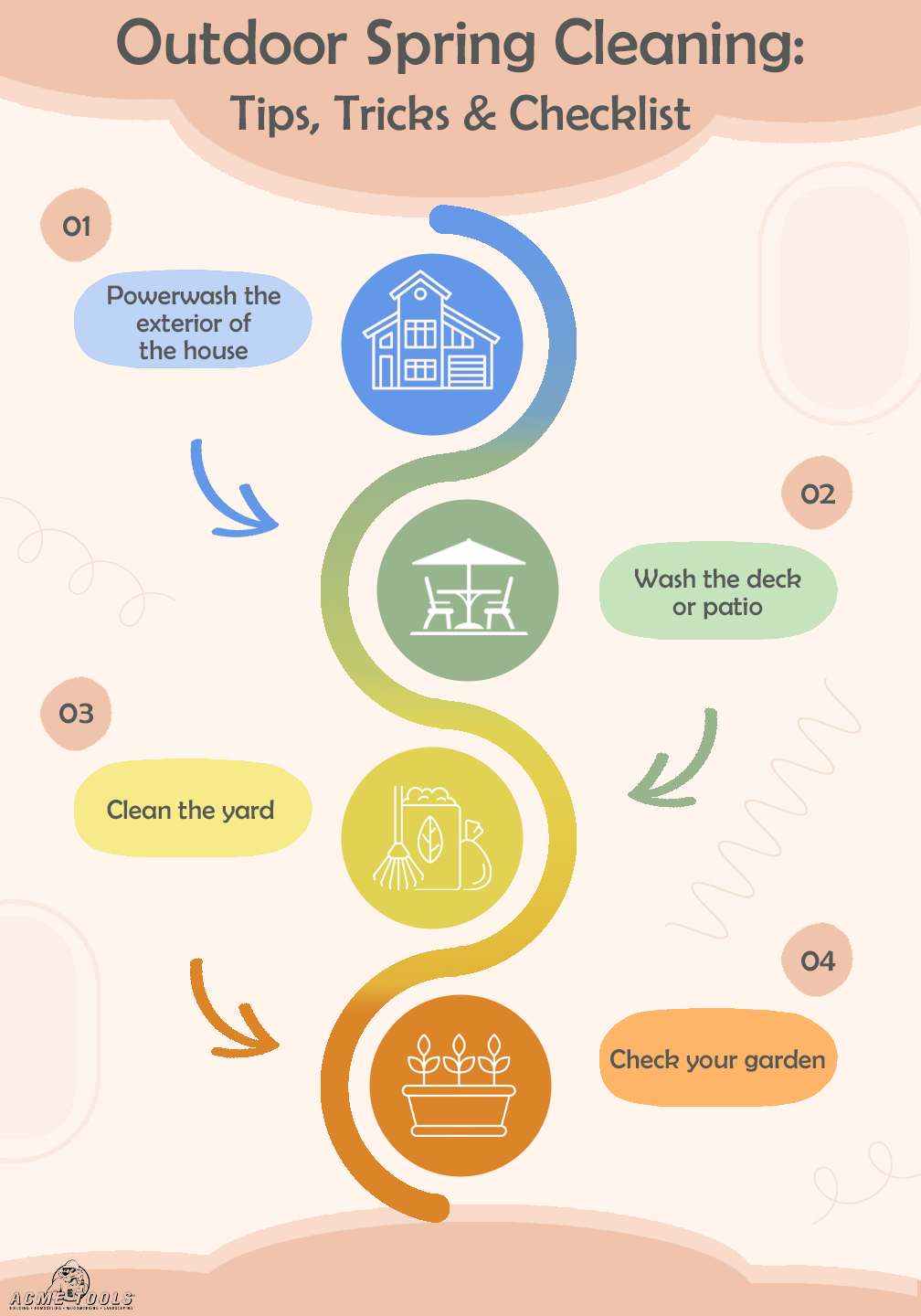 Cleaning the Outside of the House
Clean and check gutters
Built-up debris from winter can cause clogged gutters. Grab your ladder and clean out the gutters. Check the downspout to make sure there are not any clogs. Clear them out as carefully as possible; if you feel uncomfortable doing so or have tried and need help getting them cleaned/unclogged on your own, look into local cleaning companies.
Check the roof for moss or black streaking
While you're cleaning your gutters, make sure to inspect your roof for any moss or black streaking. If you see any of either, you'll want to reach out to a professional company to have this taken care of. Black streaking can eat away at the shingles and cause deterioration.
Pressure wash siding
Remove built-up dirt and grime by pressure washing the outside of your home. Start from the highest points of the house.
Clean your doors
Depending on the design of your door, there may be better methods than pressure washing. A bucket and a sponge to give your doors a good clean is the best way to protect the integrity of your door.
Clean the exterior of your windows
Dirt and dust not only collect on the inside of your window but on the outside as well. Grab your favorite window cleaner, a squeegee or microfiber cloth, and a ladder for the windows you can't reach. 
Cleaning Your Deck
Wood Decks
• Prior to starting your cleaning, check for any signs of damaged or decaying wood and make repairs if necessary.
• Grab a broom and sweep away any dirt or dust.
• Power wash your deck or scrub the wood with a designated outdoor deck cleaning solution.
• If you need to restain your deck or patio, wait for the wood to dry completely before starting.
Concrete patios
• Check the concrete for any chips or cracks and repair any found.
• Power wash the patio and scrub any stains that were not removed with the power washer.
Deep clean outdoor furniture
Scrub your outdoor furniture even if it's been in storage, as dust will accumulate over the winter months.
Give your grill a good scrub
If you have a grill, make sure it operates correctly. Clean the grill, including handles, grills, lid, and legs. You can also lubricate the lid.
Make sure outdoor lighting is working
Check the lightbulb connections for outdoor lighting. Check that the bulbs are working correctly and replace any burnt-out. Clean them thoroughly using a damp rag and warm water. Make sure the lights are off when doing this.
Cleaning your lawn
Check for Litter
Check for any litter that may have blown into your yard during the winter winds. Various pieces of trash will likely have accumulated on your property and get those picked up before moving on to the next step.
Rake excess leaves
Once the snow has melted and your yard begins to dry, it's a good idea to clean up leftover leaves. Use a rake to clear any leaves missed from your Fall cleanup. If you have a large yard, it saves time to mulch them with a lawnmower.
Check your sprinkler system
If you have a sprinkler system, check to ensure the visible pipes and valves are in good condition. Test the system to make sure everything is working properly.
Fertilize your lawn
Give your grass a boost by adding a spring fertilization treatment. You can complete this yourself or contact a lawn care company for an estimate.
Check your garden
Weed your garden
Remove any unwanted weeds and consider spraying weed control.
Uncover your plants or put them out
If you use plant covers, they can be removed. If you live in colder climates and had to bring your potted plants indoors, you can now place them back outdoors.
Pruning trees and shrubs
Consider using this time to prune your shrubs and trees. Recycle the clippings in a brush pile or create a mulch or compost pile.
Other Outdoor Cleaning
• Clean out birdhouse, birdbaths, and bird feeders
• Clean fences and gates. Make any necessary repairs.
• Check your mailbox to make sure there is no damage.