Your leaf blower is not just for the fall. Your leaf blower is very useful at cleaning up the yard in the autumn, but did you know that you don't have to keep it in the garage the rest of the year? From finishing household tasks to making fun toys (yes, really), there are several uses for leaf blowers and vacuum accessories.
Leaf Blower 101



Before going over individual products, it's best to know the basics of these tools. While airspeed might seem like the most important statistic of a leaf blower, you actually want one with a higher CFM rating. CFM stands for cubic feet per minute, and it's a measure of how much air your equipment can move, and thus how much work you can get done. Another point of leaf blower comparison is the power method. If you have a small yard or work area, AC electric power is fine; but if you want to roam free, opt for a gas- or battery-powered one instead.
Uses For Leaf Blowers Around the House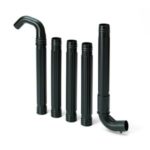 Are you stuck cleaning your gutters by hand? Not if you angle your leaf blower into them, and blast the debris onto the ground. These tools are also useful for getting cobwebs and dust out of high corners. When you're done washing and waxing the car, pull out the blower to send the water flying so the car dries quickly. If you plan to use one in a building, the best leaf blower for the job is the one with the lowest listed decibel rating, as it's going to be the quietest, and either an electric or battery operated unit. Gas-powered tools are not recommended for use inside buildings.
Leaf Blower Fun for the Whole Family
Did you know that you can turn your leaf blower into a toilet paper gun? All you have to do is take a manual paint roller with a thin rod, and stick it below the nozzle of your tool so that the rod is in the way of the airflow. Put a roll of TP on the rod, turn on the blower, and watch the streams fly. You can use this with colored crepe paper for a more spectacular show.
Functions without Limits
You will find that you can use your blower for all sorts of purposes. Whether it's fun with the family or making your life easier, you can get a lot done throughout the year. Check out our selection of outstanding leaf blowers and other outdoor power equipment from a variety of manufacturers to find the tools that meet your needs. If you don't know where to start, check out our leaf buying guide to help make the best choice for you.