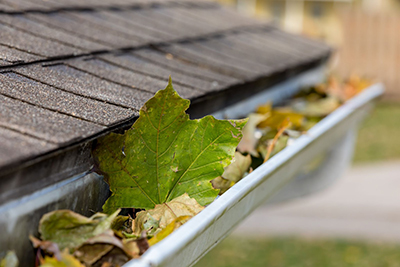 Cleaning your gutter is a job that nobody likes to do, but it's very important that it is done in order to avoid future damage to your home. Using the best gutter cleaner is vital for keeping your gutter clear from debris and making your life easier. There are many different ways to clean your gutters; this guide will provide you with the information you will need to know when picking a gutter cleaner for you, along with a few additional recommendations from us.
Types of Gutter Cleaners
When picking gutter cleaning tools, it's always important to know which type of cleaning tool you will need and the certain parameters of those tools to efficiently get the job done. Depending on the handle lengths, telescopic extensions, and your own judgment, you may be able to clean your gutter from below on the ground, or you'll need to make sure to have a ladder. It is also important to have safety glasses during these projects to protect your eyes from spraying water and debris during these projects. Throughout this blog, you will see many different types of gutter cleaning tools and how they get the job done.
Pressure Washer Gutter Cleaners
Pressure washer attachments can make your job fairly simple. These hooked attachments make it easy to directly put it in the gutters and rinse out the debris and other gunk lying around inside. Due to its strong water pressure, the gutter can be cleaned quickly and can get the hard spots. Depending on what attachment you get, some are even dual-sided to help spray in both directions and make your job even easier.
Gutter Cleaning Vacuums
Another way to clean out your gutters is by using a vacuum along with attachments to extend your reach. Using a vacuum offers you two different ways to tackle cleaning your gutters. First, you can choose a less messy way by sucking up all the leaves and debris, or you can blow them out and then rake up the mess on the ground afterward. It is also worth noting that if you want to take the vacuum route, wet leaves are difficult to vacuum, so try to aim for a sunnier day.
Gutter Cleaner Scoops
A more manual way of cleaning your gutters is by using gutter scoops. These scoops are easy to use and usually are made from plastic, so they are flexible to adjust and fit in any gutter. Using these scoops has the advantage of having you vividly get all the debris out of your gutter and really dig into those hard spots and remove the debris.
Gutter Cleaner Wands
Gutter cleaner wands are perfect for those who want to stay on the ground while doing this project. This attachment will connect to your hose and reach your gutters without being on a ladder or elevated surface. With its curved end, it can directly spray into your gutters and flush out all that gunk.
Considerations When Choosing a Gutter Cleaner
Before you buy a gutter cleaner, it's important to know how you want to handle the project and what the conditions are like in order to pick out the right cleaning tool for you.
Attachment Length
Whether you prefer to stay on the ground or use a ladder, think about the length of your attachments and how far you want to be able to reach.
Additional Equipment
Something to remember is when you're choosing your gutter cleaner, they will need other equipment in order to complete the job. For example, pressure washer gutter cleaners need a pressure washer, and gutter cleaner vacuums need a wet-dry vac to blow or suck the debris. Lastly, you'll need safety goggles, gloves, and possibly a ladder depending on which gutter cleaner you choose. You may also want a rake if your method involves the debris going on the ground.
Gutter Cleaner Recommendations
Here are our top three picks. Use the product specifications such as price, handle length, weight, and handle material to choose the best gutter cleaner for your needs.
VACMASTER 2-1/2″ Gutter Cleaning Kit
This gutter cleaning kit is perfect for getting all that gunk out of your gutters. This kit comes with multiple extension pieces that are useful for different heights you may have to reach, and its length allows you to keep your feet planted on the ground without a ladder. It is also equipped with an angled tip to directly be placed into the gutter and make your life easier.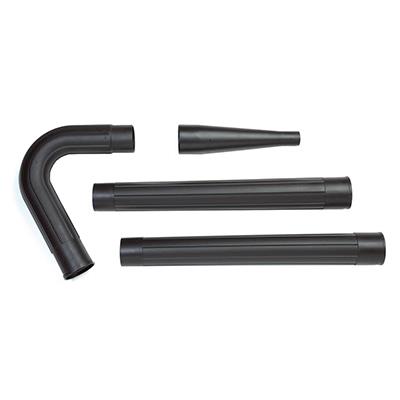 | | |
| --- | --- |
| Price | $29.99 |
| Handle Length | Up to 22 ft. |
| Weight | 2.2 lbs |
| Handle Material | Plastic |
Mi-T-M Pressure Washer Gutter Cleaner
This gutter cleaner is great for getting the job done. Using a pressure washer is a quick way of cleaning your gutters with a strong force getting all the hard spots. Once again, this gutter cleaner will allow you to perform this task from the ground with its hooked arm so you can be at ease.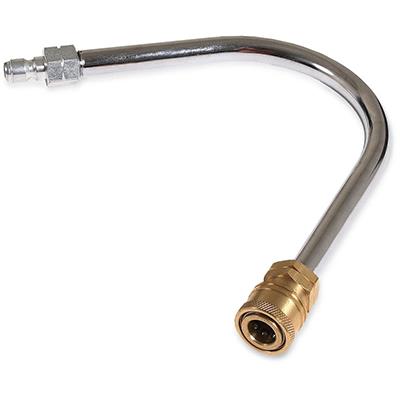 | | |
| --- | --- |
| Price | $12.99 |
| Handle Length | 6 in. |
| Weight | 2 lbs |
| Handle Material | Steel |
Gutter Getter Scoop
This gutter cleaner is extremely affordable. This scoop is designed to be flexible, so adjust to your gutter size and get the job done. Unlike other gutter cleaners, the Gutter Getter Scoop requires you to have a ladder and manually do it yourself.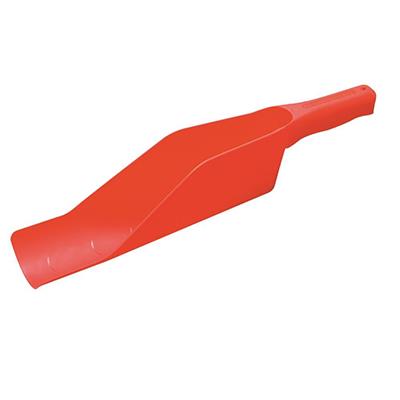 | | |
| --- | --- |
| Price | $4.99 |
| Handle Length | N/A |
| Weight | 3.52 oz. |
| Handle Material | PVC |
Additional Fall Cleanup Tools
Cleaning your gutters is one of many fall cleaning tasks. Different cleanup tasks require different tools such as leaf blowers, pruners, mulchers, and many more. Check out our blog post 10 Essential Fall Clean Up Tools to prepare yourself for this fall season.