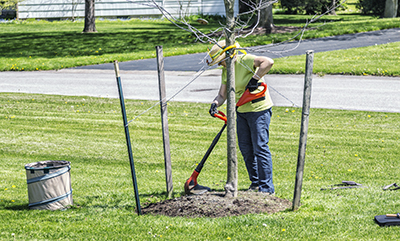 You've just mowed your lawn, and it looks beautiful. The sun has been beating down on you for hours, and you're sipping a cold glass of lemonade, looking over your hard work. The grass is at a perfect uniform height that would make your neighbors jealous. The only problem is you aren't done yet. It's time to grab a string trimmer and tackle those edges.
You can't forget about those straggling grass blades around the edges. They're unsightly and make all the work you put in on the rest of the lawn look unfinished. Our list will give you a brief overview of several trimmers so you can choose the string trimmer that best fits your need.
Best String Trimmers
A string trimmer might not be a piece of outdoor power equipment you immediately think of when purchasing a new home. But you'll definitely wonder why you never owned one once you purchase a trimmer. Choosing the best option for you depends on the size of your yard, how often you'll use the trimmer, and if you'll be using it for personal use or as a professional. In this list, we'll cover some of the features of each trimmer that set them apart from others.
Milwaukee M18 FUEL Trimmer Kit (2825-21ST)
The most interesting feature of this Milwaukee string trimmer is the QUIK-LOK compatibility. The trimmer consists of the M18 FUEL Power Head and a QUIK-LOK String Trimmer Attachment. The QUIK-LOK Attachment System allows the trimmer to be swapped out with an edger, hedge trimmer, or pole saw attachment, making this string trimmer one of the most versatile on the list. The 2825-21ST's brushless motor delivers up to 6,200 RPM with a 16-inch cutting swath for maximum power and range. For added convenience, the motor is located on the rear of the trimmer, creating better balance and user control.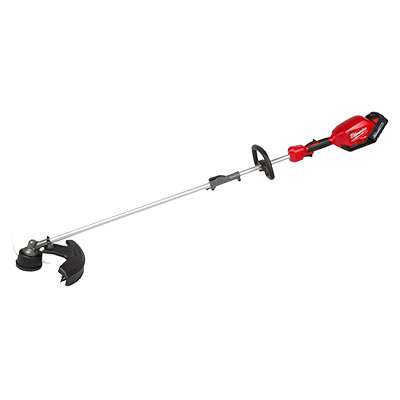 EGO POWER+ POWERLOAD Trimmer (ST1511T)
The EGO POWER+ POWERLOAD Trimmer is all about convenience, offering many cutting-edge features for ultimate versatility. The 15-inch trimmer is capable of 45 minutes of run time on a single charge when used with a 56V 2.5Ah ARC Lithium Battery. Variable control speed with two settings offers maximum no-load speeds of 4,800 RPM on low and 5,800 on high. POWERLOAD technology makes winding the trimmer a breeze by automatically feeding the line into the head with the push of a button. A telescopic aluminum shaft creates a comfortable experience for any height.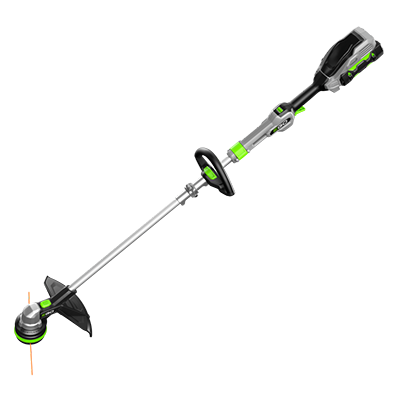 DEWALT 60V MAX Trimmer Kit (DCST972X1)
This DEWALT trimmer adds several layers of versatility that you won't find in a lot of other models on the market. A high-performance brushless motor with a variable-speed trigger delivers 4,560/5,800 RPM allowing you to trim more in less time. The cutting swath of the trimmer is adjustable between 15 and 17 inches for added flexibility. For additional versatility, the head can handle a 0.08-inch dual trimmer line or a 0.095-inch line. With a QuickLoad spool, you can make fast and easy line replacements of the 0.08-inch line. This DEWALT trimmer also has Universal Attachment capability to handle several other tool heads.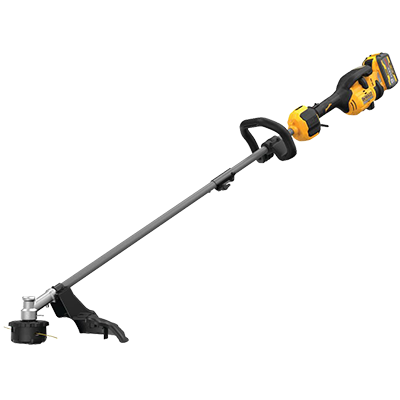 DEWALT 20V MAX Trimmer Kit (DCST922P1)
The second DEWALT string trimmer on this list is one of the few that takes advantage of limited storage space. A foldable hinge allows the trimmer to be folded in half so it can fit in smaller spaces and reduces the length, so it's easier to transport in a vehicle. At under 8 pounds, the DCST922P1 is one of the lightest string trimmers on the market, which will help with fatigue during longer jobs. The lighter weight of the trimmer doesn't sacrifice power with a 4,600/6,000 RPM speed that can handle thick brush. A variable-speed trigger with high- and low-speed settings allows for greater control over performance and runtime.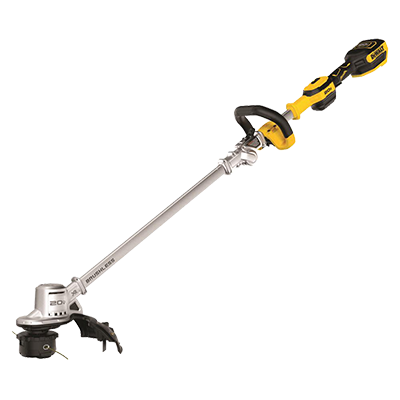 Makita 18V X2 LXT Trimmer Kit (XRU15PT1)
If you're looking for cutting-edge technology in a string trimmer, this Makita option is the perfect fit. The trimmer's brushless motor delivers maximum speed, versatility, and performance for up to 50% longer run time than comparable models. Automatic torque drive technology shifts from 3,500 to 6,500 RPM by itself to extend run time and add power. Three different speed settings allow more control over the power of the trimmer with 3,500 RPM at low, 5,300 RPM at medium, and 6,500 RPM at high. A steel drive shaft offers less vibration, so there is less hand fatigue while working with the trimmer.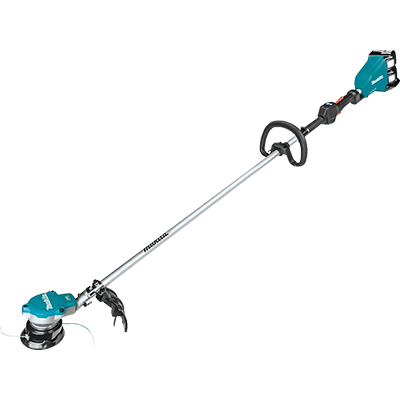 EGO POWER+ String Trimmer Kit (ST1623T)
This trimmer brings all the bells and whistles to the table and a cutting-edge feature that is a first. The 16-inch trimmer is the first in the world to feature LINE IT technology that will automatically feed more line when it gets too short. The ST1623T also comes with EGO's patented POWERLOAD technology that makes replacing string line a breeze. With a carbon fiber shaft, this is one of the strongest string trimmers in the industry for lifelong durability. The shaft is also telescopic so that you can adjust the height of the trimmer for optimum comfort while working on your lawn.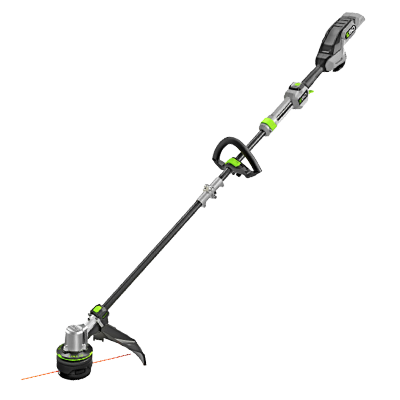 ECHO Straight Shaft String Trimmer (SRM-225)
The first gas string trimmer on the list comes from one of the premier brands in the outdoor power equipment market. ECHO's Straight Shaft String Trimmer features a 2-stroke engine that provides an unmatch high-quality performance. The professional-grade air filtration system on the SRM-225 is built to last with improved durability and easy maintenance that requires no tools. An ergonomic rubber handle and engine vibration system that helps reduce vibration provide a comfortable experience during use. A built-in cut-off knife in the debris shield keeps the string at a constant, optimum length.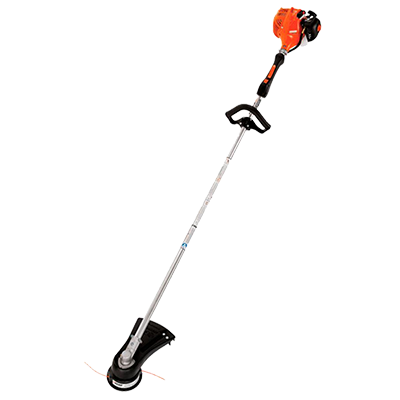 EGO POWERLOAD Trimmer Kit (ST1521S)
The third EGO string trimmer to make this list offers a high level of durability that guarantees your tool is still running like it's brand new years from now. Just like the ST1623T, this trimmer features a carbon fiber shaft that carries a lifetime warranty. Strong handles and durable guards ensure the tool will hold up against heavy brush and can be transported in the back of a truck. It can even sit in the back of the shed for months and come out looking as good as new. Other features include EGO's patented POWERLOAD technology, 15-inch cutting swath, and variable-speed control.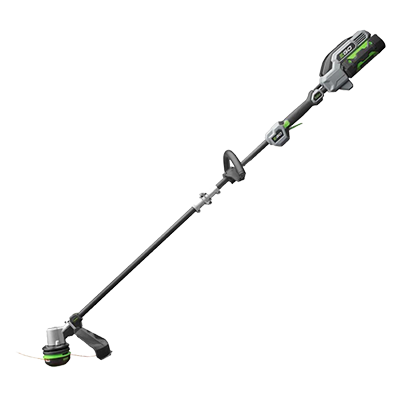 ECHO Brushcutter String Trimmer (SRM-410X)
The only other gas string trimmer making an appearance on the list is also from ECHO, the Brushcutter String Trimmer. A 42.7cc professional-grade, 2-stroke engine brings the power to handle heavy weeds and brush with ease. Commercial-grade air filtration will keep you running clean for longer without having to worry about maintenance. For added convenience, the large 33.8 fluid ounce fuel tank is see-through, so you can see at any time if you're running low on gas. A 60.2-inch steel driveshaft allows for cutting from an upright position, so you won't have to worry about back pain.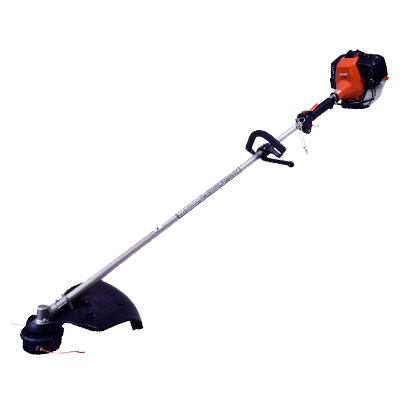 Milwaukee M18 String Trimmer (2828-20)
Last but not least is the Milwaukee M18 String Trimmer, one of the fastest and most powerful trimmers. The brushless motor of the 2828-20 is optimized specifically for trimming applications and delivers up to 6,200 RPM. Two different speed settings maximize the potential of this trimmer. High-speed offers the power to handle tougher applications, and low-speed optimizes runtime without sacrificing too much power. An Easy Load Trimmer Head makes it easy and quick to reload the trimmer line without disassembly. With a 16-inch cutting swatch you can cut more in one pass, making your more efficient.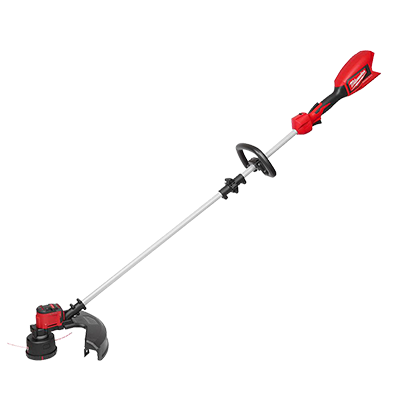 Shop all string trimmers from some of the top brands in the industry, including Honda, Milwaukee, Stihl, ECHO, and more, at Acme Tools