The World's First One-Handed Cordless Planer
We all love doors that close easily as well as flat, smooth floors. We also love lightweight cordless tools that make our lives easier. Now, Bosch has created a new solution to all of these, by introducing the first-ever 12-volt hand planer. All the power you expect from a professional tool, in a conveniently small machine that you can even use with just one hand.
A Plane In The Neck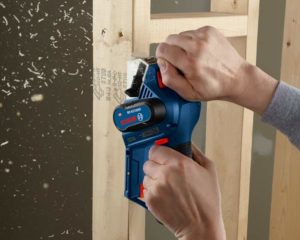 If you don't have a cordless planer yet, you are sorely missing out. They are the best tool money can buy for shaving down sticky doors or flattening out beams and joists, as well as many other uses. They are easy to use and make light work of tasks that could otherwise take an entire afternoon. Also, without the cord, you never need to worry about hitting a snag halfway through a pass. 
Cut To The Chase
This new power planer has a cutting width of 2.2 inches, which is wide enough for all your basic needs. On top of that, it can cut up to .08″ in a single pass; that's more than a 1/16th of an inch! If you're making rabbet cuts, you can dig 0.7″ before hitting the body of the tool. This tiny titan can truly tackle it all.
Plane And Simple
If you've ever done building work, you know you don't always need to use a monstrous power planer. Floor joists, window frames, and many more tasks require just flattening out a single edge. This tool is without a doubt the smallest cordless wood planer you have ever used. At just 3.3 pounds, it is about the same size and weight as a traditional manual hand planer, so it will already feel natural in your hand.
Power To The People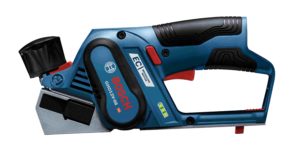 The minuscule size means the tool doesn't waste any battery power. With a compact 12-volt Bosch battery pack, you will have plenty of power for the light tasks you need done. A modern brushless motor uses the batteries efficiently, so you don't have to sacrifice any power. And with a top speed of 14,500 RPM, it will zip through your work in no time.
Lots Of Features We Like
Let's go through the list:
A flip-out kickstand keeps the blade elevated in between cutting passes

V-cut on the shoe for easy chamfering
Easy depth adjustment – just turn and click the knob into place

Just 10 inches long, designed for one-handed use

Onboard storage for a spare knife

Selectable right or left chip ejection (really great for overhead use – keep chips out of your face)  

Includes a dust bag and a vacuum adaptor to catch chips before they hit the floor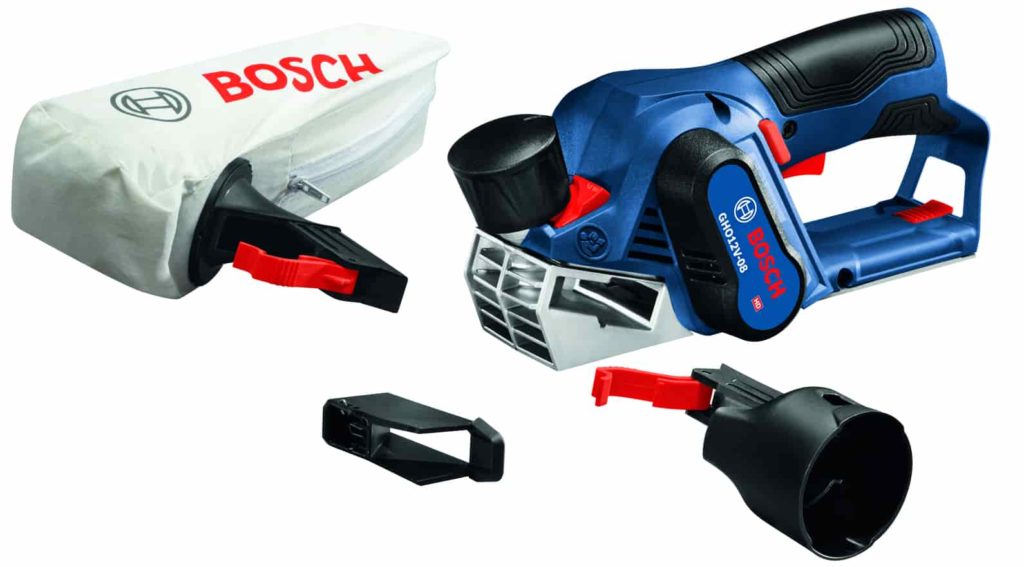 ---
What's In The Box?
12V Max Planer (bare tool), 2 blades, blade wrench, chip diverter, dust bag, and a vacuum attachment.
The Bosch GHO12V-08N is available for sale at AcmeTools.com.