A comfortable and detailed router is any woodworkers dream. With Bosch's GKF12V-25N Brushless Palm Edge Router, they just got closer to that perfection. Compared to other routers this one will give you a comfortable grip without feeling clunky in your hand.
Why Should You Care?
When working with wood, having an accurate tool to get the precise depth is essential. The GKF12V-25N has a fast macro depth adjustment as well as a fine depth adjustment at 0.04 in. per revolution. Giving you precise control of your cut so you can get the right depth you wanted out of your tool.
Big Improvements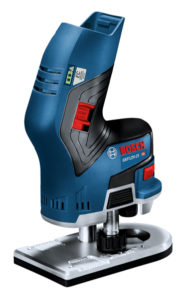 Another significant improvement on this tool is its weight and design. With just the bare tool alone it comes out at only 2.2 lbs. making it one of the lightest routers in the market. Also with a new design, it offers a natural grip while using the tool. Compared to other routers, two-handed operation is needed and requires your hands to be on a mount. This one gives you a comfortable palm grasp to hold on too, while also allowing your other hand to safely guide the router near the base thanks to an installed finger barrier.
A tool that gives you greater control in a small package does not mean it lacks in power. The 12-Volt Bosch Brushless motor offers an impressive 13,000 RPM and up to 23 ft. of round-over capacity. All in a tool that measures 9.9 in. high, 5.7 in. long, and 3.1 in. wide, which gives great mobility and maneuverability.
Safety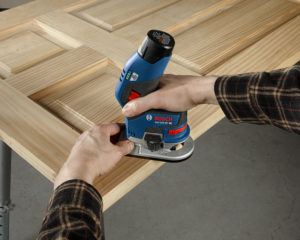 The final thing, but not the least important, is the new safety features this tool implements. With a router that combines a smooth adjustment system into its design, they also added a lock system that prevents tampering with the depth setting. The last thing you want while you are working is slipping the adjustment deeper then you wanted.
Then Bosch has a drop-detection sensor installed into the tool. This sensor will stop the motor if the router drops and restart protection that prevents accidental startup while switching bits. Finally, it monitors speed circuitry constantly and maintains speed under load for consistent performance.
Conclusion
If you love working with wood and need a new router for your work, the Bosch GFK12-25 12V Max Palm Edge Router is a tool that deserves your attention. With a motor that offers 13,000 RPM, weighs only 2.2 lbs. with the tool alone, and safety features that make working easier not harder. At Acme Tools we want our users to Do Their Best Work, with this router we are sure you can.
Keep an eye on our website at acmetools.com to pre-order it when it becomes available online. Don't forget to check out the rest of the Bosch items on our site to find tools that best fit your job.